This article contains information about or related to a canceled media.

As a result, the content of the article may have been canceled or replaced by another subject.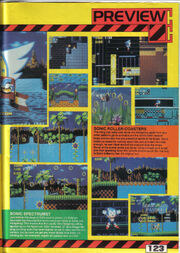 Sonic the Hedgehog (1991 canceled computer game) is a cancelled port of Sonic the Hedgehog for the Commodore Amiga and Atari ST home computer. From the few screenshoot released on European magazines such as ACE, this port seems to be along the lines of the 8-bit game and had original level design. The graphics seem to be redrawn also.