Sonic and the Black Knight (ソニックと暗黒の騎士, Sonikku to Ankoku no Kishi?, lit. "Sonic and the Knight of Darkness") is a 2009 game in the Sonic the Hedgehog series, released exclusively for the Wii as the second entry in the Sonic Storybook Series, following Sonic and the Secret Rings.[1]
Set in the world of Camelot, the game combines Sonic the Hedgehog's trademark speed with a new sword fighting system, making use of the Wii Remote's motion-sensing functionality to a fighting style similar to The Legend of Zelda: Twilight Princess and The Legend of Zelda: Skyward Sword.[5]
Plot
Spoiler warning: Plot, ending details or any kind of information follow.
In the world of Camelot, while on the run from the Black Knight and his demonic minions of the underworld, Merlina the Wizard is surrounded by the Black Knight's minions, and, before she is taken, performs a summoning ritual that brings Sonic the Hedgehog to her world. Sonic defeats the Black Knight's minions before Merlina teleports them both away in a whirlwind. The Black Knight sends out his three Knights of the Round Table, who are still loyal to the Black Knight despite his evil, to find and kill Sonic and Merlina on sight. Merlina explains that the Black Knight, once King Arthur, is immortal, as he possesses the scabbard of Excalibur. After training Sonic in the art of swordsmanship, Merlina explains that King Arthur was once a wise and just ruler, but became corrupted by the power of immortality granted by having possession of Excalibur's scabbard. Sonic acquires Caliburn, a talking sword who is highly skeptical of Sonic's abilities, and they head off on their quest while Merlina goes into hiding (Merlina explains that she would be recognized in town). They first find the Blacksmith (Tails' counterpart) in the Castle Town, in order to sharpen Caliburn's blade. The Blacksmith recognizes Caliburn, but cannot remember when he has heard of its name before.
Sonic heads off to see Nimue, the Lady of the Lake (Amy's counterpart) and previous owner of the scabbard of Excalibur, to find out how to stop the Black Knight; on his way, he encounters and defeats Lancelot (Shadow's counterpart), one of the Knights of The Round Table, and claims his sword. The Lady reveals that she will only assist Sonic when he becomes a true knight and presents him with three tests to be completed in three days. After completing them, Sonic soon encounters a crying child whose village was abducted by a dragon and decides to help her. Sonic soon encounters and defeats Gawain (Knuckles' counterpart), and takes his sword before he can kill himself out of shame with it, asking him if there is more to being a knight than serving a king. With the townsfolk saved, Nimue reveals that she was the crying child and was testing Sonic, and that he can blunt the scabbard's power by retrieving the sacred swords wielded by the Knights of the Round Table. Afterwards, Sonic meets Percival (Blaze's counterpart) and defeats her before saving her from falling from a cliff, an act that finally earns him Caliburn's respect and the title of "Knight of the Wind". Merlina has seen those events from her reflecting pool, and arrives to inform Sonic that the Black Knight is on Faraway Avalon. Sonic and Caliburn pursue and defeat the Black Knight with the power of the three sacred swords.
Having fought and defeated him by using the four Sacred Swords (including Caliburn), Merlina reveals to Sonic and The Knights of the Round Table that King Arthur was an illusion conjured by her grandfather, Merlin. She then takes Excalibur's scabbard to become all-powerful, so she can be the new queen.
Sonic and the Knights of the Round Table are forced to flee and, with Nimue's help, set off to use the sacred swords to defeat Merlina by putting up a barrier around the kingdom, which is then revealed that is too weak. After the four swords form a barrier around the castle, Sonic confronts Merlina, who explains that she knows the kingdom will soon come to an end, and wants to make it last forever. Sonic battles her, but is outmatched; in the process, Caliburn is broken in half, and Sonic takes a very severe beating. Nimue and the Knights watch Sonic's efforts, and shout at him to run. Sonic refuses, resolving to stop Merlina no matter what. Sonic's determination, combined with the power of the sacred swords, repairs Caliburn, and the duo transform into Excalibur Sonic and the true Excalibur, respectively, while Merlina transforms into a monstrous creature known as the "Dark Queen". After a long battle, Sonic and Caliburn manage to defeat Merlina. Though Merlina continues to lament the fate of the kingdom, Sonic gives her a flower and tells her that, while all worlds have to end, they merely need to live life to the fullest in the time that they have; reminiscing about her grandfather, Merlina takes his advice to her heart.
Afterwards, Lancelot says that the Knights of the Round Table will have to disband now that King Arthur is gone, but Caliburn reminds them that he is the one who chooses the one to be king; thus, Sonic is the true King Arthur. After the credits roll, Sonic, who has been taken back to his world, explains his journey to Amy Rose. She then complains that he is lying and forgot about their date, then proceeds to attack him with her Piko Piko Hammer. The game then shows a book, titled King Arthur and the Knights of the Round Table, change its title to Sonic and the Black Knight, the same process in the previous game, Sonic and the Secret Rings.
Characters
| Image | Characters | Biography |
| --- | --- | --- |
| | Sonic the Hedgehog & Caliburn | The world's fastest hedgehog, who is never far from chaos, has an exciting new mystery to unravel. In this tale, he will start out as an apprentice and work his way up to earn the honorable title of a knight. Guided by his sacred sword Caliburn, he'll be a knight unlike anyone King Arthur has seen before. Worry not, good people of Camelot, the amazing duo shall bring peace to the kingdom and be praised as one of the greatest knights of all time.[6] |
| | Merlina | The Royal Sorceress of Camelot, Merlina is the granddaughter of the legendary Merlin. When King Arthur turned evil, Merlina used her magic to summon Sonic to help her save the kingdom.[6] |
| | King Arthur | The legendary king is best remembered as a loyal monarch who wielded Excalibur. However, now he rides a black steed and leads knights from the underworld, spreading terror throughout the kingdom. The Black Knight's grip on his tyranny over Camelot has never been challenged... until now.[6] |
Gameplay
The gameplay of Sonic and the Black Knight differs from traditional games in the Sonic series by mixing in the new element of swordplay, along with the traditional Sonic platforming and speed. Swordplay is implemented through the Wii Remote and hence, similar to Sonic and the Secret Rings, however players no longer control Sonic's movement on rails as the team say they have learned from the biggest criticisms about it. The gameplay is mainly 3D, but occasionally the camera will shift to a side-scrolling perspective for traditional 2D gameplay.[7]
Swordplay is implemented so that players can slice through enemies without slowing down,[7] but when faced with more formidable enemies, players will engage in advanced swordplay, able to thrust, parry, and even perform a buzz-saw maneuver.[7]
The stages feature townspeople that the player can choose to help or injure; these actions and the player's deeds will be judged at the end of each stage, updating the player's "Knight's Honor Bonus". Helping the townspeople will boost this bonus, while hurting them will make it drop.[7] By helping out grateful citizens, players will be able to purchase new items from them, acquiring items such as gauntlets, magical tomes, and new swords. There are 247 items in the game, some of which can be gained by opening treasure chests in the Missions. An online mode allows treasures to be traded. Additionally, the player can collect townspeople by completing Missions, which will increase the player's title, thereby unlocking additional Skills, better items and more support from the townspeople.
The game changes the traditional level items, such as springs and speed pads, into "fairies". These fairies come in varying colors; yellow fairies are used to gain rings, blue fairies are used as springs and as speed boosts, and red fairies are used to fill up the "Soul Gauge". This gauge, much like the Soul Gauge in Sonic and the Secret Rings, is also filled by defeating enemies, and is used to unleash a powerful attack called "Soul Surge".[7] Besides the rails from previous games, players can fire a ballista and then grind across its rope.[7] There are also unlockable abilities that you can acquire through the different missions.
The mission-based system from Sonic and the Secret Rings also returns, but the missions are easier to complete. Each stage consists of multiple missions which feature different stipulations.[7] The skill system from the aforementioned game also returns, but were reviewed to adjust any problems that were present in that game; the skill system is also designed so as not to interfere with the game's tempo.[7] There are also Legacy Missions in the game where the player simply must head to the Goal Ring. Some items of Sonic and the Secret Rings also appear, like the Platinum Ring and the seven World Rings as collectible items.
Character-specific gameplay
Sonic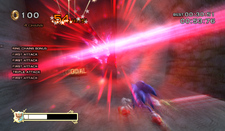 Sonic is the fastest character in the game and possesses all the standard skills in the game. However, contrary to other characters, Sonic's aerial attack consists of him spinning with his sword as he dashes into enemies, similar to Homing Attack, giving a greater attack range and attack rate. He also does not slow down from sword slashing while running.
Sonic's Soul Surge is modeled after his speed and Homing Attack. When using it, Sonic targets a foe and strikes it with an accurate, swift slash. At the beginning of the game, Sonic starts out with only the balance-orientated Knight Style, but over the course of the game, he will able to use the power-orientated Paladin Style and the speed-orientated Cavalier Style.
Sir Lancelot
Sir Lancelot's gameplay in Sonic and the Black Knight is quite similar to Sonic's gameplay. Just like Sonic, he has a homing attack, and can also use this attack in order to perform an aerial attack. Lancelot's variation of the Soul Surge, Chaos Punishment, makes him vanish and reappear in front of an enemy to slash him. When used with no enemy near, Lancelot will glow blue and fly through the stage.
While wielding his final sword, Ddraig Goch, Lancelot can also use Chaos Spears by simply slashing with his sword. Also, Lancelot will combine his Chaos Punishment attack with Chaos Blast when attacking an enemy.
Just as Percival and Gawain, he can only be used in the levels Knight's Passage, Shrouded Forest, Great Megalith, The Cauldron and Dragon's Lair. Like Gawain and Percival, Lancelot is permanently set to his character style in Adventure Mode, which is Knight Style.
Sir Gawain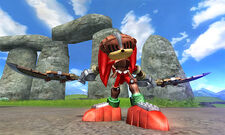 Sir Gawain's style of fighting is heavily ground-based. His two swords allow him to strike with strong ground combo attacks, but his aerial attacks are mostly dives. He can also glide like Knuckles to cross long-distances. One of Gawain's drawbacks is his lack of a Homing Attack, meaning Gawain would have a heavy disadvantage in Legacy Missions. However, Gawain's aerial attack can be considered a pseudo-homing attack, despite not being able to destroy the enemies on Legacy Missions.
His Soul Surge, Gail Meteor, has him throwing him his swords like boomerangs at enemies. He can only use this move on the ground, but it can strike both flying and ground foes easily. While this move doesn't allow him to gain distance while attacking like other Soul Gauge moves, he can still run incredibly fast if used when no targets are around.
Like Lancelot and Percival, Gawain is permanently set to his character style in Adventure Mode, which is Paladin Style.
Sir Percival
Sir Percival's gameplay in Sonic and the Black Knight is quite different from Sonic's gameplay. Unlike Sonic or Lancelot, she has two jumps, of which the first is used as a homing attack. Her aerial attack can be used to stay in the air for a longer time, as it sends her straightforward without losing height. The downside of this, however, is, that her aerial attack can't be used as effectively as Sonic's or Lancelot's. Her ground-based attacks make her speed from enemy to enemy. In her variation of the Soul Surge, Flame Purgation, she covers herself with fire and is freely controllable. This is very useful when fighting against multiple enemies at the same time.
Just like Lancelot and Gawain, she can only be used in the levels Knight's Passage, Shrouded Forest, Great Megalith, The Cauldron and Dragon's Lair. Also like Gawain and Lancelot, Percival is permanently set to her character style in Adventure Mode, which is Cavalier Style.
Excalibur Sonic
Excalibur Sonic is only playable in the battle against Dark Queen. While the player takes him as the playable character, his movements are slow in the air and cannot avoid attacks easily. However, by using

/

, the player can spin to left or right quickly. Excalibur Sonic possess a special type of Soul Surge that enables him to draw a significant amount of energy from each attack dealt by utilizing it. In addition, the Soul Gauge is doubled in his case and by continuing attacking at the right time with his soul surge, the Soul Gauge becomes green and allows him to activate more powerful attack.
Excalibur Sonic can attack huge projectiles greatly with increased swordsmanship capabilities than Sonic but is vulnerable to small energy orbs.
Scoring system
Controls
Objects
Items
Gimmicks and obstacles
Characters
Playable characters
Non-playable characters
Enemies
Bosses
Areas
Other modes
Battle Mode
Battle Mode is the multiplayer aspect of Sonic and the Black Knight. Here, up to four players can battle it out in ten different modes:
Ranking
Ranking allows the player to connect to online leaderboards and see how their skills measure up to others around the world. The player is given a twelve-digit Friend Code that can be exchanged with others as to compare times and be added to each other's Friend Roster.
Upon clearing a Mission in this mode, the following with be displayed after processing the time via the Nintendo Wi-Fi Connection (WFC):
Near your Rank: List of twenty players with scores closest to the one achieved.[10]
Top 20: List of the top twenty scorers will be displayed.[10]
Friend Ranking: Ranking which consists only of friends registered in the Friend Roster.[10]
Treasury
The Treasury contains all items that the player has collected and identified in Adventure Mode. Most items can be send to friends that are registered in the Friend Roster.
Gallery
The Gallery holds unlockable music, artwork and character voice lines for the player to enjoy. It includes the following categories spread across eight Vaults:
Options
Options is the main settings menu in Sonic and the Black Knight. It holds the following options:
Development
Artwork contest
Sega of America held a competition for fan artwork of Sonic characters. The top twenty of the US, Europe and Japan were placed in the game for display and their artists will win a free copy of the game.[13][14] Artists had to be a registered user on Sega's website to submit art.
There was a fuss over a plagiarized photo by an Italian contestant, whose copy was that of another artist, who happened to post it on DeviantArt. The original artist was later located and compensated for the mistake.
Soundtrack
The soundtrack of Sonic and the Black Knight was mainly composed by Jun Senoue, mixing familiar Sonic themes with a Celtic style. In addition, his band, Crush 40, returned to perform the main theme of the game, "Knight of the Wind," along with several others.
The song "With Me" is the final boss song composed by All Ends. The ending theme for Sonic and the Black Knight is "Live Life", also performed by Crush 40. This song is slower than most of Crush 40's heavy rock songs, giving it a slower, more peaceful rock anthem feel.
Some character themes from Sonic Adventure and Sonic Adventure 2 are featured in the game as well. Other themes are unlockable by equipping medallions of any surrogate knight, leading to songs such as Blaze's theme "Vela Nova" being heard during gameplay.
Two physical soundtracks were produced. The first, Face to Faith: Sonic and the Black Knight Vocal Trax, contains ten vocal/instrumental songs from the game,[15] while Tales of Knighthood: Sonic and the Black Knight Original Soundtrax features over seventy songs.[16] Both were released on 8 April 2009.[15][16]
Cast
Reception
 

Reception
Aggregate scores
Aggregator
Score
GameRankings
55.19%
Metacritic
54%[17]
Review scores
Publication
Score
1Up.com
C+
AllGame
Computer and Video Games
5.6/10
Eurogamer
4/10
GamePro
GameSpot
4.5/10
GamesRadar
GameTrailers
5.7/10
GameZone
5.8/10
IGN
3.9/10[18]
Nintendo Power
8/10
Official Nintendo Magazine
78%
Sonic and the Black Knight has received generally mixed reactions from critics, with a Metacritic aggregate of 54% based on 51 reviews[17] and a GameRankings average of 55.91% based on 34 reviews. While its commercial performance was positive, entering the Japanese sales chart at 30th place and the North American one at tenth, it was de-listed in 2010, following Sega's decision to remove all Sonic games with "mixed or average" Metacritic scores from retail stores in order to increase brand value after positive reception for Sonic the Hedgehog 4: Episode I and Sonic Colors.
Nintendo Power gave the game an 8/10, stating the gameplay is "pulled off in a fine fashion", but also said the main story is "fairly short". IGN gave the game a 3.9/10, praising the game's visuals and the overall presentation, but went on to state that "most of the dialogue [of the story] is so badly written" and that the camera "proves downright obtrusive at points, shooting Sonic's movements behind foreground barriers -- a huge frustration."[19] Famitsu gave the game a 26/40, comprised of two sevens and two sixes. GameDaily gave the game a 7/10, citing that "repetitive combat, easy missions and limited controls keep it from greatness," but acknowledged its "attractive presentation, decent combat and bonus content." Official Nintendo Magazine gave the game 78%, praising the game's visuals and soundtrack, but criticizing the swordplay mechanics and multiplayer element. GameSpot also noted that, while the sword is useful for slashing through enemies, there is a noticeable delay from the time the player swings the Wii Remote and the time Sonic swings.
Merchandise
Several toy websites had pre-orders ready to go for Sonic and the Black Knight action figures, with a June–July 2009 release date.[20][21]
EB Games Australia offered toy swords with pre-orders of the game.[22]
Trivia
There are several instances where Sonic reacts familiarly to characters in the storybook world:
During some scenes, certain character songs from Sonic Adventure (Sonic, Knuckles/Gawain, Amy, and the Blacksmith/Tails) and Shadow the Hedgehog (Shadow/Lancelot), play in the background. Lancelot, Gawain, and Percival have medals which are used as equipment that change the background to their respecting themes from the selected video games below.
This is the first 3D Sonic game that Dr. Eggman does not appear in any shape or form, even though his Badniks appear in the Legacy missions. However, in this game, the Joker Card (one of the game's many collectable items) has the Eggman Empire's symbol printed on it.

However, Eggman is also seen on some of the winning fanart of this game.

A violin instrumental version of "It Doesn't Matter" (Sonic Adventure 2 version) plays when viewing the fan art video.
When Sonic and Caliburn are about to encounter the Dragon in the Dragon's Lair, Sonic says "Yeah, this brings back memories; except last time it was with Shadow." This is a reference to the battle with Biolizard in Sonic Adventure 2, or it may be a reference to the boss fight in Lethal Highway against the Black Bull in Shadow the Hedgehog.
This is the first Sonic game where Sonic is actually seen eating chili dogs.
Jet the Hawk appears for the first time as a playable character outside of the Sonic Riders series, the first time playable off his Extreme Gear, and the first time he appears without Wave and Storm.
This is the fourth Sonic game with an E10+ rating. The three previous ones were Shadow the Hedgehog, Sonic the Hedgehog (2006) and Sonic Unleashed.
This game is one of the three Sonic games that do not play the main theme during the final boss fight, the other ones being Sonic Heroes and Sonic Generations.
This is the only game besides Sonic R and Sonic Adventure that features Tails Doll (in the fan artwork for both America and Canada).
This is the only Sonic game where Sonic uses a weapon throughout the entire game.
The background music at the Blacksmith shop is a violin instrumental of Believe In Myself, Tails' theme song in the Sonic Adventure series.
The spell that Merlina chants at the beginning ("Ifalas zaras I e zaraq! Ifalas zaras I e zaraq!") is the same spell that Erazor Djinn used to summon Ifrit. However, the subtitles in Black Knight are different, and even state that she's saying two different phrases.
This is the first 3D Sonic game without a 3D ending.
In Knight's Passage, Sonic says, "Who was it who kept treating me like a rat again...?", possibly in reference to Erazor Djinn constantly calling him a rat in Sonic and the Secret Rings.
Amy makes an appearance as herself after the credits. However, only her voice is heard.
Initially, Galahad and Lamorak were in the main story, but for some unknown reason, Sega took them out.
This is the first Sonic game where a British cast was included.
During the Legacy missions, there are items and gimmicks seen in the other Sonic games, such as the Flappers from Sonic Heroes and the Silver Rings (which count as 20 Rings) from Sonic and the Secret Rings.
The seven World Rings from Sonic and the Secret Rings appear as collectible items in the Legacy missions.
This is the third Sonic game where Amy chases Sonic with her Piko Piko Hammer at the end of the game (but it was not shown). The two previous ones are Sonic Rush and Sonic Riders.
This is the last Sonic game to feature the voices of the 4Kids Entertainment cast, as they would be replaced with newer voice actors (with the exception of Mike Pollock, the voice of Dr. Eggman) starting with Sonic Free Riders and Sonic Colors. While Mario & Sonic at the Olympic Winter Games and Sonic & Sega All-Stars Racing also had the 4Kids cast, they were mostly reused voice clips from previous games, with only a few characters receiving new ones.
All of the swords that Sonic wields are weapons that were used by King Arthur in the legends: Clarent was a knighting sword that was used for ceremonies, Caliburn represents the sword in the stone, and Excalibur was the sword the king used until his death.

Clarent was later taken by Mordred and used to kill King Arthur.

The "Ring-Giver" missions are possibly a reference to Anglo-Saxon kings being called "ring-givers," and Sonic was the true King Arthur.
One thing Shiro Maekawa regretted was that in the game's initial development stage Caliburn was a girl when he initially drafted the story of the game and later he was surprised to hear that was changed afterwards.[23]
There is a French exclusive edition of this game called Sonic et le Chevalier Noir Legendary Pack that comes with a Wii Remote shell that is modeled after Caliburn.
Videos
References
External links
Sonic and the Black Knight
---
Main article | Script | Staff | Manuals | Glitches | Beta elements | Gallery
Playable characters
Sonic (Excalibur Sonic) | King Arthur | Blacksmith | Lancelot | Gawain | Percival | Galahad* | Lamorak* | Shadow* | Knuckles* | Blaze* | Amy*
Non-playable characters
Caliburn (Excalibur) | Merlina (Dark Queen) | King Arthur's horse | Nimue | Merlin | King Uther Pendragon | Lady Igraine | Sir Ector | Townsperson | Troll
Areas
Grand Kingdom
Camelot Castle | Shrouded Forest | Knight's Passage | Deep Woods | Dark Hollow
Outlands
Misty Lake | Molten Mine | The Cauldron
Highlands
Titanic Plain | Crystal Cave | Great Megalith | Dragon's Lair
Avalon
Faraway Avalon
Enemies
Crawling-One | Eyeball-One | Fish-One (Red, Blue, Yellow, Purple, White) | Flapper | Giant-One | Soldier-One (Sword, Spear, Axe, Crossbow)
Bosses
Mist Dragon | King Arthur | Lancelot | Gawain | Percival | Earth Dragon | Dark Queen
Moves/
Techniques
Basic
Guard | Homing Dash | Jump Dash | Lock-on
Special
Back Step | Crouch | Grind Step | Grinding | Wall Climb | Wall Shuffle | Wall Slide
Soul Surges
Arthur's Soul Surge | Blacksmith's Soul Surge* | Chaos Punishment | Excalibur Sonic's Soul Surge | Flame Purgation | Sir Galahad's Soul Surge* | Rose Typhoon* | Sonic's Soul Surge | Wild Meteor
Gimmicks and obstacles
Bat | Bottomless pit | Breakable Block | Butterfly | Corner Pole | Dash Panel | Explosion Trap | Giant spear | Goal Plate | Grind Rail | Horse-Drawn Wagon | Iron ball | Jump Panel | Log | Minecart | Mushroom | Mystery Circle | Slime | Spikes | Spring | Thunder dragon | Wide spring
Items
Apple | Black onyx | Fairy | Goal Ring | Rich Ring | Ring | Ring Container | Treasure chest | Will 'o Wisps
Treasury
Weapons
Steel Longsword | Cursed Longsword | Rusty Longsword | Bronze Longsword | Katana | Cursed Dagger | Rusty Dagger | Bronze Dagger | Steel Dagger | Cursed Rapier | Rusty Rapier | Bronze Rapier | Steel Rapier | Cursed Spear | Rusty Spear | Bronze Spear | Steel Spear | Cursed Axe | Rusty Axe | Bronze Axe | Steel Axe
Armor
Steel Gauntlet | Cursed Gauntlet | Rusty Gauntlet | Bronze Gauntlet | Cursed Helmet | Rusty Helmet | Bronze Helmet | Steel Helmet | Samurai Helmet
Necklaces
String of Pearls | Mermaid's Tear | Pendant of Eons | Chain Bracelet | Thorn Anklet | Flower Amulet | Wooden Belt | Bright Red Ribbon | Expensive Broach | Rabbit's Tail | Poison Broach | Stone Broach | Ice Broach | Cure-all Broach
Medicines
Healing Potion | Healing Draught | Antidote | Superior Antidote | Paralysis Cure | Paralysis Immunity | Stone Protection | Petrification Immunity | Vial of Calm | Philter of Tranquility | Fiery Quaff | Hot Fiery Quaff | Herb of Toughness | Herb of Strength
Books
Arthur's Legend 1 | Arthur's Legend 2 | Arthur's Legend 3 | Arthur's Legend 4 | Arthur's Legend 5 | Tome of Arms | Tome of Armor | Tome of Medicines | Tome of Amulets | Tome of Games | Tome of Jewels | Tome of Minerals | Tome of Plants | Tome of Feasts | Tome of Rings | Encyclopedia Arcana
Rings
Yellow Ring | Green Ring | Red Ring | Blue Ring | Aqua Ring | White Ring | Purple Ring | Poison Ring | Doughnut | Onion Ring
Plants
Carnation | Violet | Daffodil | Sweetpea | Lily | Rose | Larkspur | Gladiolus | Morning Glory | Marigold | Daisy | Narcissus | Herb
Gem stones
Garnet | Amethyst | Aquamarine | Diamond | Emerald | Moonstone | Ruby | Peridot | Sapphire | Opal | Topaz | Turquoise
Toys
Pawn | Rook | King | Queen | Bishop | Knight | Ace of Spades | Ace of Clubs | Ace of Hearts | Ace of Diamonds | Joker | Medal of Sonic | Medal of Gawain | Medal of Lancelot | Medal of Percival | Dart | Dartboard | Die | Big the Cat Mask | Building Block | Fishing Pole | Doll
Minerals
Stone | Lump of Iron | Lump of Bronze | Aluminum Ore | Skipping Stone | Rock Salt | Beautiful Crystal | Ice Crystal | Lava Jewel | Flintstone | Mintstone | Gold Ingot | Quasi-Magic Stone | Mithril | Hardtack | Burnt Bread | Moonrock | Wavestone | Dragon-Eye Stone | Orichalcum
Foods
Moist Cookie | Tart | Fresh Milk | Spongy Bread | Aromatic Tea | Chilidog | Herb of Calm | Lollipop | Ham
Special items
Flag | Ballista Arrowhead | Raven's Feather | Mouse Tail | Oar | Lantern | Broken Trap | Egg | Cheese | Magical Moth Dust | Plant Thorn | Giant Flower Seed | Troll's Eyelash | Broken Lock | Rabbit Fur | Lizard Tail | Prison Key | Iron Shackle | Highland Mushroom | Silk Clothing | Silk Shoe | Dragon Scale | Dragon Claw | Dragon's Fang | Shovel | Pickaxe | Wheelbarrow | Bat's Fang | Broken Brick | Soft-Boiled Egg | Lithograph | Letter
Swords
Clarent | Arondight | Rubious | Morglay | Gastiga | Secace | Altachiara | Durendal | Aduro Cutlass | Aduro Khopesh | Precieuse | Espadon | Ddraig Goch | Galatine | Battleaxe | Labrys | Hauteclaire | Gringolet | Balmung | Sanglamore | Chrysaor | Almace | Caledfwlch | Flaming Kopis | Flamberge | Laevatein | Corrougue | Colada | Ktuga | Brinnig | Solais Rapier | Claiomh Solais | Fragarach | Curtana | Ignis Fleuret | Glorious | Joyeuse
Misc.
Mastery Star | Music Notes | Map | Knight's Banner | Painting | Emblem Component | Skill Scroll | Knight's Seal | Deadly Swordsman | Windblade | Destroyer | Quickblade | Blade without Equal | Despised One | Chicken | Weakling | Coward | Ruffian
English voice actors
Jason Griffith (Sonic, Lancelot, Shadow, Lamorak) | Casey Robertson (Caliburn) | Melissa Hutchison (Merlina) | Gavin Hammon (Arthur) | Amy Palant (Blacksmith) | Lisa Ortiz (Nimue, Amy) | Dan Green (Gawain, Knuckles) | Bella Hudson (Percival, Blaze) | Pete Capella (Galahad)
Japanese voice actors
Jun'ichi Kanemaru (Sonic) | Hiroaki Hirata (Caliburn) | Mamiko Noto (Merlina) | Hidekatsu Shibata (Arthur) | Ryō Hirohashi (Blacksmith) | Taeko Kawata (Amy, Nimue) | Kouji Yusa (Lancelot, Shadow) | Nobutoshi Canna (Gawain, Knuckles) | Nao Takamori (Percival, Blaze) | Daisuke Ono (Galahad) | Daisuke Kishio (Lamorak)
Music
Songs
"Knight of the Wind" | "With Me" | "Fight the Knight" | "Through the Fire" | "Live Life" | "Seven Rings In Hand"
Albums
Tales of Knighthood: Sonic and the Black Knight Original Soundtrax | Face to Faith: Sonic and the Black Knight Vocal Trax
Other
Acts of Chivalry | Barrier stone | Battle Mode | Cavalier Style | Chaos Blast | Chaos Control | Chaos Spear | Diehard Challenge | Dragon | Drifting | Followers | Freeze | Hit | King Arthur and the Knights of the Round Table | Knight Style | Knight's Honor Bonus | Knights of the Round Table | Knights of the Underworld | Legacy Mission | Paladin Style | Rank | Real-Time Interaction | Reflecting pool | Sacred sword | Scabbard of Excalibur | Skill | Sonic Knight In Training | Sonic and the Black Knight (manga) | Soul Gauge | Soul Gauge energy | Title | Underworld | World of Camelot

* Appears only in Battle Mode.
Master System
Sonic Spinball (1994)

 ·

Dr. Robotnik's Mean Bean Machine (1994)
Mega Drive
Flicky (1991)

 ·

Sonic Eraser (1991)

 ·

Sonic the Hedgehog Spinball (1993)

 ·

Dr. Robotnik's Mean Bean Machine (1993)

 ·

Wacky Worlds Creativity Studio (1994)

 ·

Knuckles' Chaotix (1995, 32X)

 ·

Sonic 3D Blast (1996)
Saturn
Sonic 3D Blast (1996)

 ·

Sonic R (1997)
Sega All-Stars
Sega Superstars (2004, PS2)

 ·

Sega Superstars Tennis (2008, multi-platform)

 ·

Sonic & Sega All-Stars Racing (2010, multi-platform)

 ·

Sonic & All-Stars Racing Transformed (2012, multi-platform)
Sonic Riders
Sonic Riders (2006, multi-platform)

 ·

Sonic Riders: Zero Gravity (2008, multi-platform)

 ·

Sonic Free Riders (2010, Xbox 360)
Sonic Storybook Series
Sonic and the Secret Rings (2007, Wii)

 ·

Sonic and the Black Knight (2009, Wii)
Mario & Sonic
Mario & Sonic at the Olympic Games (2007, multi-platform)

 ·

Mario & Sonic at the Olympic Winter Games (2009, multi-platform)

 ·

Mario & Sonic at the London 2012 Olympic Games (2011, Wii)

 ·

Mario & Sonic at the London 2012 Olympic Games (2012, 3DS)

 ·

Mario & Sonic at the Sochi 2014 Olympic Winter Games (2013, Wii U)

 ·

Mario & Sonic at the Rio 2016 Olympic Games (2016, multi-platform)

 ·

Mario & Sonic at the Olympic Games Tokyo 2020 (2019, Switch)
Super Smash Bros.
Super Smash Bros. Brawl (2008, Wii)

 ·

Super Smash Bros. for Nintendo 3DS (2014, 3DS)

 ·

Super Smash Bros. for Wii U (2014, Wii U)

 ·

Super Smash Bros. Ultimate (2018, Switch)
Sonic Boom
Sonic Boom: Rise of Lyric (2014, Wii U)

 ·

Sonic Boom: Shattered Crystal (2014, 3DS)

 ·

Sonic Dash 2: Sonic Boom (2015, mobile)

 ·

Sonic Boom: Fire & Ice (2016, 3DS)
Arcade & redemption machines
Flicky (1984)

 ·

Waku Waku Sonic Patrol Car (1991)

 ·

UFO SegaSonic (1992)

 ·

Sonic the Hedgehog (1993)

 ·

SegaSonic Popcorn Shop (1993)

 ·

SegaSonic Cosmo Fighter (1993)

 ·

SegaSonic the Hedgehog (1993)

 ·

Sonic the Hedgehog 2 (1993)

 ·

Sonic the Hedgehog (1993)

 ·

Sonic's Space Tours (1994/1999)

 ·

Sonic the Fighters (1996)

 ·

Sonic the Hedgehog (1997)

 ·

Sonic & Tails Spinner (2002)

 ·

CR Sonic (2003)

 ·

Sonic Spinner (2007)

 ·

Sonic Live! (2008)

 ·

Sonic Sports Basketball (2010)

 ·

Sonic Sports Air Hockey (2010)

 ·

Sonic & Sega All-Stars Racing Arcade (2011)

 ·

Sonic Athletics (2013)

 ·

Sonic Ghost Shooting (2013)

 ·

Sonic Brain Ranking (2013)

 ·

Sonic Dash Extreme (2015)

 ·

Sonic Blast Ball (2015)

 ·

Mario & Sonic at the Rio 2016 Olympic Games Arcade Edition (2016)

 ·

Mario & Sonic at the Olympic Games Tokyo 2020 - Arcade Edition (2020)

Other

Puzzle Construction (1991, TeraDrive)

 ·

Sonic the Hedgehog's Gameworld (1994, Pico)

 ·

Tails and the Music Maker (1994, Pico)

 ·

Sonic's Schoolhouse (1996, PC)

 ·

Sonic Shuffle (2000, Dreamcast)

 ·

Shadow the Hedgehog (2005, multi-platform)

 ·

Sega Splash Golf (2008, PC)

 ·

Sonic the Hedgehog (2008, Didj)

 ·

Team Sonic Racing (2019, multi-platform)

 ·

Sega Streaming Theater Sonic Edition

(2021, PC)

 ·

Sonic Speed Simulator (2022, multi-platform)