Not to be confused with the video game Sonic & Tails.
"Sonic and Tails" is the second episode in the Sonic Mania Adventures web series. It first aired on the official Sonic the Hedgehog YouTube Channel on 30 April 2018.
Synopsis
Miles "Tails" Prower, at your service! When Sonic shows up to let Tails know about Dr. Eggman's newest plot, a tremor rocks the beach. As some mysteries are solved and new ones begin, Sonic will learn that to succeed, sometimes all you need is a helping hand.[1]
Appearances
Characters:
Races and species:
Locations:
Items:
Vehicles:
Plot
The sun is shining on a clear sky above Angel Island, and on the beach, Tails is busy working on the Tornado. Just as he is finished though, Tails notices a blue blur zoom past him, much to his confusion. After looking around, Tails spots, much to his joy, Sonic relaxing on top of the Tornado. After Sonic gives his best friend a friendly greeting, he hands him Dr. Eggman handheld device which he took from him not long ago. Confused, Tails turns on the device and sees on the screen that Eggman has four of the Chaos Emeralds, that Sonic has one Emerald, and that the last two Emeralds are still missing. Just then however, the device reports that it has detected one of the missing Chaos Emeralds on Angel Island and shows a map of where it is. No sooner, Sonic and Tails hear a loud bang that causes some small tremors that nearly make them lose their footing, and Sonic spots some smoke coming from the forest. Sonic promptly speeds off to investigate what this is all about, inadvertently leaving a disappointed Tails behind.
Inside the forest, Eggman is gleefully drilling into the ground with his latest machine, having detected the newest Chaos Emerald just below him. When Sonic subsequently shows up, Eggman notices him, and, in his anger, threatens him with his machine's giant drill arms. Sonic welcomes the challenge and runs towards Eggman. However, when he is forced to stop in order to avoid one of Eggman's drills, the doctor uses the other drill arm to knock Sonic flying out of the forest. Back on the beach, where Tails is still investigating Eggman's device, Tails sees Sonic land in the sand next to him. As a disgruntled Sonic raises his face out of the sand, he sees Tails approach him. Tails promptly extends his hand toward Sonic in an attempt to offer him his help. Learning that to succeed, sometimes all you need is a helping hand, Sonic, after some contemplating, grabs Tails' hand with a smile.
Back in the forest, Eggman is continuing to dig, the Chaos Emerald within his grasp according to his radar. Suddenly however, he hears something attacking and sees, much to his frustration, that Sonic is back. Eggman promptly turns his machine around and gets ready to attack Sonic, but then hears something attacking him from behind. Turning around, Eggmans sees that it is none other than Tails. Having surrounded Eggman, Sonic and Tails begin attacking the doctor's machine from both sides. Refusing to give up though, Eggman creates a tremor with his machine that causes Sonic to stumble, before moving in to skewer Sonic with his machine's other drill. Noticing what Eggman is up to however, Tails speeds up and manages to push Sonic away from the drill in the nick of time. Believing he has won, only to see Sonic dangle from a flying Tails, Eggman can only watch as the two heroes begin spinning around in midair. Ultimately, Tails throws a Spin Attacking Sonic directly through Eggman's machine. Eggman turns towards Sonic in anger, only for his machine to detonate and sent the doctor flying away.
As Sonic and Tails fist bump over their victory, Tails notices a red glow in the dirt where Eggman dug, and heads over to investigate it. Digging slightly through the dirt, Tails finds, much to his surprise, the red Chaos Emerald. Bringing the Emerald to Sonic, who pulls out his own green Emerald, the two friends cling Emeralds and start laughing.
Meanwhile, a pouting and charred Eggman lands on the beach next to the Tornado. He then notices something and pulls out a handheld device that shows some video feed taken by a Monkey Dude from inside the forest on Angel Island. As Eggman gets curious about what his Badnik wants to show him, it catches a glimpse of Knuckles carrying the Master Emerald through the forest. Getting excited about the opportunity to steal the Master Emerald, Eggman takes a look at the Tornado and starts to get an evil idea...
Continuity
Trivia
Video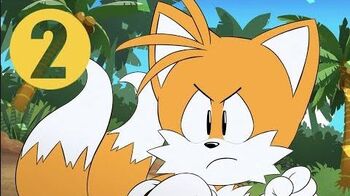 References
---
Main article | Staff | Glitches | Manuals | Beta elements | Gallery | Re-releases (Plus)
Playable characters
Sonic (Super Sonic) | Tails (Super Tails) | Knuckles (Super Knuckles) | Mighty* (Super Mighty*) | Ray* (Super Ray*)
Non-playable characters
Cluckoid | Dr. Eggman | Egg-Robo | Hard Boiled Heavies (Heavy Gunner, Heavy King, Heavy Magician, Heavy Rider, Heavy Shinobi) | Jimmy | Metal Sonic (Giga Metal) | Phantom Heavies (Phantom Gunner, Phantom King, Phantom Magician, Phantom Rider, Phantom Shinobi) | Rock Drill | Animals (Becky, Cucky, Flicky, Locky, Micky, Pecky, Picky, Pocky, Ricky, Rocky, Tocky, Wocky)
Zones
Angel Island Zone* | Green Hill Zone | Chemical Plant Zone | Studiopolis Zone | Flying Battery Zone | Press Garden Zone | Stardust Speedway Zone | Hydrocity Zone | Mirage Saloon Zone | Oil Ocean Zone | Lava Reef Zone | Metallic Madness Zone | Titanic Monarch Zone | Egg Reverie Zone | Special Stage | Bonus Stage | Pinball Stage*
Enemies
Amy Doll | Aquis | Armadiloid | Asteron | Ball Hog | Batbrain | Blaster | Blastoid | Bloominator* | Bugernator | Bumpalo | Buzz Bomber | Cactula | Canister | Caterkiller Jr. | Chopper | Clucker | Crabmeat | Dango | Dragonfly | Fireworm | Flasher Mk. II | Gohla | Grabber | Hotaru | IceBomba | Iwamodoki | Jawz | Jellygnite | Juggle Saw | Kabasira | Kanabun | Madmole | Matryoshka-Bom | Mecha-Bu | Mega Chopper | Mic Drop | Monkey Dude* | Motobug | Newtron | Octus | Poh-Bee | Pointdexter | Rattlekiller | Rexon | RhinoBot* | Roller Mk. II | Scarab | Sentry Bug | Shutterbug | Silver Sonic | Spiny | Splats | Sweep | Technosqueek | Toxomister | Tubinaut | Turbo Spiker | Turbo Turtle | Vultron | Woodrow
Bosses
Mini-bosses
DD Wrecker | Amoeba Droid | Heavy Gunner | Big Squeeze | Shiversaw | Hotaru Hi-Watt | Dive Eggman | Uber Caterkiller | Meter Droid | Drillerdroid | Egg Pistons mk.II | Crimson Eye
Zone bosses
Death Egg Robot | Mean Bean Machine | Weather Globe | Spider Mobile | Heavy Shinobi | Metal Sonic | Laundro-Mobile | Heavy Magician | Mega Octus | Heavy Rider | Heavy King | Gachapandora | Phantom Egg | Phantom King and Klepto Mobile
Moves/Techniques
Air Glide* | Bounce Jump | Climb | Crouch | Double Jump | Drop Dash | Fireball Spin Dash | Glide | Hammer Drop* | Insta-Shield | Propeller Flying | Ring Spark Field | Spin Attack | Spin Dash | Spin Jump | Super Peel Out | Swim | V. Maximum Overdrive Attack
Gimmicks and obstacles
Arrow column | Beanstalk | Bomb | Bumper | Bungee Rope | Bumper wall | Cannon | Capsule | Conveyor Belt | Crusher | Dash Panel | Dropping platform | Electrical conduit | Fan | Fireball | Flipper | Flywheel | Glove on a stick | Goal Plate | Hang Glider | High-speed spiral tube | High-speed warp tube | Ice Spring | Iron ball | Jump Panel | Lighting switch | Magnetic sphere | Platform-raising Wheel | Pulley | Ruby Mist | Saw | Seesaw | Sinking pool | Shrink ray | Snowblower | Spikes | Spring | Star Post | Switch | Transport | Vine | Zipline
Items
Air Bubble | Chaos Emerald | Giant Ring | Giant spear | Item Box (1-UP, Blue Shield, Bubble Shield, Character*, Hyper Ring, Eggman Mark, Fire Shield, Invincible, Lightning Shield, Player Swap, Power Sneakers, Random, S, Super Ring) | Little Planet flowers | Master Emerald | Metal Sonic hologram | Medallion | Ring | Robot transporter | Schrodinger's Capsule* | Sphere | Star Circle | Time Warp sign | UFO | Warp Point
Music
Sonic Mania (vinyl album) | Sonic Mania Original Soundtrack (Selected Edition) | Sonic Mania Plus Original Soundtrack
Other
Angel Island | Auto Running | Continue | Corkscrew | Death Egg Robot | Debug Mode | Egg Mobile | Freeze | Game Over | Klepto Mobile | Level Select | Life | Little Planet | Loop | Mega Mack | Phantom Ruby | Perfect Bonus | Popgun | Sonic Mania Adventures ("Sonic Returns", "Sonic and Tails", "& Knuckles", "Mighty and Ray", "Metal Mayhem", "From: A. Rose", "The Complete Mini-Series") | S pipe | Time Attack | Time Over | Time Warp | Tornado | Water

*Appears in only Sonic Mania Plus