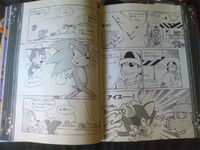 Sonic World Adventure (ソニックワールドアドベンチャー, Sonikku Wārudo Adobenchā?) is a two chapter story that was featured in Dengeki Nintendo DS, which is a Japanese gaming magazine published by ASCII Media Works (formally MediaWorks). It was part of the promoting campaign for Sonic Unleashed in Japan and it loosely follows the plot since Sonic's transformation into the Werehog due to Eggman's scheme and later adventures with Chip.
Plot
Chapter 1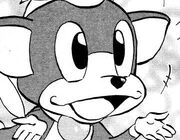 It starts as Sonic is finishing his transformation to the Werehog. Eggman gloats about having payback for all the times Sonic has messed up his plans. Sonic challenges him to try how many times he wants, but he will never let him win. After this, he quickly escapes the room by breaking through a wall. Eggman calls for his robots to catch him after recovering from the surprise. Sonic falls to Earth, amazed by his new found strength, and promises he'll thank Eggman later for it.
Sometime later, Sonic and Chip are heading towards a shrine. Chip retorts he's hungry and Sonic agrees to stop at the next village (from the layout, it seems to be Apotos) and perhaps someone will know him there as well. Chip quickly rushes ahead, screaming for ice cream.
At the village, an ice cream vendor (very different in design from the game one) promotes his products. Chip shows up and demands ice cream rabidly, and he's so eager that he ends up destroying the whole shop. Sonic arrives, in time to hear Chip's desperation of not finding any ice cream and the ice cream's vendor's crying for his lost shop. Sonic, thinking to himself that it was actually Chip who broke the store, tells them to shut up and promises to do something about it.
Sonic and Chip leave to find materials for the repairs. Chip is very happy to help but ends up finding food instead of construction material. Sonic scolds him, saying it's not the time to look for food but Chip is already picking up apples for the future ice cream, and even though Sonic scolds him some more, Chip manages to find a strawberry. Sonic kicks him in the head and leaves annoyed.
He runs into a group of Egg Fighters but he defeats them quickly and stylishly. Chip shows up and comments that they've collected a decent amount of construction materials, referring to the metal scrap lying around. Sonic likes this idea and they quickly return to the village.
They present the new shop to the vendor. Since they've used robots, the shop now automatically serves customers and even speaks to them. Chip very happily says he wants to be the first customer. He approaches the shop, which welcomes him and shoots him down. The shop quickly goes after Sonic and the ice cream vendor as well.
Chapter 2
Sonic has finished defeating a group of Egg Fighters, but there are more to destroy. Chip lands on his hand and tells him night has almost come and he'll transform soon. Sonic quickly destroys the rest of the Egg Fighters and runs with Chip hanging to his quills. Chip tells Sonic that he thought of him as a scary but gentle person when they first met. This leads to a flashback.
Sonic is falling through the atmosphere and splatters on the ground. He looks up and says he now knows how it's like to fall from space without Tails to catch him. Sonic then notices Chip laying on the ground and asks him if he's alright. Chip murmurs he can't eat anymore and opens his eyes. Sonic smiles creepily and Chip freaks out, quickly shoving his paw in his eyes and running away to hide behind a stone, yelling that he's not tasty. Sonic looks a bit shaken, but then tells him his name and asks for his. Chip wonders about this and then says something fell from the sky and hit him, which knocked him unconscious and that's why he doesn't remember anything. Sonic wonders if it was him and reassures Chip that he will help him and perhaps maybe someone around knows who he is. Suddenly, the sun shines and Sonic transforms to his regular form. Chip is very surprised and asks him how he changes. Sonic tells him he doesn't know, it just happened when the sun came up. He then tells Chip they should be off looking for his memories and Chip happily agrees with him. The flashback ends.
Sonic looks up at the moon and notices he has transformed into the Werehog. He looks at the Egg Fighters still following him and quickly defeats them with his new transformed arms. There is one left, ready to shoot him, but Sonic quickly stretches his arm to punch it, commenting it's all too easy.
Chip celebrates Sonic's strength and happily tells him they can now go look for his memories, as it was all Sonic's fault he lost them in the first place. Then he continues his obnoxious behavior, ranting about ice cream some more and Sonic looks crestfallen at having his fault in the whole ordeal rubbed in his face like that.
External links
Sonic the Hedgehog
Shogaku Ichinensei

 ·

Shogaku Ninensei (1, 5, 6)

 ·

Shogaku Sannensei

 ·

Shogaku Yonensei (Sonic no Daibouken)

 ·

Shogaku Gonensei (Sonic Hurry to the Rescue???, Eggman Uses Sport's Day to Set Up a Trap...Don't Lose, Sonic!!,)

 ·

Shogaku Rokunensei

 ·

Corocoro (Big Dreams Make Sonic Propel Forward!!, Big Dreams Are My Energy!, Come On, Guys! Let's Daaance!!, A New Buddy, Tails, Enters the Stage!!)
Dengeki Nintendo DS
Sonic World Adventure

 ·

Sonic and the Black Knight

 ·

Sonic Chronicles

 ·

Sonic Colors

 ·

Sonic Generations
Other
Sonic the Hedgehog Story Comic (1, 2, 3)

 ·

Sonic the Hedgehog Book

 ·

Sonic the Hedgehog 2: Mega Drive Official Guide Book

 ·

Dash & Spin Super Fast Sonic (Vol. 1, Vol. 2)
---
Main article | Gallery | Script | Credits (Xbox 360/PlayStation 3, Wii/PlayStation 2) | Glitches | Re-releases (Mobile)
Characters
Sonic (Super Sonic, Sonic the Werehog) | Chip (Gaia Colossus) | Tails | Amy | Dr. Eggman | Professor Pickle | Orbot | Dark Gaia (Perfect Dark Gaia)
Town Stages/Villages
Apotos | Mazuri | Spagonia | Chun-nan | Holoska | Shamar | Empire City* | Adabat | Eggmanland
Action Stages/Stages
Windmill Isle | Savannah Citadel* | Rooftop Run | Dragon Road | Cool Edge | Arid Sands | Skyscraper Scamper* | Jungle Joyride | Eggmanland
Residents
Apotos
Alexis | Anastasia | Eric | Gregorios | Hot Dog Vendor* | Ice Cream Vendor | Lambros | Lucas* | Milos* | Sandra
Spagonia
Aida* | Barbara | Ciccio | David | Denise | Dora | Elio* | Federica | Franco* | Gigi | Hot Dog Vendor* | Ippolita | Irma* | Josef | Lilli* | Lucia | Marcantonio* | Mauro | Natalia* | Otto | Professor Pickle | Professor Pickle's Assistant | Raimondo
Mazuri
Ana | Essie | Gwek | Hog Dog Vendor* | Kofi | Kwami | Kwod | Yawa | Yaya
Chun-nan
Chun | Hot Dog Vendor* | Hualin | Jinlin* | Lin | Shuifon | Wang* | Yilin | Zonshen
Holoska
Hot Dog Vendor* | Jari-Pekka | Jari-Thure | Marketa | Sarianna | Ursule
Shamar
Ara | Dimah | Ehsan | Erhan | Hizir | Hot Dog Vendor* | Iman | Labib | Latif | Layla | Mufid | Musaid | Raniya | Sa'id | Sadiq | Safi | Samia | Sammar | Shadi | Utba | Yasmine
Empire City
Boss* | Brenda* | Charles* | Def Big* | Elizabeth* | Hot Dog Vendor* | Li'l Kate* | Louie Montaine* | Robert*
Adabat
Hot Dog Vendor* | Jamal | Kaeo | Nagi | Rudi | Teanchai
Eggmanland
EF-DC1998* | EF-MD1991* | EF-XB2006* | Hot Dog Vendor*
Misc.
Baker | Lah | Su* | Wentos* | Wu*
Enemies
Eggman's Machinery
Aero-Cannon | Aero-Chaser | Egg Blizzard | Egg Burst | Egg Fighter | Egg Fighter: Knight (Electric shield, Spring shield) | Egg Fighter: Shield (Electric shield, Spring shield) | Egg Fighter: Sword* | Egg Flame | Egg Launcher (H) | Egg Launcher (H+V) | Egg Launcher (V) | Egg Shackle | Egg Shooter | Egg Typhoon | Gold Aero-Cannon | Interceptor | Little Fighter* | Mole Cannon | Spinner | Thunder Ball | Thunder Spinner
Dark Gaia's minions
Big Mother | Cure Master* | Dark Bat | Dark Bat Sniper | Dark Eel* | Dark Fright | Dark Master** | Deep Nightmare | Evil Flower* | Fire Master | Fright Master | Killer Bee | Lightning Master | Little Rex | Nightmare | Power Master* | Red Fright | Red Killer Bee | Red Nightmare** | Red Deep Nightmare** | Red Rex | Red Titan** | Spike** | Thunder Bat | Titan
Bosses
Egg Beetle | Egg Cauldron* | Egg Devil Ray | Egg Dragoon | Egg Lancer | Dark Gaia | Dark Gaia Phoenix | Dark Guardian | Dark Moray | Perfect Dark Gaia
Moves/
Techniques
Sonic
Air Boost | Crouch | Foot Sweep* | Grind Step | Grinding | Homing Attack | Hop | Jump Dash | Light Speed Dash | Slide | Skydiving | Sonic Boost | Sonic Drift | Spin Jump | Stomp | Quick Step | Wall Jump
Werehog
Dash | Double Jump | Grab | Guard | Unleashed Mode | Wall Shuffle
Misc.
Boost | Drill Attack | Super Sonic Boost | Turbo Boost
Skills
Straight
attacks
Donkey Kick Combo* | Double Axle Combo* | Double Kick Combo* | Feral Were-Hammer* | Knuckle Sandwich Combo* | Sho-Hog-Ken* | Unleashed Knuckle Sandwich* | Vertical Were-Hammer* | Were-Hammer* | Werewheel Rush*
Hook
attacks
Earthshaker* | Egg Scrambler* | Feral Wild Whirl* | Rolling Kick Combo* | Sho-Claw-Ken* | Ultimate Wild Combo* | Unleashed Wild Combo* | Wereclap* | Wild Whirl* | Wild Whirl Were-Hammer*
Aerial
attacks
Aerial Claw Slash* | Aerial Claw Slash and Spin* | Aerial Piledriver* | Crescent Moon Strike* | Diving Bodypress* | Flying Double-Punch* | Flying Double-Punch Crush* | Hurricane Combo* | Shooting Star Combo* | Typhoon Combo*
Special
attacks
Comet Punch* | Missile Punch* | Spinning Needle Attack* | Tricky Tornado Uppercut* | Triple Wild Claw* | Were-Claw Charge* | Were-Cyclone* | Were-Rush* | Were-Tornado* | Wild Werewhip*
Wii/PS2
Beatdown** | Claw Charge | Crescent Moon Strike** | Earthshaker** | Wereclap** | Were-Hammer** | Were-Claw** | Were-Wallop** | Wild Claw** | Wild Whirl**
Level up items
Air Boost Shoes* | Light Speed Dash Shoes* | Stomping Shoes* | Wall Jump Shoes*
Objects
Art Book* | Audio System | Balloon | Blue Tea* | Blue spring | Bobsled | Bookshelf* | Bomb | Buggy** | Buoy | Check Point | Chaos Emerald | Chaos Orb* | Container (Explosive crate, Steel Container, Wooden Container) | Conveyor Belt | Crane Lift | Crank | Crystal Ball* | Dark Energy Key** | Dark Gaia Force | Dash Panel | Dash Rail | Dash Ring | Door | Edible item (Apple, Banana, Canned Juice, Chai, Chili Dog, Donut, Sundae Supreme) | Fountain | Gaia Key* | Giant spear** | Goal Ring | Gift* | Gramophone* | Green Tea* | Grind Rail | Hanging vine | Horizontal Bar | Hourglass* | Icicle | Iron ball | Item Capsule** | Jump Selector | Key Stone* | Laser field | Lever | Lovely Ring* | Maiden Statue* | Miles Electric | Moon Tablet** | Movable box | Moving Crate | Old Necklace* | Planet Tablet** | Pick-Me-Up* | Pretty Bouquet* | Power Shield* | Rainbow Ring | Ramp | Record* | Red Tea* | Ring | Shield Charge* | Snowblower | Souvenir* | Spike Trap | Spikes | Springboard/Spring | Springpole | Sun and Moon Medals | Sun Tablet** | Super Claw* | Super Ring | Switch | Thorn Spring | Tornado-1 | Trap Spring | Turquoise Tea* | TV* | Videotape* | Violet Tea* | White Tea* | Wide spring | Yellow Tea* | Zip Line | 1UP
English voice actors
Jason Griffith (Sonic, Sonic the Werehog, Prof. Pickle's Assistant) | Amy Palant (Tails) | Lisa Ortiz (Amy) | Anthony Salerno (Chip) | Mike Pollock (Eggman, Zonshen) | Christopher Collet (Orbot) | Dan Green (Ice Cream Vendor, Prof. Pickle)
Japanese voice actors
Jun'ichi Kanemaru (Sonic) | Chikao Otsuka (Eggman) | Chō (Prof. Pickle) | Ryo Hirohashi (Tails) | Taeko Kawata (Amy) | Tomokazu Seki (Sonic the Werehog) | Ryōko Shiraishi (Chip)
Planetary Pieces
Endless Possibility | Dear My Friend
Other
Auto Running | Boost Gauge | Boss Gate | Boost Gauge | Chao* | Chaos Energy Cannon | Chun-nan's Treasure | Collection Room* | Combo | Critical Attack | Dark Energy Force Field** | Don Fachio* | Doctor Eggman's chair | Earth | Eggman Fleet | Egg Dragoon | Egg Mobile | Entrance Stage* | Exorcisms | Experience Point | Freeze | Gaia Gate | Gaia Manuscripts | Gaia Temple | Gaia Temple guardian | Hallowmoon | Havok | Health Gauge | Hint Ring | Orb Result** | Real-Time Interaction | Ring Energy Gauge | Shield | Shield Gauge | Shop* (Counter of Dreams 2, Eggshop, Flying Fish Beach Shop, Golden Trading Company, Josef's, Surfside Seagull Sundries, Traveling Salesman Wentos, Treeshade, Ursule's Trading Post, Wang's Emporium) | Shuttle loop | Sonic: Night of the Werehog | Sonic World Adventure (manga) | Spagonia University | SPD | Rank | Time of awakening | Tornado Defense* | Unleashed Gauge

"*" Exclusive to Xbox 360/PlayStation 3 version
"**" Exclusive to Wii/PlayStation 2 version.
Printed media
Manga
Sonic the Hedgehog Story Comic (1991)

 ·

Sonic the Hedgehog (1992—1994) (Sonic no Daibouken)

 ·

Dash & Spin Super Fast Sonic (2003—2005)

 ·

Dengeki Nintendo DS (Sonic World Adventure (2008), Sonic and the Black Knight (2009), Sonic Chronicles (2009), Sonic Colors (2010), Sonic Generations (2011))
Comic books
Sonic the Hedgehog (promotional comic) (1991)

 ·

Sonic the Comic (1993—2002)

 ·

Sonic Sunday Strips (1993—1995)

 ·

Sonic the Hedgehog (Archie Comics) (1993—2017) (miniseries (1993), Princess Sally (1995), Tails (1995), Knuckles (1996), Sonic Quest (1996), Knuckles the Echidna (1997—1999), Sonic X (2005—2008), Sonic Universe (2008—2017), Sonic Boom (2014—2015))

 ·

Sonic Adventures (1994)

 ·

Sonic Comic (2016)

 ·

Sonic the Hedgehog (IDW Publishing) (2018-)

 ·

Sonic the Hedgehog: Tangle & Whisper (2019)
Novels and picture books
Stay Sonic (1993)

 ·

Virgin Books (Sonic the Hedgehog in Robotnik's Laboratory (1993), Sonic the Hedgehog in the Fourth Dimension (1993), Sonic the Hedgehog and the Silicon Warriors (1993), Sonic the Hedgehog in Castle Robotnik (1994))

 ·

Pense Bem: Uma Aventura Científica com Sonic the Hedgehog (1993)

 ·

Troll Associates (Sonic the Hedgehog (1994), Sonic the Hedgehog: Robotnik's Revenge (1994), Sonic the Hedgehog: Fortress of Fear (1995), Sonic the Hedgehog: Friend or Foe? (1995), Sonic & Knuckles (1995), Sonic X-Treme (1997))

 ·

Ladybird (Sonic the Story (1994), Sonic the Hedgehog: Robotnik's Oil (1994), Sonic the Hedgehog: The Invisible Robotnik (1994))

 ·

Watermill Press (Sonic the Hedgehog (1995))

 ·

Golden Books (Sonic the Hedgehog: Sonic's Shoes Blues (1993), Sonic the Hedgehog 2: The Secret Admirer (1994), Sonic the Hedgehog 3: Up Against the Wall (1995), Sonic the Hedgehog: Double Trouble (1996))

 ·

Sonic X books (2005—2007) (Meteor Shower Messenger (2005), Spaceship Blue Typhoon (2005), Battle at Ice Palace (2006), Aqua Planet (2006), Dr. Eggman Goes to War (2006), Desperately Seeking Sonic (2007))

 ·

Where's Sonic? A Search-and-Find Adventure (2012)

 ·

Sonic Boom books (2015—2016) (Le partenaire ideal (2015), La machine à gaffes (2015), Pas de chance, Knuckles ! (2015), L'épouvantable Todd (2016), Sonic Superstar (2016), Une étrange météorite (2016))

 ·

Sonic and the Tales of Deception (2018)

 ·

Sonic and the Tales of Terror (2018)
Other
Sonic Adventure Gamebooks (1993—1996)

 ·

Ladybird (Sonic the Hedgehog Adventure Gamebook (1994—1995), Joke Book (1994), Where's Sonic? (1994), Where's Sonic Now? (1996), Puzzle Book 1 (1994), Puzzle Book 2 (1994))

 ·

The Official Sonic the Hedgehog Yearbook (1993, 1994)

 ·

Sonic the Hedgehog Book (1992)

 ·

Sonic the Hedgehog Paint 'n' Marker Book (1993)

 ·

Look and Find Sonic the Hedgehog (1994)

 ·

Sonic the Hedgehog (Play-a-Sound) (1995)

 ·

How to Draw Sonic the Hedgehog & the Gang (1998)

 ·

The History of Sonic the Hedgehog (2012)

 ·

Sonic the Hedgehog Super Interactive Annual 2014 (2013)

 ·

Run, Sonic, Run! (2013)

 ·

Sonic the Hedgehog 25th Anniversary Art Book (2017)

 ·

Welcome to the World of Sonic (2018)

 ·

Sonic the Hedgehog Mad Libs (2018)

 ·

Sonic the Hedgehog: Race Against Chaos (2018)
Television and film
Animated shows
Adventures of Sonic the Hedgehog (1993)

 ·

Sonic the Hedgehog (1993—1994)

 ·

Sonic Underground (1999)

 ·

Sonic X (2003—2005)

 ·

Sonic Boom (2014—2017)
Other
Sonic - Super Hedgehog (1994)

 ·

Sonic Christmas Blast (1996)

 ·

Sonic the Hedgehog: The Movie (1996)

 ·

Sonic the Animation (1997)

 ·

Sonic: Night of the Werehog (2008)

 ·

Sonic Mania Adventures (2018)

 ·

Team Sonic Racing Overdrive (2019)

 ·

Theatrical film series (Sonic the Hedgehog (2019))
Miscellaneous
Alton Towers (Sonic Pinball)

 ·

conventions (Sonic Boom, Summer of Sonic)

 ·

franchise's timeline

 ·

Guinness World Records

 ·

Hedgehog Engine

 ·

Honey Nut Cheerios

 ·

iTunes

 ·

Ken Penders' legal cases

 ·

cameo appearances and references

 ·

SEGA Republic (Sonic Hopper, Spin Gear)

 ·

Sonic Bible

 ·

Sonic Bowl

 ·

Sonic Generations of Skate

 ·

Sonic Live in Sydney

 ·

Sonic Parade Balloon

 ·

Toyland Tours

 ·

Sonic the Hedgehog toys