This article contains a list of glitches from Sonic Unleashed. Unless otherwise noted, all glitch names are conjectural. Many of them have not been confirmed by Sega.
List of glitches
If the player runs to the Goal Ring at the end of any level and pauses before reaching the results screen, they can restart the level and the level will have completed itself. The results screen will say "BEST TIME: 0:00.00" and the player will receive a massive Time Bonus. In some cases, this glitch can get the player an automatic S-rank, although in most cases it will result in a minimum of a C-Rank.
In the Xbox 360/PlayStation 3 version of the game, there is a glitch that allows the player to pass through doors during Werehog stages. (The combo is



 on the 360 or



on the PS3, and the player must hit the shield button in the middle of the final attack) There is a certain area in Eggmanland where Sonic is in a white, mechanical room with an Hourglass. The player should touch it to transform Sonic into Sonic the Werehog and use the glitch on the left side of the door, which will lead to the area with pipes and fans they would normally have to go through. From there, they can jump on top of the pipes, then off of them onto another area.
In the Xbox 360/PlayStation 3 version of the game, the player must go to the Spagonia Hub world. During the day, they should go near the entrance stage, where they will see two people talking. The player should jump in between these two people. If done correctly, Sonic will be in between the two people, either standing or in his jumping animation while occasionally moving. To get out of the glitch, the player can press the jump button. This glitch cannot be performed by the Werehog, due to the people not being there at night.
Standing still while grinding:
In the Spagonia entrance stage during the day in the Xbox 360/PlayStation 3 versions, the player should go to the wall where Sonic learned how to do a wall jump, wall jump up the wall, and go off the springs, placing Sonic on the grinding rails. From there, they can tilt the control stick to the left, and if done correctly, Sonic will stop grinding but will still be in his grinding animation. If the player does this on the part before the spring and jumps, Sonic will continue grinding but will be grinding sideways.
In any day stage in the Wii/PlayStation 2 version of the game, the player should drift while boosting. Sonic will not turn as he normally does while drifting, but will simply continue in the same direction. The camera angle will change, but the boost will not change direction as long as it is in effect, even if Sonic stops drifting and kicks off in a different direction.
In any day stage, if the player boosts right before a launch panel, some sort of glitch will occur. For example, if Sonic boosts right before the last launch panel in Windmill Isle, he will land outside the walls of the temple or in the ocean. But if he does this in the battle against Dark Gaia, he will fall through the ground when he lands.
After any nighttime boss battle, should Sonic jump immediately before the ranking screen appears, the camera will zoom in above his head.
In the Wii/PlayStation 2 version of the game, the player should play through Windmill Isle Act 2 all the way until Sonic reaches the steps before the robot chase section. Once Sonic touches the bottom of the steps, the player should boost and jump at the end of the stairs. Sonic will be sent flying up into the air at great heights. This glitch will also briefly stall the chase from starting.
In the Wii/PlayStation 2 version of Sonic Unleashed during the second night Act of Shamar ('Scorched Rock'), there's a path where fire is shooting out of the walls before the fight against Big Mother. At the path's entrance is a stony threshold with 12 rings. When Sonic walks along the right side of the rings (without collecting them) and enters the path, the first four rings will disappear, but will reappear if Sonic walks back.
M-speed is a gameplay glitch that can be performed by Sonic the Hedgehog in the Xbox 360/PlayStation 3 version of the game. When used, it allows him to move at very high speeds while airborne that cannot be reached otherwise in regular gameplay. Additionally, this glitch can also be done while in 2D sections of a stage (normally referred to as D-speed or directional speed).
M-speed is a relatively difficult glitch to trigger. To perform it at a basic level, the player should tilt the controller's Left Stick in the direction Sonic should head so slightly that Sonic walks slowly. They must then build up some speed for a moment (usually with the Boost) and Spin jump into the air while maintaining the previous force exerted on the Left Stick. If done correctly, Sonic will move through the air at speeds surpassing that of the Boost. To maintain M-speed, the player must constantly hop or jump when touching the ground while keeping the Left Stick in the same position. One can end the M-speed with the Air Boost, Stomp, or by simply letting go of the Left Stick.
M-speed is ideal for speedrunning in the game. For example, Sonic is able to cross over moderate distances above sections of stages while using it. However, this can have drawbacks, as it can sometimes move Sonic beyond stage boundaries, causing him to lose a life. When passing through checkpoints in Sonic Unleashed, Sonic's recorded speed values are considerably greater than the normal maximum.
M-speed also occurs in the Console/PC version of Sonic Generations. In this game, Classic Sonic has a similar variation of this glitch he can exploit when performing the Spin Dash in a particular way in his stages.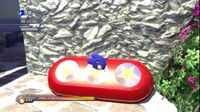 When performing this glitch, Sonic is unable to grab Rings, get hurt by enemies, or interact with Springs or boost. This glitch is triggered by falling for an extended period of time when Sonic ends up out of bounds and there is no death-plain programmed below him.
One way to trigger this glitch is in the daytime version of Jungle Joyride Act 3. It is done by boosting across the water and using the Drift until Sonic eventually drops off the edge of the ocean. After falling for about twenty seconds, the player will lose a life and sometimes, when restarting the Act, "Ghost Mode" will activate effect.
Another way to activate this glitch is in nighttime version of Windmill Isle Act 1. By jumping off a certain ledge using the Combo-Through-Walls glitch, Sonic will fall out of bounds. Because there is no death-plain programmed, the player has to manually restart the Act. After that, "Ghost Mode" will be in effect.
Windmill Isle Loop Glitch: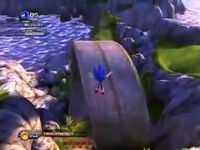 In the the daytime version of Windmill Isle Act 1, the player will reach a loop no more than ten seconds in. If they dash in the air at the corner of the loop, Sonic will shoot upwards and be able to run around in the air.
Interestingly, this glitch only occurs in the Xbox 360 version of the game if it is not updated. As such, this glitch is one of the few glitches in Sonic Unleashed that got patched.
Invisible Rooftop Run Glitch: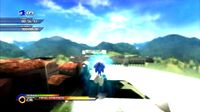 At the beginning of the daytime version of Rooftop Run Act 1, the player should boost while holding down the button to slide and then begin rapidly Quick Stepping either left or right. Sonic will build up a ton of speed during this section of the stage and will actually affect how later parts of Rooftop Run load. If they continue to make their way through the stage quickly, eventually the player will see that things begin to load and unload, leaving Sonic to move around on invisible platforms. Entire pieces of geometry will appear and disappear in an obviously glitched out way. It is possible Sonic moved so fast at the beginning of the stage, the game is unsure of exactly where he is and incorrectly loads things trying to compensate.
Egg Devil Ray Slow-mo Glitch:
On the Egg Devil Ray boss, if the player delivers the final hit to the boss at the same time Sonic takes damage and loses a life, the slow-motion effect they will see when a boss is beaten will carry over into the gameplay when they restart the boss.
Bendy and the ranking screen:
In any daytime stage in the HD version, if the player jumps the second they touch the Goal Ring, Sonic's legs will bend during the results screen.
In Jungle Joyride Act 2 in the Xbox 360/PlayStation 3 version of the game, when the player reaches the switch that opens the stone door to the blue springs, a well timed jump just after leaving the water will clear the door. Depending on how powerful the jump is, Sonic can either land on the rock ahead or fall in the pit. This was discovered by accident.
"Even in the hub worlds, I can still drift!":
In any hub world where Sonic is reduced to jogging, if the player jumps, air dashes, stomps and then immediately tries to drift, Sonic can gain enough speed to start drifting.
After performing the glitch above, if the player jumps and tries to air boost, the shock wave and Aura will appear, but Sonic won't go anywhere.
In the HD version, an odd glitch can happen with the Homing Attack. When targeting a pole, the player can often clip through it and not hit it, or just miss it completely.
In the HD version of the game, if the player performs a quick time event at the same time the goal ring appears, the button prompt remains on the screen. The best way to do this is to defeat a regular enemy so that the arrow is above them, then attack the Titan or any enemy that makes the goal ring spawn then immediately start the QTE on the enemy. If timed correctly, the prompt will reamin on screen. It's easier to get the enemy's health down low so the QTE is easier to pull off. The prompt goes away when performing another QTE, or by finishing the stage. This was discovered in the PS3 version.
In the Wii/PlayStation 2 version of the game, in the Gaia Gates there are pillars of light that will transform Sonic into hedgehog form, but he will revert back to the Werehog after some time. To prevent this, simply crouch in hedgehog form, and even when the purple smoke appears as a precursory warning, the transformation won't occur until you stand up. And even then, you can stop the transformation mid-way by crouching at the right moment. When you finally let go of the crouch button after performing this, Sonic will change without the transformation animation, with the Werehog suddenly popping into existence.
---
Main article | Gallery | Script | Credits (Xbox 360/PlayStation 3, Wii/PlayStation 2) | Glitches | Re-releases (Mobile)
Characters
Sonic (Super Sonic, Sonic the Werehog) | Chip (Gaia Colossus) | Tails | Amy | Dr. Eggman | Professor Pickle | Orbot | Dark Gaia (Perfect Dark Gaia)
Town Stages/Villages
Apotos | Mazuri | Spagonia | Chun-nan | Holoska | Shamar | Empire City* | Adabat | Eggmanland
Action Stages/Stages
Windmill Isle | Savannah Citadel* | Rooftop Run | Dragon Road | Cool Edge | Arid Sands | Skyscraper Scamper* | Jungle Joyride | Eggmanland
Residents
Apotos
Alexis | Anastasia | Eric | Gregorios | Hot Dog Vendor* | Ice Cream Vendor | Lambros | Lucas* | Milos* | Sandra
Spagonia
Aida* | Barbara | Ciccio | David | Denise | Dora | Elio* | Federica | Franco* | Gigi | Hot Dog Vendor* | Ippolita | Irma* | Josef | Lilli* | Lucia | Marcantonio* | Mauro | Natalia* | Otto | Professor Pickle | Professor Pickle's Assistant | Raimondo
Mazuri
Ana | Essie | Gwek | Hog Dog Vendor* | Kofi | Kwami | Kwod | Yawa | Yaya
Chun-nan
Chun | Hot Dog Vendor* | Hualin | Jinlin* | Lin | Shuifon | Wang* | Yilin | Zonshen
Holoska
Hot Dog Vendor* | Jari-Pekka | Jari-Thure | Marketa | Sarianna | Ursule
Shamar
Ara | Dimah | Ehsan | Erhan | Hizir | Hot Dog Vendor* | Iman | Labib | Latif | Layla | Mufid | Musaid | Raniya | Sa'id | Sadiq | Safi | Samia | Sammar | Shadi | Utba | Yasmine
Empire City
Boss* | Brenda* | Charles* | Def Big* | Elizabeth* | Hot Dog Vendor* | Li'l Kate* | Louie Montaine* | Robert*
Adabat
Hot Dog Vendor* | Jamal | Kaeo | Nagi | Rudi | Teanchai
Eggmanland
EF-DC1998* | EF-MD1991* | EF-XB2006* | Hot Dog Vendor*
Misc.
Baker | Lah | Su* | Wentos* | Wu*
Enemies
Eggman's Machinery
Aero-Cannon | Aero-Chaser | Egg Blizzard | Egg Burst | Egg Fighter | Egg Fighter: Knight (Electric shield, Spring shield) | Egg Fighter: Shield (Electric shield, Spring shield) | Egg Fighter: Sword* | Egg Flame | Egg Launcher (H) | Egg Launcher (H+V) | Egg Launcher (V) | Egg Shackle | Egg Shooter | Egg Typhoon | Gold Aero-Cannon | Interceptor | Little Fighter* | Mole Cannon | Spinner | Thunder Ball | Thunder Spinner
Dark Gaia's minions
Big Mother | Cure Master* | Dark Bat | Dark Bat Sniper | Dark Eel* | Dark Fright | Dark Master** | Deep Nightmare | Evil Flower* | Fire Master | Fright Master | Killer Bee | Lightning Master | Little Rex | Nightmare | Power Master* | Red Fright | Red Killer Bee | Red Nightmare** | Red Deep Nightmare** | Red Rex | Red Titan** | Spike** | Thunder Bat | Titan
Bosses
Egg Beetle | Egg Cauldron* | Egg Devil Ray | Egg Dragoon | Egg Lancer | Dark Gaia | Dark Gaia Phoenix | Dark Guardian | Dark Moray | Perfect Dark Gaia
Moves/
Techniques
Sonic
Air Boost | Crouch | Foot Sweep* | Grind Step | Grinding | Homing Attack | Hop | Jump Dash | Light Speed Dash | Slide | Skydiving | Sonic Boost | Sonic Drift | Spin Jump | Stomp | Quick Step | Wall Jump
Werehog
Dash | Double Jump | Grab | Guard | Unleashed Mode | Wall Shuffle
Misc.
Boost | Drill Attack | Super Sonic Boost | Turbo Boost
Skills
Straight
attacks
Donkey Kick Combo* | Double Axle Combo* | Double Kick Combo* | Feral Were-Hammer* | Knuckle Sandwich Combo* | Sho-Hog-Ken* | Unleashed Knuckle Sandwich* | Vertical Were-Hammer* | Were-Hammer* | Werewheel Rush*
Hook
attacks
Earthshaker* | Egg Scrambler* | Feral Wild Whirl* | Rolling Kick Combo* | Sho-Claw-Ken* | Ultimate Wild Combo* | Unleashed Wild Combo* | Wereclap* | Wild Whirl* | Wild Whirl Were-Hammer*
Aerial
attacks
Aerial Claw Slash* | Aerial Claw Slash and Spin* | Aerial Piledriver* | Crescent Moon Strike* | Diving Bodypress* | Flying Double-Punch* | Flying Double-Punch Crush* | Hurricane Combo* | Shooting Star Combo* | Typhoon Combo*
Special
attacks
Comet Punch* | Missile Punch* | Spinning Needle Attack* | Tricky Tornado Uppercut* | Triple Wild Claw* | Were-Claw Charge* | Were-Cyclone* | Were-Rush* | Were-Tornado* | Wild Werewhip*
Wii/PS2
Beatdown** | Claw Charge | Crescent Moon Strike** | Earthshaker** | Wereclap** | Were-Hammer** | Were-Claw** | Were-Wallop** | Wild Claw** | Wild Whirl**
Level up items
Air Boost Shoes* | Light Speed Dash Shoes* | Stomping Shoes* | Wall Jump Shoes*
Objects
1UP | 5 Ring Bonus | 20 Rings** | Art Book* | Audio System | Balloon | Big 50 Ring** | Blue Tea* | Blue spring | Bobsled | Bookshelf* | Bomb | Buggy** | Buoy | Check Point | Chaos Emerald | Chaos Orb* | Container (Explosive crate, Steel Container, Wooden Container) | Conveyor Belt | Crane Lift | Crank | Crystal Ball* | Dark Energy Key** | Dark Gaia Force | Dash Panel | Dash Rail | Dash Ring | Door | Edible item (Apple, Banana, Canned Juice, Chai, Chili Dog, Donut, Sundae Supreme) | Fountain | Gaia Key* | Giant spear** | Goal Ring | Gift* | Gramophone* | Green Tea* | Grind Rail | Hanging vine | Horizontal Bar | Hourglass* | Icicle | Iron ball | Item Capsule** | Jump Selector | Key Stone* | Laser field | Lever | Lovely Ring* | Maiden Statue* | Miles Electric | Moon Tablet** | Movable box | Moving Crate | Old Necklace* | Planet Tablet** | Pick-Me-Up* | Pretty Bouquet* | Power Shield* | Rainbow Ring | Ramp | Record* | Red Tea* | Ring | Shield Charge* | Snowblower | Souvenir* | Spike Trap | Spikes | Springboard/Spring | Springpole | Sun and Moon Medals | Sun Tablet** | Super Claw* | Super Ring | Switch | Thorn Spring | Tornado-1 | Trap Spring | Turquoise Tea* | TV* | Videotape* | Violet Tea* | White Tea* | Wide spring | Yellow Tea* | Zip Line
English voice actors
Jason Griffith (Sonic, Sonic the Werehog, Prof. Pickle's Assistant) | Amy Palant (Tails) | Lisa Ortiz (Amy) | Anthony Salerno (Chip) | Mike Pollock (Eggman, Zonshen) | Christopher Collet (Orbot) | Dan Green (Ice Cream Vendor, Prof. Pickle)
Japanese voice actors
Jun'ichi Kanemaru (Sonic) | Chikao Otsuka (Eggman) | Chō (Prof. Pickle) | Ryo Hirohashi (Tails) | Taeko Kawata (Amy) | Tomokazu Seki (Sonic the Werehog) | Ryōko Shiraishi (Chip)
Planetary Pieces
Endless Possibility | Dear My Friend
Other
Auto Running | Boost Gauge | Boss Gate | Boost Gauge | Chao* | Chaos Energy Cannon | Chun-nan's Treasure | Collection Room* | Combo | Critical Attack | Dark Energy Force Field** | Don Fachio* | Doctor Eggman's chair | Earth | Eggman Fleet | Egg Dragoon | Egg Mobile | Entrance Stage* | Exorcisms | Experience Point | Freeze | Gaia Gate | Gaia Manuscripts | Gaia Temple | Gaia Temple guardian | Hallowmoon | Havok | Health Gauge | Hint Ring | Orb Result** | Real-Time Interaction | Ring Energy Gauge | Shield Gauge | Shop* (Counter of Dreams 2, Eggshop, Flying Fish Beach Shop, Golden Trading Company, Josef's, Surfside Seagull Sundries, Traveling Salesman Wentos, Treeshade, Ursule's Trading Post, Wang's Emporium) | Shuttle loop | Sonic: Night of the Werehog | Sonic World Adventure (manga) | Spagonia University | SPD | Rank | Time of awakening | Tornado Defense* | Unleashed Gauge

"*" Exclusive to Xbox 360/PlayStation 3 version
"**" Exclusive to Wii/PlayStation 2 version.
Community content is available under
CC-BY-SA
unless otherwise noted.