The Sonic Storybook Series is a collection of storybook-themed Sonic games exclusive to the Wii. In both games released under the series, Sonic the Hedgehog travels into the world of a storybook to stop a great evil that potentially threatens both his world and theirs, meeting alternate versions of his friends and enemies in the process.
Games
Trivia
The "Sonic Storybook Series" name was only used on the American version of the cover for Sonic and the Black Knight.
It is never actually explained what method Sonic uses to return to his home world after defeating the evil in either storybook game.
On the back of both box covers of the two games, Sonic is seen in the same pose.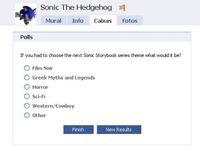 Shortly after the release of Sonic and the Black Knight, Sega ran a Facebook poll to see what fans wanted Sonic to go to in the third installment of the Sonic Storybook Series, including the old west, a haunted house, etc. Greek mythology won the poll. However, nothing has been announced about the Sonic Storybook Series since.
Master System
Sonic Spinball (1994)

 ·

Dr. Robotnik's Mean Bean Machine (1994)
Sega Mega Drive / Genesis
Flicky (1991)

 ·

Sonic Eraser (1991)

 ·

Sonic the Hedgehog Spinball (1993)

 ·

Dr. Robotnik's Mean Bean Machine (1993)

 ·

Wacky Worlds Creativity Studio (1994)

 ·

Knuckles' Chaotix (1995, Sega 32X)

 ·

Sonic 3D Blast (1996)
Sega All-Stars
Sega Superstars (2004, PlayStation 2)

 ·

Sega Superstars Tennis (2008, multi-platform)

 ·

Sonic & Sega All-Stars Racing (2010, multi-platform)

 ·

Sonic & All-Stars Racing Transformed (2012, multi-platform)
Sonic Riders
Sonic Riders (2006, multi-platform)

 ·

Sonic Riders: Zero Gravity (2008, multi-platform)

 ·

Sonic Free Riders (2010, Xbox 360)
Sonic Storybook Series
Sonic and the Secret Rings (2007, Wii)

 ·

Sonic and the Black Knight (2009, Wii)
Mario & Sonic
Mario & Sonic at the Olympic Games (2007, multi-platform)

 ·

Mario & Sonic at the Olympic Winter Games (2009, multi-platform)

 ·

Mario & Sonic at the London 2012 Olympic Games (2011, multi-platform)

 ·

Mario & Sonic at the Sochi 2014 Olympic Winter Games (2013, Wii U)

 ·

Mario & Sonic at the Rio 2016 Olympic Games (2016, multi-platform)

 ·

Mario & Sonic at the Olympic Games Tokyo 2020 (2019, Nintendo Switch)
Super Smash Bros.
Super Smash Bros. Brawl (2008, Wii)

 ·

Super Smash Bros. for Nintendo 3DS and Wii U (2014, multi-platform)

 ·

Super Smash Bros. Ultimate (2018, Nintendo Switch)
Sonic Boom
Sonic Boom: Rise of Lyric (2014, Wii U)

 ·

Sonic Boom: Shattered Crystal (2014, Nintendo 3DS)

 ·

Sonic Dash 2: Sonic Boom (2015, Android)

 ·

Sonic Boom: Fire & Ice (2016, Nintendo 3DS)
Arcade & redemption machines
Flicky (1984)

 ·

Waku Waku Sonic Patrol Car (1991)

 ·

UFO SegaSonic (1992)

 ·

Sonic the Hedgehog (1993)

 ·

SegaSonic the Hedgehog (1993)

 ·

SegaSonic Popcorn Shop (1993)

 ·

SegaSonic Cosmo Fighter (1993)

 ·

Sonic the Hedgehog 2 (1993)

 ·

Sonic's Space Tours (1994/1999)

 ·

Sonic the Fighters (1996)

 ·

Sonic the Hedgehog (AWP) (1997)

 ·

Sonic & Tails Spinner (2002)

 ·

CR Sonic (2003)

 ·

Sonic Spinner (2007)

 ·

Sonic Live! (2008)

 ·

Sonic Sports Basketball (2010)

 ·

Sonic & Sega All-Stars Racing Arcade (2011)

 ·

Sonic Sports Air Hockey (2012)

 ·

Sonic Athletics (2013)

 ·

Sonic Ghost Shooting (2013)

 ·

Sonic Brain Ranking (2013)

 ·

Sonic Dash Extreme (2015)

 ·

Sonic Blast Ball (2016)

 ·

Mario & Sonic at the Rio 2016 Olympic Games Arcade Edition

(2016)

 ·

Mario & Sonic at the Olympic Games Tokyo 2020 - Arcade Edition (2020)

Miscellaneous

Sonic the Hedgehog's Gameworld (1994, Sega Pico)

 ·

Tails and the Music Maker (1994, Sega Pico)

 ·

Sonic's Schoolhouse (1996, PC)

 ·

Sonic R (1997, multi-platform)

 ·

Sonic Shuffle (2000, Dreamcast)

 ·

Shadow the Hedgehog (2005, multi-platform)

 ·

Sega Splash Golf (2008, PC)

 ·

Sonic the Hedgehog (Didj) (2008, LeapFrog Didj)

 ·

Team Sonic Racing (2018, multi-platform)