Sonic Spinball is a browser game developed by Skyworks Technologies and released on 13 October 2002 to promote the release of Sega Smash Pack for the Game Boy Advance. The game was available on the Candystand games portal and featured Life Savers branding. It was often reused for other contests on the site until 2004.
Gameplay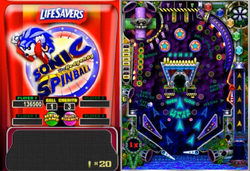 The game plays identically to Sonic Spinball on the Sega Mega Drive, taking place in the Toxic Caves pinball level with Sonic serving as ball and the player controlling the Flippers. The player can shake the table to move Sonic a little, but overusing this function will cause a tilt.
At the end of the game, the player could submit their score to the Candystand website. Players with a score in the top 150 in the original contest had a chance to win several prizes.[3]
Controls
| Button formation | Movement |
| --- | --- |
| [CTRL] | Move left flipper |
| [SHIFT] | Move right flipper |
| [Spacebar] | Start the game |
| [Spacebar] | Shake the table |
Characters
Playable characters
Trivia
References
External links
Community content is available under
CC-BY-SA
unless otherwise noted.