Sonic Speedway is one of six handheld LCD games which were distributed as McDonald's Happy Meal toys for a limited time in 2003.
Gameplay
Being an LCD game, Sonic Speedway plays very similar to the Tiger Electronics LCD games from the 90s with a racing simulation similar to that of Sonic Drift. The game has two large red buttons that control left and right movement.
Sonic drives an F-1 racecar which must navigate through a course filled with anonymous drivers. Sonic must maneuver to an open lane, avoiding the other racers. Out of the three possible lanes, one will always be open, while the others may be occupied by opponents. One point is awarded for each row of vehicles avoided. After gaining thirty points the level and speed increase. There are four levels total. If Sonic crashes five times in a single level the game ends.
E3 2003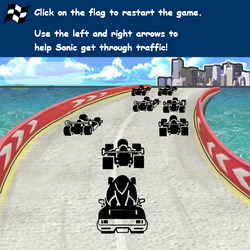 Sonic Speedway was one of four McDonald's LCD games available for free in the Sega area of E3 2003 in Los Angeles California. In the SEGA area there was a large Sonic Happy Meal Box with holes in the top, allowing visitors to reach in and receive a free LCD game.
External links
Community content is available under
CC-BY-SA
unless otherwise noted.