Sonic Saga Series Volume 6: Mogul Rising is the sixth trade-paperback in the Sonic Saga Series volume series. It contains reprints of stories from Sonic the Hedgehog #185-#189 detailing the "Mogul Rising" saga, as well as additional issues.
Official solicitation
It's SONIC VERSUS EVERYBODY! Blast into the action at Sonic speed with the continuation of the all-new Sonic Saga graphic novel series! In this volume, Sonic battles the ancient, evil Mammoth Mogul—who has lost his Chaos Emerald and been imprisoned, but backing him into such a corner only made him more dangerous! Mogul uses his remaining powers to summon a new Fearsome Foursome—and Sonic is forced to be one of them! Every mercenary and cut-throat is hired to take Sonic's shoes—feet being optional! It's Sonic versus everyone else while the malicious mammoth laughs from the shadows! How can Sonic overcome all the odds? Find out inside! SONIC SAGA VOL. 6 collects selected stories from Sonic the Hedgehog #185-189.
Reprinted stories
Chapter 1
Mogul Rising Part One: Needful Things
Chapter 2
Mogul Rising Part Two: Devils Due
Chapter 3
Mister Popular
Chapter 4
Beating the House
Chapter 5
A Bold New Moebius Part One: Unwelcome Guests!
Other features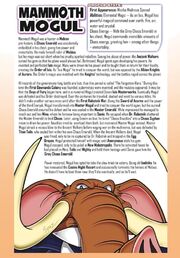 Data Files: This section features data files compiling the following characters and settings in the Archie Comics' Sonic the Hedgehog series:
Mobius Timeline: A comprehensible guide to the history of Mobius. This edition includes the following pieces of history:
Trivia
The main cover art for this volume is the same as the one for Sonic the Hedgehog #186, except the image has been mirrored.
Gallery
Mobuis Timeline
Community content is available under
CC-BY-SA
unless otherwise noted.