Sonic R (ソニックR, Sonikku Ā?) is a racing game that was developed by Traveller's Tales and Sonic Team. It was initially released for the Sega Saturn and was later ported to PC in 1998.
Sonic R is the first appearance of the characters Metal Knuckles and Tails Doll and the first playable appearance of Eggrobo.
Plot
Like most Sonic games in the 90's, the story differs between the Japanese and International versions
Western
Sonic and Tails are enjoying a little time off from adventuring. The trip they have planned will be a nice, relaxing vacation. Or so they think...
Tails spots a huge sign alongside the road they are currently traveling on. It is a recruiting advertisement for the World Grand Prix. Tails then says, "Sonic! Sonic! Look! There's going to be a huge race with all the best racers in the world! What a great opportunity for you to show your speed and compete with the other great runners!"
Sonic thinks for a moment. He's the world's fastest runner, but participating in races is not really his interest. Something on the sign, however, catches Sonic's eye. Dr. Robotnik, Sonic's arch-enemy, is participating in the race. Sonic races off into the distance. "Wait Sonic! Wait for me!", Tails shouts to his friend.
Miles above the sign, a spy satellite focuses on Sonic and Tails. Dr. Robotnik snickers in delight, saying, "Now that you have fallen into my trap, Sonic, I will finally have the Chaos Emeralds, and beat you at the same time. With my new hover machine, and these new robots..." Dr. Robotnik then looks to his left, and a row of gleaming eyes gaze back at him. "Nothing can go wrong! Hahahahahahaha....." Little does Sonic know that Dr. Robotnik has learned of the location of the Chaos Emeralds.
Sonic is not the only one who will be racing with Dr. Robotnik. Sonic's pal, Knuckles, has learned that Sonic will be participating in a very important race. Knuckles never turns down a chance to be around Sonic when the action starts.
Amy will be there too. After secretly following Sonic to his vacation spot, she joined the race, hoping that winning will impress him.
Japanese Version
After numerous duels with Dr Eggman, Tails, full of respect for Sonic, joins Sonic and gang, and on their journey of adventure, Tails and Sonic looked up at a big screen on a building, and they saw a commercial that said: "World Grand Prix Challengers Wanted!!" "Sonic, Sonic, it says they're competing to be the fastest in the world" Tails said with much enthusiasm. "I think you should go for it! I have no doubts you will win for sure! Hmm… maybe I too can give it a shot and pitch my skills against the others!" "Race? ….. I'm not into these…" Sonic was in the least interested. But just before he turned to leave, the next scene caught his attention. "Tails, I'll do it!"
He said hastily and went ahead. "Wait for me, Sonic!" Tails hurriedly gave him chase. What Sonic saw on the screen was:
Participant list : Dr Eggman
Sonic was not the only who caught sight of this worldwide video broadcast. News of this race reached Sonic's good rival Knuckles and Amy, the girl who liked Sonic. "Let me show you the true winner at the grand prix, Sonic!" "Sonic will surely be in this race! Wait for me, Sonic!!!!" Someone was observing all this via a satellite. His name was Dr Eggman, the super-scientist of evil who had been repeatedly challenging Sonic. "Da…. haha……. you've fallen into my trap, Sonic! Now that I know that the Chaos Emerald is somewhere along the route of the race, all I need is to sit back and wait for Sonic and gang to help me chance upon it! And of course, I will have no trouble dealing with Sonic during the race, since I have this secret weapon with me…" Said Dr Eggman as he turned around to rest his eyes on a row of humanoid shadows whose eyes sparkled with a certain sinisterness.
"da….haha…… my perfect plan will finally lead me into the dominion of the world I have dreamnt so long about! daaahahaha!!!!" Can Sonic stop Dr Eggman's evil ambitions? How will the World Grand Prix turn out? There it goes, the World Grand Prix begins!
Characters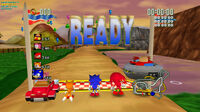 Starter Characters
Unlockable Characters
Courses
Sonic R has five courses: Four of which are available at the start of the game, and one which is unlocked by finishing first in all four unlocked courses.
Reception
 

Reception
Aggregate scores
Aggregator
Score
GameRankings
68% (Sat)[1]
70% (PC)[2]
Review scores
Publication
Score
Allgame
[3]
Electronic Gaming Monthly
8/10, 8/10, 8/10, 7/10 (Sat)[4]
GameSpot
5.6/10 (Sat)[5]
Sonic R received generally positive reviews from critics at the time of its release, although retrospective commentary has been more mixed. The Saturn version currently holds an aggregate score of 68.92 percent in GameRankings based on six reviews,[6] while the PC version received 70% based on two.[7]
Ryan MacDonald of GameSpot commented positively on the graphics and audio, but said that the game is "so short that you'll probably finish it the day you rent it."[5] Game Revolution noted that the game was "a little different" from normal racing games, but was highly critical of the music (remarking that "With lyrics like 'Can you feel the sunshine brighten up your day', you feel like Disney has suddenly taken over the world and Gestapo mice are forcing you to smile all the time") and the "wily and inexact" controls.[8]
Re-releases
Image
Platform
Description
PC
Arcade Collection is a compilation of Sega PC games which includes Sonic R, Sonic 3D: Flickies' Island, and Sega Rally. It was released by Empire Interactive in 2000.
Sonic Speed Pack! is a compilation of the two Sonic PC games developed by Traveller's Tales, being Sonic 3D Blast and Sonic R. It was released by Expert Software in 2000.
Sonic Action Pack is a bundle of three Sega PC Sonic games; Sonic R, Sonic the Hedgehog CD, and Sonic & Knuckles Collection. It was released in 2000.
Sonic Action 4 Pack is the same as Sonic Action Pack, except it also includes Sega Smash Pack 2. It was released in 2001.
Sonic Double Pack similar to Sonic Speed Pack!, a compilation with Sonic 3D Blast and Sonic R. It was released in 2008.
Nintendo GameCube, PlayStation 2
Sonic Gems Collection is a compilation released in 2005 that features the remaining notable Sonic games not included in Sonic Mega Collection, as well as numerous extras. The three main games of the compilation are Sonic the Hedgehog CD, Sonic the Fighters and Sonic R. The version of Sonic R included is the 2004 PC port.
Music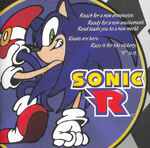 Sonic R is an album for the soundtrack of the game. It was released by Marvelous Entertainment in Japan in 1998. It contains a total of twelve tracks, two of which are remixes exclusive to the album. A digital version was released in 2014 and included the instrumental versions of the tracks, but excluded the remixes from the original release.
Trivia
Videos
References
External links
Master System
Sonic Spinball (1994)

 ·

Dr. Robotnik's Mean Bean Machine (1994)
Sega Mega Drive / Genesis
Flicky (1991)

 ·

Sonic Eraser (1991)

 ·

Sonic the Hedgehog Spinball (1993)

 ·

Dr. Robotnik's Mean Bean Machine (1993)

 ·

Wacky Worlds Creativity Studio (1994)

 ·

Knuckles' Chaotix (1995, Sega 32X)

 ·

Sonic 3D Blast (1996)
Sega All-Stars
Sega Superstars (2004, PlayStation 2)

 ·

Sega Superstars Tennis (2008, multi-platform)

 ·

Sonic & Sega All-Stars Racing (2010, multi-platform)

 ·

Sonic & All-Stars Racing Transformed (2012, multi-platform)
Sonic Riders
Sonic Riders (2006, multi-platform)

 ·

Sonic Riders: Zero Gravity (2008, multi-platform)

 ·

Sonic Free Riders (2010, Xbox 360)
Sonic Storybook Series
Sonic and the Secret Rings (2007, Wii)

 ·

Sonic and the Black Knight (2009, Wii)
Mario & Sonic
Mario & Sonic at the Olympic Games (2007, multi-platform)

 ·

Mario & Sonic at the Olympic Winter Games (2009, multi-platform)

 ·

Mario & Sonic at the London 2012 Olympic Games (2011, multi-platform)

 ·

Mario & Sonic at the Sochi 2014 Olympic Winter Games (2013, Wii U)

 ·

Mario & Sonic at the Rio 2016 Olympic Games (2016, multi-platform)

 ·

Mario & Sonic at the Olympic Games Tokyo 2020 (2019, Nintendo Switch)
Super Smash Bros.
Super Smash Bros. Brawl (2008, Wii)

 ·

Super Smash Bros. for Nintendo 3DS and Wii U (2014, multi-platform)

 ·

Super Smash Bros. Ultimate (2018, Nintendo Switch)
Sonic Boom
Sonic Boom: Rise of Lyric (2014, Wii U)

 ·

Sonic Boom: Shattered Crystal (2014, Nintendo 3DS)

 ·

Sonic Dash 2: Sonic Boom (2015, Android)

 ·

Sonic Boom: Fire & Ice (2016, Nintendo 3DS)
Arcade & redemption machines
Flicky (1984)

 ·

Waku Waku Sonic Patrol Car (1991)

 ·

UFO SegaSonic (1992)

 ·

Sonic the Hedgehog (1993)

 ·

SegaSonic the Hedgehog (1993)

 ·

SegaSonic Popcorn Shop (1993)

 ·

SegaSonic Cosmo Fighter (1993)

 ·

Sonic the Hedgehog 2 (1993)

 ·

Sonic's Space Tours (1994/1999)

 ·

Sonic the Fighters (1996)

 ·

Sonic the Hedgehog (AWP) (1997)

 ·

Sonic & Tails Spinner (2002)

 ·

CR Sonic (2003)

 ·

Sonic Spinner (2007)

 ·

Sonic Live! (2008)

 ·

Sonic Sports Basketball (2010)

 ·

Sonic & Sega All-Stars Racing Arcade (2011)

 ·

Sonic Sports Air Hockey (2012)

 ·

Sonic Athletics (2013)

 ·

Sonic Ghost Shooting (2013)

 ·

Sonic Brain Ranking (2013)

 ·

Sonic Dash Extreme (2015)

 ·

Sonic Blast Ball (2016)

 ·

Mario & Sonic at the Rio 2016 Olympic Games Arcade Edition

(2016)

 ·

Mario & Sonic at the Olympic Games Tokyo 2020 - Arcade Edition (2020)

Miscellaneous

Sonic the Hedgehog's Gameworld (1994, Sega Pico)

 ·

Tails and the Music Maker (1994, Sega Pico)

 ·

Sonic's Schoolhouse (1996, PC)

 ·

Sonic R (1997, multi-platform)

 ·

Sonic Shuffle (2000, Dreamcast)

 ·

Shadow the Hedgehog (2005, multi-platform)

 ·

Sega Splash Golf (2008, PC)

 ·

Sonic the Hedgehog (Didj) (2008, LeapFrog Didj)

 ·

Team Sonic Racing (2018, multi-platform)