Race for the goal with Sonic and his pals!

— Tagline
Sonic R (ソニックR, Sonikku Ā?) is a racing game that was developed by Traveller's Tales and Sonic Team for the Sega Saturn and PC, the latter version being ported to the Nintendo GameCube and the PlayStation 2 in Sonic Gems Collection. It was initially released for the Sega Saturn, and was later ported for the PC in 1998.
Sonic R is the first appearance of the characters Metal Knuckles and Tails Doll and the first playable appearance of Eggrobo.
Plot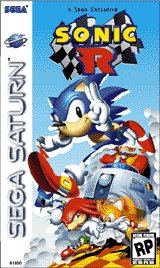 North American/European version: Sonic and Tails are enjoying a little time off from adventuring. The trip they have planned will be a nice, relaxing vacation. Or so they think...
Tails spots a huge sign alongside the road they are currently traveling on. It is a recruiting advertisement for the World Grand Prix. Tails then says, "Sonic! Sonic! Look! There's going to be a huge race with all the best racers in the world! What a great opportunity for you to show your speed and compete with the other great runners!"
Sonic thinks for a moment. He's the world's fastest runner, but participating in races is not really his interest. Something on the sign, however, catches Sonic's eye. Dr. Robotnik, Sonic's arch-enemy, is participating in the race. Sonic races off into the distance. "Wait Sonic! Wait for me!", Tails shouts to his friend.
Miles above the sign, a spy satellite focuses on Sonic and Tails. Dr. Robotnik snickers in delight, saying, "Now that you have fallen into my trap, Sonic, I will finally have the Chaos Emeralds, and beat you at the same time. With my new hover machine, and these new robots..." Dr. Robotnik then looks to his left, and a row of gleaming eyes gaze back at him. "Nothing can go wrong! Hahahahahahaha....." Little does Sonic know that Dr. Robotnik has learned of the location of the Chaos Emeralds.
Sonic is not the only one who will be racing with Dr. Robotnik. Sonic's pal, Knuckles, has learned that Sonic will be participating in a very important race. Knuckles never turns down a chance to be around Sonic when the action starts.
Amy will be there too. After secretly following Sonic to his vacation spot, she joined the race, hoping that winning will impress him.
Characters
Starter Characters
Unlockable Characters
Courses
Sonic R has five courses:
Reception
 

Reception
Aggregate scores
Aggregator
Score
GameRankings
68% (Sat)[1]
70% (PC)[2]
Review scores
Publication
Score
Allgame
[3]
Electronic Gaming Monthly
8/10, 8/10, 8/10, 7/10 (Sat)[4]
GameSpot
5.6/10 (Sat)[5]
Sonic R received generally positive reviews from critics at the time of its release, although retrospective commentary has been more mixed. The Saturn version currently holds an aggregate score of 68.92 percent in GameRankings based on six reviews[6], while the PC version received 70% based on two.[7]
Ryan MacDonald of GameSpot commented positively on the graphics and audio, but said that the game is "so short that you'll probably finish it the day you rent it."[5] Game Revolution noted that the game was "a little different" from normal racing games, but was highly critical of the music (remarking that "With lyrics like 'Can you feel the sunshine brighten up your day', you feel like Disney has suddenly taken over the world and Gestapo mice are forcing you to smile all the time") and the "wily and inexact" controls.[8]
Music
Sonic R is an album released for the Sonic R songs in 1998. It was composed by Richard Jacques. It contains a total of twelve tracks.
Trivia
Videos
References
External links
| | |
| --- | --- |
| Master System & Game Gear | Sonic the Hedgehog Spinball (1994) • Dr. Robotnik's Mean Bean Machine (1994) |
| Sega Mega Drive / Genesis | Flicky (1991) • Sonic Eraser (1991) • Sonic the Hedgehog Spinball (1993) • Dr. Robotnik's Mean Bean Machine (1993) • Wacky Worlds Creativity Studio (1994) • Knuckles' Chaotix (1995, Sega 32X) • Sonic 3D Blast (1996) |
| Sega Superstars | Sega Superstars (2004, PlayStation 2) • Sega Superstars Tennis (2008, multi-platform) • Sonic & Sega All-Stars Racing (2010, multi-platform) • Sonic & All-Stars Racing Transformed (2012, multi-platform) |
| Riders games | Sonic Riders (2006, multi-platform) • Sonic Riders: Zero Gravity (2008, multi-platform) • Sonic Free Riders (2010, Xbox 360) |
| Storybook games (Wii) | Sonic and the Secret Rings (2007, Wii) • Sonic and the Black Knight (2009, Wii) |
| Mario & Sonic games | Mario & Sonic at the Olympic Games (2007, multi-platform) • Mario & Sonic at the Olympic Winter Games (2009, multi-platform) • Mario & Sonic at the London 2012 Olympic Games (2011, multi-platform) • Mario & Sonic at the Sochi 2014 Olympic Winter Games (2013, Wii U) • Mario & Sonic at the Rio 2016 Olympic Games (2016, multi-platform) • Mario & Sonic at the Tokyo 2020 Olympic Games (2019, Nintendo Switch) |
| Super Smash Bros. games | Super Smash Bros. Brawl (2008, Wii) • Super Smash Bros. for Nintendo 3DS and Wii U (2014, multi-platform) • Super Smash Bros. Ultimate (2018, Nintendo Switch) |
| Sonic Boom games | Sonic Boom: Rise of Lyric (2014, Wii U) • Sonic Boom: Shattered Crystal (2014, Nintendo 3DS) • Sonic Dash 2: Sonic Boom (2015, Android) • Sonic Boom: Fire & Ice (2016, Nintendo 3DS) |
| Arcade & redemption machines | Flicky (1984) • Waku Waku Sonic Patrol Car (1991) • UFO SegaSonic (1992) • Sonic the Hedgehog (1993) • SegaSonic the Hedgehog (1993) • SegaSonic Popcorn Shop (1993) • SegaSonic Cosmo Fighter (1993) • Sonic the Hedgehog 2 (1993) • Sonic's Space Tours (1994/1999) • Sonic the Fighters (1996) • Sonic the Hedgehog (AWP) (1997) • Sonic & Tails Spinner (2002) • CR Sonic (2003) • Sonic Spinner (2007) • Sonic Live! (2008) • Sonic & Sega All-Stars Racing Arcade (2011) • Sonic Athletics (2013) • Sonic Ghost Shooting (2013) • Sonic Brain Ranking (2013) • Sonic Dash Extreme (2015) |
| Miscellaneous | Sonic the Hedgehog's Gameworld (1994, Sega Pico) • Tails and the Music Maker (1994, Sega Pico) • Sonic's Schoolhouse (1996, PC) • Sonic R (1997, multi-platform) • Sonic Shuffle (2000, Dreamcast) • Sega Splash Golf (2008, PC) • Shadow the Hedgehog (2005, multi-platform) • Sonic the Hedgehog (Didj) (2008) • Team Sonic Racing (2018, multi-platform) |