Featured Articles are articles that have been recognized as the best on Sonic News Network. After an experienced user chooses an article, the Featured Article should be tagged using Template:FA, which places an icon in the top right of the page.
Criteria
Articles are selected for Featured Article status by Admins and Moderators, but a known and experienced user can also choose an article to be featured. Should a chosen article emit a conflict between users, then they should nominate the article on Sonic News Network:Featured Article nominations page to see whether other users see it eligible, and then place Template:Nominated featured article on the nominated article. The Featured Article should follow the following rules:
It must have been written primarily by Sonic News Network users, and not copied directly from other sites, such as Wikipedia or Mobius Encyclopaedia.
It must be factually correct, with no false information, and it must have sufficient references to verify its accuracy.
It must be at least a few paragraphs in length.
If an article has already been a Featured Article, it cannot be chosen again.
Current Featured Article
00:40, 8 April 2021 (UTC)
Main Page Box
Sonic the Hedgehog (Sonic Boom)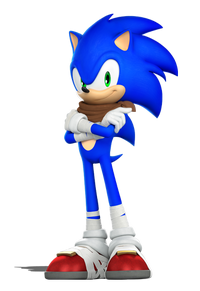 Sonic the Hedgehog is the main protagonist of the Sonic Boom series. He is an anthropomorphic hedgehog gifted with super running speed, who fights Dr. Eggman and other villains alongside his group of friends as the leader of Team Sonic to preserve peace and freedom.
Much like the wind, Sonic is free-spirited and always on the move. He has a passion for adventure and is very much a thrill-seeker and adrenaline junkie, always looking for the next thrill, challenge, and triumph. For Sonic, speed is a way of life; he runs fast, thinks fast, and even eats fast. Being addicted to speed and action, Sonic gets bored and restless during extended times of peace. In fact, Sonic cannot process the aspect of being restricted and being unable to move around very much makes him extremely stir-crazy. He acts on instinct and lives in the moment, though he is very impatient, impulsive, and tends to run headlong into trouble without a plan. While he can be shortsighted of others' feelings (making him blunt, honest, and rude to a fault), his heart is nevertheless always in the right place.
Sonic is a powerful fighter in his own right, and is arguably Team Sonic's strongest member; when pitted against Shadow the Hedgehog, who can defeat the other members of Team Sonic with ease, Sonic has proven himself capable of fighting Shadow to a near standstill.
Previously Featured: Chaos Spear, Roger Craig Smith, Perfect Chaos, Zombot, Sonic the Hedgehog Triple Trouble
Past Featured Articles
List of the past Featured Articles
Community content is available under
CC-BY-SA
unless otherwise noted.