Featured Articles are articles that have been recognized as the best on Sonic News Network. After an experienced user chooses an article, the Featured Article should be tagged using Template:FA, which places an icon in the top right of the page.
Criteria
Articles are selected for Featured Article status by Admins and Moderators, but a known and experienced user can also choose an article to be featured. Should a chosen article emit a conflict between users, then they should nominate the article on Sonic News Network:Featured Article nominations page to see whether other users see it eligible, and then place Template:Nominated featured article on the nominated article. The Featured Article should follow the following rules:
It must have been written primarily by Sonic News Network users, and not copied directly from other sites, such as Wikipedia or Mobius Encyclopaedia.
It must be factually correct, with no false information, and it must have sufficient references to verify its accuracy.
It must be at least a few paragraphs in length.
If an article has already been a Featured Article, it cannot be chosen again.
Current Featured Article
17:46, 30 June 2022 (UTC)
Main Page Box
Sonic the Hedgehog (Classic)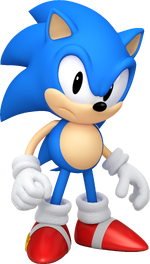 Sonic the Hedgehog (ソニック・ザ・ヘッジホッグ, Sonikku za Hejjihoggu?), also referred to as Classic Sonic (クラシックソニック, Kurashikku Sonikku?), is a character that appears in the Sonic the Hedgehog series. He is an anthropomorphic hedgehog and Sonic the Hedgehog's counterpart from another dimension set in the recent past. Well-known for his supersonic speed, iconic blue spikes and red shoes, Sonic has a huge fondness for freedom and adventures, and has spent a long time defeating the forces of his arch-enemy, the evil Dr. Eggman.
Basically a past version of his modern counterpart from his younger days, Sonic first appeared during the Time Eater incident where he helped his counterpart foil one of Modern Eggman's plots before returning to his own universe. Since then, he has continued his adventures alongside his friends, and even reappeared in the mainstream universe to help out where needed.
Previously Featured: Surge the Tenrec, Knuckles the Echidna (Paramount), Emerl, Sonic the Hedgehog, Chaos Emerald
Past Featured Articles
List of the past Featured Articles