Featured Articles are articles that have been recognized as the best on Sonic News Network. After an experienced user chooses an article, the Featured Article should be tagged using Template:FA, which places an icon in the top right of the page.
Criteria
Articles are selected for Featured Article status by Admins and Moderators, but a known and experienced user can also choose an article to be featured. Should a chosen article emit a conflict between users, then they should nominate the article on Sonic News Network:Featured Article nominations page to see whether other users see it eligible, and then place Template:Nominated featured article on the nominated article. The Featured Article should follow the following rules:
It must have been written primarily by Sonic News Network users, and not copied directly from other sites, such as Wikipedia or Mobius Encyclopaedia.
It must be factually correct, with no false information, and it must have sufficient references to verify its accuracy.
It must be at least a few paragraphs in length.
If an article has already been a Featured Article, it cannot be chosen again.
Current Featured Article
19:17, February 7, 2019 (UTC)
Main Page Box
Sonic's Scream Test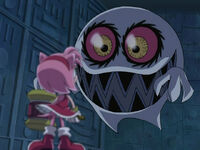 "Sonic's Scream Test" is the nineteenth episode of the anime series, Sonic X. It first aired on 10 August 2003 and 7 February 2004 in Japan and the United States respectively. Lindsey Thorndyke is shooting a new movie at a castle and Sonic and the gang are with her. After discovering the Talisman, things start get scary and Booms and King Boom Boo haunt the visitors all night.
Previously Featured: Super Peel Out, Sonic Christmas Blast, Pumpkin Hill, Floating Island, Star Post
Past Featured Articles
List of the past Featured Articles