Featured Articles are articles that have been recognized as the best on Sonic News Network. After an experienced user chooses an article, the Featured Article should be tagged using Template:FA, which places an icon in the top right of the page.
Criteria
Articles are selected for Featured Article status by Admins and Moderators, but a known and experienced user can also choose an article to be featured. Should a chosen article emit a conflict between users, then they should nominate the article on Sonic News Network:Featured Article nominations page to see whether other users see it eligible, and then place Template:Nominated featured article on the nominated article. The Featured Article should follow the following rules:
It must have been written primarily by Sonic News Network users, and not copied directly from other sites, such as Wikipedia or Mobius Encyclopaedia.
It must be factually correct, with no false information, and it must have sufficient references to verify its accuracy.
It must be at least a few paragraphs in length.
If an article has already been a Featured Article, it cannot be chosen again.
Current Featured Article
13:32, August 1, 2020 (UTC)
Main Page Box
The Biggest Fan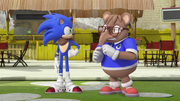 "The Biggest Fan" is the fifty-seventh episode in the Sonic Boom television series. It first aired on 10 December 2016 in the United States and on 8 April 2017 in France. In the episode, Sonic is pestered by Mark the Tapir, who weasels his way into a position as Sonic's assistant. Eventually, Mark crosses the line and captures Sonic and his friends.
The entire episode share many similarities to the Stephen King novel, Misery. During the production of this episode, the staff of Sonic Boom researched more of the general fandom rather than the Sonic fanbase specifically. Mark in particular was designed with the general fan-type character in mind rather than a specific person. Many jokes about the Sonic fandom are made in the episode.
Previously Featured: Egg Mobile, Psychokinesis, Team Sonic, Sonic & Mega Man: Worlds Collide, Jazwares
Past Featured Articles
List of the past Featured Articles
Community content is available under
CC-BY-SA
unless otherwise noted.