Celebrate Sonic's roots with 20 classic titles!

— Trailer description.
Sonic Mega Collection (ソニック メガコレクション, Sonikku Mega Korekushon?) is a video game compilation developed by Sonic Team and published by Sega in 2002 for the Nintendo GameCube. It contains twelve-fourteen Sega Mega Drive games (depending on region), mostly those in the Sonic the Hedgehog series. An updated version of the game was released for the PlayStation 2, Xbox and Microsoft Windows under the title Sonic Mega Collection Plus which included more games.
Games
Unlockable games
Japan-exclusive unlockable games
How to unlock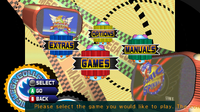 Extras
Illustrations
Movies
Trivia
Reception
Reception for Sonic Mega Collection was generally positive.[1] The game sold very well across all platforms, attaining best-seller status in the systems it was released in: Player's Choice (Nintendo GameCube), Greatest Hits (PlayStation 2), and Platinum Hits (Xbox). In particular, the PlayStation 2 version and GameCube version both sold over two million copies.[2]
Music
Name
Artist
Length
Music Track
Title Screen
Hideaki Kobayashi
0:33
Intro
03:04
Menu
01:43
Games
02:25
Extras
03:08
Credits
02:39
References
See also
External links
| | |
| --- | --- |
| Console | Sonic Compilation (1995, Sega Genesis) • Mega 6 Vol. 3 (1995, Sega Genesis) • Sonic 2 in 1 (1995, Sega Game Gear) • 6-Pak (1996, Sega Genesis) • Sonic Jam (1997, Sega Saturn) • Sega Smash Pack (2001, Dreamcast) • Sega Smash Pack (2002, Game Boy Advance) • Sonic Mega Collection (2002, Nintendo GameCube) • Sonic Adventure DX: Director's Cut (2003, multi-platform) • Sonic Mega Collection Plus (2004, multi-platform) • Sonic Gems Collection (2005, multi-platform) • Sega Genesis Collection (2006, multi-platform) • Sonic's Ultimate Genesis Collection (2009, multi-platform) • Sega Fun Pack (1999, PSP) • Sonic Classic Collection (2010, Nintendo DS) • Dreamcast Collection (2011, multi-platform) • Sega 3D Classics Collection (2015, Nintendo 3DS) • Sega 3D Fukkoku Archives 3: Final Stage (2016, Nintendo 3DS) • Sega Genesis Classics (2018, multi-platform) |
| PC | Sonic & Knuckles Collection (1997) • Sonic & Garfield Pack (1999) • Sega Smash Pack (1999) • Sega Puzzle Pack (1999) • Sega Smash Pack 2 (2000) • Arcade Collection (2000) • Sonic Action Pack (2000) • Sonic Action 4 Pack (2001) • Sonic Mega Collection Plus (2006) • Sonic PC Collection (2009) • Sega Mega Drive Classic Collection Vol. 1 (2010) • Sega Mega Drive Classic Collection Vol. 2 (2010) • Sega Mega Drive Classic Collection Vol. 3 (2010) • Sega Mega Drive Classic Collection Vol. 4 (2011) • Sonic Anniversary PC Pack (2011) • Dreamcast Collection (2011) • Sega Genesis Classic Collection Gold Edition (2011) • Sonic Hits Collection (2013) • Sega War Bundle (2013) • Sega Forever (2017) |