Sonic Jump 2 is a mobile phone game released in the Sega Mobile service offered by Sega. This game is a sequel to Sonic Jump. A remake of Sonic Jump was later released in 2012.
Gameplay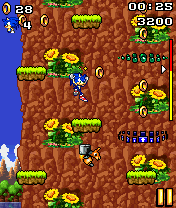 Like the first game, the player controls Sonic's left and right movements to navigate him jumping from platform to platform, rising up the screen to the top. If Sonic falls to the bottom of the screen, he loses a life - collecting fifty Rings gains one back. Fragments of Chaos Emeralds return in each level - to collect it, the player must finish the act with at least fifty Rings. There are seven levels of increasing difficulty, with the seventh only unlocked when the player has six Chaos Emeralds. Contrary to the game's instruction set, there is no secret reward for acquiring all seven Chaos Emeralds.
Characters
Playable characters
Non-playable characters
Enemies
Zones
The Zones in Sonic Jump 2 are identical to the Zones from Sonic Jump.
Reception
The game received positive reception from IGN who scored it a 7 out of 10.[1]
Trivia
References