This article contains a list of glitches from Sonic Heroes. Unless otherwise noted, all glitch names are conjectural. Many of them have not been confirmed by Sega.
List of glitches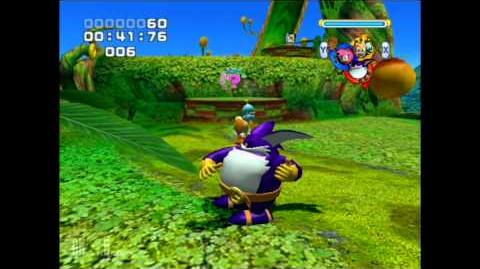 This glitch can be performed in all versions outside of the PC version. To perform this glitch, the player should switch to Flight Formation, then press the Action Button and switch to Speed Formation or Power Formation at almost the same time. It may take a few tries to pull this off, but if done correctly, the Flight character will perform a rapid attack and the Team Blast gauge will fill up almost 1/3 of the way. If the player does this a few more times, and they will soon have a full gauge. This is incredibly useful during the final battle with Metal Sonic as Metal Madness and Metal Overlord.
In the PC version, this glitch is much harder to perform. While in Flight Formation, the player must fly in the air, switch to Speed Formation or Power Formation, then press the Action Button the same time they land on the ground. This may take a couple of tries, but if done correctly, the Flight character will perform a rapid attack and the Team Blast gauge will fill up almost 1/3 of the way.
This can be used to easily to get an A Rank on Team Dark's Extra Missions.
Team Blast adjusted angle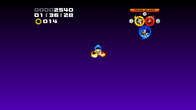 This glitch can be performed by any team's Team Blast, as long as they are able to reach a certain section of Ocean Palace. When the player reaches the part of the stage where the boulder chases them, they should switch to Speed Formation and keep running until they reach the area near the speed booster. From there, they can activate Team Blast and will see a "zoomed out" version (unlike the one where the game's FOV is hacked) of the Team Blast screen.
Power control in Flight formation (Locked Flight Character)
Team Sonic and Team Dark have a glitch that can be triggered by using the combo attack in Power formation, switching to Fly formation, and jumping at the same time. The game still thinks that the player is in Fly formation, but they are still controlling Knuckles/Omega. With this glitch active, bizarre things will happen:
If the player jumps off of the stage while this glitch is active, the player will glitch out of bounds and eventually hit an invisible floor on the very bottom of the stage (similar to Sonic Adventure 2's Test Room). When this happens, the player will need to restart or quit the stage to undo the glitch.

When Team Blast is charged, the player can activate the glitch and wait for Tails/Rouge to go into the kill plane, then activate Team Blast, and get interrupted by death. When this happens, the camera will be at an abnormal angle, similar to the Team Blast Adjusted Angle glitch above.
When a teammate goes through a trick ring alone while on solid ground, that character teleports back to the rest of the team, and the trick ring animation for that character plays while on solid ground.
When entering first-person mode, the game shows Tails'/Rouges' point of view instead of Knuckles/Omega's point of view.
This glitch can be used to abuse draw distance, as it centers around the leader, while the camera centers on the moving character.
A bug specific to Team Chaotix allows Charmy to fly infinitely. To perform this, the player has to switch to Fly formation, then press both the Jump and Action Buttons simultaneously. If done correctly, Charmy will do a full jump to gain extra height and use the Fly ability again. This is possible because of Charmy's ability to open warp flowers.
On the PC version, in the event that the player's gravity has been altered (usually for compensation to keep the player on loops, uneven ground, or preventing the player from using certain shortcuts while on rails), gliding with the Power character causes the game to launch them into the current direction of gravity.
A very similar version of this game mechanic is present in the Sonic Heroes Prototype 10.8 for the Nintendo GameCube as a watered-down version of what exists in the said prototype, although there are minor differences between the two.
While in Power Formation, if the player glides while holding the Action Button down, the glide gets canceled immediately. While this is useless on its own, there's a specific trick that requires this called Power Formation Flight.
This glitch can be performed with any team in Casino Park. If the player flies above the entrance of a small slot machine and Thunder Shoots one of the teammates into a boost pad on a pinball table, the teammate will go into the slot machine. If positioned correctly right above the entrance, the teammate gets stuck in the slot machine trying to return and will repeatedly enter and leave the slot machine resulting in an infinite amount of Rings. This is incredibly useful and can be used to gain an infinite amount of Lives.
This is best to use in both of Team Chaotix's Missions and Team Rose's Extra Mission of Casino Park.
'Team Chaotix Ocean Palace extra mission glitch
To perform this glitch, the player first has to play the extra mission of Ocean Palace as Team Chaotix. They should play normally until the characters reach the first checkpoint. When the player sees the next enemy, they should edge slightly to the left away from the ground. Next, they should continue to move forward, and if the glitch was performed correctly, the enemy will detect the player and the game will stop the player's movement causing them to fall and lose a life. If it was done incorrectly, the enemy will not detect the player, or it will detect the player but no life will be lost.
Please note that this glitch is very hard to do and may require a lot of practice. The character must either be Vector or Charmy because Espio cannot go high enough and the rest of the characters cannot access the same mission. To perform the glitch as Vector, the player should go through the level until they reach the first current, then press the jump button twice to float upwards on it. They should not stop moving, or else it will be impossible to perform the glitch. If it was done correctly, the sound that plays when an enemy detects Vector will play a second time as the game still thinks it has not detected him. To perform the glitch as Charmy, the player must switch to him after floating as Vector and start flying.
To perform this glitch, the player must first select Grand Metropolis as Team Chaotix. Once the stage begins, they must immediately switch to Espio and turn invisible by using his Leaf Swirl. Next, the player should get up to the point where there are Two Egg Pawns on opposite sides of a platform standing on a pile of crates. If Espio hits the crates at the correct angle, the Egg Pawns should still be standing in the air as if the crates were never hit. This could be because Egg Pawns weren't programmed to notice Espio when he's invisible.
This glitch works in all versions outside of the Nintendo GameCube. To perform this, the player will need to use Team Chaotix on a certain level of their choice which has teleporters and/or the flower. For the flower, the player will need to open it up with Charmy and then hop onto it. Once the screen turns white, they must pause the game and then reset. They should be able to check when the flower will open without the need of using Charmy to do so.
It is technically is possible to teleport with a flower as Team Sonic.
When on the verge of destroying one of the airships on the Egg Fleet stage normally, if the player were to activate their Team Blast, the ship will be destroyed and the entire stage will be nothing but pure darkness, with the exception of the characters, who will be the only visible things on the stage. However, they won't be able to perform any actions such as jumping, punching, and flying, only being able to run. Once the player reaches the kill plane, the game will send them to the last checkpoint they touched, and the stage will go back to normal. The final area before the goal will lag the game on the PC version.
Out of bounds in Special Stage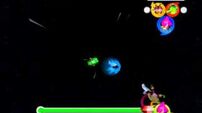 Occasionally in the Special Stage, the team will glitch outside of the circular tube and end up in an uncontrollable state. This is more likely to occur in Emerald Challenge 7 than the others.
Additive Alpha Graphic Bug on Menu
In the prototype of the GameCube version of the game, there is a glitch that forces the alpha blending to turn additive on the menu and the bingo text. To achieve this effect, the player should go to BINGO Highway with Team Rose, then go to the second Bingo table and a bingo. They will then see the text in additive alpha. For the menu to use this material effect, the player should pause the game and then quit the stage.
Under extremely rare circumstances, a strange visual bug can occur at random after a stage is completed during a team's Story Mode: the player may "receive" an E rank after beating the stage regardless of stats and character comments, but in the Stage Select screen, the rank that appears will be the one the player actually received instead of the E rank.
---
Main article | Scripts (Team Sonic, Team Dark, Team Rose, Team Chaotix, Last) | Staff | Glitches | Beta elements | Gallery
Playable
characters
Team Sonic
Sonic (Super Sonic) | Tails (Super Tails) | Knuckles (Super Knuckles)
Team Dark
Shadow | Rouge | Omega
Team Rose
Amy | Cream | Cheese | Big
Team Chaotix
Espio | Charmy | Vector
Non-playable characters
Dr. Eggman | Metal Sonic (Neo Metal Sonic) | Chocola | Froggy | Shadow Android | Omochao | Dark Chao | Hero Chao
Stages
1P stages
Sea Gate | Seaside Hill | Ocean Palace | Grand Metropolis | Power Plant | Casino Park | BINGO Highway | Rail Canyon | Bullet Station | Frog Forest | Lost Jungle | Hang Castle | Mystic Mansion | Egg Fleet | Final Fortress | Special Stage
2P stages
BINGO Highway | Casino Course | City Course | City Top | Casino Ring | Egg Fleet | Egg Treat | Frog Forest | Grand Metropolis | Hot Elevator | Mad Express | Pinball Match | Rail Canyon | Road Rock | Seaside Course | Seaside Hill | Special Stage | Terror Hall | Turtle Shell
2P Play Mode
Action Race | Battle | Bobsled Race | Expert Race | Quick Race | Ring Race | Special Stage
Enemies
Bomb Flapper | Cameron | Cannon Flapper | E-2000 | E-2000R | Egg Bishop | Egg Hammer | Egg Knight | Egg Magician | Egg Pawn | Egg Pawn (Casino version) | Falco | Flapper | Gold Cameron | Gold Klagen | Gun Flapper | Heavy-Egg Hammer | Klagen | Laser Flapper | Needle Flapper | Pumpkin ghost | Rhinoliner | Search Flapper | Solid Flapper | Solid Pawn
Bosses
Egg Albatross | Egg Emperor | Egg Hawk | Metal Madness | Metal Overlord | Robot Carnival | Robot Storm | Team Chaotix | Team Dark | Team Rose | Team Sonic
Moves/
Techniques
Speed
Maneuvers
Homing Attack | Jump Dash | Kick | Light Dash | Lightspeed Attack | Propeller Hammer | Rocket Accel | Shuriken | Spin | Spin Jump | Swinging Hammer Attack | Tornado Jump (Black Tornado, Blue Tornado, Leaf Swirl, Tornado Hammer) | Triangle Jump
Power
Maneuvers
Auto Homing | Body Press | Bubblegum Descent | Fire Combination | Fire Dunk | Fire Launcher | Fireball Jump | Forward Power Attack | Hammer Down | Jump Fire Knock | Jump Fireball | Remote Power Attack (Fireball, Fire Knock) | Spin Jump | Triangle Dive | Umbrella Descent | Wide Power Attack (Big Fishing, Omega Arm, Vector Breath, Volcanic Dunk)
Fly
Maneuvers
Ascending Flight | Cheese Attack | Dummy Ring Bomb | Spin Jump | Sting Attack | Thunder Shoot | Quick Ascent
Team Blasts
Sonic Overdrive | Chaos Inferno | Flower Festival | Chaotix Recital | Super Sonic Power
Misc.
Chaos Control | Crouch | Crystal Attack | Grind Step | Grinding
Gimmicks and obstacles
Ball Switch | Bingo | Bobsled | Bomb | Bumper | Bumper wall | Cannon | Check Point | Conveyor Belt | Dash Panel | Dash Rail | Dash Ring | Detonator Switch | Fan | Fireball | Flipper | Flower | Formation Change Gate | Giant Frog | Giant Switch | Grind Rail | Hint Ring | Iron ball | Jump Panel | Kao | Laser field | Mushroom | Orb switch | Pole | Power Gong | Propeller | Pulley | Rainbow Ring | Slot machine | Spring | Target Switch | Trolley | Vine | Warp Flower | Weight | Wide spring
Items
Capsule | Car | Casino chip | Castle Key | Cell Key | Chaos Emerald | Chaotix Detective Agency | Container (Cage, Case, Steel Container, Unbreakable Container, Wooden Container) | Emblem | Engine Core | Floating Item Box | Goal Ring | Hermit crab | Item Box (Barrier, Fly Charge, High Speed, Invincible, Rings, Power Core, Team Blast Ring, 1-Up) | Light spider marking | Power Core | Ring | Special Stage Key | Sphere | Torch
Voice actors
English
Ryan Drummond (Sonic, Metal Sonic) | Deem Bristow (Eggman) | William Corkery (Tails) | Scott Drier (Knuckles) | David Humphrey (Shadow) | Lani Minella (Rouge, Omochao) | Jon St. John (Omega, Big) | Jennifer Douillard (Amy) | Sarah Wulfeck (Cream) | Bill Corkery (Espio) | Marc Biagi (Vector) | Emily Corkery (Charmy)
Japanese
Jun'ichi Kanemaru (Sonic, Metal Sonic) | Chikao Ōtsuka (Eggman) | Ryō Hirohashi (Tails) | Nobutoshi Canna (Knuckles) | Kōji Yusa (Shadow) | Rumi Ochiai (Rouge) | Taiten Kusunoki (Omega) | Taeko Kawata (Amy) | Sayaka Aoki (Cream) | Takashi Nagasako (Big) | Yūki Masuda (Espio) | Kenta Miyake (Vector) | Yōko Teppōzuka (Charmy) | Etsuko Kozakura (Omochao)
Music
Songs
Sonic Heroes | We Can | This Machine | Follow Me | Team Chaotix | What I'm Made of...
Albums
Complete Trinity: Sonic Heroes Original Soundtrax | Triple Threat: Sonic Heroes Vocal Trax | Sonic Heroes Official Soundtrack | Sonic Heroes Original Soundtrack 20th Anniversary Edition
Other
Armored train | Dummy Ring | Egg Bazooka | Egg Fleet | Egg Gun | Egg Spear | Fly Type | Health Gauge | HEXAeco | Moon | Orca | Palm Plants | Power Type | Rank | Sonic Heroes Puzzle | Shuttle loop | Speed Type | Super Hard Mode | Team Blast Gauge | Tornado 2
Community content is available under
CC-BY-SA
unless otherwise noted.