Raise a Floppa - The Loop
Play Sound
This article is about a subject in the real world.

Information in this article is about real-life people, companies, and objects, which do not relate to the in-universe Sonic series.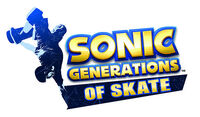 Sonic Generations of Skate is one of the many competitions that has been held at "The Clash at Clairemont" (also known as clash 7), skateboarding event for cancer research. The contest was supported by Sega and in promotion of Sonic Generations, the Sonic the Hedgehog 20th Anniversary and Sonic Lost World.[1]
Overview
The event is a half pipe contest in which three generations of skaters competed. The contest includes individual runs, high air, best trick and team doubles. The event has been brodcast on Fox Spots Networks (and its affiliated regional sports networks) on 1 June 2013.
Competitors
The Competitors are all from the past three Generations of skateboarding:
1st Generation: Tony Hawk, Mike McGill, Kevin Staab and Sergie Ventura.
2nd Generation: Andy Macdonald, Pierre Luc Gagnon, Bucky Lasek and Lincoln Ueda.
3rd Generation: Adam Taylor, Elliot Sloan, Paul-Luc Ronchetti and Mitchie Brusco
Trivia
Gallery
References
Printed media
Manga
Sonic the Hedgehog Story Comic (1991)

 ·

Sonic the Hedgehog (The Adventures of SONIC the Hedgehog (1992—1994))

 ·

Dash & Spin Super Fast Sonic (2003—2005)

 ·

Dengeki Nintendo DS (Sonic World Adventure (2008), Sonic and the Black Knight (2009), Sonic Chronicles (2009), Sonic Colors (2010), Sonic Generations (2011))
Comic books
Sonic the Hedgehog (promotional comic) (1991)

 ·

Sonic the Comic (1993—2002)

 ·

Sonic Sunday Strips (1993—1995)

 ·

Archie Comics (Sonic the Hedgehog (1993—2017), Sonic the Hedgehog (1993), Princess Sally (1995), Tails (1995), Knuckles (1996), Sonic Quest (1996), Knuckles the Echidna (1997—1999), Sonic X (2005—2008), Sonic Universe (2008—2017), Sonic Boom (2014—2015))

 ·

Sonic Adventures (1994)

 ·

Sonic Comic (2016)

 ·

IDW Publishing (Sonic the Hedgehog (2018-present), Sonic the Hedgehog: Tangle & Whisper (2019), Sonic the Hedgehog: Bad Guys (2020), Sonic the Hedgehog: Imposter Syndrome (2021-2022))
Novels and picture books
Stay Sonic (1993)

 ·

Virgin Books (Sonic the Hedgehog in Robotnik's Laboratory (1993), Sonic the Hedgehog in the Fourth Dimension (1993), Sonic the Hedgehog and the Silicon Warriors (1993), Sonic the Hedgehog in Castle Robotnik (1994))

 ·

Pense Bem: Uma Aventura Científica com Sonic the Hedgehog (1993)

 ·

Troll Associates (Sonic the Hedgehog (1994), Sonic the Hedgehog: Robotnik's Revenge (1994), Sonic the Hedgehog: Fortress of Fear (1995), Sonic the Hedgehog: Friend or Foe? (1995), Sonic & Knuckles (1995), Sonic X-Treme (1997))

 ·

Ladybird (Sonic the Hedgehog Colouring Poster Book (1994), Sonic the Story (1994), Sonic the Hedgehog: Robotnik's Oil (1994), Sonic the Hedgehog: The Invisible Robotnik (1994))

 ·

Watermill Press (Sonic the Hedgehog (1995))

 ·

Golden Books (Sonic the Hedgehog: Sonic's Shoes Blues (1993), Sonic the Hedgehog 2: The Secret Admirer (1994), Sonic the Hedgehog 3: Up Against the Wall (1995), Sonic the Hedgehog: Double Trouble (1996))

 ·

Sonic X (2005—2007) (Meteor Shower Messenger (2005), Spaceship Blue Typhoon (2005), Battle at Ice Palace (2006), Aqua Planet (2006), Dr. Eggman Goes to War (2006), Desperately Seeking Sonic (2007))

 ·

Where's Sonic? A Search-and-Find Adventure (2012)

 ·

Sonic Boom (2015—2016) (Le partenaire ideal (2015), La machine à gaffes (2015), Pas de chance, Knuckles ! (2015), L'épouvantable Todd (2016), Sonic Superstar (2016), Une étrange météorite (2016))

 ·

Sonic and the Tales of Deception (2018)

 ·

Sonic and the Tales of Terror (2018)

 ·

Meet Sonic! (2019)
Other
Sonic the Hedgehog 4 Knitting Patterns (1992)

 ·

Sonic the Hedgehog Adventure Gamebook (Fantail) (1, 2, 3, 4, 5, 6) (1993—1996)

 ·

Sonic the Hedgehog Adventure Gamebook (Ladybird) (1, 2, 3, 4) (1994—1995), Joke Book (1994), Where's Sonic? (1994), Where's Sonic Now? (1996), Puzzle Book 1 (1994), Puzzle Book 2 (1994))

 ·

The Official Sonic the Hedgehog Yearbook (1993, 1994)

 ·

Sonic the Hedgehog Book (1992)

 ·

Sonic the Hedgehog Paint 'n' Marker Book (1993)

 ·

Look and Find Sonic the Hedgehog (1995)

 ·

Sonic the Hedgehog (Play-a-Sound) (1995)

 ·

How to Draw Sonic the Hedgehog & the Gang (1998)

 ·

The History of Sonic the Hedgehog (2012)

 ·

Sonic the Hedgehog Super Interactive Annual 2014 (2013)

 ·

Run, Sonic, Run! (2013)

 ·

Sonic the Hedgehog Joke Book (2014)

 ·

Sonic the Hedgehog Sticker Mania! (2014)

 ·

Totally Sonic (2014)

 ·

Sonic: His Amazing History! (2016)

 ·

The Secrets of Sonic the Hedgehog (2016)

 ·

Sonic: The Ultimate Character Guide (2016)

 ·

Sonic the Hedgehog 25th Anniversary Art Book (2017)

 ·

Welcome to the World of Sonic (2018)

 ·

Sonic the Hedgehog Mad Libs (2018)

 ·

Race Against Chaos Sticker Activity Book (2018)

 ·

Sonic the Hedgehog Art & Design Book (2019)

 ·

Sonic & Friends Sticker Activity Book (2019)

 ·

Sonic the Hedgehog Encyclo-speed-ia (2021)

 ·

Sonic the Hedgehog: The Official Coloring Book (2022)

 ·

Sonic the Hedgehog: The Official Adult Coloring Book (2022)
Television and film
Animated shows
Adventures of Sonic the Hedgehog (1993)

 ·

Sonic the Hedgehog (1993—1994)

 ·

Sonic Underground (1999)

 ·

Sonic X (2003—2005)

 ·

Sonic Boom (2014—2017)

 ·

Sonic Prime (2022)
Shorts
Sonic the Animation (1997)

 ·

Sonic: Night of the Werehog (2008)

 ·

Sonic Mania Adventures (2018)

 ·

Team Sonic Racing Overdrive (2019)

 ·

Chao In Space (2019)

 ·

Around the World in 80 Seconds (2020)

 ·

Sonic Colors: Rise of the Wisps (2021)

 ·

Sonic Drone Home (2022)
Other
Sonic - Super Hedgehog (1994)

 ·

Sonic Christmas Blast (1996)

 ·

Sonic the Hedgehog: The Movie (1996)

 ·

Sonic the Hedgehog (film series) (Sonic the Hedgehog (2020), Sonic the Hedgehog 2 (2022), Sonic the Series (2023), Sonic the Hedgehog 3 (TBA))
Cancelled projects
Sonic the Hedgehog: Wonders of the World

 ·

Sonic Armageddon
Internet streams

Sonic Official

(2016-present)

 ·

Sonic Station Live! (2020-present)

 ·

TailsTube (2022-present)
Events
Anniversaries (10th, 15th, 20th, 25th, 30th)

 ·

Conventions (Sonic Boom, Sonic Party 2002 Summer Festival, Sonic Party 2003 Summer Festival, Summer of Sonic)

 ·

Franchise timeline

 ·

Ken Penders' legal cases

 ·

Project Sonic

 ·

Sonic 2020

 ·

Sonic Generations of Skate

 ·

Sonic in Sydney

 ·

Sonic the Hedgehog 30th Anniversary Symphony

 ·

Steve Aoki x Sonic Concert

Miscellaneous
Alton Towers (Spinball Whizzer)

 ·

Cameo appearances and references

 ·

Cookie Crisp

 ·

Frosties

 ·

Guinness World Records

 ·

Honey Nut Cheerios

 ·

iTunes

 ·

Macy's Thanksgiving Day Parade Sonic Balloon

 ·

Sanic

 ·

SEGA Republic (Sonic Hopper, Spin Gear)

 ·

Sonic Bible

 ·

Sonic Bowl

 ·

Toyland Tours
---
Main article | Script | Staff | Glitches | Beta elements | Gallery
Playable characters
Sonic (Modern) (Super Sonic (Modern)) | Sonic (Classic) (Super Sonic (Classic))
Non-playable characters
Amy | Animals (Flicky, Picky, Pecky, Cucky) | Blaze | Cheese | Cream | Cubot | Dr. Eggman (Classic) | Dr. Eggman (Modern) | Knuckles | Metal Sonic | Omochao | Orbot | Perfect Chaos | Rouge | Shadow | Silver | Tails (Classic) | Tails (Modern) | Team Chaotix (Charmy, Espio, Vector) | Time Eater
Wisps
Orange | Pink
Stages
Green Hill | Chemical Plant | Sky Sanctuary | Speed Highway | City Escape | Seaside Hill | Crisis City | Rooftop Run | Planet Wisp | Casino Night
Challenge Acts
Doppelganger Race! | The Buzz Bombers' Revenge! | Knuckles: Horde of Enemies | Swingset Circus | High Speed Challenge | Look Out Below! | Tails: Way Past Fast | Jump Rush | 300% Boost Gauge Challenge | Tails: Toxic Skies | Which Switch is Which? | Aqua Shield Challenge | Invincibility Challenge | One Ring Challenge | Amy: Taking the Leap Together! | Grappling with Grabbers | Underwater Ring Machine | Eggrobo Rush | Aerial Paradise | Ring Time Challenge | Amy: Topsy Turvy | Knuckles: Buried Treasure | 200% Boost Gauge Challenge | Balloon Bonanza | High-Speed Hijinks (Modern) | Cream: Chao Hunt | Hot Pursuit (Classic) | High Speed Challenge 2 | Resisting Arrest | Overdrift | Hot Pursuit (Modern) | Drill Baby Drill | Espio: Master of Camouflage | Lord of the Board | Thunder Shield Challenge | Rouge: The Bombardier | Rite of Spring | Cream: Helping Hand | Dash Ring 1-2-3 (Modern) | Topsy-Turvy | High-Speed Hijinks 2 | Rescue the Animals! | Espio: Way of the Ninja | High-Speed Hijinks (Classic) | Underwater Challenge | Rouge: The Temptress | Trick Island | Surf, Sea, and Sand | Terror From the Deep | Goal Post Juggle | Vector: Through the Storm | Flame Shield Challenge | Ring Time Challenge 2 | Power Stomp Challenge | Switcheroo | Blaze: Piercing the Flames | Four-way Cannon Cavalcade | High-Rise Balloon Climb | Dash Ring 1-2-3 (Classic) | Charmy: Don't Bug Me! | One Ring Challenge 2 | Barrel Ring Bonus | Rooftop Rail Grind | Endless Boost | Vector: Pick Up the Beat | With Your Powers Combined | Goal Post Juggle 2 | Chase After Blaze | Rescue the Animals 2! | Cart Challenge | Charmy: High in the Sky | Action Master | Orange Rocket, Blast Off!
Enemies
Aero-Cannon | Buzz Bomber (Classic) | Buzz Bomber (Modern) | Buzzer (Classic) | Buzzer (Modern) | Chopper (Classic) | Chopper (Modern) | Cop Speeder | Crabmeat (Classic) | Crabmeat (Modern) | Egg Chaser | Egg Fighter | Egg Fighter: Sword | Egg Launcher (H) | Egg Launcher (H+V) | Egg Launcher (V) | Egg Pawn | Eggrobo | Giant Chopper | Grabber | Gun Beetle | Gun Hunter | Iblis's Minions (Iblis Biter, Iblis Taker, Iblis Worm) | Mono Beetle | Moto Bug (Classic) | Moto Bug (Modern) | Sandworm | Spinner | Spiny | Sprinkler | Thunder Spinner
Bosses
Metal Sonic | Death Egg Robot | Shadow | Perfect Chaos | Silver | Egg Dragoon | Time Eater
Moves/
Techniques
Playable characters
Air Boost | Atomic Spin | Boost | Bound Jump | Cartwheel | Crouch | Double Jump | Drift | Freestyle Tricks | Grind Step | Grinding | Homing Attack | Hop | Insta-Shield | Jump Dash | Kick boost | Lightspeed Dash | Mid-Air Dash | Quick Step | Slide | Skydiving | Spin | Spin Dash | Spin Jump | Stomp | Super Sonic Boost | Super Sonic Missile | Wall Jump
NPCs
Chaos Spear | Dig | Drill Attack | Fire Beam | Heart Effect | Ice Wave | Meteor Smash | Ninja Arts: Camouflage | Propeller Flying | Psychic Knife | Restraint Trap | Ring Spark Field | Sun Burst | V. Maximum Overdrive Attack | Warping arm attack | Whirlwind
Color Powers
Orange Rocket | Pink Spikes
Skills
Aqua Shield | Flame Shield | Thunder Shield | Twin Spin Attack | Invincible Start | Shield | Power Sneakers | Long Spin Dash | Treasure Scanner | Homing Attack | Hercules Muscles | Breath Holder | Boardmaster | Ring Time | Blast Off | Speed Up | Direct Jump | Power Stomp | Quick Slide | Acceleration | Smasher Bonus | Ring Energy Bonus | Boost Gauge Up | Serial Homing | Auto-Gauge | Gauge Rebooter | Trick Mastery | Endless Boost | Power Brake | Sure-Footed | Safety Net | Last Chance | 10-Second Rings | Athleticism | Time Break | Super Sonic | Sega Genesis Controller*
Gimmicks and obstacles
Balloon | Barrel | Big Balloon | Bomb | Bonus Bell | Bottomless pit | Bumper | Cannon | Capsule | Car | Cart | Cloud | Crusher | Dash Panel | Dash Rail | Dash Ring | Dimensional Bomb | Explosion Trap | Fan | Flipper | Four-way Cannon | Gear Platform | Goal Plate | Gondola | GUN Military Truck | Hanging Bell | Heart bomb | Helicopter | High-speed warp tube | Horizontal Bar | Iron ball | Jump Panel | Kao | Laser field | Meteorite | Movable box | Pole Elevator | Propeller Spring | Pulley | Rainbow Ring | Rocket | Route Signal | Saw | Seesaw | Slot machine | Spike Trap | Spikes | Spinning Top | Spinning Platform | Spotlight | Spring | Spring Catapult | Spring Pole | Star Post | Switch | Trap Spring | Trick Jump Panel | Wall Jump Block | Warp Point | Wide spring | Zip Line
Items
Air Bubble | Boss Gate | Boss Gate Key | Buoy | Chaos Emerald | Container (Case, Spike Block, Steel Container, Unbreakable Container, Wooden Container) | Energy Core | Goal Ring | Information Pod | Item Box (1-Up, Aqua Shield, Flame Shield, Invincible, Power Sneakers, Skateboard, Super Ring, Thunder Shield) | Medal | Mega Mack | Musical note | Red Star Ring | Ring | Snowboard | Time Bonus | Wisp Capsule
English voice actors
Roger Craig Smith (Sonic (Modern), Wisp announcer) | Mike Pollock (Eggman (Classic), Eggman (Modern)) | Kate Higgins (Tails (Classic), Tails (Modern)) | Travis Willingham (Knuckles) | Cindy Robinson (Amy) | Kirk Thornton (Shadow) | Quinton Flynn (Silver) | Laura Bailey (Blaze, Omochao) | Karen Strassman (Rouge) | Michelle Ruff (Cream) | Keith Silverstein (Vector) | Troy Baker (Espio) | Colleen O'Shaughnessey (Charmy)
Japanese voice actors
Jun'ichi Kanemaru (Sonic (Modern)) | Chikao Ōtsuka (Eggman (Classic), Eggman (Modern)) | Ryō Hirohashi (Tails (Modern)) | Takuto Yoshinaga (Tails (Classic)) | Nobutoshi Canna (Knuckles) | Taeko Kawata (Amy) | Kōji Yusa (Shadow) | Rumi Ochiai (Rouge) | Daisuke Ono (Silver) | Nao Takamori (Blaze) | Sayaka Aoki (Cream) | Kenta Miyake (Vector) | Yūki Masuda (Espio) | Yōko Teppōzuka (Charmy) | Etsuko Kozakura (Omochao) | Fumihiko Tachiki (Wisp announcer)
Music
Songs
"Escape from the City" | "You're My Hero"
Albums
20 Years of Sonic Music | Blue Blur: Sonic Generations Original Soundtrack | History of the 1st Stage Original Soundtrack White Edition
Other
Boost Gauge | Chao in Space | Collection Room | Combo | Corkscrew | Death Egg (Classic) | Death Egg (Modern) | Death Egg Robot | Egg Dragoon | Egg Gun | Egg Mobile | Egg Spear | Havok | Lair of the Time Eater | Life | Loop | Miles Electric | Orca | Perfect Bonus | Rank | Sonic's birthday | Sonic Generations (manga) | Sonic Generations of Skate | Statue Room | Time Hole | Tornado-1 | Totem pole | Tunnel | Water | White Space

*Exclusive to the Xbox 360/PlayStation 3 version
---
Main article | Script | Staff | Beta elements | Gallery
Playable characters
Sonic (Modern) (Super Sonic (Modern)) | Sonic (Classic) (Super Sonic (Classic))
Non-playable characters
Biolizard | Eggman (Classic) | Metal Sonic | Tails (Classic) | Eggman (Modern) | Tails (Modern) | Shadow | Silver | Time Eater
Wisps
Cyan | Red
Stages
Green Hill | Casino Night | Mushroom Hill | Emerald Coast | Radical Highway | Water Palace | Tropical Resort | Special Stage
Enemies
Blue Eagle | Butterdroid | Buzzer (Modern) | Buzzer (Classic) | Chopper (Modern) | Chopper (Classic) | Crabmeat (Modern) | Crabmeat (Classic) | Crawl | Dragonfly | Flapper | Egg Pawn | Gold Beetle | Gun Hunter | Kiki | Klagen | Knight Pawn | Madmole | Mono Beetle | Moto Bug (Modern) | Moto Bug (Classic) | Mushmeanie | Newtron | Rhinotank | Sea Pawn | Spinner | Sweeper
Bosses
Metal Sonic | Big Arm | Shadow | Biolizard | Silver | Egg Emperor | Time Eater
Moves/
Techniques
Playable characters
Air Boost | Boost | Crouch | Freestyle Tricks | Grind Step | Grinding | Homing Attack | Hop | Jump Dash | Roll | Slide | Spin Dash | Spin Jump | Stomp | Super Sonic Boost | Wall Jump
NPCs
Chaos Spear | Ring Spark Field | V. Maximum Overdrive Attack | Warping arm attack
Color Powers
Cyan Laser | Red Burst
Gimmicks and obstacles
Bomb | Bottomless pit | Bumper | Conveyor Belt | Crusher | Dash Panel | Dash Rail | Dash Ring | Drop Target |

Exploding Balloon

| Fan | Flipper | Grind Rail | Horizontal Bar | Jump Panel (plate) | Jump Panel (ramp) | Meteorite | Mushroom | Prism | Pulley | Rainbow Ring | Rocket | Seed Propeller | Seesaw | Slot machine | Spikes | Spring | Spring Catapult | Spring Pole | Star Post | Zip Line
Items
Air Bubble | Boss Gate | Chaos Emerald | Container (Steel Container, Wooden Container) | Crank | Goal Plate | Goal Ring | Item Box (1UP, Explosion, Invincible, Magnetic Shield, Shield, Super Ring, Time Item) | Ring | Sphere | Stomping Shoes | Wisp Capsule
English voice actors
Roger Craig Smith (Sonic (Modern), Wisp announcer) | Mike Pollock (Eggman (Classic), Eggman (Modern)) | Kate Higgins (Tails (Classic), Tails (Modern)) | Kirk Thornton (Shadow) | Quinton Flynn (Silver)
Japanese voice actors
Jun'ichi Kanemaru (Sonic (Modern)) | Chikao Ōtsuka (Eggman (Classic), Eggman (Modern)) | Ryō Hirohashi (Tails (Modern)) | Takuto Yoshinaga (Tails (Classic)) | Kōji Yusa (Shadow) | Daisuke Ono (Silver) | Fumihiko Tachiki (Wisp announcer)
Music
Songs
"Back 2 Back" | "Vengeance is Mine"
Albums
20 Years of Sonic Music | Blue Blur: Sonic Generations Original Soundtrack | History of the 1st Stage Original Soundtrack Blue Edition
Other
Sonic's birthday | Boss Health Gauge | Boost Gauge | Collection | Corkscrew | Death Egg | Egg Emperor | Life | Loop | Orca | Rank | Sonic Generations (manga) | Sonic Generations of Skate | Time Attack | Time Hole | Totem pole | Tunnel | Water | White Space | Wisp Gauge