Sonic Forces: Moment of Truth is the first issue in the Sonic Forces digital comic series.
Featured stories
Moment of Truth
Synopsis
In the city, a Resistance soldier hangs on the guard rail on top of a building, remembering how he was inspired to be just as heroic as Sonic the Hedgehog, Miles "Tails" Prower, and Amy Rose. Unfortunately, he is too cowardly to live up to his dreams to be a hero, preferring to be on look-out duty than fight against Eggman's Egg Pawns. To add to his self-loathing, he even recollects Team Chaotix's involvement in helping drive away Eggman's forces, despite their goofy nature. As the soldier contemplates quitting the Resistance, he notices the incoming battalion of Egg Pawns dropping from an Eggman Empire air fortress, preparing to strike the city.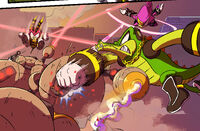 The soldier warns the other Resistance members, in which Team Chaotix swiftly take action and send out the Resistance units to their battle stations. Vector the Crocodile notices the cowardly-soldier on the rooftop, requesting for the soldier's help in the Resistance's defenses. The soldier obliges, reaching below to normal ground level. The soldier struggles to pick up a pipe, to which Vector grabs from him, urging the soldier to not stall time by performing a task he knows he cannot do. Espio the Chameleon gives the cowardly soldier the Burst Wispon in an attempt to help out with the defense against the Egg Pawns, only for the soldier to accidentally use the weapon against Charmy Bee. Team Chaotix and several Resistance members prepare at the city's front gates as the Egg Pawns come crashing in, with the heroes charging right at them with heavy defense.
Realizing that he is nothing more than a failure not only with his cowardly demeanor but his strength and competence in utilizing weapons, the soldier hides behind several crates in an alleyway away from the battlefield, once again mentally beating himself up for his mistakes and fear. The soldier overhears Vector asking his forces to use the artillery cannon to fire at the air fortress that is sending in the Egg Pawns, to which the soldier realizes could be his one chance at redemption. Seeing a single bomb next the crate beside him, the soldier grabs the bomb and high-tails it to the artillery cannon, where he fires spot-on at the air fortress. With the bomb heavily damaging the air fortress, Eggman via communicator decides to fell from the battle, promising he will return with more opposition to counter the heroes. Team Chaotix congratulate the soldier for his outstanding work, baffled at his ability to aim flawlessly at the air fortress. The soldier, while proud at his accomplishments, still believes he could have done more, inspiring him to pursue higher lengths than before next time to become a true hero.
Appearances
Characters:
Locations:
Items:
Trivia
During the process of making the comic, script writer Ian Flynn had asked the artist of the comic, Adam Bryce Thomas, to include a small visual Easter egg in the comic.[1] Flynn gave two hints about the easter egg, saying "I like Bean the Dynamite" and "Something in the story is designed to go boom". He later confirmed when the Easter egg was found: the colors of a bomb carried and shot by the main Resistance soldier featured in the comic has Bean-themed colors, with a green body and red cap.[2][3]
The first panel of page one of the comic features a cameo by Poppy Possum and her daughter Lily from the webcomic Poppy O'Possum. Bryce Thomas had previously done fanart for Poppy, as well as a guest update for the comic in 2016 while working as a penciller on Archie's Sonic Universe.[4][5] They appear in the bottom right of the panel next to a rabbit Resistance soldier.
A coyote-like Resistance soldier on page two bears a striking resemblence to Antoine D'Coolette from the Archie Sonic the Hedgehog comic series.
Trivia
The PDF files for this issue contain early sketches of comic covers for later issues in the series.
Gallery
Artwork
Concept artwork
Page scans
References
---
Main article | Script | Staff | Manuals | Beta elements | Gallery
Playable characters
Sonic (Super Sonic) | Classic Sonic (Classic Super Sonic) | Avatar | Shadow (Episode Shadow)
Non-playable
characters
Resistance (Tails, Knuckles, Amy, Team Chaotix (Vector, Espio, Charmy), Silver, Team Dark (Shadow, Rouge, Omega)) | Dr. Eggman | Infinite | Orbot | Cubot | Metal Sonic | Chaos | Zavok | Animals (Cucky, Flicky, Pecky, Picky, Pocky, Ricky, Rocky)
Wisps
Blue Wisp | Green Wisp | Indigo Wisp | Ivory Wisp | Red Wisp | Violet Wisp | White Wisp | Yellow Wisp
World Map regions
Chemical Plant | City | Death Egg | Eggman Empire Fortress | Green Hill | Metropolis | Mystic Jungle
Stages

General

Lost Valley | Spaceport | Ghost Town | Prison Hall | VS. Zavok | Egg Gate | Arsenal Pyramid | Luminous Forest | VS. Infinite | Green Hill | VS. Eggman | Park Avenue | Casino Forest | Aqua Road | Sunset Heights | Capital City | VS. Infinite | Chemical Plant | Red Gate Bridge | Guardian Rock | Network Terminal | Death Egg | Metropolitan Highway | Null Space | Imperial Tower | Mortar Canyon | VS. Infinite | Iron Fortress | Final Judgement | VS. Death Egg Robot

Episode Shadow

Enemy Territory | Eggman's Facility | Virtual Reality
Secret
Fire Cannon 1 | Vanish Panel 1 | Bomb Block 1 | Plasma Cannon 1 | Laser Cannon 1 | Reverse Block 1
Extra
Flying Pod | Bomb Block 2 | Laser Cannon 2 | Reverse Block 2 | Vanish Panel 2 | Fire Cannon 2 | Plasma Cannon 2
Enemies
Aero-Chaser | Buzz Bomber | Chopper | Egg Pawn | Egg Tank | Egg Walker | Galaga Bee | Moto Bug | Missile Pod | Nebula | Sandworm | Sprinkler | Valkeen
Bosses
Death Egg Robot | Eggman | Egg Dragoon | Infinite | Metal Sonic | Zavok
Moves/Techniques
Air Boost | Boost | Crouch | Double Boost | Double Jump | Drop Dash | Grind Step | Grinding | Homing Attack | Side Step/Cartwheel | Skydiving | Slide | Super Sonic Boost | Spin Dash | Spin Jump | Stomp | Triple Boost | V. Maximum Overdrive Attack | Wall Jump | Wire Attack
Gimmicks and obstacles
Amber block | Balloon | Bottomless pit | Bumper | Capsule | Conveyor Belt | Dash Panel | Dash Rail | Dash Ring | Electrical emitter | Fan | Flipper | Flywheel | Goal | Goal Plate | Grind Rail | High-speed warp tube | Hint Ring | Iron ball | Jump Panel | Laser field | List of pinball obstacles | Pulley | Rainbow Ring | Ring Shooter | Slot machine | Spikes | Spring | Spring Catapult | Spring Pole | Star Post | Wide spring | Wire Target | Zip Line
Items
General
Air Bubble | Blue Block | Blue Ring | Container (Unbreakable Container, Wooden Container) | Costume | Item Box (Bonus Rings, Invincibility, Power Sneakers, Shield) | Medal | Meteorite | Number Ring | Red Star Ring | Ring | Silver Moon Ring | Wisp Capsule
Wispons
Asteroid | Burst | Cube | Drill | Hover | Lightning | Void
English voice actors
Roger Craig Smith (Sonic) | Mike Pollock (Eggman) | Liam O'Brien (Infinite) | Colleen O'Shaughnessey (Tails, Charmy) | Travis Willingham (Knuckles, Zavok) | Cindy Robinson (Amy) | Kirk Thornton (Shadow, Orbot) | Karen Strassman (Rouge) | Vic Mignogna (Omega) | Quinton Flynn (Silver) | Keith Silverstein (Vector) | Matthew Mercer (Espio) | Wally Wingert (Cubot)
Japanese voice actors
Jun'ichi Kanemaru (Sonic) | Kotaro Nakamura (Eggman) | Takashi Kondō (Infinite) | Ryō Hirohashi (Tails) | Nobutoshi Canna (Knuckles) | Taeko Kawata (Amy) | Kōji Yusa (Shadow) | Rumi Ochiai (Rouge) | Taiten Kusunoki (Omega) | Daisuke Ono (Silver) | Kenta Miyake (Vector) | Yūki Masuda (Espio) | Yōko Teppōzuka (Charmy) | Jōji Nakata (Zavok) | Mitsuo Iwata (Orbot) | Wataru Takagi (Cubot) | Fumihiko Tachiki (Narrator)
Music
Songs
"Fading World" | "Fighting Onward" | "Fist Bump" | "Infinite" | "Justice" | "Moonlight Battlefield" | "Nowhere to Run" | "Rhythm And Balance" | "Set in Motion" | "Supporting Me" | "The Light of Hope" | "Virtual Enemies"
Albums
Sonic Forces Original Soundtrack - A Hero Will Rise | Sonic Forces Vocal Traxx - On The Edge | Sonic Forces Hi-Res Collection | Sonic Forces Original Soundtrack The Vinyl Cutz
Other
Boost Gauge | Chaos Control | Challenge Mission | Daily Mission | Death Crab | Death Egg | Death Egg Robot | Death Queen | Egg Dragoon | Egg Mobile | Eggman Army | Eggman Empire | Eggman Fleet | Experience | Health Gauge | Jackal Squad | Mega Mack | Miles Electric | Operation Big Wave | Phantom Ruby | Phantom Ruby prototype | Rank | Real-Time Interaction | Replica | Resistance HQ | Sandworm | Skill | Sonic Forces digital comic (Moment of Truth, Stress Test, Looming Shadow, Rise of Infinite) | Sonic Forces: Speed Battle | SOS Mission | Time Over | Totem pole | War to Take Back the Planet | Winding Tunnel | Wisp Gauge
Community content is available under
CC-BY-SA
unless otherwise noted.