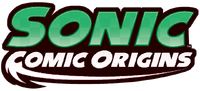 Sonic Comic Origins were a series of stories published by Archie Comics throughout the various spin-offs of the Sonic the Hedgehog comic series publications. The series detailed the backgrounds of the characters following the events of the Worlds Collide crossover.
Description
The stories in Sonic Comic Origins were designed to give the readers insight into the backgrounds and origins of the various characters, both old and new, in the Post-Super Genesis Wave world, each chapter focusing on a particular character. Each installment is narrated via the central character internally reflecting on their past through a series of flashbacks.
Then entries of these stories were primarily printed in issues of the Sonic Super Digest series, though some also appeared in the Sonic Super Special Magazine series and the Free Comic Specials.
List of chapters
Trivia
Sonic Comic Origins #1-5 and #7 focused on characters from the Sonic the Hedgehog animated series and their new histories in the altered timeline. The sixth focused on Silver the Hedgehog, an official game character and the eighth focused on Razor the Shark, a character exclusive to the comics.
All but one of the Origins stories are five pages long. "Into the Unknown" is instead ten pages long.
Reprint History
| | |
| --- | --- |
| Sonic the Hedgehog | 1 | 2 | 3 | 4 | 5 | 6 | 7 | 8 | 9 | 10 | 11 | 12 | 13 | 14 | 15 | 16 | 17 | 18 | 19 | 20 | 21 | 22 | 23 | 24 | 25 | 26 | 27 | 28 | 29 | 30 | 31 | 32 | 33 | 34 | 35 | 36 | 37 | 38 | 39 | 40 | 41 | 42 | 43 | 44 | 45 | 46 | 47 | 48 | 49 | 50 | 51 | 52 | 53 | 54 | 55 | 56 | 57 | 58 | 59 | 60 | 61 | 62 | 63 | 64 | 65 | 66 | 67 | 68 | 69 | 70 | 71 | 72 | 73 | 74 | 75 | 76 | 77 | 78 | 79 | 80 | 81 | 82 | 83 | 84 | 85 | 86 | 87 | 88 | 89 | 90 | 91 | 92 | 93 | 94 | 95 | 96 | 97 | 98 | 99 | 100 | 101 | 102 | 103 | 104 | 105 | 106 | 107 | 108 | 109 | 110 | 111 | 112 | 113 | 114 | 115 | 116 | 117 | 118 | 119 | 120 | 121 | 122 | 123 | 124 | 125 | 126 | 127 | 128 | 129 | 130 | 131 | 132 | 133 | 134 | 135 | 136 | 137 | 138 | 139 | 140 | 141 | 142 | 143 | 144 | 145 | 146 | 147 | 148 | 149 | 150 | 151 | 152 | 153 | 154 | 155 | 156 | 157 | 158 | 159 | 160 | 161 | 162 | 163 | 164 | 165 | 166 | 167 | 168 | 169 | 170 | 171 | 172 | 173 | 174 | 175 | 176 | 177 | 178 | 179 | 180 | 181 | 182 | 183 | 184 | 185 | 186 | 187 | 188 | 189 | 190 | 191 | 192 | 193 | 194 | 195 | 196 | 197 | 198 | 199 | 200 | 201 | 202 | 203 | 204 | 205 | 206 | 207 | 208 | 209 | 210 | 211 | 212 | 213 | 214 | 215 | 216 | 217 | 218 | 219 | 220 | 221 | 222 | 223 | 224 | 225 | 226 | 227 | 228 | 229 | 230 | 231 | 232 | 233 | 234 | 235 | 236 | 237 | 238 | 239 | 240 | 241 | 242 | 243 | 244 | 245 | 246 | 247 | 248 | 249 | 250 | 251 | 252 | 253 | 254 | 255 | 256 | 257 | 258 | 259 | 260 | 261 | 262 | 263 | 264 | 265 | 266 | 267 | 268 | 269 | 270 | 271 | 272 | 273 | 274 | 275 | 276 | 277 | 278 | 279 | 280 | 281 | 282 | 283 | 284 | 285 | 286 | 287 | 288 | 289 | 290 | 291 | 292 | 293 | 294 |
| Miniseries | Sonic the Hedgehog (0, 1, 2, 3) | Princess Sally (1, 2, 3) | Sonic the Hedgehog's Buddy: Tails (1, 2, 3) | Sonic's Friendly Nemesis: Knuckles (1, 2, 3) | Sonic Quest (1, 2, 3) |
| Knuckles the Echidna | 1 | 2 | 3 | 4 | 5 | 6 | 7 | 8 | 9 | 10 | 11 | 12 | 13 | 14 | 15 | 16 | 17 | 18 | 19 | 20 | 21 | 22 | 23 | 24 | 25 | 26 | 27 | 28 | 29 | 30 | 31 | 32 |
| Sonic Super Specials | 1: Battle Royal | 2: Brave New World | 3: Sonic Firsts | 4: Return of the King | 5: Sonic Kids | 6: Sonic #50: Director's Cut | 7: Sonic/Image Crossover | 8: Sally Moon | 9: Sonic Kids 2 | 10: Crossover Chaos | 11: Girls Rule! | 12: Turnabout Heroes | 13: Sonic Adventure | 14: Sonic Stew | 15: Naugus Games |
| 48-Page Specials | Sonic: in Your Face! | Sonic & Knuckles | Sonic Triple Trouble | Knuckles' Chaotix | Super Sonic vs. Hyper Knuckles | Mecha Madness | Sonic Live! | Sonic Blast |
| Sonic X | 1 | 2 | 3 | 4 | 5 | 6 | 7 | 8 | 9 | 10 | 11 | 12 | 13 | 14 | 15 | 16 | 17 | 18 | 19 | 20 | 21 | 22 | 23 | 24 | 25 | 26 | 27 | 28 | 29 | 30 | 31 | 32 | 33 | 34 | 35 | 36 | 37 | 38 | 39 | 40 |
| Sonic Universe | 1 | 2 | 3 | 4 | 5 | 6 | 7 | 8 | 9 | 10 | 11 | 12 | 13 | 14 | 15 | 16 | 17 | 18 | 19 | 20 | 21 | 22 | 23 | 24 | 25 | 26 | 27 | 28 | 29 | 30 | 31 | 32 | 33 | 34 | 35 | 36 | 37 | 38 | 39 | 40 | 41 | 42 | 43 | 44 | 45 | 46 | 47 | 48 | 49 | 50 | 51 | 52 | 53 | 54 | 55 | 56 | 57 | 58 | 59 | 60 | 61 | 62 | 63 | 64 | 65 | 66 | 67 | 68 | 69 | 70 | 71 | 72 | 73 | 74 | 75 | 76 | 77 | 78 | 79 | 80 | 81 | 82 | 83 | 84 | 85 | 86 | 87 | 88 | 89 | 90 | 91 | 92 | 93 | 94 | 95 | 96 | 97 |
| Sonic Boom | 1 | 2 | 3 | 4 | 5 | 6 | 7 | 8 | 9 | 10 | 11 |
| Free Comic Book Day Issues | Sonic FCBD 07 | Sonic FCBD 08 | Sonic FCBD 09 | Sonic FCBD 10 | Sonic FCBD 11 | Sonic FCBD 12 | Sonic FCBD 13 | Sonic FCBD 14 | Sonic FCBD 15 | Sonic FCBD 16 | Sonic FCBD 17 |
| Tie-Ins | Sabrina the Teenage Witch (28) | Mega Man (24, 25, 26, 27, 50, 51, 52) | Archie & Friends: A Halloween Tale |
| Other | Sonic the Hedgehog Issue ¼ | Dark Mobius - Knuckles' Descent | Complete Sonic Comic Encyclopedia | Sonic the Hedgehog: Worlds Unite Battles #1 | Mega Man: Worlds Unite Battles #1 | Sonic Halloween Comic Fest | Sonic: Mega Drive | Sonic: Mega Drive - The Next Level | Sonic: Mega Drive - Overdrive |