Not to be confused with the UK publication Sonic the Comic.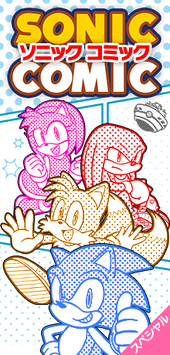 Sonic Comic (ソニックコミック, Sonikku Komikku?) was an ongoing series of one-shot comics written and illustrated by Eitaro Toyoda. They were released every Friday (sometimes on a Thursday) on the Sonic Channel website to celebrate the 25th anniversary of Sonic the Hedgehog. Each comic centers around one character from the Sonic the Hedgehog series in an everyday situation, and features elements in conjunction with the character introduction column and the games the character has been featured in.
List of comic acts
No.
Title
Central character(s)
Release date
1
Act:001 Sonic's Favorite (

Act:001 ソニックのお気に入り

?

)
Sonic the Hedgehog
1 July 2016
2
Act:002 Grateful Tails (

Act:002 オバケのお礼参り

?

)
Miles "Tails" Prower
8 July 2016
3
Act:003 Ancient Memory (

Act:003 太古の記憶

?

)
Knuckles the Echidna
15 July 2016
4
Act:004 A Thrilling Fortune Telling (

Act:004 ドキドキ運勢占い

?

)
Amy Rose
22 July 2016
5
Act:005 The Creator's Presentation of Masterpieces (

Act:005 創造主の傑作プレゼン

?

)
Dr. Eggman
29 July 2016
6
Act:006 A Shadow's Past (

Act:006 影の来し方

?

)
Shadow the Hedgehog
5 August 2016
7
Act:007 The Missing Documents (

Act:007 消えた機密書類

?

)
Rouge the Bat
12 August 2016
8
Act:008 A Warrior's Confusion (

Act:008 戦士の戸惑い

?

)
E-123 Omega
19 August 2016
9
Act:009 Always Together (

Act:009 どこでもいっしょ

?

)
Big the Cat
27 August 2016
10
Act:010 It's Alright Now! (

Act:010 もうだいじょうぶ!

?

)
Cream the Rabbit
2 September 2016
11
Act:011 The True Whereabouts (

Act:011 真実のゆくえ

?

)
Vector the Crocodile
9 September 2016
12
Act:012 Hidden Leaf Justsu! (

Act:012 木の葉隠れの術!

?

)
Espio the Chameleon
16 September 2016
13
Act:013 Unexpected Catch (

Act:013 まさかのホカク

?

)
Charmy Bee
23 September 2016
14
Act:014 Pumpkin Trigger (

Act:014 パンプキン トリガー

?

)
Silver the Hedgehog
30 September 2016
15
Act:015 Burning Beauty (

Act:015 バーニング★ビューティー

?

)
Blaze the Cat
7 October 2016
16
Act:016 Evil Daily Routine (

Act:016 邪悪な日課

?

)
Dr. Eggman Nega
14 October 2016
17
Act:017 Zeta-sensei's Lessons (

Act:017 ゼータ先輩の教訓

?

)
Orbot & Cubot
21 October 2016
18
Act:018 Fighting the Wild (

Act:018 抗う野生

?

)
Sticks the Badger
28 October 2016
19
Act:019 The Pride of the Wind (

Act:019 風使いの矜恃

?

)
Jet the Hawk
2 November 2016
20
Act:020 Cool Schematics (

Act:020 クールのスキマ

?

)
Wave the Swallow
11 November 2016
21
Act:021 The Tears of a Man (

Act:021 漢の泪

?

)
Storm the Albatross
18 November 2016
22
Act:022 I, Omochao! (

Act:022 ボク、オモチャオ!

?

)
Omochao
25 November 2016
23
Act:023 ?!♥
Chao
2 December 2016
24
Act:024 Hide-and-seek! (

Act:024 かくれんぼ!

?

)
Tikal
9 December 2016
25
Act:025 Bad Communication (

Act:025 バッドコミュニケーション

?

)
Metal Sonic
16 December 2016
26
Special Stage
Various
22 December 2016
Featured stories
Act:001 Sonic's Favorite
Summary
Cream, accompanied by Cheese, asks Sonic the Hedgehog what his favorite course to run and jump on springs is. Sonic explains that he likes a course with a 360 degree loop, a corkscrew, a few Springs and have one last downhill jump with a Dash Panel. Cream and Cheese are amazed at this feat and compare this experience of Sonic's to going down a water slide. Sonic then shyly mentions that he does not like water.
Appearances
Characters:
Items:
Misc.:
Act:002 Grateful Tails
Summary
Tails is worried that he is being stalked by ghosts and hopes it is just his imagination. However, it turns out that he was correct and is kidnapped by Boos and Boom Boos. At their hideout in the mountains, King Boom Boo forces Tails to fix their Hourglass or he will not be allowed to return home. Tails fixes the hourglass quickly and is permitted to go back. At his doorstep, he wishes not to see anymore ghosts. However, as he opens the door, he is greeted by Boom Boos who present him with gifts in gratitude for his help, though Tails does not want their presents and begs them to leave him alone.
Appearances
Characters:
Items:
Act:003 Ancient Memory
Summary
Under a fruit tree, Knuckles reflects on the history of the Knuckles Clan and how they perished in a single night as they were blinded by greed. Knuckles feels sorry for them but also thinks they got what they deserved as he believes solving everything with force is not a good idea. As he walks away, a single fruit drops onto Knuckes' head which angers him and prompts him to punch and destroy the tree. The spirit of Pachacamac witnesses this and comments on that Knuckles' actions made him a "promising lad". The spirit of Tikal also saw this but did not like Knuckles' act of violence, pleading for him not to do that. During this, Knuckles feels as if he did something he should not have done.
Appearances
Characters:
Act:004 A Thrilling Fortune Telling
Summary
Amy's crystal ball tells her that a "wonderful person" will come by. Not knowing who it will be, Amy starts to bake some cookies to pass the time and wait for the person. Later on, she notices that her oven is broken as it begins to smoke and a fire breaks out in her house. Luckily, she is rescued by Sonic who asks if she is okay. Amy wearily says yes and is also happy that her fortune came true. However, Omochao shouts at the two of them to let them know that Amy's house was still on fire.
Appearances
Characters:
Act:005 The Creator's Presentation of Masterpieces
Summary
Dr. Eggman introduces his robot designs. He first shows off the initial models that were Shellcracker, Slicer and Crawl. He then moves on to more advanced robots; Metal Sonic, E-102 Gamma, E-101 Mark II and Egg Pawns. Dr. Eggman states that he could show more but there were so many. Orbot and Cubot then ask about their concept but Dr. Eggman labels them as a waste of time, saddening the robot duo.
Appearances
Characters:
Act:006 A Shadow's Past
Synopsis
On Space Colony ARK, Professor Gerald Robotnik and his granddaughter, Maria Robotnik, are overseeing the ultimate life-form's development. Maria asks Gerald if he has named him yet, to which the latter has not yet. Maria then suggests the name "Shadow" and Robotnik thinks this is because Shadow has black fur. He also thinks that the name sounded a bit like a villain. Maria then explains that she is giving the hedgehog the name Shadow because "the darkness will be darkness wherever we go but the shadow will tell us the direction from where the light shines". She then asks Shadow if this is right. In the present, Shadow is seen reflecting on this event and then drives off on his motorcycle into the moonlight.
Appearances
Characters:
Locations:
Items:
Act:007 The Missing Documents
Synopsis
Rouge is seen flying in the possession of a briefcase with important and secret documents. She crashes into Charmy on the way who was also carrying a briefcase and yells at him to watch where he's going. Rouge arrives at the White House and delivers the briefcase to the President. However, a picture book is found inside instead of the actual documents, revealing that Rouge had grabbed the wrong briefcase after her collision with Charmy. This ultimately baffles Rouge and Charmy is saddened that he could not read anything contained in Rouge's briefcase as it proved difficult.
Appearances
Characters:
Locations:
Act:008 A Warrior's Confusion
Synopsis
E-123 Omega destroys Egg Pawns who were threatening a group of Chao. The Chao are grateful for his help and thank him but Omega states that he only destroyed the Egg Pawns to prove his strength. Regardless, the Chao provide him with a daisy chain and say their goodbyes to him. Omega finds his feelings to be conflicted and is later met Rouge. She mocks him for being the Chao's hero and pokes at whether Omega may have a an "awakening of love". Omega then starts to fire at Rouge in order for her to stop talking. Rouge dodges these attacks and flies away.
Appearances
Characters:
Act:009 Always Together
Synopsis
Big seems to have lost Froggy and starts looking for him all over the place. Unknown to him, he was in fact on top of his head. When Big eventually looks into a pond, he sees the reflection of Froggy and then jumps in to get him. Froggy then jumps off of Big's head and the cat expresses how happy he is to see his friend again.
Appearances
Characters:
Locations:
Items:
Vehicles:
Act:010 It's Alright Now!
Synopsis
Cream is known to understand how Chao are feeling and because of this, they love her. One particular day, Cheese presents a spoilt doll to Cream, though she says that she cannot fix it. Because of this, Cheese and two other Chao begin to cry. This makes Cream cry as well. Eventually, Cream's mother, Vanilla, comes by and asks what is wrong. She is told of the problem and proceeds to fix the doll, satisfying Cream and the Chao.
Appearances
Characters:
Act:011 The True Whereabouts
Synopsis
Vector's custard pudding is missing from the fridge and so he interrogates Espio and Charmy regarding its whereabouts. Espio states that they were all out together the previous day, making it impossible for himself and Charmy to have taken the pudding. Charmy adds that he did not like how Vector only bought one for himself. Vector then retraces his steps, still thinking he put his pudding in the fridge. However, it is pointed out Vector confused the freezer for a fridge and it is instead found there. Vector nervously laughs at his mistake and is soon beaten up by his partners.
Appearances
Characters:
Trivia
The Chaotix's office building resembles the one from the Sonic X anime series.
Act:012 Hidden Leaf Justsu!
Synopsis
Espio tries to go about his daily life while remaining invisible, as part of his training. However, it proves to be quite challenging later on. He is first sprayed by Cream's hose as she is watering her flowers. He is then almost hit by Amy's hammer. When Sticks asks her why she suddenly used it, Amy replies that she felt like something was there. Finally, Espio retreats to a high pole and rests there but does not see Tails incoming in his bi-plane. He is inevitably hit and Charmy is seen looking for the chameleon. Unknown to Charmy, Espio was laying down near him, injured.
Appearances
Characters:
Items:
Vehicles:
Trivia
Act:013 Unexpected Catch
Synopsis
Charmy sets up a trap for Vector and Espio with a large net and a cake. He waits patiently but they do not come by. Eventually feeling hungry, Charmy decides to ditch his plan and have the cake for himself but releases the peg that was holding up his net as the rope and traps himself. He calls out for help to which Vector and Espio hear, the former being annoyed that he was fooling around again.
Appearances
Characters:
Act:014 Pumpkin Trigger
Synopsis
Tails asks Silver if he has any stories to share from the future. Silver then tells him that he once made a pumpkin kebab at Pumpkin Hill and thought the ghost train was pretty cool. Tails tells him that he has never heard of that and Silver decides to show him what it is. The pair go to Pumpkin Hill but do not find anything too out of the blue. Suddenly, a meteorite falls out of the sky and almost hits them. Luckily, Silver, using his psychokinesis, stops and throws the meteorite towards one of the pumpkin head pillars. Silver then is surprised at his accomplishment and has Tails acknowledge his newly made pumpkin kebab.
Appearances
Characters:
Locations:
Items:
Trivia
Act:015 Burning Beauty
Synopsis
Marine asks Blaze to help her ignite her campfire to which the princess refuses. Tails comes by and is told of Blaze's decision. Blaze then tells them that her powers were not for show. Tails replies that he has already seen her in action and thought her powers were very cool. Marine adds that Blaze looked very beautiful any time she was fired up. Blaze becomes annoyed and slightly embarrassed hearing these compliments and they are soon joined by Amy, Cream and Cheese. They learn of what Marine asked Blaze to do and start complimenting her as well, wanting to see her perform her flame abilities. Blaze eventually gives in and not only lights up the campfire but their barbecue and the roast as well as she is suddenly enjoying herself. The others watch in wonder.
Appearances
Characters:
Act:016 Evil Daily Routine
Synopsis
Blaze finds Dr. Eggman Nega on the scene and he tries to explain that he was merely seeing the sights. Blaze then compares Eggman Nega to Dr. Eggman, saying his desire for destruction mattered more to him than it did to Dr. Eggman. Eggman Nega dislikes the fact that he is compared to Dr. Eggman, saying that he hates him. He then transports away to settle a score, leaving Blaze angry that he left without warning. Somewhere else, Eggman Nega flies to Dr. Eggman's lair and graffitis the latter's face. Feeling satisfied, Eggman Nega flies away, saying that if he did not do something unkind every once in a while, he may start feeling bad. The next morning, Dr. Eggman finds Orbot and Cubot laughing at him, not knowing what is so funny to them.
Appearances
Characters:
Trivia
Act:017 Zeta-sensei's Lessons
Synopsis
Orbot decides to study his and Cubot's predecessors so that they would not be downsized or reconstructed. They discover that the E-Series has the most models in it and Cubot asks if E-123 Omega was one of them. Orbot says that he is but also does not want to be compared to him as the defect robot was too powerful. Cubot suggests studying a less fortunate robot and Orbot does so, finding data on E-105 Zeta. They find out that after not being able to find a frog, Dr. Eggman placed Zeta on a pillar and remodeled him to fight off intruders on the Egg Carrier, only for him to be destroyed by one. Orbot and Cubot then look at each other worryingly and start acting more kind towards Eggman to avoid Zeta's fate, even going as far as baking him a cake. This confuses Eggman and he asks if they want something from him but Orbot replies that they did not want anything special. Cubot then pleads under his breath for Eggman to not get mad.
Appearances
Characters:
Trivia
At the same time this comic was published, Orbot and Cubot got their own official character profile on Sonic Channel.
Act:018 Fighting the Wild
Synopsis
Sticks the Badger expresses her hatred for television, saying her reasons for this was that its "grating sounds crawled into her ears" and its light "pierced her eyes". She then yells for everyone to protect themselves the "malicious electromagnetic waves". Suddenly, an advertisement for cupcakes pops up on the television screen. Sticks drools over the sight of them but at the same time tries to ignore it as she believes the TV is trying to control her. Sticks eventually gives in and buys a cupcake for herself. She then remarks that television is scary and no matter how she thinks about it, it is a brainwashing device. Tails, however, replies that it was just her gluttony.
Appearances
Characters:
Act:019 The Pride of the Wind
Synopsis
The Babylon Rogues have collected a lot of treasure and Jet splits it up between the three of them. He discards the coins, ordering Wave to use it for remodeling their Extreme Gear. Wave tells him that he should not just get rid of change like that but Jet takes no heed of this, wanting only to focus on hot adventures and cool races. Later on, Jet is stuck at a vending machine without any change to pay for a drink with. Annoyed, Wave gives Jet a coin to pay with while telling him it was good to carry some change around.
Appearances
Characters:
Vehicles:
Trivia
Act:020 Cool Schematics
Synopsis
Jet praises Wave for the settings on his Extreme Gear, though she says that their opponents were idiots and they would win the next race anyway. Jet leaves, telling Wave that he was counting on her. After Jet leaves, Wave bursts into a frenzy, overjoyed that her technology truly was the best and greatly appreciated. In the middle of her celebration, Storm comes by and asks Wave what she was up to. She freezes in position and angrily yells at Storm not to stand in weird places, calling him stupid. Storm flees, calling out to ask Wave why she was so mad.
Appearances
Characters:
Vehicles:
Trivia
Act:021 The Tears of a Man
Synopsis
Storm is seen riding as fast as he can on his Extreme Gear in hopes to arrive in time for something. It is revealed that a restaurant run by several Omochao was having second "all-you-can-eat" special and Storm arrived too late as they closed at 1:00pm. Storm is brought to tears while one Omochao asks him politely to come again.
Appearances
Characters:
Vehicles:
Trivia
Storm is drawn without his nostrils.
Act:22 I, Omochao!
Synopsis
Sonic runs through different Zones with Omochao accompanying him. On these ventures, Omochao keeps telling Sonic what to do in each situation, whether the task was obvious or not. After reaching the Goal Ring, Sonic takes a break and goes to have a chili dog lunch in peace. However, multiple Omochao appear and tell Sonic what he needs to do in order to eat his food properly, which irritates the latter and prompts him to yell at the Omochao for them to keep quiet.
Appearances
Characters:
Locations:
Items:
Trivia
The title of this comic might be a reference to the collection of science fiction short stories by Isaac Asimov, I, Robot.
Act:023 ?!♥
Synopsis
A Hero Chao sees a Dark Chao and a Neutral Chao fighting each other. As the Hero Chao runs over to stop the fight, it is knocked back. The Hero Chao then begins to cry and the other two stop fighting. The Neutral Chao tries to cheer up the Hero Chao but to no avail. In frustration, the Neutral Chao starts crying as well. Helplessly, the Dark Chao joins the other two to cry but they stop as a fruit falls out of a nearby tree. The three Chao chase after it and eat it together. After finishing the fruit, the Chao gently take a nap.
Appearances
Characters:
Trivia
The symbols used in this comic's title are the same ones Chao are seen expressing with their emotion-dot in various games.
Act:024 Hide-and-seek
Synopsis
Tikal suggests a game of "hide-and-seek" to a few Chao and Chaos. She manages to find all three Chao around the altar and then wonders where Chaos hid. Out of the corner of her eye Tikal spots Chaos lurking in a nearby pool and tells the latter that it was not fair for him to to turn into water as it was breaking the rules.
Appearances
Characters:
Locations:
Items:
Trivia
This comic is supposed to detail what life was like for Tikal before her father came to take away the Chaos Emeralds.[1]
Act:025 Bad Communication
Synopsis
Cubot is seen trying to get Metal Sonic's attention but is ignored. Cubot tells Orbot that he wants to be friends with Metal Sonic, even though the robot's only interest is in Sonic. Upon realizing this, Cubot dresses up as Sonic to try to get Metal Sonic's attention. He then goes over to Metal Sonic and yells a few trademark speeches of Sonic's. After hearing this, Metal Sonic turns around and unleashes a powerful energy surge which scares Cubot, forcing him to flee. Metal Sonic gives chase which puzzles Dr. Eggman as to why they were "getting along well."
Appearances
Characters:
Trivia
Special Stage
Synopsis
Sonic, along with every character that appeared in the series thus far, thanks all the readers for all the support given to Sonic Comic. Tails states that there were twenty-five comics in total, corresponding with Sonic's twenty-fifth anniversary and adds that the series was quite lively with all the character appearances. Knuckles asks if anybody saw his active role, much to Amy's annoyance. Amy then tries to say something to the readers regarding whether they enjoyed reading the comic until the group is attacked by Dr. Eggman, Orbot, Cubot and Metal Sonic. Silver manages to deflect many of the missiles fired while Eggman states that he would catch them all in one go, seeing as they were all gathered in one place. As most of the group prepare to fight Eggman, Sonic sighs at Eggman's persistence. He then joins the fight and tells the readers to look forward to the future with him.
Appearances
Characters:
Items:
Vehicles:
Trivia
The title of the comic is named after the Special Stage, being as it was a bonus comic.
Dr. Eggman Nega is the only character in Sonic Comic that did not appear in the final strip.
References
External links
Printed media
Manga
Sonic the Hedgehog Story Comic (1991)

 ·

Sonic the Hedgehog (1992—1994) (Sonic no Daibouken)

 ·

Dash & Spin Super Fast Sonic (2003—2005)

 ·

Dengeki Nintendo DS (Sonic World Adventure (2008), Sonic and the Black Knight (2009), Sonic Chronicles (2009), Sonic Colors (2010), Sonic Generations (2011))
Comic books
Sonic the Hedgehog (promotional comic) (1991)

 ·

Sonic the Comic (1993—2002)

 ·

Sonic Sunday Strips (1993—1995)

 ·

Sonic the Hedgehog (Archie Comics) (1993—2017) (miniseries (1993), Princess Sally (1995), Tails (1995), Knuckles (1996), Sonic Quest (1996), Knuckles the Echidna (1997—1999), Sonic X (2005—2008), Sonic Universe (2008—2017), Sonic Boom (2014—2015))

 ·

Sonic Adventures (1994)

 ·

Sonic Comic (2016)

 ·

Sonic the Hedgehog (IDW Publishing) (2018-)

 ·

Sonic the Hedgehog: Tangle & Whisper (2019)
Novels and picture books
Stay Sonic (1993)

 ·

Virgin Books (Sonic the Hedgehog in Robotnik's Laboratory (1993), Sonic the Hedgehog in the Fourth Dimension (1993), Sonic the Hedgehog and the Silicon Warriors (1993), Sonic the Hedgehog in Castle Robotnik (1994))

 ·

Pense Bem: Uma Aventura Científica com Sonic the Hedgehog (1993)

 ·

Troll Associates (Sonic the Hedgehog (1994), Sonic the Hedgehog: Robotnik's Revenge (1994), Sonic the Hedgehog: Fortress of Fear (1995), Sonic the Hedgehog: Friend or Foe? (1995), Sonic & Knuckles (1995), Sonic X-Treme (1997))

 ·

Ladybird (Sonic the Story (1994), Sonic the Hedgehog: Robotnik's Oil (1994), Sonic the Hedgehog: The Invisible Robotnik (1994))

 ·

Watermill Press (Sonic the Hedgehog (1995))

 ·

Golden Books (Sonic the Hedgehog: Sonic's Shoes Blues (1993), Sonic the Hedgehog 2: The Secret Admirer (1994), Sonic the Hedgehog 3: Up Against the Wall (1995), Sonic the Hedgehog: Double Trouble (1996))

 ·

Sonic X books (2005—2007) (Meteor Shower Messenger (2005), Spaceship Blue Typhoon (2005), Battle at Ice Palace (2006), Aqua Planet (2006), Dr. Eggman Goes to War (2006), Desperately Seeking Sonic (2007))

 ·

Where's Sonic? A Search-and-Find Adventure (2012)

 ·

Sonic Boom books (2015—2016) (Le partenaire ideal (2015), La machine à gaffes (2015), Pas de chance, Knuckles ! (2015), L'épouvantable Todd (2016), Sonic Superstar (2016), Une étrange météorite (2016))

 ·

Sonic and the Tales of Deception (2018)

 ·

Sonic and the Tales of Terror (2018)
Other
Sonic Adventure Gamebooks (1993—1996)

 ·

Ladybird (Sonic the Hedgehog Adventure Gamebook (1994—1995), Joke Book (1994), Where's Sonic? (1994), Where's Sonic Now? (1996), Puzzle Book 1 (1994), Puzzle Book 2 (1994))

 ·

The Official Sonic the Hedgehog Yearbook (1993, 1994)

 ·

Sonic the Hedgehog Book (1992)

 ·

Sonic the Hedgehog Paint 'n' Marker Book (1993)

 ·

Look and Find Sonic the Hedgehog (1994)

 ·

Sonic the Hedgehog (Play-a-Sound) (1995)

 ·

How to Draw Sonic the Hedgehog & the Gang (1998)

 ·

The History of Sonic the Hedgehog (2012)

 ·

Sonic the Hedgehog Super Interactive Annual 2014 (2013)

 ·

Run, Sonic, Run! (2013)

 ·

Sonic the Hedgehog 25th Anniversary Art Book (2017)

 ·

Welcome to the World of Sonic (2018)

 ·

Sonic the Hedgehog Mad Libs (2018)

 ·

Sonic the Hedgehog: Race Against Chaos (2018)
Television and film
Animated shows
Adventures of Sonic the Hedgehog (1993)

 ·

Sonic the Hedgehog (1993—1994)

 ·

Sonic Underground (1999)

 ·

Sonic X (2003—2005)

 ·

Sonic Boom (2014—2017)
Other
Sonic - Super Hedgehog (1994)

 ·

Sonic Christmas Blast (1996)

 ·

Sonic the Hedgehog: The Movie (1996)

 ·

Sonic the Animation (1997)

 ·

Sonic: Night of the Werehog (2008)

 ·

Sonic Mania Adventures (2018)

 ·

Team Sonic Racing Overdrive (2019)

 ·

Theatrical film series (Sonic the Hedgehog (2019))
Miscellaneous
Alton Towers (Sonic Pinball)

 ·

conventions (Sonic Boom, Summer of Sonic)

 ·

franchise's timeline

 ·

Guinness World Records

 ·

Hedgehog Engine

 ·

Honey Nut Cheerios

 ·

iTunes

 ·

Ken Penders' legal cases

 ·

cameo appearances and references

 ·

SEGA Republic (Sonic Hopper, Spin Gear)

 ·

Sonic Bible

 ·

Sonic Bowl

 ·

Sonic Generations of Skate

 ·

Sonic Live in Sydney

 ·

Sonic Parade Balloon

 ·

Toyland Tours

 ·

Sonic the Hedgehog toys