This article contains a list of glitches from Sonic Colors. Unless otherwise noted, all glitch names are conjectural. Many of them have not been confirmed by Sega.
List of glitches
In Aquarium Park Act 3, the player should grab an Orange Wisp close to the area where Sonic will find a Purple Wisp. They should then grab the Purple Wisp, then the Orange Wisp again (which will have been dropped). When the player reaches the bottom, they must boost forward, Stomp, and then use the Orange Wisp before Sonic hits the ground. If done correctly, the player should shoot up into the ceiling. Finally, they need to go back into the water (this should give the player underwater physics everywhere), then jump and boost until Sonic goes past the Goal Ring. From there, the player needs to quickly boost ahead, as they will only have a short amount of time left before Sonic "drowns". The player must jump into the water, then out again to get oxygen. Sonic can then continue to the next Goal Ring.
In Asteroid Coaster Act 1, Sonic encounters a number of loops while riding the roller coaster. On the second loop, the player should jump sideways halfway through the loop and Sonic will fall onto an asteroid below. Sonic can walk around on the asteroid until he falls off.
In Asteroid Coaster Act 1, there are many fences that seem to be made of a string of rings. It is impossible to pass them. However, if Sonic double-jumps and boosts (in the air) towards the fence (if he can face it), he can then cross to the other side of the fence. This glitch will not work if he cannot face the fence.
Behind the opening glitch:
In the very beginning of Asteroid Coaster Act 5, when Sonic goes to dive down into the platforms, there are two Egg Pawns beside one. If the player manages to jump up and defeat two of the Egg Pawns while very close to the side of the platform the robots were at, Sonic can jump to the vertical-like hall to enter a beta area of some sort. While there is nothing there, the area is only accessible upon performing this glitch.
Tropical Resort 3D in 2D: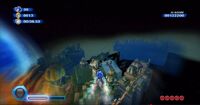 This glitch involves the player using a Laser Wisp to clear the first ramp without interacting with it and thus reach the 2D section ahead in an unintended way. They have to double jump onto the ramp at a slight angle and just before they land on it, they need to activate the Cyan Laser by pressing either the Z button on a GameCube controller or by shaking the Wii remote. The player should be able to aim the Cyan Laser over the ramp. Next they need to aim the beam over to the left and then release the controls.
Once they shoot forwards, they will go through a wall and they need to immediately boost in the air and aim to land on a platform below. By using the Cyan Wisp, Sonic skips an activation trigger from a 3D running section to a 2D platforming section. This now means Sonic has 3D movement in all directions in an area that is only designed for 2D movement.
An easier way of performing the glitch is jumping at the right side of the ramp. There is an invisible wall that would usually stop the player but they are able to jump over the ramp completely if they jump from the correct distance and to the right. After this, they can boost around the 2D trigger and end up on the other side in 3D.
Tropical Resort 2D in 3D:
Skipping the 3D in 2D triggers and vice-versa is a common glitch and most of these glitches are made possible by Wisps. The player must grab a Laser Wisp and head to the first major rail-grinding section in Tropical Resort Act 1. They need to time a jump so that Sonic goes through the final Rainbow Ring where the rails meet. As Sonic goes through the ring, they should tap the jump button and then activate the Laser Wisp. The animation that Sonic performs when going through Rainbow Rings allow him to jump and then use Wisps on rails, which is something that the player should not be able to do. The player will now be able to aim the laser upwards by holding down on the control stick and the releasing. This will skip a 3D trigger and now the game still thinks Sonic is still in a 2D section, which will also glitch the camera. Once the player goes through the huge shuttle loop and arrive in the next section, the game still thinks they are in 2D and so Sonic's movement is limited to just forwards and backwards. This will also affect how the Homing Attack acts on balloons as Sonic will just spin in place and then fall. The glitch will carry on until the end of the stage.
---
Main article | Gallery | Scripts (Wii, DS) | Credits (Wii, DS) | Beta elements | Glitches
Playable characters
Sonic (Super Sonic) | Virtual Hedgehog*
Non-playable characters
Tails | Dr. Eggman | Yacker | Orbot | Cubot | Mother Wisp** | Cream** | Cheese** | Milk** | Blaze** | Silver** | Knuckles** | Rouge** | Team Chaotix (Vector**, Espio**, Charmy**) | Amy** | Big** | Omega** | Shadow**
Wisps
White | Cyan | Yellow | Orange | Blue* | Green* | Pink* | Red** | Purple* | Violet**
Areas
Tropical Resort | Sweet Mountain | Starlight Carnival | Planet Wisp | Aquarium Park | Asteroid Coaster | Terminal Velocity | Game Land | Special Stages**
Enemies
Batbot** | Big Chaser* | Buzzer | Chopper | Crabmeat* | Egg Chaser | Egg Pawn | Egg Hammer** | Flapper** | Jawz | Larva* | Mole | Moto Bug* | Sandworm* | Sea Monster | Spinner (Thunder Spinner, Metal Spinner*) | Spiny* | Sprinkler | Uni Uni**
Bosses
Rotatatron* | Globotron** | Captain Jelly | Frigate Orcan | Refreshinator* | Drillinator** | Admiral Jelly | Frigate Skullian | Asteroid Coaster sub-boss* | Nega-Wisp Armor | Nega-Mother Wisp**
Moves/Techniques
Air Boost | Assist* | Boost | Boost Mode** | Crouch* | Double Jump* | Drift* | Grind Step | Grinding | Homing Attack | Hop* | Jump Dash | Kick boost | Slide | Skydiving | Spin Dash | Spin Jump | Stomp | Super Sonic Boost | Ring Dash* | Wall Jump
Color Powers
Laser | Drill | Rocket | Cube* | Hover* | Spikes* | Frenzy* | Burst** | Void** | Final Color Blaster
Gimmicks and obstacles
Accelerator Gun | Bomb | Bottomless pit | Dash Panel | Dash Rail | Dash Ring | Exploding Balloon** | Fan | Fountain | Grind Rail | Hang Glider | Hint Ring* | Iron ball* | Jump Panel | Mine** | Mobile spring* | Movable box | Moving Crate | Optical cable | Prism | Pulley | Rainbow Ring | Red School | Slot machine | Spike Trap | Spring | Spring Pole | Switch | Thorn Spring | Underground Pipe | Wide spring | Zip Line
Objects
Billiard Ball | Blue Block* | Blue Ring* | Chaos Emerald | Container (Black Mound, Steel Container, Unbreakable Container, Wooden Container) | Egg Medal* | Goal Ring | Item Box** (1-Up**, 5 Ring Bonus**, Exploding Balloon**, Invincible**, Magnetic Shield**, Mine**, Power Sneakers**, Random Ring Bonus**, Reaper**, Shield**, Spring**, Steal Boost**, Steal Wisp**, Time Bonus**) | Meteorite | Prison Capsule | Question Capsule* | Ring | Special Ring | Star Post | Super Ring* | Wisp Capsule
English voice actors
Roger Craig Smith (Sonic) | Mike Pollock (Eggman) | Kate Higgins (Tails) | Travis Willingham** (Knuckles) | Cindy Robinson** (Amy) | Kirk Thornton** (Shadow) | Wally Wingert (Cubot) | Quinton Flynn** (Silver) | Laura Bailey** (Blaze) | Karen Strassman** (Rouge) | Michelle Ruff** (Cream) | Keith Silverstein** (Vector) | Troy Baker** (Espio) | Colleen O'Shaughnessey** (Charmy) | Vic Mignogna** (Omega)
Japanese voice actors
Junichi Kanemaru (Sonic) | Chikao Ōtsuka (Eggman) | Ryo Hirohashi (Tails) | Nobutoshi Canna** (Knuckles) | Taeko Kawata** (Amy) | Koji Yusa** (Shadow) | Rumi Ochiai** (Rouge) | Daisuke Ono** (Silver) | Nao Takamori** (Blaze) | Sayaka Aoki** (Cream) | Kenta Miyake** (Vector) | Yuuki Masuda** (Espio) | Youko Teppozuka** (Charmy) | Taiten Kusunoki** (Omega)

Music

Songs
Reach for the Stars | Speak with Your Heart
Albums
Vivid Sound X Hybrid Colors: Sonic Colors Original Soundtrack
Other
Auto Running | Boost Gauge | Bucket O'Sushi* | Dr. Eggman's Incredible Interstellar Amusement Park | Earth | Egg Gun | Egg Shuttle* | Egg Spear | Health Gauge** | Infinite Boost** | Miles Electric | Mind Control Ray | Moon | Nega-Wisp | Options Satellite* | Rank | Real-Time Interaction* | Shuttle loop | Time Attack** | Tractor beam generator | Wisp Gauge
Community content is available under
CC-BY-SA
unless otherwise noted.