Sonic Boom Volume 2: Boom Shaka-laka is the second and final volume in the Sonic Boom trade-paperback series published by Archie Comics. This volume contains reprints of stories from Sonic Boom #5-7 and Sonic Boom #11.
Official solicitationEdit
BOOM SHAKA-LAKA! Brace yourself for the SONIC BOOM! The hit multimedia Sonic experience comes to you in the action-packed, laugh-a-minute comic book series! Sonic and his friends Tails, Amy, Knuckles and Sticks find themselves caught up in more zany adventures! Dr. Eggman has a problem – how can the evil doctor betray the trust of the villagers when they don't trust him to begin with? The mad mechanic pulls out all the stops to woo the wary would-be victims, but he gets more than he counted for when Sonic and his pals decide to become his staff! Then it's off to the races as Dr. Eggman goads Sonic into competing in a go-kart race! Sonic puts the pedal to the metal in this thrilling volume of Sonic Boom™! SONIC BOOM™ Vol. 2: BOOM SHAKA-LAKA collects SONIC BOOM™ #5-7 and #11 plus bonus features!
Reprinted storiesEdit
Eggtoberfest!Edit
Everybody's Super Sonic Racing Part OneEdit
Everybody's Super Sonic Racing Part 2Edit
Eggman Gets a GorillaEdit
True StoriesEdit
Off PanelsEdit
Other featuresEdit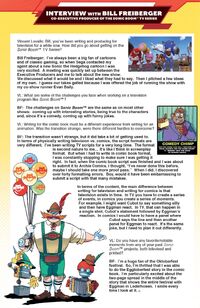 The main cover artwork for this volume is the same as that on the regular cover of Sonic Boom #6 except all the panels have been removed.
The placeholder cover for this volume was the same as the regular one for Sonic Boom #3.

However, this issue is not included in this volume.

The volume skips issues 8-10 as they are a part of the Worlds Unite crossover, which is reprinted in its own graphic novel series.
This was the final Archie Sonic graphic novel released before the Archie Sonic line was discontinued.