This article contains a list of glitches from Sonic Boom: Rise of Lyric. Unless otherwise noted, all glitch names are conjectural. Many of them have not been confirmed by Sega.
List of glitches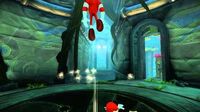 This glitch is fairly simple to replicate, however, it can only be done as Knuckles. The player needs to jump, press the Y button, pause, unpause and press the Y button again. Knuckles will never touch the ground, and instead, he will keep jumping each time the Y button is pressed, which can be used to skip a whole level. Utilizing this glitch can easily allow the player to skip hours of gameplay.
This glitch was patched after its discovery.
Community content is available under
CC-BY-SA
unless otherwise noted.