Sonic Boom: Here Comes the Boom![1] is a DVD volume that contains eight episodes from the Sonic Boom television series.
Official synopsis
It's a Sonic you haven't seen before - an ensemble comedy that pokes fun at action-adventure storytelling, but still manages to deliver plenty of adrenaline! Whenever he goes and whatever he's up against, Sonic is aided by his sidekick, Tails, and his friends Knuckles, Amy, and Sticks and, of course, attacked by his arch nemesis, Dr. Eggman. The series is set in a wide-open world, where most of the characters live in and around an unnamed village. Just over the horizon is a vast landscape filled with beaches, jungles, mountains, undersea civilizations, cloud cities, frozen lakes, and more!
Episodes synopses
Trivia
This is the first Sonic Boom DVD to be released in North America since the limited edition DVD released with Sonic Boom: Fire & Ice back in September 2016.
Gallery
Video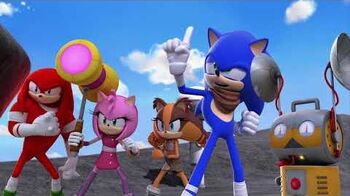 References