Template:Need Proof This article pertains to the beta elements from Sonic Adventure.
Title
Sonic Adventure was originally titled Sonic RPG, to be released on the Sega Saturn. However, by the time the Dreamcast came out, the developers realized they would need a better system that could handle the creature Chaos.
Characters
Classic characters
Sega originally wanted the Classic forms of the characters in the game, but decided to fully use the Dreamcast's capabilities, and ultimately re-designed Sonic, Tails, Knuckles, Amy, and Eggman. Models would be the same as Sonic R.
E-103 Delta, E-104 Epsilon, E-105 Zeta originally had the same color as E-102 Gamma (except their laser-cannons that are different). This can confirm in the E-102 Gamma tutorial.
Super Sonic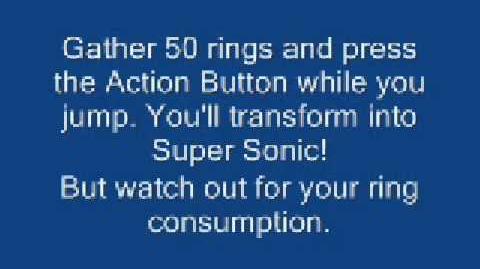 Like in previous games, Super Sonic was originally going to be playable in regular stages.
It is possible this was removed for more bug fixes, as the game was a little bit rushed at the end of development. There is an unused audio file within the game's data in which Tikal explains how to transform into Super Sonic.
Stages
Emerald Coast
Originally in Emerald Coast when Sonic goes to the quays where is chased by an orca there were double loops, and when he is chased by an orca, in the platforms there were no dash-pannels.
Windy Valley
Windy Valley was a completely different stage in early development. There are a few screenshots showing Tails flying around in an unknown location and also some gameplay footage showing Sonic and the rest of the cast walking around in this unfamiliar environment. Even the final release's intro video and Amy's very first cutscene are showing pictures of this place which was later proven to be a beta version of Windy Valley. Remnants of the stage were found within the files of the Sonic Adventure Auto-demo. Attempts to launch the level within the game itself weren't successful yet because of missing files which are causing the game's crash when trying to do so. Converting the level geometry itself was possible and since then the level was ported to Sonic Generations as a mod. This geometry seems to be the beta version of the third section of Windy Valley which was partially used as a beta Chao Garden as well. Pre-release footage also shows that the first section had it's own beta version as well and was partially re-cycled for the final design. Amy and Big were originally playable in this stage.
Speed Highway
The "Goin' Down" section originally there weren't helicopters. The "At Dawn" section of Speed Highway was fairly different from the final release. The section was redesigned and a few parts were removed completely for yet unknown reasons.
Eggmans robots
Little purple enemies
Those little purple enemies of Final Egg were originally purple and yellow.
Unused Duck enemy
In the Sonic Adventure Auto-demo, An unused duck enemy was found in Final Egg.
Moves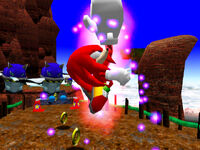 Knuckles was going to use use the uppercut but then was scrapped for unknown reasons.
Others
There was an unused mini-boss of a mechanical twin-headed dragon that was going to be a mini-boss in both acts of Sky Chase. It is invisible, but it follows the Tornado in flight without damaging it.
Loading screen
The the loading screen was originally in the middle of the screen and had the title game in black and white.
The Chaos Emerals originally had their prior games design.
Station Square
Originally, each area of Station Square was going to be completely connected, some leftover of this attempt can still be found within the final release if the player meets certain conditions and activates debug mode (an untextured floorless version of the Casino Area can be accessed from Station Square's coastal area which loads itself as a part of it which suggests that at some point in development the Station Square hub area was supposed to be loaded in it's entirety).  Also, more pedestrians were going to roam around the city.
Timed Train
The train was possibly going to leave and arrive without the player's boarding, but this was possibly removed because the areas would overlap.
Rocket
There was going to be a rocket in Sonic's gameplay.
Trivia
In the final version of the game, there are some things of the beta that were not deleted yet, or things that represents the beta version:

When Amy is remembering "her old times" the beta version of Windy valley can be seen.
In the mini-game Hedgehog Hammer, Eggman's objectives are in his classic version.
In Sonic's pinball table located in Casinopolis, the images of Sonic, Tails, Knuckles, Amy and Eggman that are in the slot machine are in their classic styles.
In Gamma's tutorial gameplay, it can be seen that E-104 Epsilon have Gamma's color design (except for his laser-cannons).
In Sonic's tutorial gameplay, the beta version of Windy Valley can be seen.
---
Main article | Gallery | Beta Elements | Staff | Glitches | Re-releases (DX | 2010) Scripts (Sonic, Tails, Knuckles, Amy, Big, Gamma, Super Sonic)
Playable characters
Sonic (Super Sonic) | Tails | Knuckles | Amy | E-102 Gamma | Big | Metal Sonic*
Non-playable characters
Dr. Eggman | Beta (Mark II) | Chao | Chaos (Chaos 1, Chaos 2, Chaos 4, Chaos 6, Perfect Chaos) | Cream* | Delta | Epsilon | Froggy | Grandma | Mr. Know-It-All | Pachacamac | Tikal | Unnamed Sonic robot* | ZERO | Zeta | Animals (Deer, Elephant, Gorilla, Kangaroo, Koala, Lion, Mole, Parrot, Peacock, Penguin, Rabbit, Seal, Sea Otter, Skunk, Swallow)
Adventure Fields
Egg Carrier | Mystic Ruins | Station Square
Action Stages
Emerald Coast | Windy Valley | Casinopolis | IceCap | Twinkle Park | Speed Highway | Red Mountain | Sky Deck | Lost World | Hot Shelter | Final Egg
Sub Games
Sky Chase | Sand Hill | Hedgehog Hammer | Twinkle Circuit | Boss
Enemies
Beat | Bladed Spinner | Boa-Boa | Buyoon | Cart Kiki | Cop Speeder | Egg Keeper | Electro Spinner | Fighter Aircraft A | Fighter Aircraft B | Gola | Ice Ball | Icecap's unnamed aircraft | Kiki | Leon | mechanical fish | Pirate | Rhinotank | Sky Deck's unnamed jet fighter | Spiky Spinner | Sweeper
Bosses
Chaos 0 | Chaos 2 | Chaos 4 | Chaos 6 | E-101 Beta | E-101 Mark II | E-102 Gamma | E-103 Delta | E-104 Epsilon | E-105 Zeta | Egg Carrier | Egg Hornet | Egg Viper | Egg Walker | Knuckles the Echidna | Perfect Chaos | Sonic the Hedgehog | ZERO
Moves/
Techniques
Playable characters
Bolt of lightning | Climb | Dig | Flight Mode | Glide | Hammer Attack | Hammer Jump | Hover | Homing Attack | Homing Missile Launch | Jump Attack | Laser Gun | Light Speed Attack | Light Speed Dash | Lure Attack | Maximum Heat Knuckles Attack | Pick | Propeller Flight | Punch Attack | Rapid Tails Attack | Spin Dash | Spin Hammer Attack | Spin Jump | Tails Attack
NPCs
Arm Punch | Bomb Attack | Bomb Gun Attack | Charge | Double Punch | Earthquake Attack | Electric Arm | Energy Ball Attack | Flame Thrower Attack | Guiding Missiles | Instantaneous Liquefaction | Laser Beam Attack | Homing Tail Slice | Inhale Attack | Marble Attack | Phantom Shadow Move | Punch | Quarter Attack | Scorpion Attack | Shockwave Attack (Chaos 6) | Sonic Boom | Spin Attack | Spinning Spike Attack | Spouting Attack | Squash Roll Attack | Swing Punch
Gimmicks and obstacles
Bumper | Bumper Car | Cannon | Conveyor Belt | Crank | Dash Panel | Dash Ring | Drum Can | Explosion Trap | Fan | Flipper | Fountain | Goal Balloon | Hanging Bell | Helicopter | Hint Box | Hint Orb | Icicle | Iron ball | Jump Panel (plate) | Jump Panel (ramp) | Laser field | Lit Panel | Mirror | Monkey Detonation Switch | Orca | Power cube | Rocket | Satellite | Slot machine | Spring | Spring Catapult | Switch | Teleporter | Trick Jump Panel | Wide spring | Wind Path | Zip Line
Objects
General
Air Bubble | Capsule | Cart pass | Chao Egg | Chaos Emerald | Doll | Emblem | Emerald Shard | Employee ID Card | Item Box (5 Rings, 10 Rings, Bomb, Extra Life, High-Speed Shoes, Invincibility, Lightning Shield, Random Rings, Shield) | Key Stone (Gold Statue, Ice Stone, Silver Statue, Wind Stone) | Point Marker | Ring | Sandboard | Snowboard | Sonic Token
Level Up Items
Ancient Light | Crystal Ring | Fighting Gloves | Jet Anklet | Jet Booster | Laser Blaster | Life Belt | Light Speed Shoes | Long Hammer | Lure | Power Rod | Rhythm Badge | Shovel Claw | Warrior Feather
English voice actors
Ryan Drummond (Sonic) | Corey Bringas (Tails) | Michael McGaharn (Knuckles) | Deem Bristow (Eggman) | Jennifer Douillard (Amy) | Jon St. John (Big) | Elara Distler (Tikal, Station Square Train Voice, Default Menu Voice) | Steve Broadie (Gamma, Pachacamac, Mystic Ruins Train Voice) | Tomoko Sasaki (Chao)
Japanese voice actors
Jun'ichi Kanemaru (Sonic) | Kazuki Hayashi (Tails) | Nobutoshi Canna (Knuckles) | Chikao Ōtsuka (Eggman) | Taeko Kawata (Amy) | Shun Yashiro (Big) | Kaori Asoh (Tikal) | Jōji Nakata (Gamma) | Tōru Ōkawa (Pachacamac) | Kaho Kōda (Station Square Train Voice) | Nobutoshi Canna (Mystic Ruins Train Voice) | Elara Distler (Default Menu Voice) | Tomoko Sasaki (Chao)
Music
Songs
Believe In Myself | It Doesn't Matter | Lazy Days | My Sweet Passion | Open Your Heart | Unknown from M.E.
Albums
Sonic Adventure Original Sound Track (Digi-Log Conversation) | Sonic Adventure Remix | Sonic Adventure: Songs With Attitude Vocal Mini-Album | Sonic Adventure Original Soundtrack 20th Anniversary Edition | Passion & Pride: Anthems with Attitude from the Sonic Adventure Era
Other
777 Slots Pinball | Angel Island | Auto Running | Black Market | Card & Pinball | Chao Garden (Station Square Garden, Mystic Ruins Garden, Egg Carrier Island) | Chao Stadium | Chao in Space | Chao Machine | Chao Search* | Corkscrew loop | Debug Mode | E-100 Series | Egg Carrier | Egg Carrier 2 | Emerald Radar | Freeze | Life gauge | Mission Mode | Mystic Ruins | Shrine of Knuckles's race | Shuttle loop | Sonic Adventure (LCD) | Station Square | Station Square Police Department | Tails' Lab | Tornado | Tornado 2 | Transporter Machine

*Exclusive to Sonic Adventure DX: Director's Cut.