Sonic 20th Anniversary was an app that was available in the App Store for iOS devices. It was only available for a limited time during Sonic's twentieth anniversary, and it consisted of two games and wallpapers.
Sonic the Sketchhog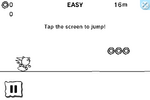 Sonic the Sketchhog is a minigame in the application. It is a 2D sidescroller platform game. The game features Sonic in a hand-drawn doodle style defeating Badniks like Crabmeat, as he advances his way though a drawn level.
This game was originally released as Sonic Freehand in Japan during June 2010 for mobile phones with keypads.
Sonic the Hedgehog 4: Episode I demo
There is also a LITE version of Sonic the Hedgehog 4: Episode I that can be played for sixty seconds of trial time.
Special
Sega released special iPhone wallpapers. The wallpapers were only available for limited time of two weeks each (save for the special twentieth anniversary wallpapers, which could be downloaded at any time).
Community content is available under
CC-BY-SA
unless otherwise noted.