Sonic: Night of the Werehog (ソニック&チップ 恐怖の館, Sonikku to Chippu Kyōfu no Kan?, lit. "Sonic & Chip: House of Horror") is a 3D animated dialogue-less short by Sega based on and taking place within the events of Sonic Unleashed, in which Sonic and Chip enter a classic haunted house that is haunted by three ghosts; two trying to win the affection of one ghost girl through photographing Sonic and Chip's scared reactions. However, the ghosts didn't expect the brave Sonic to be a Werehog. It was originally released on 17 November 2008, with a Japanese dub that only replaced Sonic and Chip's voices and the ending picture aired the following month.
Plot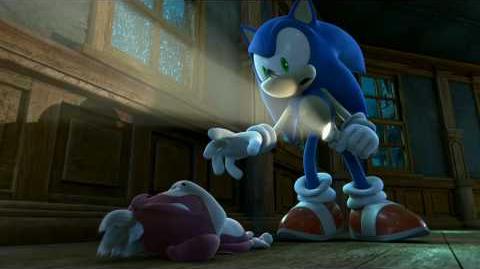 The short opens with two boys entering a haunted house during a rain storm. As they explore the house, they are unknowingly watched by two Ghost Photographers. They scare the children out and take pictures of their frightened faces. Once they take their photos, they return to a female Ghost and present her their photos to impress her. Ultimately, the Girl Ghost chooses the Bandana Ghost's picture and rewards him with a kiss, leaving the Bow-Tie ghost defeated.
This time, Sonic and Chip enter the house, Sonic is interested but Chip is rather frightened. The Bow-Tie Ghost scares Chip when he passes by a mirror with a freaky reflection of himself. The photos of Chip impresses the girl therefore the ghosts continue to scare Chip to win her heart. The pile of pictures of a frightened Chip grows and grows with each scare. The girl is however dismayed to see the photos of Sonic, that showed him unaffected by their scaring.
The ghosts come after Sonic and Chip in knight armor. As Chip cowers in fear, Sonic transforms into his Werehog form upon seeing the full moon and scares the two ghosts off. The girl laughs at the photos of the frightened ghosts, as they accidently took pictures of themselves. Humiliated, both ghosts decide to team up and form a green glowing minotaur-like Ghost to attack Sonic.
While Sonic uses his Werehog powers, the Beast gains the upper hand since it becomes invisible and unable to be struck by the Werehog's stretching punches. As they fight, Chip discovers that Sonic can see the Beast by taking its photo. But even with the camera at hand, Sonic is unable to fight since he needs time for the photos to develop.
Ultimately, the Werehog is tackled into a wall after losing his temper. As Sonic lays unconscious on the ground, the Beast proceeds to take his photo but the two are then fighting over the camera, as they want to impress the girl, causing the two to separate. As they fought over the camera and who take the photo, Sonic reawakens and attacks them by throwing them off the roof. Since the camera went off just before Sonic sends the final blow, the Girl Ghost found the taken photo of Sonic as the Werehog and falls in love with him.
She impersonates as Chip by taking the form of his body. Sonic thinking that she is Chip, agrees to take a photo with her. As the credits roll, the Ghosts are seen sighing depressingly looking at both the girl and Sonic walk together. They turn around and see Chip, who's struggling to be free as he had been tied up by the girl. However, when the photo comes out, the female ghost in her real form is seen in "Chip's" place, showing that Sonic realizes his mistake and goes back for Chip.
Characters
Unnamed Kid 1
Unnamed Kid 2
Trivia
In Sonic Unleashed (360/PS3) the two ghost photographers have also appeared in Spagonia and Adabat on the missions "Tower Terror" and "Fright Fight".
In Sonic Unleashed the ghost's cameras can also be seen in the scene where Sonic and Chip visit Eggmanland and Chip tries to take a picture.
During the premiere, Comcast cable systems showed Night of the Werehog in its Video On Demand Service.
When Sonic and Chip are walking down a hallway, there is a portrait of the Bandana ghost on the left wall.
Sonic mocks the two ghosts when they first take pictures of him in his hedgehog form. Later when the two ghosts combine they pose mockily the same way Sonic did to tick him off during their fight.
A Sega Dreamcast can be spotted three times in the video.
Sega's Joypolis theme park had showings of Night of the Werehog in 3D.
The short has only 5 short lines of dialogue. They are when Sonic says "Whoa" when entering the house, "Oops" when he scares Chip, causing him to faint, when Chip says "Aha" after figuring out a way to see the powerful ghost, a "Hey" when Chip throws Sonic the Werehog the camera, and "Yay" when Sonic and Chip celebrate.
During the beginning of the fight scene, there are three pictures on the wall over the fireplace that seem to feature the Bandana ghost, the female ghost and the bow tie ghost as humans.
On the female ghost's mural there's a poster of the 1941 movie, The Wolf Man. On the poster, the Wolf Man looked much like Sonic's Werehog form except that the werewolf's claws were black and he didn't have Sonic's quills. Also on the mural (if one looks carefully) is a poster of the 1932 movie, The Mummy.
On the board where the pictures of scared children are posted, underneath there is a decorative plate with the ghost girl on it, but it appears that the picture is from when the ghost girl was still alive. She also has a white cat next to her.
There was originally going to be a scene that would feature Sonic and Chip playing a Dreamcast.
To tell the difference between which ghost took what picture, there's a bow tie or a bandana marked on the bottom of each photo taken.
Sonic's lack of manners is seen here, as the hedgehog dosen't bother wiping the mud off his shoes before entering the house.
The camera being able to take pictures of the ghosts while they were invisible might be a reference to how the camera used in Sonic Unleashed can expose Dark Gaia's minions during an exorcism.
There is an error in one scene, as the Bandana Ghost is the right half (from Sonic's point of view) of the Minotaur-Ghost when the Werehog throws it up in the air but is the left half when he accidentally takes a photo of Sonic.
Sonic's transformation into the Werehog differs slightly from the video game. Sonic transforms when he sees the full moon in this short, as opposed to transforming at sunset in the game.

This may be another reference to the mythical legend of lycanthropy, which influenced the Werehog's creation.

Error: After the scene which shows Sonic and Chip looking up at the skylight, Sonic's mudprint's on the floor disappear.
Trivia Gallery
Credits
Executive Producer: Okitane Usui, Hisao Oguchi, Kouchi Fukazawa, Hideki Okamura
Producer: Takeshi Itou
Director: Takashi Nakashima
Production Manager: Kei Miyamoto
Supervisor: Shinji Aramaki
Line Producer: Masahito Imamura
Art Director: Shinji Usui
Character Supervisor: Jun Masuda
Line Supervisor: Takuya Hada
Supervising Animator: Jiro Yamagishi
Director of R&D: Jun Saito
Supervising Technical Director: Masayuki Tanaka, Kengo Takeguchi
Japanese Character Voices: Jun'ichi Kanemaru, Tomokazu Seki, Ryoko Shiraishi, Momoko Ishikawa
English Character Voices: Jason Griffith, Tony Salerno, Kevin Glenz, Ryan Drees
Music: Tetsuya Takahashi
Sound Design/Mixing Engineer: Kouji Kasamatsu
Character Design: Illustraors Unit Gutihiru
Sculptor (Moquette): Masanori Yoshida
Editor: Ryuji Miyajima
Pre-Production: Tomokazu Takahashi, Minoru Kusakabe, Naozumi Yamaguchi
Art: Hiroaki Ueno, Hiroyuki Kinoshita
Modeling: Kenichi Nishida, Toshiya Umeda, Satoshi Kounosu, Takayuki Hayama, Emiri Minagawa
Sets: You Amano, Yoshihiro Hanado, Kazushige Hayakawa, Yutaka Yamaki, Hidwyuki Higashi
Sufacing: Takahiro Arakawa, Hideaki Makinouchi, Satoshi Takahashi
Rigging: Kiminori Kuano, Kenou Hakamaya, Tatsuya Akagi, Ayako Sakurai, Tomohiro Hanawa, Yoko Ukai, Kengou Nukizono
Animation: Yusuke Sakai, Tsuyoshi Tanaka, Takaaki Kise, Tatsunori Tomiyama, Yoshimasa Kimura, Tomokazu Sakamoto, Hideyuki Kinoshito
Effects: Shuntaro Furukawa, Wataru Kitamura, Daisuke Satoyoshi
Lighting: Satoshi Tomatsu, Tsubasa Nakai, Hirokazu Ayukawa, Tomoya Kowase
Software Development: Seymour Wakisaka, Mio Tagiri, Tomoaki Sato, Gaetan Guidet, Yoko Sano, Tatsuya "Cap" Syuzui, Tomoya Matsumura, Takamasa Matsunari, Moes Marcelo Morales, Shoumo Hosaka, Yusuke Ishikawa
System Adminatraion: Yuji Umeki, Toru Iwata, Yusuke Yanagisawa, Yukari Imai, Tsuyoshi Ando
Project Assistant & Director Assistant: Tomohiro Mitsui, Ayano Fukuda, Naomi Tsujishito, Rumi Osagawa, Noriaki Hashimoto, Miho Ogawa
Voice Recording Director: Eriko Kimura
Voice Recording Producer: Takuya Ohno
Recording Studio: Sega Dgital Studio
Special Thanks: Akinori Nishiyama, Yoshihisa Hashimoto, Sachiko Kawamura, Tadashi Takezaki, Toyokazu Hattori, Akira Aoyama, Atom Kobayashi, Mana Nakano, Kousei Kimoto, Shin Kageyama (I'm Enterprise), Akiko Nakahata (A&K Corp. Ltd.)
Created By: Sonic Team's CG Movie Team
Presented By: Sega
Gallery
Concept Art
Promotional Posters
Screenshots
External Links
---
Main article | Gallery | Script | Credits (Xbox 360/PlayStation 3, Wii/PlayStation 2) | Glitches | Re-releases (Mobile)
Characters
Sonic (Super Sonic, Sonic the Werehog) | Chip (Gaia Colossus) | Tails | Amy | Dr. Eggman | Professor Pickle | Orbot | Dark Gaia (Perfect Dark Gaia)
Town Stages/Villages
Apotos | Mazuri | Spagonia | Chun-nan | Holoska | Shamar | Empire City* | Adabat | Eggmanland
Action Stages/Stages
Windmill Isle | Savannah Citadel* | Rooftop Run | Dragon Road | Cool Edge | Arid Sands | Skyscraper Scamper* | Jungle Joyride | Eggmanland
Residents
Apotos
Alexis | Anastasia | Eric | Gregorios | Hot Dog Vendor* | Ice Cream Vendor | Lambros | Lucas* | Milos* | Sandra
Spagonia
Aida* | Barbara | Ciccio | David | Denise | Dora | Elio* | Federica | Franco* | Gigi | Hot Dog Vendor* | Ippolita | Irma* | Josef | Lilli* | Lucia | Marcantonio* | Mauro | Natalia* | Otto | Professor Pickle | Professor Pickle's Assistant | Raimondo
Mazuri
Ana | Essie | Gwek | Hog Dog Vendor* | Kofi | Kwami | Kwod | Yawa | Yaya
Chun-nan
Chun | Hot Dog Vendor* | Hualin | Jinlin* | Lin | Shuifon | Wang* | Yilin | Zonshen
Holoska
Hot Dog Vendor* | Jari-Pekka | Jari-Thure | Marketa | Sarianna | Ursule
Shamar
Ara | Dimah | Ehsan | Erhan | Hizir | Hot Dog Vendor* | Iman | Labib | Latif | Layla | Mufid | Musaid | Raniya | Sa'id | Sadiq | Safi | Samia | Sammar | Shadi | Utba | Yasmine
Empire City
Boss* | Brenda* | Charles* | Def Big* | Elizabeth* | Hot Dog Vendor* | Li'l Kate* | Louie Montaine* | Robert*
Adabat
Hot Dog Vendor* | Jamal | Kaeo | Nagi | Rudi | Teanchai
Eggmanland
EF-DC1998* | EF-MD1991* | EF-XB2006* | Hot Dog Vendor*
Misc.
Baker | Lah | Su* | Uh* | Wentos*
Enemies
Eggman's Machinery
Aero-Cannon | Aero-Chaser | Egg Blizzard | Egg Burst | Egg Fighter | Egg Fighter: Knight (Electric shield, Spring shield) | Egg Fighter: Shield (Electric shield, Spring shield) | Egg Fighter: Sword* | Egg Flame | Egg Launcher (H) | Egg Launcher (H+V) | Egg Launcher (V) | Egg Shackle | Egg Shooter | Egg Typhoon | Gold Aero-Cannon | Interceptor | Little Fighter* | Mole Cannon | Spinner | Thunder Ball | Thunder Spinner
Dark Gaia's minions
Big Mother | Cure Master* | Dark Bat | Dark Bat Sniper | Dark Eel* | Dark Fright | Dark Master** | Deep Nightmare | Evil Flower* | Fire Master | Fright Master | Killer Bee | Lightning Master | Little Rex | Nightmare | Power Master* | Red Fright | Red Killer Bee | Red Nightmare** | Red Deep Nightmare** | Red Rex | Red Titan** | Spike** | Thunder Bat | Titan
Bosses
Egg Beetle | Egg Cauldron* | Egg Devil Ray | Egg Dragoon | Egg Lancer | Dark Gaia | Dark Gaia Phoenix | Dark Guardian | Dark Moray | Perfect Dark Gaia
Moves/
Techniques
Sonic
Air Boost | Crouch | Foot Sweep* | Grind Step | Grinding | Homing Attack | Hop | Jump Dash | Light Speed Dash | Slide | Skydiving | Sonic Boost | Sonic Drift | Spin Jump | Stomp | Quick Step | Wall Jump
Werehog
Dash | Double Jump | Grab | Guard | Unleashed Mode | Wall Shuffle
Misc.
Boost | Drill Attack | Super Sonic Boost | Turbo Boost
Skills
Straight
attacks
Donkey Kick Combo* | Double Axle Combo* | Double Kick Combo* | Feral Were-Hammer* | Knuckle Sandwich Combo* | Sho-Hog-Ken* | Unleashed Knuckle Sandwich* | Vertical Were-Hammer* | Were-Hammer* | Werewheel Rush*
Hook
attacks
Earthshaker* | Egg Scrambler* | Feral Wild Whirl* | Rolling Kick Combo* | Sho-Claw-Ken* | Ultimate Wild Combo* | Unleashed Wild Combo* | Wereclap* | Wild Whirl* | Wild Whirl Were-Hammer*
Aerial
attacks
Aerial Claw Slash* | Aerial Claw Slash and Spin* | Aerial Piledriver* | Crescent Moon Strike* | Diving Bodypress* | Flying Double-Punch* | Flying Double-Punch Crush* | Hurricane Combo* | Shooting Star Combo* | Typhoon Combo*
Special
attacks
Comet Punch* | Missile Punch* | Spinning Needle Attack* | Tricky Tornado Uppercut* | Triple Wild Claw* | Were-Claw Charge* | Were-Cyclone* | Were-Rush* | Were-Tornado* | Wild Werewhip*
Wii/PS2
Beatdown** | Claw Charge | Crescent Moon Strike** | Earthshaker** | Wereclap** | Were-Hammer** | Were-Claw** | Were-Wallop** | Wild Claw** | Wild Whirl**
Level up items
Air Boost Shoes* | Light Speed Dash Shoes* | Stomping Shoes* | Wall Jump Shoes*
Objects
1UP | 5 Ring Bonus | 20 Rings** | Art Book* | Audio System | Balloon | Big 50 Ring** | Blue Tea* | Blue spring | Bobsled | Bookshelf* | Bomb | Buggy** | Buoy | Check Point | Chaos Emerald | Chaos Orb* | Container (Explosive crate, Steel Container, Wooden Container) | Conveyor Belt | Crane Lift | Crank | Crystal Ball* | Dark Energy Key** | Dark Gaia Force | Dash Panel | Dash Rail | Dash Ring | Door | Edible item (Apple, Banana, Canned Juice, Chai, Chili Dog, Donut, Sundae Supreme) | Fountain | Gaia Key* | Giant spear** | Goal Ring | Gift* | Gramophone* | Green Tea* | Grind Rail | Hanging vine | Horizontal Bar | Hourglass* | Icicle | Iron ball | Item Capsule** | Jump Selector | Key Stone* | Laser field | Lever | Lovely Ring* | Maiden Statue* | Miles Electric | Moon Tablet** | Movable box | Moving Crate | Old Necklace* | Planet Tablet** | Pick-Me-Up* | Pretty Bouquet* | Power Shield* | Rainbow Ring | Ramp | Record* | Red Tea* | Ring | Shield Charge* | Snowblower | Souvenir* | Spike Trap | Spikes | Springboard/Spring | Springpole | Sun and Moon Medals | Sun Tablet** | Super Claw* | Super Ring | Switch | Thorn Spring | Tornado-1 | Trap Spring | Turquoise Tea* | TV* | Videotape* | Violet Tea* | White Tea* | Wide spring | Yellow Tea* | Zip Line
English voice actors
Jason Griffith (Sonic, Sonic the Werehog, Prof. Pickle's Assistant) | Amy Palant (Tails) | Lisa Ortiz (Amy) | Anthony Salerno (Chip) | Mike Pollock (Eggman, Zonshen) | Christopher Collet (Orbot) | Dan Green (Ice Cream Vendor, Prof. Pickle)
Japanese voice actors
Jun'ichi Kanemaru (Sonic) | Chikao Otsuka (Eggman) | Chō (Prof. Pickle) | Ryo Hirohashi (Tails) | Taeko Kawata (Amy) | Tomokazu Seki (Sonic the Werehog) | Ryōko Shiraishi (Chip)
Planetary Pieces
Endless Possibility | Dear My Friend
Other
Auto Running | Boost Gauge | Boss Gate | Boost Gauge | Chao* | Chaos Energy Cannon | Chun-nan's Treasure | Collection Room* | Combo | Critical Attack | Dark Energy Force Field** | Don Fachio* | Doctor Eggman's chair | Earth | Eggman Fleet | Egg Dragoon | Egg Mobile | Entrance Stage* | Exorcisms | Experience Point | Freeze | Gaia Gate | Gaia Manuscripts | Gaia Temple | Gaia Temple guardian | Hallowmoon | Havok | Health Gauge | Hint Ring | Orb Result** | Real-Time Interaction | Ring Energy Gauge | Shield Gauge | Shop* (Counter of Dreams 2, Eggshop, Flying Fish Beach Shop, Golden Trading Company, Josef's, Surfside Seagull Sundries, Traveling Salesman Wentos, Treeshade, Ursule's Trading Post, Wang's Emporium) | Shuttle loop | Sonic: Night of the Werehog | Sonic World Adventure (manga) | Spagonia University | SPD | Rank | Time of awakening | Tornado Defense* | Unleashed Gauge

"*" Exclusive to Xbox 360/PlayStation 3 version
"**" Exclusive to Wii/PlayStation 2 version.
Printed media
Manga
Sonic the Hedgehog Story Comic (1991)

 ·

Sonic the Hedgehog (1992—1994) (Sonic no Daibouken)

 ·

Dash & Spin Super Fast Sonic (2003—2005)

 ·

Dengeki Nintendo DS (Sonic World Adventure (2008), Sonic and the Black Knight (2009), Sonic Chronicles (2009), Sonic Colors (2010), Sonic Generations (2011))
Comic books
Sonic the Hedgehog (promotional comic) (1991)

 ·

Sonic the Comic (1993—2002)

 ·

Sonic Sunday Strips (1993—1995)

 ·

Sonic the Hedgehog (Archie Comics) (1993—2017) (miniseries (1993), Princess Sally (1995), Tails (1995), Knuckles (1996), Sonic Quest (1996), Knuckles the Echidna (1997—1999), Sonic X (2005—2008), Sonic Universe (2008—2017), Sonic Boom (2014—2015))

 ·

Sonic Adventures (1994)

 ·

Sonic Comic (2016)

 ·

Sonic the Hedgehog (IDW Publishing) (2018-)

 ·

Sonic the Hedgehog: Tangle & Whisper (2019)

 ·

Sonic the Hedgehog: Bad Guys (TBA)
Novels and picture books
Stay Sonic (1993)

 ·

Virgin Books (Sonic the Hedgehog in Robotnik's Laboratory (1993), Sonic the Hedgehog in the Fourth Dimension (1993), Sonic the Hedgehog and the Silicon Warriors (1993), Sonic the Hedgehog in Castle Robotnik (1994))

 ·

Pense Bem: Uma Aventura Científica com Sonic the Hedgehog (1993)

 ·

Troll Associates (Sonic the Hedgehog (1994), Sonic the Hedgehog: Robotnik's Revenge (1994), Sonic the Hedgehog: Fortress of Fear (1995), Sonic the Hedgehog: Friend or Foe? (1995), Sonic & Knuckles (1995), Sonic X-Treme (1997))

 ·

Ladybird (Sonic the Story (1994), Sonic the Hedgehog: Robotnik's Oil (1994), Sonic the Hedgehog: The Invisible Robotnik (1994))

 ·

Watermill Press (Sonic the Hedgehog (1995))

 ·

Golden Books (Sonic the Hedgehog: Sonic's Shoes Blues (1993), Sonic the Hedgehog 2: The Secret Admirer (1994), Sonic the Hedgehog 3: Up Against the Wall (1995), Sonic the Hedgehog: Double Trouble (1996))

 ·

Sonic X books (2005—2007) (Meteor Shower Messenger (2005), Spaceship Blue Typhoon (2005), Battle at Ice Palace (2006), Aqua Planet (2006), Dr. Eggman Goes to War (2006), Desperately Seeking Sonic (2007))

 ·

Where's Sonic? A Search-and-Find Adventure (2012)

 ·

Sonic Boom books (2015—2016) (Le partenaire ideal (2015), La machine à gaffes (2015), Pas de chance, Knuckles ! (2015), L'épouvantable Todd (2016), Sonic Superstar (2016), Une étrange météorite (2016))

 ·

Sonic and the Tales of Deception (2018)

 ·

Sonic and the Tales of Terror (2018)
Other
Sonic Adventure Gamebooks (1993—1996)

 ·

Ladybird (Sonic the Hedgehog Adventure Gamebook (1994—1995), Joke Book (1994), Where's Sonic? (1994), Where's Sonic Now? (1996), Puzzle Book 1 (1994), Puzzle Book 2 (1994))

 ·

The Official Sonic the Hedgehog Yearbook (1993, 1994)

 ·

Sonic the Hedgehog Book (1992)

 ·

Sonic the Hedgehog Paint 'n' Marker Book (1993)

 ·

Look and Find Sonic the Hedgehog (1994)

 ·

Sonic the Hedgehog (Play-a-Sound) (1995)

 ·

How to Draw Sonic the Hedgehog & the Gang (1998)

 ·

The History of Sonic the Hedgehog (2012)

 ·

Sonic the Hedgehog Super Interactive Annual 2014 (2013)

 ·

Run, Sonic, Run! (2013)

 ·

Sonic the Hedgehog 25th Anniversary Art Book (2017)

 ·

Welcome to the World of Sonic (2018)

 ·

Sonic the Hedgehog Mad Libs (2018)

 ·

Sonic the Hedgehog: Race Against Chaos (2018)

 ·

Sonic the Hedgehog Art & Design Book (2019)
Television and film
Animated shows
Adventures of Sonic the Hedgehog (1993)

 ·

Sonic the Hedgehog (1993—1994)

 ·

Sonic Underground (1999)

 ·

Sonic X (2003—2005)

 ·

Sonic Boom (2014—2017)
Other
Sonic - Super Hedgehog (1994)

 ·

Sonic Christmas Blast (1996)

 ·

Sonic the Hedgehog: The Movie (1996)

 ·

Sonic the Animation (1997)

 ·

Sonic: Night of the Werehog (2008)

 ·

Sonic Mania Adventures (2018)

 ·

Team Sonic Racing Overdrive (2019)

 ·

Chao In Space (2019)

 ·

Theatrical film series (Sonic the Hedgehog (2020))
Miscellaneous
Alton Towers (Sonic Pinball)

 ·

conventions (Sonic Boom, Summer of Sonic)

 ·

franchise's timeline

 ·

Guinness World Records

 ·

Hedgehog Engine

 ·

Honey Nut Cheerios

 ·

iTunes

 ·

Ken Penders' legal cases

 ·

cameo appearances and references

 ·

SEGA Republic (Sonic Hopper, Spin Gear)

 ·

Sonic Bible

 ·

Sonic Bowl

 ·

Sonic Generations of Skate

 ·

Sonic in Sydney

 ·

Sonic Parade Balloon

 ·

Toyland Tours

 ·

Sonic the Hedgehog toys