Fire Emblem Warriors: Three Hopes - The Loop
Play Sound
This location exists primarily or exclusively within the Sonic Boom continuity.

Information in this article may not be canonical to the storyline of the games or any other Sonic continuity.
Sonic's Shack is a location that appears in the Sonic Boom series. It is a beach hut on Seaside Coast and the residence of Sonic the Hedgehog. It also serves as Team Sonic's primary relaxation spot.
Description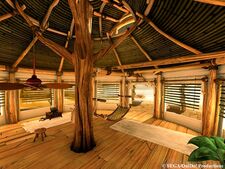 Sonic's Shack is a round, single-room wooden hut located close to the beach. It has a porch surrounding it, a front entrance without a door and large windows across the walls with wooden blinds. The shack possesses a round straw roof, with a strong tree (stripped of most branches and leaves) holding the roof center and smaller pillars holding up the edges, forming a roof over the porch. The shack has very little furniture, only a hammock, a small TV set, a coffee table, a small stow, two rugs and a ceiling fan. It also contains some more novel items such as a land-line with an answering-machine (in spite of its rather isolated location) and a dartboard fashioned from a turtle shell. Sonic also presumably keeps a coconut husk collection here, though it has yet to be seen.
The shack itself is far from up to code. Described as "dilapidated",[1] it has been deemed a dangerous and pathetic place to live in.[2][3] Despite this, Sonic claims his shack is kept completely spotless.[1]
Outside the shack is a set of beach-chairs and an umbrella. It has been emphasized that Sonic's Shack lies in a very lovely location, having been described as a beach front paradise with a majestic view of the sun setting over the sea.[4] Every wall also has a window, allowing Sonic to see the view wherever he stands.
History
TV series
Season one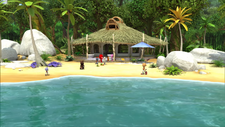 When Sonic held try-outs for a new sidekick, his shack served as the meeting place for the candidates, including Amy. Since he allowed anyone to participate, Sonic begrudgingly let the most competent candidates―his old sidekick Tails, Dr. Eggman and Fastidious Beaver (chosen on a whim)―to move on. Amy soon came back to the shack for a recall, but abandoned her attempt.[5]
While chilling at Sonic's Shack, Tails showed Team Sonic his translator robot UT, who creating tension among them by translating their private thoughts from the subtext of their speech. The next day at the shack, UT "translated" Team Sonic's comments into insults at each other. However, Tails discovered that this UT was a fake planted by Eggman and went to save the real UT while team stayed at the shack, not thinking UT was worth it. UT later returned with a rescue call from Tails, prompting Team Sonic to head out.[6] Sonic's Shack was later where Sticks practiced her manners with her team in preparation for the Awardy Awards.[7]
While trying to set an a lunch at Sonic's Shack, Amy only got lack of compliance from Sonic, Tails and Knuckles. Eggman then appeared to hire Amy to redecorate his lair for Modern Lair Magazine, which Amy accepted, much to her team's shock. Missing Amy, Team Sonic soon left the shack to check on her.[8] Sonic later found a basket of Evil Cookies made by Eggman and left on his porch, but had to it leave to help Tails. While he was gone, Knuckles, Amy and Sticks came by Sonic's Shack and ate a Evil Cookie each, turning them into Eggman's clones. When Sonic and Tails returned, only one cookie was left, which Sonic gave to Tails. Later chilling in his shack, Sonic was informed of what had happened to his friends by Orbot.[9]
Sonic's Shack soon became the home of the Gogobas, who wanted Sonic to stay as their protector after he left Gogoba Village. After foiling an attack on the shack by Eggman and his Badniks, Sonic and Tails manipulated both the Gogobas and Eggman into having the former go live with the latter.[10] During their search for Eggman, Orbot and Cubot came to Sonic's Shack to ask Sonic and Knuckles of Eggman's whereabouts. While Knuckles was caught up in his recollection of their last encounter, Sonic told them where Eggman went.[11] A while later, Tails visited Sonic's Shack in his search for his team, only to get a call from Sonic saying there were being held captive elsewhere.[12]
One time, Knuckles visited Sonic at his shack to gloat of how he had tipped the luck balance of the universe in his favor by harming himself. Sonic, however, was only worried about Knuckles' injuries.[13] When Sonic and Eggman switched bodies, Eggman was brought to Sonic's Shack by Team Sonic, who thought he was Sonic. There, Eggman plotted the team's destruction. Sonic (in Eggman's body) came to the shack, but his friends did not believe his story and drove him off. Sonic soon returned with Eggman's army to battle Eggman, where Tails came and verified Sonic's claim, giving Sonic the opportunity to switch back with Eggman.[14] Sonic would later retreat to his shack when Eggman (temporarily) gave up villainy to enjoy the peace, but soon grew bored with it.[15]
As Team Sonic tried to play volleyball at the shack, they were attacked by Crab Bots, but because Sonic was creating a terrible noise when running, his team had him stay put. Sonic tried to advise his team in the fight, but he only got on his friends' nerves, who eventually tied him to a nearby palm tree,. Eggman then showed up, where he earned Sonic's trust and offered to fix his problem by having him come to his lair. Sonic soon returned to the shack wearing Eggman's Power-absorbant Insoles that seemingly removed the noise he made, only for Eggman to show up with his Giant Robot, having orchestrated everything to make Sonic wear his insoles. Team Sonic tried fighting the robot, but the insoles in Sonic's unremovable shoes only made it stronger the more he ran. As such, Sonic resorted to overloading the robot with power.[16] When Team Sonic saw a movie at the shack, Eggman attacked in his Egg Tank with his Crab Bots. As Eggman countered one of the Egg Tank's deflected shots with another weapon, a lightning bolt struck both attacks, creating an endless time loop. Eggman, who remained unaffected by the time loop, tried using it to attack Sonic's Shack until he got it right, only for the time loop to reset it. Eggman thus teamed up with Team Sonic to break the loop, though they spend time at the shack convincing Knuckles to help.[17]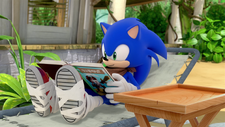 After a long day, Sonic took some time at his shack to read a book from Amy, which he retrieved from his shack the next day.[18] When Knuckles was napping at Sonic's Shack, Sonic and co. played a prank on him when they noticed Eggman was spying on them. The team thus lured Eggman into a prank which made Eggman desert technology. As such, when Sonic tried relaxed at his shack, Eggman would intrude to try and defeat him with makeshift weapons.[19] Later at his shack, Sonic got caught in traps set up by Sticks to protect him from a curse, prompting Sonic and his team to resolve the issue.[20]
Rejecting Eggman's offer to play himself in his movie, Sonic retreated to his shack, but Amy soon came and told him that Dave the Intern had been given the role, prompting Sonic to join the movie. When later waking out on the set, Sonic returned to his shack, only to leave when Orbot and Cubot warned him that Eggman was mining metal for new robots.[21] Sonic eventually sought refuge in his shack when the Unnamed Village turned against him for being insensitive. Seeking counsel from his team, Amy got them to join her sensitivity seminar, much to everyone's dismay.[22] Another time, Team Sonic was having a barbeque at Sonic's Shack when a Knuckles from another dimension appeared in their midst, whom they helped home.[23] Dave the Intern later came to Sonic's Shack to fry Sonic, Tails, Knuckles and Amy with a magnifying glass and the sun. However, he could only create a disco lightening which the team danced to.[24]
Needing to investigate Justin Beaver's producer, Dixon, Sonic took Tails and Knuckles to his shack to form their own boy band, thereby allowing them to get in backstage on Justin's set. The trio quickly got the choreograph down, but had trouble coming up with their band name, which ended up being "Dreamboat Express."[25] Another time, Sonic took Tails to his shack to give him advice on how he should talk to his crush Zooey with the aid of Comedy Chimp.[26] Sonic and Metal Sonic later arrived at the shack for a showdown which Sonic emerged victorious from.[27]
Season two
Once, Tommy Thunder and Amy would visit Sonic in his shack to convince Sonic to let Tommy follow him and observe his heroics. Though Sonic eventually relented, Tommy's ego annoyed him, even as Tommy came to the shack to thank him.[3] Sticks would later help herself to some of Sonic's stuff in his shack while Sonic was stuck on another plane of reality.[28] Sonic later hired Mark the Tapir as his personal assistant, and the two of them would spend a lot of time together at Sonic's Shack, where Mark would serve Sonic well before kidnapping him on a trip to the movie theater.[29] As a part of a bet to see if he could capture Sonic, Tails would set up a couple of traps around and in Sonic's Shack. Sonic, however, easily escaped them all.[30]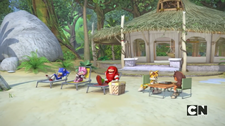 While chilling at Sonic's Shack, Team Sonic noticed seismic activity out at sea which they went to investigate.[31] Sonic was later subtly hypnotized by Dreamcaster's TV broadcasts while sleeping in his shack. Amidst this, Sticks would disturb Sonic in his shack two nights in a row to tell him (and others) about Dreamcaster.[32] The shack was soon after visited by a dimwitted Tails clone. Mistaking him for the real Tails, Sonic grew worried about the clone's odd behavior in his shack between his visits at Meh Burger.[33] After Knuckles got hurt during a fight, Team Sonic took him to Sonic's Shack to recuperate. Learning that Knuckles had amnesia when he awoke, the team set out to restore his memory. Lady Walrus and her family would also drop by the shack to chill out.[34]
Back at his shack in his new mech suit, Sonic would twice display a bad attitude to his friends. When his friends later revealed that his mech suit was corrupting him, Sonic misunderstood them and left his shack's grounds to find a new friend.[35] When a Froglodyte named Og then appeared, Sonic had him stay in his shack so he could keep eye on him. However, Og's activities kept Sonic awake at night, making him sent Og over to Tails. Back in his shack, Sonic would later be alerted to a Froglodyte invasion.[36] Sonic would soon after drop by his shack to get the Blue Force One for a mission.[37] Amy dropped by Sonic's Shack sometime later to show Sonic one of Bea's tricks (which went horribly wrong).[38] The grounds of Sonic's Shack became afterward the meeting place for Team Sonic, where disputes (orchestrated by the shape-shifter Morpho) slowly tore them apart. As Sonic sulked over his crumbling team at his shack, Morpho (in the guise of Amy) dropped by and planted more seeds of doubt in Sonic's head.[39]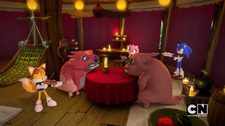 When a female widabit chose Sonic's Shack for its courting ritual, the ESC made Sonic vacate his shack until the ritual could be completed. Sonic, Tails and Amy tried advancing the ritual by getting the widabit a mate, but the beasts kept refusing each other, even after they spiffed up the shack. Later, a total of forty-nine widabits gathered at the shack, prompting Team Sonic to bring in a fiftieth and get the rights to relocate them. With the female approving the fiftieth widabit, they began their ritual in Sonic's Shack which, unfortunately for Sonic, would last a week.[40] Later on, Sonic was awoken from a nap in his shack by Eggman, who was building a house next to his shack since he had sold his lair. Refusing to have Eggman as his neighbor, Sonic set out to get him back to his lair.[41] Sonic, Tails and Knuckles later retreated to Sonic's Shack with baby Chumley after a long day, where the four of them fell asleep. Chumley would scamper off while Sonic and co. slept however, prompting the trio to start a fanatic search for Chumley upon discovering his absence.[42]
When Sonic tried to relax in his shack, he kept getting disturbed by Eggman's flood of messages on his FriendSpace account.[43] Some time after, Vector came to Sonic's Shack and recruited Sonic for a private investigation.[44] The random visitors did not end there, as Sonic soon met Eggman while at his shack. There, he would answer some of Eggman's random questions about Shadow on camera before leaving.[45]
Archie Comics
Boom Shaka-laka
While Sonic let Kyle the Gorilla live with him, the clumsy simian would cause extensive damage to Sonic's Shack until Sonic had him look for a job, although Kyle would return to the shack after several failed attempts until he found the right job.[46] Regardless, Kyle would still drop by the shack to hang out with Sonic, although at inconvenient times for Sonic.[47]
Game appearances
Sonic Boom: Shattered Crystal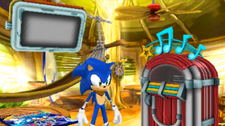 In Sonic Boom: Shattered Crystal, Sonic's Shack is one of the locations that can be visited on the World Map of Seaside Coast. It becomes available after clearing Seaside Beach. In Sonic's Shack, the player can play different game soundtracks on the jukebox or story cinematics as they become available, or read the in-game comic prologue to the game.
Sonic Boom: Fire & Ice
In Sonic Boom: Fire & Ice, Sonic's Shack is one of the locations that can be visited on the World Map of Seaside Island. It becomes available after clearing Sand Drift.
In Sonic's Shack, the player can play different game soundtracks on the jukebox or story cinematics, and view concept artwork.[48] While the two former are unlocked as they appear, concept artworks are unlocked by paying either twenty, forty, sixty, eighty or one hundred Ragnium shards.
Trivia
References