For the political body that appears in the comics published by IDW Publishing, see Sol Empire (IDW).
The Sol Empire (ソル皇国[1], Soru kōkoku?) is a political body that appears in the Sonic the Hedgehog series. It is a kingdom[2] in Blaze's world that is ruled by Blaze the Cat.
Description
Not much has been revealed about the Sol Empire. Despite being called an empire, it is referred to as a "kingdom" and is ruled by a royal family.[2] This family rules from a castle and deals with public affairs.[1] They also safeguard the Jeweled Scepter, a powerful ancient treasure of the Sol Empire.[2][3] It is also the duty of the Sol Empire's princess to protect the Sol Emeralds, which are relics of nearly unlimited power.[4]
History
Past
For some time, Blaze the Cat has ruled the Sol Empire as its princess. When she assumed her mantle as a princess, she also became the protector of the Sol Emeralds.[4]
Sonic Rush series
Sonic Rush
In Sonic Rush, the Sol Empire's Sol Emeralds got stolen by Dr. Eggman and brought to Sonic's world. Fortunately, Blaze got them back before the Sol Emeralds' absence led to the destruction of the dimension.
Sonic Rush Adventure
In Sonic Rush Adventure, the Sol Empire had its prized Jeweled Scepter retrieved from Captain Whisker and his crew, only for it to be stolen again by Dr. Eggman and Eggman Nega. When the villains later harnessed the Power of the Stars with the scepter, Eggman Nega threatened to destroy the Sol Empire with that power. Fortunately, he was stopped by Sonic and Blaze.
In other media
IDW Publishing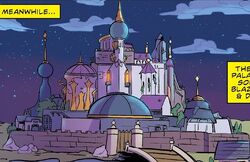 In the Sonic the Hedgehog comic series and its spin-offs published by IDW Publishing, the Sol Empire is a kingdom on Blaze's world, ruled by Blaze. Its past is virtually identical to its game counterpart's, up until after the events of Sonic Forces.

References
---
Main article | Script | Staff | Gallery
Playable characters
Sonic (Super Sonic) | Blaze (Burning Blaze)
Non-playable characters
Tails | Marine | Coconut Crew (Setter, Tabby, Colonel, Kylok, Daikun, Muzy) | Gardon | Norman | Captain Whisker | Mini & Mum | Johnny | Dr. Eggman | Dr. Eggman Nega
Stages
Whale Point | Plant Kingdom | Machine Labyrinth | Coral Cave | Haunted Ship | Blizzard Peaks | Sky Babylon | Pirates' Island | Big Swell | Deep Core | Hidden Islands (1, 2, 3, 4, 5, 6, 7, 8, 9, 10, 11, 12, 13, 14, 15, 16) | Johnny's Race
Enemies
Barrier Angler | Bomb Ghost | Crystal Head | Dive Bat | Eleki Angler | Kaizoku Bomb | Kaizoku Glider | Kaizoku Gun | Kaizoku Hogan | Kaizoku Hover Bomb | Kaizoku Skeleton | Kaizoku Snowball | Pirates' Island enemy | Plant Kingdom enemy | Ptera | Rapid Crab | Shisaku-gata Dump | Shisaku-gata Jet | Shisaku-gata Spanner | Skull Fire | Sky Babylon enemy | Sky Moon | Triceratank
Bosses
Ghost Rex | Ghost Pendulum | Ghost Kraken | Ghost Pirate | Ghost Whale | Ghost Condor | Captain Whisker and Johnny | Ghost Titan | Egg Wizard
Moves/Techniques
Axel Jump | Axel Tornado | Boost Mode | Burning Fire Boost | Burst Dash | Burst Hover | Deflect | Fire Boost | Grind Step | Hop Jump | Homing Attack | Humming Top | Jump Dash | Jump Step | Scroll Screen | Spin Dash | Spin Jump | Super Boost | Super Sonic Boost | Trick Action
Vessels
Wave Cyclone | Ocean Tornado | Aqua Blast | Deep Typhoon | Magma Hurricane | SS Tornado EX | SS Marine | SS Super-Marine
Gimmicks and obstacles
Bomb | Bungee Rope | Checkpoint Marker | Dash Panel | Dash Rail | Dash Ring | Fountain | Hang Glider | High-speed warp tube | Icicle | Iron ball | Jump Panel | Minecart | Mushroom | Rainbow Ring] | Spin ring | Spring | Spring Pole | Vine | Winding Rope
Items
General
Chaos Emerald | Item Box (1UP, 5 Ring Bonus, Attract, Barrier, Boost Up, Confusion, High Speed, Invincible, Magnetic Barrier, Maximum Tension Bonus, Random Ring Bonus, Repair, Score Bonus, Slow, Tension Bonus, Tension Bonus (multiplayer)) | Sol Emerald | Switch | Ring | Snowboard | Treasure Chest
Materials
Aqua Material | Black Material | Blue Material | Bronze Material | Gold Material | Green Material | Iron Material | Red Material | Silver Material
English voice actors
Jason Griffith (Sonic) | Mike Pollock (Eggman, Eggman Nega) | Amy Palant (Tails) | Bella Hudson (Blaze) | Lonnie Hirsch (Captain Whisker) | Christopher Pellegrini (Johnny)
Japanese voice actors
Jun'ichi Kanemaru (Sonic) | Chikao Ōtsuka (Eggman, Eggman Nega) | Ryō Hirohashi (Tails) | Nao Takamori (Blaze) | Shinya Fukumatsu (Captain Whisker) | Kota Nemoto (Johnny)
Music
Songs
A New Venture
Albums
Sonic Rush Adventure Original Soundtrack
Other
Blaze's world | Corkscrew loop | Combo | Freeze | Health Gauge | Jeweled Scepter | Missions | Sea Chart | Shuttle loop | Sol Empire | Southern Island | Power of the Stars | Rank | Real-Time Interaction | Sonic Rush Adventure Flash | Tension Gauge | Time Attack
Community content is available under
CC-BY-SA
unless otherwise noted.