A newly developed Polar Bear type robot for cold regions. Its specialty is unleashing powerful attacks with its super heavy body. Its body is also tough, and this makes it a formidable enemy that will not be taken down with just a few attacks.
— Sonic The Hedgehog 4: Episode II Website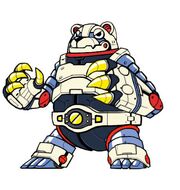 Snowy (ベアラ Beara?, lit. "Bearer") is a Badnik created by Dr. Eggman that appears in Sonic the Hedgehog 4: Episode II, where it can found only at White Park Zone.
Description
Snowy is a Badnik with a large body, strong hands, and heavy feet. When it sees the player, it approaches with hands upright toward the direction of the player, attempting to hurt him/her by slamming with his large hands.
Snowy is capable of taking three hits instead of one hit like regular badniks, being a little bit resistant. The exception to this is if being hit with a Rolling Combo or with Super Sonic which takes two hits. Despite being larger and requiring more hits to defeat, the player is still rewarded with only 100 points for defeating a Snowy.
Other Media
Archie Comics
A Snowy appears at the Artika Egg Army base in Sonic the Hedgehog #276.
Gallery
Artwork
Screenshots
---
| | |
| --- | --- |
| Characters | Sonic | Tails | Animals (Flicky, Pocky, Pecky, Cucky, Picky) | Dr. Eggman | Metal Sonic |
| Enemies | Asteron | Balkiry | Batbot | Bubbles | Burrobot | Buzzer | Chop Chop | Chopper | Clucker | Crawl | Flamer | Fullboar | Jaws | Mantis | Moto Bug | Newtron | Orbinaut (Uni Uni, Unidasu) | Sandworm | Scarabesque | Shellcracker | Slicer | Snowy | Spikes | Steelion | Turtloids | Zoomer |
| Episode II Zones | Sylvania Castle Zone | White Park Zone | Oil Desert Zone | Sky Fortress Zone | Death Egg mk.II Zone | Special Stages |
| Episode Metal Acts | Episode Metal Act 1 | Episode Metal Act 2 | Episode Metal Act 3 | Episode Metal Act 4 |
| Bosses | Egg Serpentleaf | Metal Sonic | Egg Scrap Mech | Metal Carrier | Metal Sonic and Egg Mobile | Metal Sonic | Egg Heart |
| Moves/Techniques | Copter Combo | Propeller Flying | Homing Attack | Rolling Combo | Spin Attack | Spin Dash | Spin Jump | Submarine Combo | Tornado Boost |
| Objects | Air Bubble | Bumper | Capsule | Booster | Chaos Emerald | Flipper | Giant Ring | Item Box (Super Ring, Shield, Power Sneakers, Invincible, Extra Life, Special Combination, Combination Dash) | Ring | Spring | Star Post | Red Star Ring | Spikes | Switch | Signpost |
| Other | Conveyor Belt | Crusher | Death Egg mk.II | Fan | Flip Platform | Little Planet | Level Select | Lost Labyrinth treasure | Platform-raising Wheel | Original Soundtrack (& Episode I) | Strange Relief | Ring Shooter | Stardust Speedway | Shuttle loop | Tails' rocket | Time Attack | Tornado | Totem pole |