Roblox: DeepWoken - The Loop
Play Sound
The snowblower[1] is an obstacle that appears in the Sonic the Hedgehog series. They are radiators which can be part of a Zone's structures or simple obstacles that are set around the area. When the player touches it, they will frozen in a layer of ice.
Game appearances
Sonic the Hedgehog CD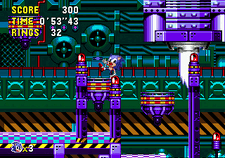 In Sonic the Hedgehog CD, snowblowers can be found in Wacky Workbench. Here, they appear as grey icy exhausts firing out cold flames. In gameplay, they will occasionally sputter and momentarily cease firing, though only for a couple of seconds. They are usually located on sharp ceiling sections and in elaborate corridors that the player has to get through or past, which can be especially tricky when going under a sharp ceiling section using a spinning platform. If the playable character does come in contact with the blue flame, it will freeze them. The ice block containing the frozen character will then fall to the ground, upon which the playable character will break out of the ice and lose Rings. It is possible to avoid taking damage, however, if the player manages to jump the moment they would break free from the ice.
Sonic the Hedgehog 3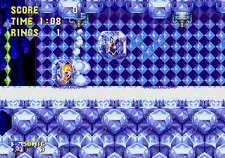 In Sonic the Hedgehog 3, snowblowers are seen set on ice ceilings in IceCap Zone. These machines start firing freezing air down on the player, if he/she stays too long beneath them, with the playable character getting trapped inside an ice block and taking damage a few seconds later. The player cannot destroy these snowblowers, meaning he/she has to simply avoid them.
Egg Froster in IceCap Zone Act 2 has the same functionality as snowblowers, as the player has to avoid the robot's freezing air blasts.
Sonic 3D Blast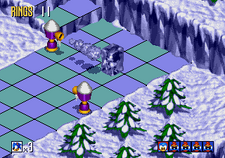 In Sonic 3D Blast, purple and yellow colored snowblower poles appear in Diamond Dust Zone which can blow freezing air momentarily in a linear direction. When the player steps into the front of the snowblower pole, Sonic will be frozen. While the player does not lose Rings from being frozen, the Flickies can fly away. Robotnik's freezing mobile at Diamond Dust Zone Act 3 possesses a similar functionality; if the player touches the small pods on the mobile's side, Sonic will be frozen.
Sonic Advance 3

Similarly-functioning machines appear in Sonic Advance 3, where they can be found in Twinkle Snow. Here, they are placed at the edge of long gaps or the right side of the high slope. Unlike in previous game, these machines do not hurt the player, as they are useful for getting launched high into the air, similar to Springs, while being frozen at same time. The characters will thaw out after they land on solid ground.
Sonic Lost World
In the Nintendo 3DS version of Sonic Lost World, Frozen Factory features icy exhausts on floors and walls, which function similarity to the snowblowers from previous games. In this game, they will at certain times stop blowing icy air for several seconds, but will soon after resume. If the player runs into the front of the icy exhaust, Sonic will get frozen. At certain sections, the player has to create a snowball to block the icy exhaust's vent.
Sonic Mania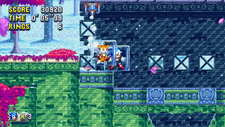 In Sonic Mania, and its expansion Sonic Mania Plus, gray and orange snowblowers similar to those in IceCap Zone in Sonic the Hedgehog 3 can be found in Press Garden Zone Act 2. These machines are mounted on the ceilings and will freeze those that get underneath them, unless they have a Fire Shield equipped. When frozen, the playable characters are encased in non-hazardous ice blocks that can slide around at great speed and mow down obstacles. As such, the snowblowers are just as much an obstacle as a gimmick in Sonic Mania.
Trivia
Both the Ice Ball in Sonic Adventure and the Heavy Shinobi in Sonic Mania have similar ability to freeze the playable character. While the player has to wait for the playable character to shatter out of ice, their attacks do not inflict damage.
One of the many unused objects in Press Garden Zone appears to be a giant acetone sprayer that looks and acts similarly to a typical snowblower, though with a different function.
Gallery
Screenshots
References
---
Main article (Sonic 3 & Knuckles) | Credits | Manuals | Glitches | Beta elements | Gallery
Playable characters
Sonic (Super Sonic) | Tails | Knuckles*
Non-playable characters
Dr. Robotnik | Animals (Flicky, Pocky, Pecky, Cucky, Ricky, Rocky)
Enemies
Batbot | Blastoid | Bloominator | Bubbles | Bugernaut | Catakiller, Jr. | Clamer | Corkey | Flybot767 | Jawz | Mantis | Mega Chopper | Monkey Dude | Orbinaut | Penguinator | Pointdexter | RhinoBot | Ribot | Snail Blaster | Sparkle | Spiker | Star Pointer | Turbo Spiker
Zones
Main
Angel Island Zone | Hydrocity Zone | Marble Garden Zone | Carnival Night Zone | IceCap Zone | Launch Base Zone | Special Stage | Bonus Stage
Competition*
Azure Lake | Balloon Park | Chrome Gadget | Desert Palace | Endless Mine
Bosses
Sub-bosses
Fire Breath | Big Shaker | Tunnelbot | Bowling Spin | Big Icedus | Twin Hammer
Zone bosses
Egg Scorcher Mk III | Egg Vortex | Egg Drillster Mk II | Egg Gravitron | Egg Froster | Egg Cannon | Egg Rocket | Big Arm
Moves/Techniques
Bound Jump | Crouch | Double Jump | Fireball Spin Dash | Insta-Shield | Propeller Flying | Spin Attack | Spin Dash | Spin Jump | Swim
Gimmicks and obstacles
Balloon | Bomb | Bumper | Bumper wall | Cannon | Crusher | Drum | Elevator | Fan | Fire | Flywheel | Glove on a stick | High-speed warp tube | Icicle | Iron ball | Jump Stand | Movable box | Pulley | Goal Plate | Platform-raising Wheel | Reverse | Sinking pool | Slot machine | Snowblower | Spikes | Spring | Spinning Top | Star Post | Strange Relief | Switch | Vine | Zip Line
Items
Air Bubble | Banana* | Capsule | Change* | Chaos Emerald | Continue | Gumball | Monitor (Eggman, Extra Life, Flame Shield, Invincibility, Lightning Shield, Super Shoes, S, Super Ring, Water Shield) | Ring | Self-Propelled Bomb* | Slow-Down Shoes* | Snowboard | Sphere | Star Circle
Music
"Wonderman"
Other
Altar of the Emerald | Corkscrew | Crusher | Death Egg | Debug Mode | Floating Island | Freeze | Jewel Radar | Loop | Perfect Bonus | Sound Test | Time Attack | Tornado | Tunnel | Water

*Appears in Competition mode only.
---
Main article | Staff | Glitches | Gallery
Playable characters
Sonic (Super Sonic) | Tails | Knuckles | Amy | Cream | Cheese | Eggman
Non-playable characters
Vanilla | Gemerl (Ultimate Gemerl) | Chao | Omochao
Zones
Route 99 | Sunset Hill | Ocean Base | Toy Kingdom | Twinkle Snow | Cyber Track | Chaos Angel | Altar Emerald | Nonaggression | Special Stage
Enemies
Akatento | Aotento | Ape | Bu-Bu | Buzzer | Clam | Condor | Gaogao | Gekogeko | Ginpe | Guards | Guruguru | Hariisen | Jousun | Juggling | Kamaki | Kyacchaa | Marun | Minimole | Muukaden | Spina | Takkon | Uutsubo | Yadokk | Yukigasen
Bosses
Egg Hammer 3 | Egg Ball No.2 | Egg Foot | Egg Cube | Egg Chaser | Egg Pinball | Egg Gravity | Hyper Eggrobo | Ultimate Gemerl
Moves/
Techniques
General
Amy Dash | Big Hammer Attack | Boost Mode | Bound Attack | Chao Attack |

Chao Ball Attack

|

Chao Spinning Attack

|

Dash Climb

| Dog Paddle |

Double Mid-Air Glide

| Double Punch | Drill Claw | Fire Sliding | Flying | Floating Fall | Grinding | Hammer Attack | Hammer Jump |

Hammer Propeller Flying

| Head Slide |

High Propeller Flying

| Hip Drop | Homing Attack | Jump Dash | Leap | Look down |

Mid-Air Dash Glide

| Propeller Flying |

Mid-Air Chao Attack

|

Mid-Air Chao Ball Attack

|

Mid-Air Chao Spinning Attack

| Mid-Air Glide | Mid-Air Hammer Attack | Mid-Air Hammer Jump | Skid Attack | Spin | Spin Dash | Spin Jump | Super Sonic Boost | Spinning Hammer Attack | Spiral Upper | Tag Action |

Tail Spin Attack

| Tail Swipe | Tornado Attack |

Upper Spin

| Wall Climb | Wind Attack
Mid-Air Trick Actions
Big Air (Happy Spring, Hop Jump, Petit Step) | Long Wind Jump (Humming Top, Sweet Roll, Window Jump) | Stop 'n' Slam (Bound Attack, Spinning Hammer Attack, Propeller Descent, Hip Drop)
Gimmicks and obstacles
Balloon | Bungee Rope | Checkpoint | Dash Panel | Flywheel | Gondola | Grind Rail | High-speed warp tube | Iron ball | Jump Panel | Minecart | Platform-raising Wheel | Pole | Pulley | Propeller Spring | Seesaw | Snowblower | Special Spring | Spin ring | Switch
Items
Act Ring | Box (1-Up, 5 Ring Bonus, 10 Ring Bonus, Confusion, Invincibility,

Minus Ring

, Maximum Speed,

Mosaic

, Random Ring Bonus, Ring Magnet, Shield, Slow, Swap,

Transparency

) | Capsule | Chaos Emerald | Factory Ring | Goal Medal | Ring | Special Key
English voice actors
Ryan Drummond (Sonic) | Deem Bristow (Eggman) | William Corkery (Tails) | Scott Dreier (Knuckles) | Jon St. John (Announcer) | Jennifer Douillard (Amy) | Sarah Wulfeck (Cream)
Japanese voice actors
Jun'ichi Kanemaru (Sonic the Hedgehog) | Chikao Ōtsuka (Eggman) | Ryō Hirohashi (Tails) | Nobutoshi Canna (Knuckles) | Taeko Kawata (Amy) | Sayaka Aoki (Cream)
Other
Angel Island | Chao Playground | Corkscrew | Fly Type | Freeze | Loop | Mini-Games | Power Type | Sonic Factory | Speed Type | Time Attack | Tornado 2 | Water
---
Main article | Script | Staff | Glitches | Gallery
Playable characters
Sonic (Super Sonic) | Virtual Hedgehog
Non-playable characters
Amy | Animals (Cucky, Flicky, Pecky, Picky, Pocky, Ricky, Rocky) | Cubot | Deadly Six (Master Zik, Zavok, Zazz, Zeena, Zomom, Zor) | Dr. Eggman | Knuckles | Tails | Orbot
Wisps
Cyan | Gray | Indigo | Ivory | Red | Yellow
Worlds
Windy Hill | Desert Ruins | Tropical Coast | Frozen Factory | Silent Forest | Sky Road | Lava Mountain | Special Stage
Enemies
Badniks
Antlion | Balkiry | Batbrain | BFB | Blowfish Transporter | Buzz Bomber | Caterkiller | Clucker | Crawl | Crawlton | Egg Pawn | Gohla | Grabber | Gustav Turtle | Jaws | Moto Bug | Newtron | Orbinaut (Uni Uni, Unidasu) | Penguinator | Sandworm | Slicer | Spinner | Thunder Spinner
Other
Cactus Ball | Sandworm
Bosses
Zazz | Zomom | Master Zik | Zeena | Zor | Zavok | Eggrobo
Moves/
Techniques
General
Bound Jump | Dash | Double Jump | Focused Homing Attack | Grind Step | Grinding | Skydiving | Somersault | Spin Dash | Spin Jump
Parkour
Side Step | Wall Climb | Wall Jump | Wall Run | Wall Spin Dash
Color Powers
Cyan Laser | Gray Quake | Indigo Asteroid | Ivory Lightning | Red Burst | Yellow Drill
Gimmicks and obstacles
Bingo | Bumper | Capsule | Cloud | Dash Panel | Dash Rail | Dash Ring | Fan | Flipper | Flywheel | Giant Ring | Grind Rail | Hint Ring | Iron ball | Jump Panel | Minecart | Prism | Rainbow Ring | Snowball | Snowblower | Spring | Underground pipe
Items
General
5 Ring Bonus | Air Bubble | Asteroid Ring | Chaos Emerald | Gate Capsule | Item Box (1-Up, Aqua Shield, Big 50 Ring, Flame Shield, Invincible, Power Sneakers, Super Ring, Thunder Shield) | Orb | Red Star Ring | Ring | Snowboard
RC Vehicles
Helicopter | Fighter Jet | Stealth Jet | Hovercraft | Balloon | UFO | Omochao
Material
Black Material | Blue Material | Bronze Material | Gold Material | Green Material | Iron Material | Red Material | Silver Material | White Material | Yellow Material
English voice actors
Roger Craig Smith (Sonic) | Mike Pollock (Eggman) | Kate Higgins (Tails) | Travis Willingham (Knuckles, Zavok) | Cindy Robinson (Amy) | Kirk Thornton (Orbot, Master Zik) | Wally Wingert (Cubot) | Liam O'Brien (Zazz) | Patrick Seitz (Zomom) | Stephanie Sheh (Zeena) | Sam Riegel (Zor)
Japanese voice actors
Jun'ichi Kanemaru (Sonic) | Chikao Ōtsuka (Eggman) | Ryō Hirohashi (Tails) | Nobutoshi Canna (Knuckles) | Taeko Kawata (Amy) | Mitsuo Iwata (Orbot) | Wataru Takagi (Cubot) | Jōji Nakata (Zavok) | Yutaka Aoyama (Zazz) | Yumi Tōma (Zeena) | Makoto Terada (Master Zik) | Chafūrin (Zomom) | Yūki Tai (Zor)
Music
Sonic Lost World Bonus Soundtrack (Special Selection) | Sonic Lost World: Wonder World EP | Without Boundaries: Sonic Lost World Original Soundtrack
Other
Cacophonic Conch | Egg Mobile | Extractor | Freeze | Health Gauge | Life | Loop | Lost Hex | Mech Dragon | Miles Electric | Moon Mech | Rank | Roboticizer | Roboticization | Sonic the Hedgehog Halloween ComicFest 2013 | Tails' Lab | Tornado | Totem pole | Water | Wisp Gauge | Zeti
---
Main article | Staff | Glitches | Beta elements | Gallery | Re-releases (Plus)
Playable characters
Sonic (Super Sonic) | Tails (Super Tails) | Knuckles (Super Knuckles) | Mighty* (Super Mighty*) | Ray* (Super Ray*)
Non-playable characters
Cluckoid | Dr. Eggman | Egg-Robo (Hard Boiled Heavies (Heavy Gunner, Heavy King, Heavy Magician, Heavy Rider, Heavy Shinobi)) | Jimmy | Metal Sonic (Giga Metal) | Phantom Heavies (Phantom Gunner, Phantom King, Phantom Magician, Phantom Rider, Phantom Shinobi) | Rock Drill | Animals (Becky, Cucky, Flicky, Locky, Micky, Pecky, Picky, Pocky, Ricky, Rocky, Tocky, Wocky)
Zones
Angel Island Zone* | Green Hill Zone | Chemical Plant Zone | Studiopolis Zone | Flying Battery Zone | Press Garden Zone | Stardust Speedway Zone | Hydrocity Zone | Mirage Saloon Zone | Oil Ocean Zone | Lava Reef Zone | Metallic Madness Zone | Titanic Monarch Zone | Egg Reverie Zone | Special Stage | Bonus Stage | Pinball Stage*
Enemies
Aquis | Armadiloid | Asteron | Ball Hog | Batbrain | Blaster | Blastoid | Bloominator* | Bugernator | Bumpalo | Buzz Bomber | Cactula | Canister | Caterkiller Jr. | Chopper | Clucker | Crabmeat | Dango | Dragonfly | Fireworm | Flasher Mk. II | Gohla | Grabber | Hotaru | IceBomba | Iwamodoki | Jawz | Jellygnite | Juggle Saw | Kabasira | Kanabun | Matryoshka-Bom | Mecha-Bu | Mega Chopper | Mic Drop | Monkey Dude* | Motobug | Newtron | Octus | Poh-Bee | Pointdexter | Rattlekiller | Rexon | RhinoBot* | Roller Mk. II | Scarab | Sentry Bug | Shutterbug | Silver Sonic | Spiny | Splats | Sweep | Technosqueek | Toxomister | Tubinaut | Turbo Spiker | Turbo Turtle | Vultron | Woodrow
Bosses
Mini-bosses
DD Wrecker | Amoeba Droid | Heavy Gunner | Big Squeeze | Shiversaw | Hotaru Hi-Watt | Dive Eggman | Uber Caterkiller | Meter Droid | Drillerdroid | Egg Pistons mk.II | Crimson Eye
Zone bosses
Death Egg Robot | Mean Bean Machine | Weather Globe | Spider Mobile | Heavy Shinobi | Metal Sonic | Laundro-Mobile | Heavy Magician | Mega Octus | Heavy Rider | Heavy King | Gachapandora | Phantom Egg | Phantom King and Klepto Mobile
Moves/Techniques
Air Glide* | Bounce Jump | Climb | Crouch | Double Jump | Drop Dash | Fireball Spin Dash | Glide | Hammer Drop* | Insta-Shield | Propeller Flying | Ring Spark Field | Spin Attack | Spin Dash | Spin Jump | Super Peel Out | Swim | V. Maximum Overdrive Attack
Gimmicks and obstacles
Beanstalk | Bomb | Bumper | Bungee Rope | Bumper wall | Cannon | Capsule | Conveyor Belt | Crusher | Dash Panel | Dropping platform | Electrical conduit | Fan | Fireball Cannon | Flipper | Flywheel | Glove on a stick | Goal Plate | Hang Glider | High-speed warp tube | Ice Spring | Iron ball | Jump Panel | Platform-raising Wheel | Pulley | Ruby Mist | Seesaw | Sinking pool | Shrink ray | Snowblower | Spikes | Spring | Star Post | Switch | Transport | Vine | Zipline
Items
Air Bubble | Chaos Emerald | Giant Ring | Giant spear | Item Box (1-UP, Blue Shield, Bubble Shield, Character*, Hyper Ring, Eggman Mark, Fire Shield, Invincible, Lightning Shield, Player Swap, Power Sneakers, Random, S, Super Ring) | Little Planet flowers | Master Emerald | Metal Sonic Projector | Medallion | Ring | Robot transporter | Schrodinger's Capsule* | Sphere | Star Circle | Time Warp sign | UFO | Warp Point
Music
Sonic Mania (vinyl album) | Sonic Mania Original Soundtrack (Selected Edition) | Sonic Mania Plus Original Soundtrack
Other
Angel Island | Auto Running | Continue | Corkscrew | Death Egg Robot | Debug Mode | Egg Mobile | Freeze | Game Over | Klepto Mobile | Level Select | Little Planet | Loop | Mega Mack | Phantom Ruby | Perfect Bonus | Popgun | Sonic Mania Adventures ("Sonic Returns", "Sonic and Tails", "& Knuckles", "Mighty and Ray", "Metal Mayhem", "From: A. Rose", "The Complete Mini-Series") | S pipe | Time Attack | Time Over | Time Warp | Tornado | Water

*Appears in Sonic Mania Plus only