The Snail Blaster (スネイル・ブラスター, Suneiru Burasutā?),[1] formerly known as the Snale Blaster[2] (スネイル・ブラスター[3], Suneiru Burasutā?) and Den-den (デンデン, Denden?) in Japan,[4][5] is an enemy that appears in the Sonic the Hedgehog series. It is a mass-produced, snail-based Badnik model created by Dr. Eggman which is equipped with blasters inside its shell.
Appearance
The Snail Blasters are based on snails. Each model has a silver robotic head with two eyes balls connected to the body via cables, and a heavy red shell with green edge plates above its head. The Snail Blasters' main weapons are two gray projectile cannons inside their shells, which are revealed by opening a hatch on their shells.
In Sonic Lost World, the Snail Blasters' appearance has been given slight alternations. Its shell is now more tire-shaped, its green edge plating is larger and it has cyan eyes.
Game appearances
Sonic the Hedgehog 3

In Sonic the Hedgehog 3 and the lock-on game Sonic the Hedgehog 3 & Knuckles, the Snail Blaster is referred to as the Snale Blaster[2] (スネイル・ブラスター[3], Suneiru Burasutā?). In these games, they appear in the Launch Base Zone where they stick to walls. When the player approaches them, the Snail Blasters will open their shell and fire energy balls out of two hidden cannons (at 45 degrees above and below horizontal). After this, they will close their shell again. They can only be destroyed with a Spin Jump while their shell is open, and is otherwise invulnerable.
Sonic Lost World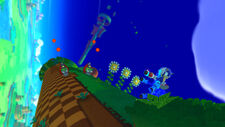 In the Wii U version and PC version of Sonic Lost World, the Snail Blasters appear as enemies. During the game, all of Dr. Eggman's badniks, the Snale Blasters included, got hijacked by the Deadly Six. Snail Blasters and Buzz Bombers are the first Badniks to turn against the doctor and attack him under the Deadly Six's orders. A few of them get destroyed by Sonic, but the predominance of Badniks and the Deadly Six forced Sonic, Tails, Eggman, Orbot and Cubot to retreat.
In Sonic Lost World, Snail Blasters are featured in Windy Hill, Desert Ruins, Frozen Factory and Sky Road. In gameplay, they do not climb on walls, but are moving slowly in the lateral direction on the ground, until they reach a certain point where they stop and shoot two energy projectiles towards Sonic. If the player is close to them though, the Snail Blasters will curl into wheels and roll towards Sonic. Normally, the player can destroy them with a Flying Kick, multiple Homing Attacks, or a Focused Homing Attack. Also, upon destroying a Snail Blaster, an Animal will be released.
Sonic Runners series
Sonic Runners
In Sonic Runners, the Snail Blasters appear as enemies. In this game, they retained their design from Sonic Lost World. They are also some of the more common foes encountered in the speed type characters' stages. In gameplay, they are slowly groveling in the opposite direction of the playable character, and appear either separately or in groups.
The player can destroy the Snail Blasters with any move or offensive power-up in the playable characters' arsenal. When destroyed, a Snail Blaster will grant the player 100 points.
Snail Blasters in Sonic Runners come in three types. Aside from the regular Snail Blasters, there are golden ones which grant 300 points when defeated, and silver ones that grant 200 points when eliminated and which only Color Powers, Invincible and the power type characters' dash attack can defeat. All three variations also contain Animals that are released when they are destroyed. The Snail Blasters also appear as part of several episodes' narrative, which features them being defeated time and time again by Team Sonic.
Sonic Runners Adventure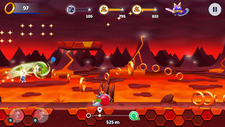 In Sonic Runners Adventure, the Snail Blasters appear as enemies. In this game, they retain their design from Sonic Lost World. The player encounters them in Desert Ruins and Lava Mountain.
In gameplay, the Snail Blasters behave much like its precessor, namely by either remaining stationary or slowly move towards the player. Also, upon their destruction, they release an Animal each.
Powers and abilities
Snail Blasters are able to climb walls by slowly groveling on them. As offense, they are equipped with two laser cannons inside their shells which can fire projectiles. Snail Blasters can also use their red shells to hide inside for protection. During the Lost Hex incident, Snail Blasters gained the ability to curl into their shells for a wheel-form to move faster along the ground.
In other media
Animation
Sonic the Hedgehog: The Movie
In Sonic the Hedgehog: The Movie, a group of Snail Blasters patrolled Robotropolis where they ambushed Sonic, Tails, and Knuckles while they went through Robotropolis.
Books and comics
Sonic Adventures
In Sonic Adventures, Snail Blasters were one of the many Badniks used in the hunt for Sonic and Tails.
IDW Publishing
In the Sonic the Hedgehog comic series and its spin-offs published by IDW Publishing, Snail Blasters form a part of Dr. Eggman's Badnik army. Their past is virtually identical to their game counterparts', up until after the events of Sonic Forces.
Trivia
The Snail Blaster's alternate Japanese name "Den-den" comes from "Dendenmushi", which is Japanese for "snail".
Gallery
Artwork
Screenshots
See also
References
---
Main article (Sonic 3 & Knuckles) | Staff | Manuals | Glitches | Beta elements | Gallery
Playable characters
Sonic (Super Sonic) | Tails | Knuckles*
Non-playable characters
Dr. Robotnik | Animals (Cucky, Flicky, Pecky, Pocky, Ricky, Rocky)
Enemies
Batbot | Blastoid | Bloominator | Bubbles | Bugernaut | Catakiller, Jr. | Clamer | Corkey | Flybot767 | Jawz | Mantis | Mega Chopper | Monkey Dude | Orbinaut | Penguinator | Pointdexter | RhinoBot | Ribot | Snail Blaster | Sparkle | Spiker | Star Pointer | Turbo Spiker
Zones
Main
Angel Island Zone | Hydrocity Zone | Marble Garden Zone | Carnival Night Zone | IceCap Zone | Launch Base Zone | Special Stage | Bonus Stage
Competition*
Azure Lake | Balloon Park | Chrome Gadget | Desert Palace | Endless Mine
Bosses
Mid-bosses
Fire Breath | Big Shaker | Tunnelbot | Bowling Spin | Big Icedus | Twin Hammer
Zone bosses
Egg Scorcher Mk. III | Egg Vortex | Egg Drillster Mk. II | Egg Gravitron | Egg Froster | Egg Cannon | Egg Rocket | Big Arms
Moves/
Techniques
Bound Jump | Crouch | Double Jump | Drop Dash** | Fireball Spin Dash | Insta-Shield | Fly | Spin Attack | Spin Dash Attack | Super Spin Attack | Swim
Gimmicks and obstacles
Balloon | Bomb | Bumper | Bumper wall | Cannon | Capsule | Crusher | Elevator | Fan | Fire | Flywheel | Glove on a stick | Goal Plate | High-speed spiral tube | High-speed warp tube | Icicle | Iron ball | Laser gate | Movable box | Pulley | Platform-raising Wheel | Sinking pool | Snowblower | Spikes | Spring | Spinning Top | Spinning Wheel | Starpost | Strange Relief | Switch | Vine | Zip Line
Items
Air bubble | Banana* | Change* | Chaos Emerald | Continue | Giant Ring | Gold Ring | Gumball | Monitor (1-Up, Flame Shield, Invincibility, Lightning Shield, Super Shoes, Robotnik, S, Super Ring, Water Shield) | Self-Propelled Bomb* | Slow-Down Shoes* | Snowboard | Sphere | Star Circle
Music
"Wonderman"
Other
Altar of Emerald | Corkscrew | Crusher | Death Egg | Debug Mode | Floating Island | Freeze | Jewel Radar | Life | Lock-on technology | Loop | Perfect Bonus | Sound Test | Time Attack | Tornado | Tunnel | Water

*Appears in Competition mode only
**Appears in re-releases only
---
Main article | Script | Staff | Glitches | Gallery | Re-releases (PC)
Playable characters
Sonic (Super Sonic) | Virtual Hedgehog*
Non-playable characters
Amy | Animals (Cucky, Flicky, Pecky, Picky, Pocky, Ricky, Rocky) | Clawz | Cubot | Deadly Six (Master Zik, Zavok (Giant Zavok), Zazz, Zeena, Zomom, Zor) | Dr. Eggman | Gillwing | Gulpo | Jackle | Knuckles | Link* | Nightopian | NiGHTS | Omochao | Orbot | Puffy | Reala | Tails | Wizeman | Yacker* | Yoshi*
Wisps
Black | Crimson | Cyan | Gray* | Green | Indigo | Magenta | Orange | White* | Yellow
Levels
Worlds
Windy Hill | Desert Ruins | Tropical Coast | Frozen Factory | Silent Forest | Sky Road | Lava Mountain | Hidden World
Misc.
Circus* | NiGHTMARE Zone | The Legend of Zelda Zone* | Yoshi's Island Zone*
Enemies
Badniks
Antlion | Anton | Antlion Mother | Aquis | Balkiry | Ball Hog | Batbrain | BFB | Blowfish Transporter | Blaster | Bomb | Burrobot | Buzz Bomber | Caterkiller | Chopper | Clucker | Cluckoid | Coconuts | Crabmeat | Crawl | Crawlton | Dragonfly | Dung Beetle | Egg Pawn | Galaga Bee | Gohla | Grabber | Gustav Turtle | Jaws | Laser Grabber | Madmole | Manbou | Manta | Moto Bug | Mushmeanie | Nebula | Newtron | Octus | Orbinaut (Uni Uni, Unidasu) | Pata-Bata | Penguinator | Sandworm | Slicer | Snale Blaster | Spiker | Spikes | Sprinkler | Tarantula | Tonber | Turtloids | Utsubo
Other
Baku Baku | Boo | Boom Boo | Cactus Ball | Deku Scrub* | Keese* | Piranha Plant* | Sandworm | Sheep | Shy Guy* | Stalchild* | Yeti
Bosses
Zazz (Puffy) | Zomom | Master Zik (Gulpo) | Zeena (Clawz) | Zor (Jackle) | Zavok (Gillwing) | Deadly Six | Giant Zavok | Eggrobo
Moves/
Techniques
General
Bound Jump | Charged Dash | Dash | Double Jump | Duck | Flying Kick | Focused Homing Attack | Grinding | Ring Dash | Skydiving | Spin Dash | Spin Jump | Super Sonic Boost
Parkour
Hang | Side Step | Vault | Vault Dash | Wall Climb | Wall Jump | Wall Run | Wall Spin Dash
Color Powers
Black Bomb | Crimson Eagle | Cyan Laser | Gray Quake* | Green Hover | Indigo Asteroid | Magenta Rhythm | Orange Rocket | Yellow Drill
Gimmicks and obstacles
Balloon | Billiard Ball | Bumper | Cannon | Capsule | Cloud | Coconut | Conveyor Belt | Dash Panel | Dash Rail | Drop Target | Fireball | Flipper | Grind Rail | High-speed warp tube | Hint Ring | Iron ball | Lighting switch | Metal nut | Minecart | Musical note | Prism | Seesaw* | Sling Shot | Slot machine | Spring | Spring Catapult | Star Post | Surprise Crocodile | Triangle Bumper | Truffle Cannon | Windmill
Items
General
1-Up | Apple | Asteroid Ring | Blue Chip | Bound bell | Cage | Casino Token | Chaos Emerald | Floating Item Box | Invincible | Item Box (Warp) | Number Ring | Power Sneakers | Red Star Ring | Ring | Ring (NiGHTS) | Shield | Thunder Shield
RC Vehicles
Helicopter | Fighter Jet | Stealth Jet | Hovercraft | Balloon | UFO | Omochao
English voice actors
Roger Craig Smith (Sonic) | Mike Pollock (Eggman) | Kate Higgins (Tails) | Travis Willingham (Knuckles, Zavok) | Cindy Robinson (Amy) | Kirk Thornton (Orbot, Master Zik) | Wally Wingert (Cubot) | Liam O'Brien (Zazz) | Patrick Seitz (Zomom) | Stephanie Sheh (Zeena) | Sam Riegel (Zor)
Japanese voice actors
Jun'ichi Kanemaru (Sonic) | Chikao Ōtsuka (Eggman) | Ryō Hirohashi (Tails) | Nobutoshi Canna (Knuckles) | Taeko Kawata (Amy) | Mitsuo Iwata (Orbot) | Wataru Takagi (Cubot) | Jōji Nakata (Zavok) | Yutaka Aoyama (Zazz) | Yumi Tōma (Zeena) | Makoto Terada (Master Zik) | Chafūrin (Zomom) | Yūki Tai (Zor)
Music
Sonic Lost World Bonus Soundtrack (Special Selection) | Sonic Lost World: Wonder World EP | Without Boundaries: Sonic Lost World Original Soundtrack
Other
Auto Running | Cacophonic Conch | Egg Mobile | Extractor | Havok | Life | Life (energy) | Loop | Lost Hex | Mech Dragon | Miles Electric | Mission | Moon Mech | Rank | Secret Bonus | Sonic the Hedgehog Halloween ComicFest 2013 | Time Attack | Tornado | Totem pole | Water | Wisp Away* | Wisp Gauge | Zeti

*Appears in the Wii U version only.
---
Main article | Script | Events | Gallery
Playable characters
Sonic (Sonic the Werehog) | Tails | Knuckles | Classic Sonic | Christmas Sonic | Christmas Tails | Christmas Knuckles | Shadow | Rouge | Halloween Shadow | Halloween Rouge | Espio | Charmy | Vector | Amy | Blaze | Amitie-Style Amy | Gothic Amy | Omega | Metal Sonic | Halloween Omega | Big | Cream | Silver | Tikal | Sticks | Mephiles | ESP Silver
Non-playable characters
Accord | Animals (Cucky, Flicky, Pecky, Picky, Pocky, Ricky, Rocky) | Arle Nadja | Amitie | Boo | Carbuncle | Chao (Dark Chao, Hero Chao) | Chip | Cubot | Deadly Six (Master Zik, Zavok, Zazz, Zeena, Zomom, Zor) | Dr. Eggman | Erazor Djinn | Froggy | King Boom Boo | King Shahryar | Maguro Sasaki | Merlina | Omochao | Orbot | Paprisu | Puyo Puyo | Raffine | Ringo Ando | Risukuma | Rulue | Satan | Schezo Wegey | Sig | Suketoudara | Super Sonic | Wisp (Mother Wisp (Dark Mother Wisp), White Wisp (Yacker))
Wisps
Cyan | Indigo | Yellow
Stages
General
Windy Hill | Sky Road | Lava Mountain
Special Stages
Desert Ruins | Frozen Factory | Halloween | Tropical Coast
Enemies
Balkiry | Buzz Bomber | Caterkiller | Crabmeat | Egg Pawn | Gold Pawn | Moto Bug | Nebula | Snail Blaster | Spinner | Super Egg Pawn
Bosses
Iron Ball Eggmobile | Missile Eggmobile | Saw Arm Eggmobile |

Zazz

Moves/Techniques
Spin Dash | Spin Jump | Trick Action
Color Powers
Cyan Laser | Indigo Asteroid | Yellow Drill
Gimmicks and obstacles
Bomb | Boom Boo | Bottomless pit | Cannon | Dash Ring | Iron ball | Jump Panel | Prism | Rainbow Ring | Saw | Spikes | Spring | Star Post
Items
Buddy | Chao Egg | Crystal | Item Box (Combo Bonus, Invincible, Magnet, Shield,

Spring

) | Power Ring | Red Star Ring | Ring | Sub-Character |

Score Boost

| Super Ring |

Support Springs

Music
Sonic Runners Complete Soundtrack | Sonic Runners Original Soundtrack
Other
Asteroid Ring | Auto Running | Banking | Chaos Emerald | Chaotix Type | Combo | Dark Type | Death Egg | Easy Type | Egg Mobile | Emerald Detector | Emerald Shard | Fly Type | Future Type | Health Gauge | Hero Type | Hourglass | Hyper-go-on | Loop | Master Emerald | Mech Type | Miles Electric | Mind Control Ray | Moon Mech | Power Type | Rose Type | Speed Type | Tails' Lab | Wild Type | Wisp Gauge