Sky Road (スカイロード, Sukairōdo?) is a race track that appears in Team Sonic Racing.[1] It is based off the daytime version of Rooftop Run with elements from its Sonic Generations counterpart.
Description
Sky Road is a racing circuit set within Rooftop Run, a section of Spagonia with structures inspired by real-life West European architecture, including those in France, Italy and Great Britain. As such, parts of the circuit's roads lead through a quite traditional urban area built mostly out of stone.
The majority of Sky Road consists of semi-transparent roads that weave through the clouds, which are held up by constantly working propellers. Along this section, the city can be spotted down on the ground in the background. This gives the player a solid view of the city's various buildings, such as the houses with orange rooftops and clock towers. Also, in the background along this track, one can see hot air balloons and floating grandstands which cheering Chao sit on.
Gameplay
The balloon floating around Sky Road are courses in themselves, and it is possible to make a big jump using these balloons. As such, even if the player thinks they have gone off-course, they may find surprising shortcuts if they use the balloons.
Along the Sky Road track are also a couple of pools with green goo that only Technique-Type characters can drive across without losing speed. The route also has orange-white barriers, stacks of bricks, and tables with chairs and umbrellas along them that Power-Type characters can bash through and earn Rings from in the process. Alternatively, the player can destroy these objects with Wisp power-ups. During the underground tunnel section, there are also axes that hang from the ceiling and swing back and forth all the time. These objects are better left being avoided.
Overview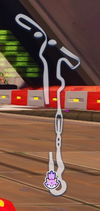 The race starts out on a wide street. Once the race starts, the player races up a large ramp with a wide spring at the end of it, and uses it to jump far into the air. While sent flying by the wide spring, the player can perform lot of stunts in midair to get extra speed upon landing. As the player flies through the air, they will pass through a giant hoop before landing on a transparent road. While driving along the route from here, the road will twist around itself while making slight turns along way, before eventually making its first sharp turn to the right. After that, the road will eventually turn sharply to the left before heading towards a set of wide springs. After jumping off the wide spring, the players will bounce off two hot air balloons, before landing on the next piece of road. .
Once on the road section, the road will head straight forward for a while before making a sharp downward turn to the right. After that, the road will begin to make a sharp turn to the left. However, the barriers on the right side of the road in this turn are gone, meaning the player has to drift carefully through this turn or risk falling off he road. After this swing, the road will remain straight for a while before starting to wind around again. During this winding section, the road will have no barriers on either side of it. However, when hitting the first swing in this section, the player can head straight forward instead of following the road and go off-road in order to hit an air balloon that will bounce the player through the swing and back on the main road. Regardless of which route the player takes though, the main road will soon after split into three paths. If the player takes the middle path, they will fall down on a lower route, which will then head straight downward. The left and right path the player can take are more curved that the middle path, but they lead to the same place and have the same shapes. The difference between them is that the path on the left has Item Boxes along it while the path on the right has Boost Pads along it.
In the place where the three paths reconvene, the road is vertically aligned, meaning it heads straight down towards the ground. The road is quite wide during this section, and in the middle of it are two gaps that are marked with breakable barriers. However, the player should be careful not to fall through these gaps. In addition, the road has no barriers on either side of it in this section, mening nothing is stopping the player from driving off-road. Eventually, the road enters an underground tunnel where alternate routes appear. The route on the right leads to an elevated road which have swinging axes along it. The route on the left on the other hand stays on ground level, but has breakable stacks of bricks and pools of green goo along it. Halfway through this tunnel, the road remerge, only to split into two routes again. This time, the elevated route appears on the left side of the road and runs along the wall on the left while the ground route is on the right side of the road. After then leaving the tunnel, the player can head straight for the finish line. However, before that, there will be breakable tables with chairs and umbrellas on the left side of the road.
Sky Road also has its own mirror image version of it where the left and right sides are interchanged.
Trivia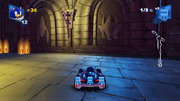 This was the second track to be revealed for Team Sonic Racing, being showcased in the E3 2018 trailer from the CG opening movie, although no in-game footage of the track was shown until a month prior to release.
Chaos makes a special cameo near the end of the track. During the underground section, two different faces can be seen carved into the walls. One of them depicts Chaos, and the other is unknown.
A sprite of Knuckles from Sonic & Knuckles can be seen behind the starting line.
His theme can be heared as a remix in Sonic at the Olympic Games
Gallery
Concept artwork
Promotional screenshots
Music
| Name | Artist | Length | Music Track |
| --- | --- | --- | --- |
| "Sky Road: Intro Fly-by" | SEGA / Tomoya Ohtani | 0:26 | |
| "Sky Road: Lap Music" | SEGA / Tomoya Ohtani | 4:04 | |
| "Sky Road: Final Lap/Goal" | SEGA / Tomoya Ohtani | 1:31 | |
Video
See also
References
---
Main article | Script | Staff | Manuals | Beta elements | Gallery
Playable
characters
Team Sonic
Sonic | Tails | Knuckles
Team Rose
Amy | Chao (Dark Chao, Hero Chao, Neutral Chao, Omochao) | Big
Team Vector
Blaze | Silver | Vector
Team Dark
Shadow | Rouge | Omega
Team Eggman
Metal Sonic | Dr. Eggman | Zavok | Eggpawn | Death Egg
Non-playable characters
Boo | Boom Boo | Buzzer | Chopper | Crabmeat | Cubot | Dodon Pa | Egg Squid | Froggy | King Boom Boo | Mother Wisp | Orbot | Orca | Sandworm
Wisps
Black | Blue | Crimson | Cyan | Ivory | Jade | Magenta | Orange | Pink | Gray | Red | Violet | White | Yellow
Tracks
Planet Wisp
Wisp Circuit | Mother's Canyon | Doctor's Mine
Seaside Hill
Ocean View | Lost Palace | Whale Lagoon
Glacierland
Ice Mountain | Frozen Junkyard | Hidden Volcano
Casino Park
Roulette Road | Bingo Party | Pinball Highway
Sandopolis
Sand Road | Boo's House | Clockwork Pyramid
Rooftop Run
Market Street | Sky Road | Haunted Castle
Final Fortress
Thunder Deck | Dark Arsenal | Turbine Loop
Events
Boost Race | Daredevil | Destruction | Eggpawn Assault | Grand Prix | King of the Hill | Lightning Race | Ring Challenge | Rocket Race | Showdown Race | Survival Race | Team Boost Race | Team Grand Prix | Team King of the Hill | Team Lightning Race | Team Race | Team Rocket Race | Team Vampire Race | Time Trial | Traffic Attack | Vampire Race
Enemies
Eggpawn | Eggsplosive Eggpawn | Hard-boiled Eggpawn | Melee Eggpawn | Standard Eggpawn
Moves/Techniques
Drift | Item Box Transfer | Radial Burst | Rival Takedown | Skim Boost | Slingshot | Start Line Boost | Stunt | Team Ultimate
Color Powers
Black Bomb | Blue Cube | Crimson Eagle | Cyan Laser | Gray Quake | Ivory Lightning | Jade Ghost | Magenta Rhythm | Orange Rocket | Pink Spikes | Red Burst | Violet Void | Yellow Drill
Vehicles
Beat Monster | Chao Pod | Cross Dozer | Dark Reaper | Egg Booster | Formula M | Frog Cruiser | Land Breaker | Lightron | Lip Spyder | Pink Cabriolet | Road Dragoon | Royal Chariot | Speed Star | Whirlwind Sport
Gimmicks and obstacles
Boost Pad | Kao | Spring | Star Post | Wide spring
Items
Bonus Box | Credit | Item Box (Invincibility) | Key | Medal | Mod (Car Cosmetic (Horn, Paint Kit, Vinyl), Performance Part) | Mod Pod | Ring
English voice actors
Roger Craig Smith (Sonic, Wisp announcer) | Mike Pollock (Eggman) | Kyle Hebert (Big, Dodon Pa) | Colleen O'Shaughnessey (Tails) | Dave Mitchell (Knuckles) | Patrick Seitz (Zavok) | Cindy Robinson (Amy) | Kirk Thornton (Shadow, Orbot) | Karen Strassman (Rouge) | Aaron LaPlante (Omega) | Bryce Papenbrook (Silver) | Keith Silverstein (Vector) | Erica Lindbeck (Blaze, Omochao) | Wally Wingert (Cubot) | Tomoko Sasaki (Chao)
Japanese voice actors
Junichi Kanemaru (Sonic) | Kotaro Nakamura (Eggman) | Katsuhisa Hōki (Dodon Pa) | Ryo Hirohashi (Tails) | Nobutoshi Canna (Knuckles) | Taeko Kawata (Amy) | Takashi Nagasako (Big) | Etsuko Kozakura (Omochao) | Kōji Yusa (Shadow) | Rumi Ochiai (Rouge) | Taiten Kusunoki (Omega) | Daisuke Ono (Silver) | Kenta Miyake (Vector) | Nao Takamori (Blaze) | Jōji Nakata (Zavok) | Mitsuo Iwata (Orbot) | Wataru Takagi (Cubot) | Tomoko Sasaki (Chao) | Fumihiko Tachiki (Wisp announcer)
Music
Songs
Green Light Ride
Albums
Maximum Overdrive - Team Sonic Racing Original Soundtrack | Team Sonic Racing Trailer Music Selection
Other
Death Egg Robot sentinel | Donpa Kingdom | Donpa Motors | Egg Squid | Orca | Power-Type | Sonic Racing | Speed-Type | Team Sonic Racing Overdrive (Dangerous Distractions, Eyes on the Prize, The Complete Race) | Technique-Type | Ultimate Meter | Team Sonic Racing One-shot | Team Sonic Racing Plus Deluxe Turbo Championship Edition one-shot | Ultimate Energy Engine | Ultimate Team Energy
Community content is available under
CC-BY-SA
unless otherwise noted.