Sky Canyon is the fifth Zone of Sonic Advance 2.
Description
A stage above the clouds that contains swirling fans that blow you around. The stage resembles Windy Valley in Sonic Adventure.
Story
While pursing Dr. Eggman, Sonic stumbles into Knuckles who is the pilot behind a new, deadly contraption. After Sonic destroyed it, Knuckles tries to defend himself much to Sonic's annoyance, who scolded the gullible echidna for allowing himself to to be duped by the doctor once again before taking off to continue his adventure. Knuckles then swears revenge on Eggman for tricking him.
Gameplay
The stage contains bouncing platforms and narrow pathways that save you from the many bottomless pits that appear frequently throughout the course.
Overview
Act 1
Act 2
Boss
The boss is the Egg Saucer which is piloted by Knuckles the Echidna when playing as Sonic for the first time (though it is possible that Knuckles was actually trapped inside, as he does appear to be attempting to smash the glass free with his fists). After beating Knuckles, it was revealed that Eggman tricked the echidna once again and Knuckles swears revenge on the doctor for tricking him and Knuckles is then playable. After beating Knuckles, if Sonic or any other character returns to the stage, the Egg Saucer is piloted by Eggman.
Trivia
The map for Sonic Advance 2 shows that this level is located on a floating landmass. This, coupled with Knuckles' appearance in the boss battle implies that this level is set on Angel Island, although it is unconfirmed.
Music
| Name | Artist(s) | Length | Music Track |
| --- | --- | --- | --- |
| Sky Canyon (Act 1) | Tatsuyuki Maeda, Yutaka Minobe, Teruhiko Nakagawa, Hironobu Inagasaki, Atsuyoshi Isemura | 2:36 | |
| Sky Canyon (Act 2) | Tatsuyuki Maeda, Yutaka Minobe, Teruhiko Nakagawa, Hironobu Inagasaki, Atsuyoshi Isemura | 2:14 | |
Video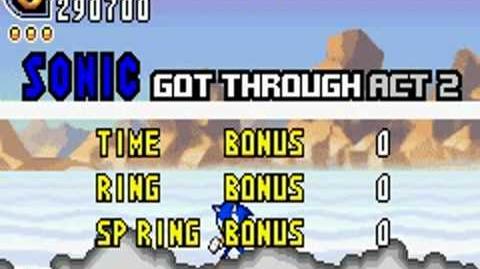 This article or section about a

game

is a

stub

.
You can help the Sonic News Network by expanding it!
---
Main article | Staff | Glitches | Beta elements | Gallery
Playable characters
Sonic (Super Sonic) | Tails | Knuckles | Cream | Cheese | Amy
Non-playable characters
Dr. Eggman | Vanilla | Guard Robo | Chao | Animals (Deer, Elephant, Flicky, Gorilla, Koala, Kangaroo, Lion, Mole, Parrot, Peacock, Penguin, Rabbit, Robin, Sea Otter, Seal, Skunk)
Zones
Leaf Forest | Hot Crater | Music Plant | Ice Paradise | Sky Canyon | Techno Base | Egg Utopia | XX | True Area 53 | Special Stages
Enemies
Balloon | Bell | Buzzer | Circus | Flickey | Geji-Geji | Gohla | Hammerhead | Kiki | Koura | Kubinaga | Kura-Kura | Kyura | Madillo | Mon | Mouse | Pen | Piko Piko | Spina | Star | Straw | Yado
Bosses
EggHammerTankII | Egg Bomber Tank | Egg Totem | Aero Egg | Egg Saucer | Egg-Go-Round | Egg Frog | Super Eggrobo Z | True Area 53 boss
Moves/
Techniques
General
Amy Dash | Boost Mode | Bound | Chao Attack | Chao Rolling Attack | Crouch | Double Spin Attack | Drill Claw | Double Punch | Flying | Grinding | Hammer Attack | Head Slide | Homing Attack | Jump Dash | Mid-Air Glide | Mid-Air Hammer Swirl | Propeller Flying | Spin Attack | Spin Dash | Spiral Attack | Skid Attack | Step Attack | Super Hammer Attack | Super Skid | Super Sonic Boost | Super Tails Swipe | Tail Swipe | Wall Climb
Mid-Air Trick Actions
Big Air (Happy Spring, Hop Jump, Petit Step, Spiral Upper) | Long Wind Jump (Burning Straight, Humming Top, Sweet Roll, Window Jump) | Stop 'n' Slam (Bound, Drill Claw, Mid-Air Hammer Swirl, Propeller Descent, Soft Bomber) | Quick Reverse (Back Attack, Back Rotor, Back Star, Milky Turn)
Gimmicks and obstacles
Bumper wall | Cannon | Checkpoint | Dash Panel | Fan | Gravity Control Switch | Grind Rail | Gymnastic Bar | Iron ball | Jump Panel | Pole | Rotating platform | Spikes | Spring
Items
Box (1-Up, 5 Ring Bonus, 10 Ring Bonus, Attack, Brake, Confusion, Invincibility, Maximum Speed, Mosaic, Random Ring Bonus, Ring Magnet, Shield, Warp) | Chaos Emerald | Ring | Special Ring
Other
Auto Running | Chao Bounce | Chao Search | Corkscrew loop | Freeze | Time Attack | Time Over | Tiny Chao Garden | Shuttle loop | Winding Tunnel
Community content is available under
CC-BY-SA
unless otherwise noted.