m

(')

Line 1:
Line 1:
−

{{Tab|Sir Percival}}

+

{{Tab

 
+

|tab1 = Main page

 
+

|tab2 = Gallery

 
+

}}

 

{{Infobox character

 

{{Infobox character

 

|title = Sir Percival

 

|title = Sir Percival
---
Revision as of 22:41, 7 February 2016
Sir Percival (パーシヴァル Pāshivaru?) is a character in Sonic and the Black Knight. She is an anthropomorphic cat and the alternate reality doppelgänger of Blaze the Cat from the world of Camelot. She is the only female member of the Knights of the Round Table,[1][2] and is known as the Knight of the Grail.[3] She wields the sacred sword Laevatein.
History
Percival was brought into the services of King Arthur as a member of the Knights of the Round Table. During her time with the group, Percival started a quest for the Holy Grail which became a legend in its own right.[4]
Percival, along with her fellow knights, Lancelot and Gawain, was sent by King Arthur to eliminate Sonic the Hedgehog when he arrived into their world. Percival was the last knight Sonic fought. After their fight, she fell from a high cliff, and Sonic and Caliburn saved her in time. She was then impressed by Sonic's kindness and effort, and even blushed at his chivalry. Sonic's defeat of Percival is what finally earned him Caliburn's respect and the official title of "Knight of the Wind".[5]
After King Arthur turned out to be an illusion created by Merlin years ago and that it was all a plot orchestrated by Merlina, Percival went off to put her sword in the shrine. She thought Sonic was joking at first when he explained his plan, but when she saw he meant what he said, she bid him good luck. After the four swords formed a barrier around the castle and Sonic defeated Merlina, Caliburn revealed that Sonic was the true King Arthur of this world, and Percival, along with Gawain and Lancelot, bowed before the blue hedgehog went back to his own world.[5]
Powers and abilities
Being describe as "strong as she is noble", Percival is one of the mightiest members of the Knights of the Round Table;[2] even after Sonic had proven himself by defeating Sir Lancelot (though Lancelot was too careless when facing him) and Sir Gawain, Caliburn doubted that Sonic could defeat her, hinting a high level of skill and strength.
Like her alternate reality counterpart, Percival possesses the power of pyrokinesis, the ability to create and control fire in however way she wishes, which is referred to as her royal powers.[2] With this ability, Percival can conjure up intense flames at any place on or all over her body, allowing her to increase her attack power, burn her opponent, or surround herself in flames during combat. Additionally, she is able to channel her flames through her weapon of choice.
Like most other characters in the Sonic the Hedgehog series, Percival can run at super speed, She is able to keep up with Lancelot, who has been remarked to be as quick as Sonic, and even Sonic has acknowledged her speed. She is also very acrobatic, being able to perform both swordplay and tricks while in midair, and run along vertical surfaces and up walls. She also possesses sharp reflexes, enough to react precisely to incoming obstacles while running at high speed.
As a member of the Knights of the Round Table, Percival is a master of swordsmanship. In battle, Percival specializes in fast-paced and precise swordplay, using fast and elegant swipes and direct multiple jabs, along with forward thrusts. Additionally, Sonic has noted her defensive swordplay is good as well. By using her royal powers over flames in conjunction with her swordsmanship, Percival can create a devastating and befuddling style of swordplay that combines her graceful strikes with her destructive flames.[1]
Weapons
Percival exclusively wields long and double-edges rapiers which are well suited to her battle style.[6] When using them, she can channel her flames into her choice of sword, allowing her to launch fire bullets from her sword or create streaks of flames by swinging it around. Her favored weapon of choice though, is Laevatein, one of the legendary sacred swords.
Gameplay
Sir Percival's gameplay in Sonic and the Black Knight is quite different from Sonic's gameplay. Unlike Sonic or Lancelot, she has two jumps, of which the first is used as a homing attack. Her aerial attack can be used to stay in the air for a longer time, as it sends her straight forward without losing height. The downside of this however is, that her aerial attack can't be used as effectively as Sonic's or Lancelot's. Her ground-based attacks make her speed from enemy to enemy. In her variation of the Soul Surge, Flames of Kilekion, she covers herself with fire and is freely controllable. This is very useful when fighting against multiple enemies at the same time.[5]
Just as Lancelot and Gawain she can only be used in the levels Knight's Passage, Shrouded Forest, Great Megalith, The Cauldron and Dragon's Lair.[5] Like Gawain and Lancelot, Percival is permanently set to her character style in Adventure Mode, which is Cavalier Style.
Relationships
Percival served King Arthur without question. After he is revealed to be a fake, she was left in shock like the rest of the Knights.
Percival trusts Lancelot because he is the strongest and the presumed leader of the Knights of the Round Table after King Arthur.
The two are only seen interacting near the end where Gawain suspects Sonic, but is stopped by Percival, being the only knight to trust him after he saved her life.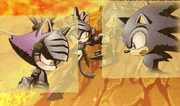 Initially, Percival's relation with Sonic was only her given mission to slay him on the orders of King Arthur, but it is not until Sonic comes after her sword that they meet. In comparison to the other knights Sonic had encountered, Percival is the only knight that talks with respect to Sonic from the beginning. She challenges him, under the name "Sir Sonic, Knight of the Wind", being the first person to call him that, to battle. After Sonic defeats her, Percival falls off a ledge, but is saved by Sonic. Confused as to why Sonic would save her, she however is the first knight to join Sonic and chooses to keep her faith in him unlike Gawain and Lancelot who, even though witnessed Sonic's kindness after their battle, did not choose to support Sonic until they were convinced by Percival.
In other media
Archie Comics
In the Sonic the Hedgehog comic series and its spin-offs, Sir Percival appears as a part of the comics' adaptation of Sonic and the Black Knight.
Quotes
"Without loyalty to the king, we are nothing!" - Percival when Gawain continues to question King Arthur.
"Still the king... He has changed... And this kingdom." - Percival expressing her opinion about the king in the opening movie.
"I am Percival, Knight of the Round Table, servant of King Arthur. State your name and your master, Sir!" - Sir Percival to Sonic the Hedgehog.
"Very well, Sonic, Knight of the Wind! Prepare... for battle!" - Percival about to fight Sonic.
"Now, I shall test your skill, Sir Knight!" - In the beginning of the battle between Sonic and Percival
"Impressive, O Knight of the Wind." - While fighting Sonic
"B-But... How did you?" - After being defeated by Sonic.
"Well done, Sir Sonic!" - Sir Percival about to fall into the lava after being defeated by Sonic.
"Why? Why did you-?" - Sir Percival when saved by Sonic after their fight.
"For the kingdom and its people!" - Percival when she retrieves her sword.
"Surely you jest!?" - Percival when Sonic explains his plan to stop Merlina.
"Fare thee well, we too shall fulfill our appointed task" - When Sonic appoints her for a task to stop Merlina.
"Sir Sonic, you have done enough!" - Percival when Sonic is severely beaten by Merlina.
"Let us battle in honor!" - Sir Percival after being selected in multiplayer.
"As you wish." - Sir Percival when selected in Sonic and the Black Knight Battle Mode.
"A fine weapon." - Sir Percival when selected in Sonic and the Black Knight multiplayer.
"Not bad. But not good enough." - Sir Percival after winning a battle in Sonic and the Black Knight.
"A quite obvious outcome." - Sir Percival after winning a battle in Sonic and the Black Knight.
"A most worthy choice." - Sir Percival after selected in Sonic and the Black Knight Battle mode.
"Have you made preparations?" - When accepted as character to be played in Battle Mode.
"Done with nary a bit of trouble." - After receiving four Mastery Stars in a mission.
"A performance, befitting a knight!" - When getting three Mastery Stars in Adventure mode.
"What the?!" - After getting one star for a mission in Adventure Mode.
"I shall withdraw..." - Percival after failing a mission.
"I will not be defeated." - When selected in Battle Mode.
"Does the Knight of the Wind always run like this?" - During the "Reach the Goal" mission in the Shrouded Forest.
"A dragon? Finally, a foe worthy of a Knight of the Round Table." - Percival when beginning to fight the Earth Dragon.
"Very well. The fiend will get a fight if it so wishes." - While battling the Earth Dragon during the Dragon Slayer challenge.
"Don't hold back!" - Percival when starting a battle in Sonic and the Black Knight Multiplayer Mode.
Real world background
In the Arthurian legends, Sir Percival was a male Knight of the Round Table, most famous for his involvement in the quest for the Holy Grail. He was tied to the Grail legend in the earliest Arthur stories, before later legends made Sir Galahad's role more prominent. He was the son of King Pellinore, and thus the brother of Sir Lamorak.
It's also mentioned in legends that Sir Percival did not wield a sword, but an unnamed lance. The sword Laevatein, also known as the flaming sword "Laevateinn", "Wounding Wand", "Staff of Destruction", or "Damaging Twig" was a Norse weapon that made its wielder invincible in battle, could fight without being held and was forged for the hand of a god. Mortals that dare touched the sword were met with an unpleasant fate.
Trivia
Since Sir Percival is modelled after Blaze the Cat, and hence female, many fans believed that she should have been referred to as "Dame Percival". However, "Sir" is a title bestowed on all knights regardless of gender, whereas "Dame" refers only to female knights within the Orders of Chivalry.
Percival is the only playable character in Adventure Mode to not use a sword to climb up a wall nor use one to slow down the drop; instead, she runs along the walls, only stabbing her sword into a wall to change direction or stay in place. To go down the wall, she simply falls within stabbing distance next to it.
She is the only playable character in Adventure Mode whose Soul Surge does not create a targeting reticule.

Possibly due to this, her Soul Surge always results in a Perfect Hit when it makes contact.

Likewise, she is the only playable Adventure Mode character whose Soul Surge allows her to move freely, instead of either standing still and throwing a weapon or charging directly at the enemy for a powerful strike.
While in the air, Percival cannot strike directly below her.
Percival's body armor resembles Blaze's purple coat.
Percival is the only playable character in adventure mode to double-jump (only if there are no enemies present).
Percival's character type is Cavalier, a speed-type style. Blaze is also classified as a Speed-type character.
Percival is the only Knight of the Round Table to hold her blade normally.
Percival's theme is the Vela Nova song from Sonic Rush. Specifically, this version was an extra track in the game soundtrack. Despite being her theme, a different song of unknown origin is played during her encounter with Sonic.
Percival is the only Knight of the Round Table that Sonic charged right into the fight for. This is most likely due to the fact Sonic knew that he needed her sword to defeat King Arthur.
Percival's final weapon, Joyeuse, was once used as the name for Lancelot's sword in the story, "The Once and Future King".
Percival has a blue gem on her helmet in the same place that Blaze has her red jewel on her forehead.
Percival is the first and only knight to show great respect for Sonic as being the first to call him, "Sir Sonic Knight of the Wind", and still refers to him as Sir Sonic while the others just call him Sonic.
Oddly Percival is also the only knight to speak old English such as "Fare thee well" and "Surely you jest!?". Lancelot and Gawain can't be heard talking in old English.
Percival is the only Arthurian that Sonic never refers to by her real-world counterpart. He calls Lancelot and the Blacksmith by name, notes Gawain's similarities to Knuckles, and attempts to flee from Nimue, but never mentions Blaze in any way.

This may be due to Sonic realizing that they weren't their real world counterparts. However, this is never confirmed. However, just like with Lancelot/Shadow, and Gawain/Knuckles, Sonic's interactions with Percival mirror his relationship with Blaze.

Percival is the first and only character in the Sonic the Hedgehog series to blush in a game.
Percival being female is a nod to in some versions of the tale that Percival may have possibly spent some time hiding as a girl at younger ages. This may refer to old stories, where girls disguises themselves as men to join as a member of knights.
References
External links
Percival at Wikipedia, the free encyclopedia.
---
Main article | Script | Staff | Manuals | Glitches | Gallery
Playable characters
Sonic (Excalibur Sonic) | King Arthur | Blacksmith | Lancelot | Gawain | Percival | Galahad* | Lamorak* | Shadow* | Knuckles* | Blaze* | Amy*
Non-playable characters
Caliburn (Excalibur) | Merlina (Dark Queen) | King Arthur's horse | Nimue | Merlin | King Uther Pendragon | Lady Igraine | Sir Ector | Townsperson | Troll
Areas
Grand Kingdom
Camelot Castle | Shrouded Forest | Knight's Passage | Deep Woods | Dark Hollow
Outlands
Misty Lake | Molten Mine | The Cauldron
Highlands
Titanic Plain | Crystal Cave | Great Megalith | Dragon's Lair
Avalon
Faraway Avalon
Enemies
Crawling-One | Eyeball-One | Fish-One (Red, Blue, Yellow, Purple, White) | Flapper | Giant-One | Soldier-One (Sword, Spear, Axe, Crossbow)
Bosses
Mist Dragon | King Arthur | Lancelot | Gawain | Percival | Earth Dragon | Dark Queen
Moves/
Techniques
Basic
Guard | Homing Dash | Jump Dash | Lock-on
Special
Back Step | Crouch | Grind Step | Grinding | Wall Climb | Wall Shuffle | Wall Slide
Soul Surges
Arthur's Soul Surge | Blacksmith's Soul Surge* | Chaos Punishment | Excalibur Sonic's Soul Surge | Flames of Kilekion | Gail Meteor | Galahad's Soul Surge* | Rose Typhoon* | Sonic's Soul Surge
Gimmicks and obstacles
Bat | Bottomless pits | Breakable Block | Butterfly | Corner Pole | Dash Panel | Explosion Trap | Giant spear | Goal Plate | Grind Rail | Horse-Drawn Wagon | Iron ball | Jump Panel | Log | Minecart | Mushroom | Mystery Circle | Slime | Spikes | Spring | Thunder dragon | Wide spring
Items
Apple | Black onyx | Fairy | Goal Ring | Rich Ring | Ring | Ring Container | Treasure Chest | Will 'o Wisps
Treasury
Weapons
Steel Longsword | Cursed Longsword | Rusty Longsword | Bronze Longsword | Katana | Cursed Dagger | Rusty Dagger | Bronze Dagger | Steel Dagger | Cursed Rapier | Rusty Rapier | Bronze Rapier | Steel Rapier | Cursed Spear | Rusty Spear | Bronze Spear | Steel Spear | Cursed Axe | Rusty Axe | Bronze Axe | Steel Axe
Armor
Steel Gauntlet | Cursed Gauntlet | Rusty Gauntlet | Bronze Gauntlet | Cursed Helmet | Rusty Helmet | Bronze Helmet | Steel Helmet | Samurai Helmet
Necklaces
String of Pearls | Mermaid's Tear | Pendant of Eons | Chain Bracelet | Thorn Anklet | Flower Amulet | Wooden Belt | Bright Red Ribbon | Expensive Broach | Rabbit's Tail | Poison Broach | Stone Broach | Ice Broach | Cure-all Broach
Medicines
Healing Potion | Healing Draught | Antidote | Superior Antidote | Paralysis Cure | Paralysis Immunity | Stone Protection | Petrification Immunity | Vial of Calm | Philter of Tranquility | Fiery Quaff | Hot Fiery Quaff | Herb of Toughness | Herb of Strength
Books
Arthur's Legend 1 | Arthur's Legend 2 | Arthur's Legend 3 | Arthur's Legend 4 | Arthur's Legend 5 | Tome of Arms | Tome of Armor | Tome of Medicines | Tome of Amulets | Tome of Games | Tome of Jewels | Tome of Minerals | Tome of Plants | Tome of Feasts | Tome of Rings | Encyclopedia Arcana
Rings
Yellow Ring | Green Ring | Red Ring | Blue Ring | Aqua Ring | White Ring | Purple Ring | Poison Ring | Doughnut | Onion Ring
Plants
Carnation | Violet | Daffodil | Sweetpea | Lily | Rose | Larkspur | Gladiolus | Morning Glory | Marigold | Daisy | Narcissus | Herb
Gem stones
Garnet | Amethyst | Aquamarine | Diamond | Emerald | Moonstone | Ruby | Peridot | Sapphire | Opal | Topaz | Turquoise
Toys
Pawn | Rook | King | Queen | Bishop | Knight | Ace of Spades | Ace of Clubs | Ace of Hearts | Ace of Diamonds | Joker | Medal of Sonic | Medal of Gawain | Medal of Lancelot | Medal of Percival | Dart | Dartboard | Die | Big the Cat Mask | Building Block | Fishing Pole | Doll
Minerals
Stone | Lump of Iron | Lump of Bronze | Aluminum Ore | Skipping Stone | Rock Salt | Beautiful Crystal | Ice Crystal | Lava Jewel | Flintstone | Mintstone | Gold Ingot | Quasi-Magic Stone | Mithril | Hardtack | Burnt Bread | Moonrock | Wavestone | Dragon-Eye Stone | Orichalcum
Foods
Moist Cookie | Tart | Fresh Milk | Spongy Bread | Aromatic Tea | Chilidog | Herb of Calm | Lollipop | Ham
Special items
Flag | Ballista Arrowhead | Raven's Feather | Mouse Tail | Oar | Lantern | Broken Trap | Egg | Cheese | Magical Moth Dust | Plant Thorn | Giant Flower Seed | Troll's Eyelash | Broken Lock | Rabbit Fur | Lizard Tail | Prison Key | Iron Shackle | Highland Mushroom | Silk Clothing | Silk Shoe | Dragon Scale | Dragon Claw | Dragon's Fang | Shovel | Pickaxe | Wheelbarrow | Bat's Fang | Broken Brick | Soft-Boiled Egg | Lithograph | Letter
Swords
Clarent | Arondight | Rubious | Morglay | Gastiga | Secace | Altachiara | Durendal | Aduro Cutlass | Aduro Khopesh | Precieuse | Espadon | Ddraig Goch | Galatine | Battleaxe | Labrys | Hauteclaire | Gringolet | Balmung | Sanglamore | Chrysaor | Almace | Caledfwlch | Flaming Kopis | Flamberge | Laevatein | Corrougue | Colada | Ktuga | Brinnig | Solais Rapier | Claiomh Solais | Fragarach | Curtana | Ignis Fleuret | Glorious | Joyeuse
Misc.
Mastery Star | Music Notes | Map | Knight's Banner | Painting | Emblem Component | Skill Scroll | Knight's Seal | Deadly Swordsman | Windblade | Destroyer | Quickblade | Blade without Equal | Despised One | Chicken | Weakling | Coward | Ruffian
English voice actors
Jason Griffith (Sonic, Shadow, Lancelot, Lamorak) | Casey Robertson (Caliburn) | Melissa Hutchison (Merlina) | Gavin Hammon (Arthur) | Amy Palant (Blacksmith) | Lisa Ortiz (Amy, Nimue) | Dan Green (Gawain, Knuckles) | Bella Hudson (Percival, Blaze) | Pete Capella (Galahad)
Japanese voice actors
Jun'ichi Kanemaru (Sonic) | Hiroaki Hirata (Caliburn) | Mamiko Noto (Merlina) | Hidekatsu Shibata (Arthur) | Ryō Hirohashi (Blacksmith) | Taeko Kawata (Amy, Nimue) | Kouji Yusa (Shadow, Lancelot) | Nobutoshi Canna (Gawain, Knuckles) | Nao Takamori (Percival, Blaze) | Daisuke Ono (Galahad) | Daisuke Kishio (Lamorak)
Music
Songs
Knight of the Wind | With Me | Fight the Knight | Through the Fire | Live Life
Albums
Tales of Knighthood: Sonic and the Black Knight Original Soundtrax | Face to Faith: Sonic and the Black Knight Vocal Trax
Other
Acts of Chivalry | Barrier stone | Battle Mode | Cavalier Style | Chaos Blast | Chaos Control | Chaos Spear | Diehard Challenge | Dragon | Drifting | Followers | Freeze | Hit | King Arthur and the Knights of the Round Table | Knight Style | Knight's Honor Bonus | Knights of the Round Table | Knights of the Underworld | Legacy Mission | Paladin Style | Rank | Real-Time Interaction | Reflecting pool | Sacred sword | Scabbard of Excalibur | Skill | Sonic Knight In Training | Sonic and the Black Knight (manga) | Soul Gauge | Soul Gauge energy | Title | Underworld | World of Camelot

"*" Appears exclusively in Battle Mode.