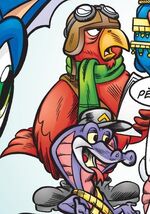 Sir Peckers was a Mobian woodpecker who wore an aviator cap and scarf that appears in the Sonic the Hedgehog comic series published by Archie Comics.
He was a member of the Original Freedom Fighters who founded Knothole as the secret base.
History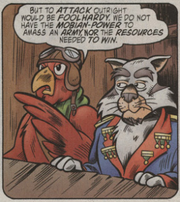 Sir Peckers agreed with Tig Stripe that their group lacked the proper resources necessary to fight a full scale war against Dr. Ivo Robotnik's empire. They later agreed that "Hit and Run" tactics were the best way to fight a war. Sir Peckers was also the one who flew to other areas of Mobius to spread the word of their organization and to rally up other Mobians to oppose Robotnik's rule. Sir Peckers was roboticized along with the rest of the group after Trey Scales betrayed them. Their roboticized bodies were then banished to the Zone of Silence. (StH: #142, #143)
External links
Community content is available under
CC-BY-SA
unless otherwise noted.