I am Lancelot, King Arthur's closest and most trusted Knight. I am also the greatest of all the Knights of the Round Table. I shall strike down all that dare do harm to my king.

— Sir Lancelot,
Sonic and the Black Knight
Sir Lancelot (ランスロット, Ransurotto?) is a character that appears in the Sonic the Hedgehog series. He is an anthropomorphic hedgehog and the alternate reality doppelgänger of Shadow the Hedgehog from the world of Camelot. He is a member of the Knights of the Round Table, a group of knights in the service of King Arthur. Both as quick as Sonic and just as headstrong, Lancelot is the mightiest of the Knights of the Round Table, as well as the one closest to King Arthur himself. He wields the legendary sacred sword Arondight.
History
Sonic and the Black Knight
Lancelot, along with his fellow knights Sir Gawain and Sir Percival, was ordered by King Arthur to eliminate Sonic the Hedgehog when he arrived into their world. Lancelot was the first knight Sonic fought, and it was later mentioned by Sonic's sword, Caliburn, that Sonic defeated Lancelot by mere luck. This is somewhat supported by the fact that after beating the game, Lancelot can be fought again. In that fight, he is much harder, being faster than before and wielding chaos powers, and still retaining the dialogue Sonic, Lancelot and Caliburn used in the original fight, as if this was really the fight itself.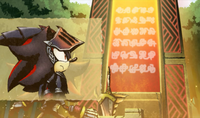 After King Arthur turned out to be an illusion created by Merlin years ago and that it was all a plot orchestrated by Merlina, Lancelot, along with the other knights, set off to use the sacred swords to defeat Merlina. After the four swords formed a barrier around the castle and Sonic defeated Merlina, Caliburn revealed that Sonic was the true King Arthur of this world, and Lancelot, along with Gawain and Percival, bowed to Sonic before he went back to his own world.
Powers and abilities
Lancelot is widely regarded as the strongest member of the Knights of the Round Table,[2] presumably only second or equal to King Arthur himself, and is a knight of the highest skill and power.
Like most other characters in the series, Lancelot can move at super speeds which is an innate talent that members of the hedgehog species possess.[3] Noted to be just as quick as Sonic,[2] Lancelot can move at supersonic speeds, even nearing that of hypersonic speeds. Additionally, Lancelot is also quite acrobatic, being able to execute both swordplay and tricks while in midair.
Much like his alternate reality counterpart, Lancelot is naturally able to perform various chaos powers. Chaos powers he can perform include the Chaos Spear, where he forms energy bolts in midair or fire them from his choice of sword or palm at his opponents, and the Chaos Blast, a shockwave of chaos energy that decimates everything around him. He is also able to perform Chaos Control without the need of a Chaos Emerald, which lets him bend time and space to his will, allowing Lancelot to warp across space and stop time.
As a member of the Knights of the Round Table, Lancelot is a master of swordsmanship. In battle, Lancelot specializes in a balanced style of swordplay that focuses on speed and power, where Lancelot uses quick sword slashes combined with wide and momentum-fueled swipes for additional force upon impact. Combined with his athleticism, Lancelot can spin horizontally around in the air while swinging his sword, creating stronger sword slashes.
Weapons
Lancelot primarily wields swords similar to Longswords which are either single-or double-edged. When using them, Lancelot wields them with a backhand grip and can channel his Chaos Spears through them with a swing of his blade. However, his preferred weapon of choice is Arondight, one of the legendary sacred swords, which is said to never lose its edge.
Relationships
Sir Gawain
Sir Gawain is one Lancelot's fellow knights amongst the Knights of the Round Table in the service of King Arthur. Though brothers-in-arm, the two are rivals.[4]
In other media
Archie Comics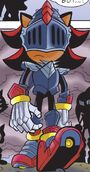 In the Sonic the Hedgehog comic series and its spin-offs, Sir Lancelot appeared in the comics' adaptation of Sonic and the Black Knight. In this media, he is a being from another Zone connected to the reality of the In Another Time, In Another Place reality.
Like in the game, Lancelot was given the mission to find and slay Sonic and Merlina by King Arthur, which Lancelot set out on without hesitation.
Real world background
Lancelot is one of the greatest knights of the Round Table from the Arthurian legends. Although he is King Arthur's trusted friend and ally, his affair with Arthur's wife Guinevere eventually leads to civil war and the fall of Camelot.
Lancelot was the son of King Ban of Benwick and Elaine. However, Lancelot was raised by Nimue, a fairy woman. For this reason he was known as Lancelot du Lac, or Lancelot of the Lake (this is referenced in Sonic and the Black Knight by his title, Knight of the Lake). Also, Lancelot's first sword, Arondight was forged by Nimue Lady of the Lake from the stars themselves. Lancelot becomes a Knight of the Round Table and begins an affair with Queen Guinevere. A woman named Elaine of Corbenic falls in love with Lancelot and tricks him into believing that she is Guinevere so that she can sleep with him. From this union, Elaine gave birth to Lancelot's son, Sir Galahad.
Eventually, Lancelot and Guinevere's affair is exposed, and Guinevere is sentenced to death. Lancelot saves her, but in the process killed Gawain's brothers, Gareth and Gaheris (and, in some tellings, Agravain). This turned Gawain and Lancelot into enemies, and split the Round Table, with some knights joining Lancelot and some joining Gawain, leading to a civil war. (In the game, Merlina mentions "Lancelot and Gawain's Rift" in the cutscene before the final battle, in reference to this tale.)
Quotes
"The king's orders are absolute, Gawain."
—Lancelot to Sir Gawain when Gawain questions the King's orders.
"I have found you, apprentice knight, enemy of my King!"
—Lancelot's first words during Sonic's first encounter with Lancelot.
"I am Lancelot, Knight of the Round Table. I challenge you to a duel!"
—Lancelot introducing himself in the first fight against Sonic.
"What shall it be? Will you abandon your sword and flee?"
—Lancelot when beginning to fight Sonic.
"Very well, then! Brace yourself, Knave the Hedgehog!"
—Lancelot after Caliburn tells him that Sonic's name is Knave.
"Now we shall see what you can do."
— Entering into battle against Sonic.
"Knave the Hedgehog, eh? A fitting name, I'd say."
—Lancelot teasing Sonic.
"Are you truly a knight? You seem more like a court jester."
—Lancelot fighting Sonic.
"I was far too careless. Tsk..."
—Lancelot after losing to Sonic after their first fight.
"I thought I was the Ultimate Knight..."
—Lancelot after losing to Sonic after their second fight.
"We have orders from the king. Have you any last words?"
— Lancelot to Merlina the Wizard.
"For the kingdom and its people!"
—Lancelot and Gawain when they retrieve their swords.
"Anyone who can remain hidden from me can rightfully boast a great deed."
—When starting a "find the hidden fairies" mission.
"Time to fly!"
—During the "Reach the Goal" mission in the Shrouded Forest.
"There is nothing that I cannot do."
—While fighting during a mission in Great Megalith.
"A stone? In the Dragon's lair?!"
— When starting the "Reach the Goal" mission for the Dragon's Lair.
"A battle against a dragon? This is going to be interesting indeed."
—After encountering the dragon in the Dragon's Lair.
"Ultimate victory!!"
—Receiving five mastery stars in a mission.
Trivia
Lancelot is the only character in the game that wields a sword in a reverse grip.
Lancelot calls himself the Ultimate Knight, similar to how Shadow calls himself the Ultimate Life Form.
Ddraig Goch, one of Lancelot's weapons, is Welsh for "the Red Dragon" which is the Welsh flag.
Lancelot uses Hover shoes like Shadow (shown in the cutscene before Knight's Passage and during gameplay), despite the Grand Kingdom seeming to lack high technology.
Lancelot is the only Knight of the Round Table who drops his sword upon being defeated by Sonic and Caliburn.
Lancelot seems to have more manners and honor than Shadow does.
When Lancelot skates slowly, his flames are gray, but become gold/yellow while moving faster.
Lancelot is the only knight when after being defeated, does not show a cutscene that he is defeated.
When the player fights Lancelot a second time, he uses abilities that can only be used with his final sword, Ddraig Goch, but if the player looks closely, he is still using Arondight.
Jazwares made a Sir Lancelot figure more than three years after the release of Sonic and the Black Knight.
References
External links
Lancelot at Wikipedia, the free encyclopedia.
---
Main article | Script | Staff | Glitches | Gallery
Playable characters
Sonic (Excalibur Sonic) | King Arthur | Blacksmith | Lancelot | Gawain | Percival | Galahad* | Lamorak* | Shadow* | Knuckles* | Blaze* | Amy*
Non-playable characters
Caliburn (Excalibur) | Merlina (Dark Queen) | King Arthur's horse | Nimue | Merlin | King Uther Pendragon | Lady Igraine | Sir Ector | Townsperson | Troll

Areas

Grand Kingdom
Camelot Castle | Shrouded Forest | Knight's Passage | Deep Woods | Dark Hollow
Outlands
Misty Lake | Molten Mine | The Cauldron
Highlands
Titanic Plain | Crystal Cave | Great Megalith | Dragon's Lair
Avalon
Faraway Avalon
Enemies
Crawling-One | Eyeball-One | Fish-One (Red, Blue, Yellow, Purple, White) | Flapper | Giant-One | Soldier-One (Sword, Spear, Axe, Crossbow)
Bosses
Mist Dragon | King Arthur | Lancelot | Gawain | Percival | Earth Dragon | Dark Queen
Moves/
Techniques
Basic
Guard | Homing Dash | Jump Dash | Lock-on
Special
Back Step | Crouch | Grind Step | Grinding | Wall Climb | Wall Shuffle | Wall Slide
Soul Surges
Arthur's Soul Surge | Blacksmith's Soul Surge* | Chaos Punishment | Excalibur Sonic's Soul Surge | Flames of Kilekion | Gail Meteor | Galahad's Soul Surge* | Rose Typhoon* | Sonic's Soul Surge
Gimmicks and obstacles
Bat | Bottomless pits | Breakable Block | Butterfly | Corner Pole | Dash Panel | Explosion Trap | Giant spear | Goal Plate | Grind Rail | Horse-Drawn Wagon | Iron ball | Jump Panel | Log | Minecart | Mushroom | Mystery Circle | Slime | Spikes | Spring | Thunder dragon | Wide spring
Items
Apple | Black onyx | Fairy | Goal Ring | Rich Ring | Ring | Ring Container | Treasure Chest | Will 'o Wisps
Treasury
Weapons
Steel Longsword | Cursed Longsword | Rusty Longsword | Bronze Longsword | Katana | Cursed Dagger | Rusty Dagger | Bronze Dagger | Steel Dagger | Cursed Rapier | Rusty Rapier | Bronze Rapier | Steel Rapier | Cursed Spear | Rusty Spear | Bronze Spear | Steel Spear | Cursed Axe | Rusty Axe | Bronze Axe | Steel Axe
Armor
Steel Gauntlet | Cursed Gauntlet | Rusty Gauntlet | Bronze Gauntlet | Cursed Helmet | Rusty Helmet | Bronze Helmet | Steel Helmet | Samurai Helmet
Necklaces
String of Pearls | Mermaid's Tear | Pendant of Eons | Chain Bracelet | Thorn Anklet | Flower Amulet | Wooden Belt | Bright Red Ribbon | Expensive Broach | Rabbit's Tail | Poison Broach | Stone Broach | Ice Broach | Cure-all Broach
Medicines
Healing Potion | Healing Draught | Antidote | Superior Antidote | Paralysis Cure | Paralysis Immunity | Stone Protection | Petrification Immunity | Vial of Calm | Philter of Tranquility | Fiery Quaff | Hot Fiery Quaff | Herb of Toughness | Herb of Strength
Books
Arthur's Legend 1 | Arthur's Legend 2 | Arthur's Legend 3 | Arthur's Legend 4 | Arthur's Legend 5 | Tome of Arms | Tome of Armor | Tome of Medicines | Tome of Amulets | Tome of Games | Tome of Jewels | Tome of Minerals | Tome of Plants | Tome of Feasts | Tome of Rings | Encyclopedia Arcana
Rings
Yellow Ring | Green Ring | Red Ring | Blue Ring | Aqua Ring | White Ring | Purple Ring | Poison Ring | Doughnut | Onion Ring
Plants
Carnation | Violet | Daffodil | Sweetpea | Lily | Rose | Larkspur | Gladiolus | Morning Glory | Marigold | Daisy | Narcissus | Herb
Gem stones
Garnet | Amethyst | Aquamarine | Diamond | Emerald | Moonstone | Ruby | Peridot | Sapphire | Opal | Topaz | Turquoise
Toys
Pawn | Rook | King | Queen | Bishop | Knight | Ace of Spades | Ace of Clubs | Ace of Hearts | Ace of Diamonds | Joker | Medal of Sonic | Medal of Gawain | Medal of Lancelot | Medal of Percival | Dart | Dartboard | Die | Big the Cat Mask | Building Block | Fishing Pole | Doll
Minerals
Stone | Lump of Iron | Lump of Bronze | Aluminum Ore | Skipping Stone | Rock Salt | Beautiful Crystal | Ice Crystal | Lava Jewel | Flintstone | Mintstone | Gold Ingot | Quasi-Magic Stone | Mithril | Hardtack | Burnt Bread | Moonrock | Wavestone | Dragon-Eye Stone | Orichalcum
Foods
Moist Cookie | Tart | Fresh Milk | Spongy Bread | Aromatic Tea | Chilidog | Herb of Calm | Lollipop | Ham
Special items
Flag | Ballista Arrowhead | Raven's Feather | Mouse Tail | Oar | Lantern | Broken Trap | Egg | Cheese | Magical Moth Dust | Plant Thorn | Giant Flower Seed | Troll's Eyelash | Broken Lock | Rabbit Fur | Lizard Tail | Prison Key | Iron Shackle | Highland Mushroom | Silk Clothing | Silk Shoe | Dragon Scale | Dragon Claw | Dragon's Fang | Shovel | Pickaxe | Wheelbarrow | Bat's Fang | Broken Brick | Soft-Boiled Egg | Lithograph | Letter
Swords
Clarent | Arondight | Rubious | Morglay | Gastiga | Secace | Altachiara | Durendal | Aduro Cutlass | Aduro Khopesh | Precieuse | Espadon | Ddraig Goch | Galatine | Battleaxe | Labrys | Hauteclaire | Gringolet | Balmung | Sanglamore | Chrysaor | Almace | Caledfwlch | Flaming Kopis | Flamberge | Laevatein | Corrougue | Colada | Ktuga | Brinnig | Solais Rapier | Claiomh Solais | Fragarach | Curtana | Ignis Fleuret | Glorious | Joyeuse
Misc.
Mastery Star | Music Notes | Map | Knight's Banner | Painting | Emblem Component | Skill Scroll | Knight's Seal | Deadly Swordsman | Windblade | Destroyer | Quickblade | Blade without Equal | Despised One | Chicken | Weakling | Coward | Ruffian
English voice actors
Jason Griffith (Sonic, Shadow, Lancelot, Lamorak) | Casey Robertson (Caliburn) | Melissa Hutchison (Merlina) | Gavin Hammon (Arthur) | Amy Palant (Blacksmith) | Lisa Ortiz (Amy, Nimue) | Dan Green (Gawain, Knuckles) | Bella Hudson (Percival, Blaze) | Pete Capella (Galahad)
Japanese voice actors
Jun'ichi Kanemaru (Sonic) | Hiroaki Hirata (Caliburn) | Mamiko Noto (Merlina) | Hidekatsu Shibata (Arthur) | Ryo Hirohashi (Blacksmith) | Taeko Kawata (Amy, Nimue) | Kouji Yusa (Shadow, Lancelot) | Nobutoshi Canna (Gawain, Knuckles) | Nao Takamori (Percival, Blaze) | Daisuke Ono (Galahad) | Daisuke Kishio (Lamorak)

Music

Songs
Knight of the Wind | With Me | Fight the Knight | Through the Fire | Live Life
Albums
Tales of Knighthood: Sonic and the Black Knight Original Soundtrax | Face to Faith: Sonic and the Black Knight Vocal Trax
Other
Acts of Chivalry | Barrier stone | Battle Mode | Cavalier Style | Chaos Blast | Chaos Control | Chaos Spear | Diehard Challenge | Dragon | Drifting | Followers | Freeze | Hit | King Arthur and the Knights of the Round Table | Knight Style | Knight's Honor Bonus | Knights of the Round Table | Knights of the Underworld | Legacy Mission | Paladin Style | Real-Time Interaction | Reflecting pool | Sacred sword | Scabbard of Excalibur | Skill | Sonic Knight In Training | Sonic and the Black Knight (manga) | Soul Gauge | Soul Gauge energy | Title | Underworld | World of Camelot

"*" Appears exclusively in Battle Mode.
Community content is available under
CC-BY-SA
unless otherwise noted.