Template:Remodeling
Template:Infobox Comic Character

Silver the Hedgehog is a character in Sonic the Hedgehog by Archie Comics. He is a white hedgehog with powerful psychic abilities who hails from the future. Silver first debuted in the "Bold New Moebius" arc, in which he was hunting down Sonic.
Past
While Silver's past remains mostly a mystery, small bits have been revealed at this point. Silver practices his telekinetic abilities by slowly rebuilding his world. His powers aren't strong enough to be of major help, though, so he sticks to minor things.[1] Silver has stated that he doesn't know many people. He mentioned two: his master and the guardian of Onyx Island.[2] Silver has said that there are only a small amount of survivors in his future, and that he has time-traveled on at least two occasions. He says that he'll risk everything to save the world.[3] Silver has also explained that his master has taught him all about time-travel, and its risks. He believes that stoping a traitor within the Freedom Fighters will have big changes for his time.[4] Silver also stated that his mentor has taught him about Metal Sonic's,[5] as well as helping him to train his powers.[6]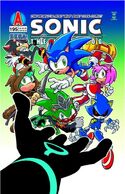 Silver used a
Super Warp Ring
over
Never Lake
, in
Mercia
to travel back in time 200 hundred years. Silver hovers over the lake, with
Rob'O the Hedge
preparing to attack him, however, before Rob attacks, Silver asks him if he's
Sonic
, to which Rob acts surprised, and lowers his weapon. Rob says he isn't but can take Silver to him.
[7]
Silver then explains who he is, and that he needs to find Sonic, to save the future.
[8]
Silver flies over to Rob, and his wife,
Mari-An
, and double-checks about Sonic with Rob. Rob tells Silver that Sonic lives in
New Mobotropolis
, and is probably in
Freedom HQ
. Silver says that they can use his Super Warp Ring to get to Sonic. He tells Rob to think about Freedom HQ, and while touching the Super Warp Ring, to get to Freedom HQ.
[9]
Silver, and Rob pop in during a fight between
Sally
and
Alicia
, preventing it from getting worse. Silver begins scanning the area for Sonic. Sally mentions to Rob that Sonic, and
Amy
are in
Moebius
.
[10]
Silver familiarly questions them being in Moebius, as he touches the
Starpost
. Silver connects his Super Warp Ring to the Starpost, and transports himself, with Rob to Moebius.
[11]
The two then transport between a fight with Sonic,
Scourge
,
Metal Sonic
, and
Shadow
.
[12]
Silver angrily remarks that Moebius hasn't changed. As Amy and
Rosy
show up, Silver then ponders which of the several hedgehogs is Sonic.
[13]
Though, before he's heard, an all-out battle begins to take place between them all, leaving Silver in astonishment.
[14]
Silver walks up to Rob, and tries asking him, but is not heard, due to the fact that Rob is busy fighting Metal Sonic. He then tries asking Amy and Rosy, but again, is ignored. After several other attempts, Silver goes crazy, and traps everyone with his telekinesis, yelling at them.
[15]
Silver tries to introduce himself, but is rudely cut off by Sonic. Silver angrily replies, stating that he had come from the future, to find, and destroy Sonic. Sonic, and Scourge point fingers at each other being Sonic. During their bickering, Silver recognizes Metal Sonic, and notices that he's blue, like a certain "Other" hedgehog. Silver figures out who Sonic is, and throws him against the wall, calling him a traitor.
[16]
Rob sneaks up behind Silver, raising his bow & arrow to his head, saying that he doesn't want to hurt him. Silver then insists that Rob should want him to kill Sonic. Silver proceeds to explain that within this time-line, a
Freedom Fighter
becomes a villain, and destroys Silver's future. He then states that only Sonic is capable of such a thing. Rob then places doubt within Silver, and says that Sonic is known for being a hero, just as Sonic rescues Amy from Rosy.
[17]

Scourge then sneak attacks Silver, and Rob, spin-dashing Silver into a wall, compliments his telekinesis, while insulting his hair.
[18]
After Silver, and Rob help each other back up, Sonic asks everyone to help him defeat Scourge, then finish business with Silver. Silver agrees, and everyone gangs up on Scourge.
[19]
As Scourge makes a break for it, Silver joins the attack, and launches debris at Scourge, using his telekinesis.
[20]
Later Silver, and the others are all defeated by
Super Scourge
, and knocked out cold.
[21]
After back-up arrives, and is mostly defeated, Silver regains consciousness, and attempts to trap Super Scourge with his telekinesis, saving
Miles
. Super Scourge sarcastically compliments Silver's attempt, leaving him flattered. Super Scourge then escapes, much to Silver's amazement.
[22]
Sally later demands Silver to attempt the same strategy,
[23]
while she has everyone else attack. Silver begins to slowly lose his grip on Super Scourge during the plan,
[24]
as the villain uses a sort of energy burst knocking everyone away.
[25]
A day later, after Scourge's defeat, Silver grimly heads back with Sonic & Co. to
Dr. Kintobor
's tower.
[26]
Once there, Sonic asks Silver if they're friends yet, or if he wants to start another fight. Silver pulls out his Super Warp Ring, and says that he has more research to do, before he finds the real traitor, and vows that he'll come back to protect the heroes. Silver then leaves, saying that they'll meet again, as Sonic sarcastically tells Silver to enjoy his "Dystopian future".
[27]
Return 30 Years Later
Silver kept his promise and found his way into the
Mobius: X Years Later
dimension, thirty years after his first encounter with Sonic. During the celebration for
King Sonic
and
Queen Sally
, the
Dark Presence
's leader,
Lien-Da
fired a missile at the royal family. Before the missile could destroy the king and queen along with their children, however,
Silver arrived just in time and used his telekinesis to destroy the missile and save them all, telling King Sonic that he returned to attempt to save his future once again. He later explained to them at
Castle Mobius
that he believed that now was the time when his future would be plunged into chaos, and says that the Dark Presence are likely connected to it, and Sonic says that he should be searching for
King Shadow
's former right-hand woman, Lien-Da. After talking about expecting something different from this time he is flattered by the maid who is a Dark Presence agent and gasses Silver. The maid is then gassed by Sonic, and Sally takes Silver to the Panic Room with Manic and Sonia.
Silver wakes up after being gassed and sees Perfect Tikhaos damaging the city. Silver explains how his future was destroyed by a global sea that seems to have a grudge that was Perfect Tikhaos from this time. Silver attempts to destroy Perfect Tikhaos along with the Future Freedom Fighters and King Sonic. After the defeat of Perfect Tikhaos, by Sonia, Manik and Lara-Su, Silver explains that the crisis has been averted from this time period. He mentions to King Sonic about a freedom fighter betraying the team, but King Sonic doesn't know. Silver then uses chronos control and heads back to the future.
Trivia
Even though, Silver can time travel in the game series, it doesn't exactly show how (Although Sonic 2006 had Silver traveling into the past with Mephiles or by using a simultaneous Chaos Control with Shadow and Sonic [to learn the truth ten years prior to the events and to help Sonic travel to the past as well

as have himself and Blaze return to their time, respectively.]) In the comics, he time travels using a Super Warp Ring.[31][32]
In Sonic Universe 8, Silver heads back to the future but doesn't use a Super Warp Ring. He, insteads uses a Time Stone to cause Chronos Control. It was confirmed a Time Stone by StH #215.
Refernces
External Links