No Man's Sky Update - The Loop
Play Sound
| | |
| --- | --- |
| | Information in this article may not be canonical to the storyline of the games or any other Sonic continuity. |
The Shriek-Bot[1] is an object that appears in the Sonic the Hedgehog television series. It is a fighter jet created by Dr. Robotnik that uses virtual reality controls.
Description
Appearance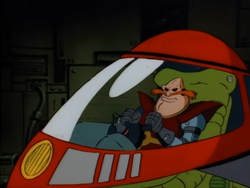 The Shriek-Bot takes the form of a navy blue jet with numerous rear engines. It also has a gray cockpit-like section on the front, making it look like it can be piloted from there (which is not the chase). Its real cockpit is a red cockpit simulator with a black windshield that is installed into Dr. Robotnik's war room. When operated by Dr. Robotnik, his face appears on the Shriek-Bot's windshield.
Features and abilities
The Shriek-Bot is capable of flight and shooting blue lasers. Thanks to its numerous jet engines, it can also achieve extraordinary speeds; supposedly, it can even overtake Sonic when he is not using a Power Ring to bolster his speed.[1]
While it has a cockpit that can seemingly be used to control it remotely, it can also be piloted from a simulator in Dr. Robotnik's war room using virtual reality.[1]
History
TV series
Season two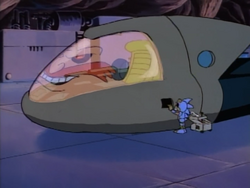 Having been building it for some time, Snively soon announced to Dr. Robotnik that his Shriek-Bot was ready for a test flight. Meanwhile, Sonic and Sally were walking through the Shriek-Bot's hangar, and Sally feared that the Shriek-Bot might turn out to be faster than Sonic. When Sonic noticed his roboticized Uncle Chuck working on the Shriek-Bot, he tried to approach him. However, as soon as Snively noticed Sonic over the surveillance, Robotnik ordered the Shriek-Bot to be activated. Robotnik proceeded to take control of the Shriek-Bot and had it fire at Sonic. As Sonic ran away with Sally, the Shriek-Bbot flew after them, and even managed to close in on Sonic. However, Sonic soon pulled out a Power Ring, which he used to escape the Shriek-Bot, which entered some turbulence in the wake of Sonic's escape. Afterward, it returned to its hangar. Soon after, Snively started adding more thrusters to the Shriek-Bot so that it could be faster than Sonic. While Chuck was working on the Shriek-Bot however, Sonic snuck into its hangar and restored his free will with a Power Ring so he could take Chuck to Knothole Village. Sometime later, Robotnik took the enhanced Shriek-Bot out a second time when Sonic appeared to have been captured by Chuck in Robotropolis. As the Shriek-Bot arrived though, Sonic began to run away from it. Eventually, Sonic managed to escape into a narrow passage between two buildings. Having no time to slow down, the Shriek-Bot crashed into the buildings, its cockpit being the only thing that got through the passage, much to Robotnik's anger.[1]
References