Hailing originally from Metropolis Zone, Shellcracker has returned to make Sonic lose as many rings as possible, if not finish him off entirely. Watch out as this Badnik's main weapon is a quick-moving claw that packs a serious punch!

— Profile, Sonic the Hedgehog 4: Episode I website
Shellcracker[1] (カニパンチ[2] Kani Panchi?, lit. "Crab Punch"),[3] or Shellcraker,[4][5] is an enemy from the Sonic the Hedgehog series which first appeared in Sonic the Hedgehog 2. They are crab-based Badnik models created by Dr. Eggman which look similar to Crabmeats, although they have distinctive attack patterns.
Appearance
Shellcrackers are based on red fiddler crab. They have a red and white carapace with a white abdomen, two pair of white legs and a pair of eyestalks with large yellow eyes. Shellcrackers also have two different-sized red claws. The left claw is tremendous and has three spikes adorning the upper joint, while right one is much smaller. For the original models, the left claw was connected to the Shellcrakers' body with four orbs.
The Shellcrackers' design in Sonic the Hedgehog 4 received a few changes changes. In this series, they have blue feet joints and the lower section of their claws are yellow on the outside and grey inside.
Game appearances
Sonic the Hedgehog 2

Shellcrackers made their first appearance in Sonic the Hedgehog 2 where they were known as Shellcrakers. In this game, they appear only in the Metropolis Zone where they walk back and forth slowly, while also blocking the narrow paths to the High-speed elevator. They can attack with punches by extending their spiked claws out at nearby opponents. The player can destroy these Badniks by Spin Jumping on them from above or behind, but they have to be very precise with their aim; their large claws often block their hitboxes from the front.
Sonic Pocket Adventure

In Sonic the Hedgehog Pocket Adventure, Shellcrackers appear in Gigantic Angel Zone. They behave and attack in the same manner as they did previously in Sonic the Hedgehog 2.
Sonic the Hedgehog 4
In Sonic the Hedgehog 4: Episode I, this Badnik is referred as the Shellcracker and appear appears in Mad Gear Zone. Despite having an upgraded design, Shellcrackers behave like they did in Sonic the Hedgehog 2. Shellcracker's claw attack is also now easier to predict, as it raises its left claw before thrusting its right one.
In other media
Archie Comics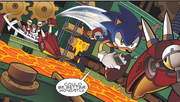 In the Sonic the Hedgehog comic series and its spin-offs published by Archie Comics, Shellcrackers were guarding the Metropolis Zone during Operation: Clean Sweep. When Sonic the Hedgehog ventured through the base, he came across several Shellcrackers
After the Super Genesis Wave rebooted the timeline, Shellcrackers became nearly identical to their game counterparts. In this reality, they are Badniks stationed in the Metropolis Zone and are used by the Metropolis Egg Army.
Powers and abilities
As Shellcracker's right claw is large, extendable and spiky, it thrusts this claw at Sonic or Tails to punch them when they come into its range. This Badnik is quite deadly; it can easily injure the player when they least expect it, and its placements in Sonic the Hedgehog 2 are rather unavoidable. The best way to defeat this Badnik is to jump above it and Spin Attack into its unprotected side which has smaller claw and lacks the defense.
Trivia
In Sonic the Hedgehog 2, Shellcraker can sometimes, for an odd reason, disappear from certain places where they should be in Metropolis Zone. This can also happen to the Slicer.
Especially with regards to having one large claw, Shellcraker Badniks appear to be based on fiddler crabs.
Like Slicers, the Sonic the Hedgehog 4 website points out their annoyance because of their placement and attack pattern in Sonic the Hedgehog 2.
Gallery
Artwork
Screenshots
References
---
Main article | Gallery | Staff | Glitches (Knuckles in Sonic 2) | Prereleases (Nick Arcade | Simon Wai) | Re-releases (2006 | 2013 | Sega Ages) | Knuckles in Sonic 2
Characters
Sonic (Super Sonic, Glitch Sonic) | Tails (Super Tails**) | Knuckles (Super Knuckles) | Dr. Robotnik | Animals (Becky, Cucky, Flicky, Pocky, Pecky, Cucky, Ricky, Picky, Rocky, Locky, Wocky, Micky, Tocky)
Badniks
Aquis | Asteron | Balkiry | Banper* | Batbot** | BFish* | Bubbler* | Bubbler's Mother* | Buzzer | Cactus* | Chop Chop | Clucker | Coconuts | Crawl | Crawlton | Flasher | Frog* | Gator* | Gohla | Grabber | Grounder | Jellygnite** | Lobster* | Masher | Nebula | Octus | Rexon | Shellcracker | Slicer | Snail* | Spiker | Spiny | Stegway** | Turtloids | Redz** | Whisp
Zones
Emerald Hill Zone | Chemical Plant Zone | Aquatic Ruin Zone | Casino Night Zone | Hill Top Zone | Mystic Cave Zone | Oil Ocean Zone | Metropolis Zone | Sky Chase Zone | Wing Fortress Zone | Death Egg Zone | Green Hill Zone* | Hidden Palace Zone** | Genocide City Zone* | Dust Hill Zone* | Rock World Zone* | Wood Zone* | Egg Gauntlet Zone** | Boss Attack Zone** | Proto Palace Zone** | Special Stage
Bosses
Drill Eggman | Water Eggman | Tonkachi Eggman | Catcher Eggman | Submarine Eggman | Drill Eggman II | Hidden Palace Zone boss** | Submarine Eggman II | Flying Eggman | Barrier Eggman | Mecha Sonic | Death Egg Robot
Moves/Techniques
Climb | Glide | Insta-Shield** | Propeller Flying | Spin Jump | Super Dash Attack | Super Spin Attack
Items
Air Bubble | Bomb | Booster | Bumper | Capsule | Continue | Fan | Flipper | Iron ball | Jump Panel | Metal nut | Monitor (Super Ring, Shield, Power Sneakers, Invincible, Extra Life, Teleporter, Eggman, Lightning Shield**, Flame Shield**, Random, Water Shield**, S**) | Ring | Signpost | Spring | Spring Catapult | Star Circle | Star Post | Switch
Other
Original Soundtrack | Bumper wall | Cannon | Chaos Emerald | Conveyor Belt | Corkscrew loop | Crusher | Death Egg Robot | Debug Mode | Egg Jet | Giant spear | Gondola | High-speed elevator | High-speed warp tube | Mega Mack | Perfect Bonus | Seesaw | Shuttle loop | Slot machine | Spikes | Stone pillar | Time Attack | Tornado | Totem pole | West Side Island | Winding Tunnel

*Exclusive to the prototype versions of Sonic the Hedgehog 2.
** Exclusive to the 2013 re-release version.
---
| | |
| --- | --- |
| Characters | Sonic | Tails | Animals (Flicky, Pocky, Pecky, Cucky, Picky) | Dr. Eggman | Metal Sonic |
| Enemies | Asteron | Balkiry | Batbot | Bubbles | Burrobot | Buzzer | Chop Chop | Chopper | Clucker | Crawl | Flamer | Fullboar | Jaws | Mantis | Moto Bug | Newtron | Orbinaut (Uni Uni, Unidasu) | Sandworm | Scarabesque | Shellcracker | Slicer | Snowy | Spikes | Steelion | Turtloids | Zoomer |
| Episode II Zones | Sylvania Castle Zone | White Park Zone | Oil Desert Zone | Sky Fortress Zone | Death Egg mk.II Zone | Special Stages |
| Episode Metal Acts | Episode Metal Act 1 | Episode Metal Act 2 | Episode Metal Act 3 | Episode Metal Act 4 |
| Bosses | Egg Serpentleaf | Metal Sonic | Egg Scrap Mech | Metal Carrier | Metal Sonic and Egg Mobile | Metal Sonic | Egg Heart |
| Moves/Techniques | Copter Combo | Propeller Flying | Homing Attack | Rolling Combo | Spin Attack | Spin Dash | Spin Jump | Submarine Combo | Tornado Boost |
| Objects | Air Bubble | Bumper | Capsule | Booster | Chaos Emerald | Flipper | Giant Ring | Item Box (Super Ring, Shield, Power Sneakers, Invincible, Extra Life, Special Combination, Combination Dash) | Ring | Spring | Star Post | Red Star Ring | Spikes | Switch | Signpost |
| Other | Conveyor Belt | Crusher | Death Egg mk.II | Fan | Flip Platform | Little Planet | Level Select | Lost Labyrinth treasure | Platform-raising Wheel | Original Soundtrack (& Episode I) | Strange Relief | Ring Shooter | Stardust Speedway | Shuttle loop | Tails' rocket | Time Attack | Tornado | Totem pole |