You may be looking for Sharps the Chicken.
Sharps the Parakeet[1], also known as Max the Parrot,[2] was a white anthropomorphic parakeet and one of the band members in Sonic the Hedgehog Band, along with Sonic the Hedgehog, Max the Monkey, Mach the Rabbit and Vector the Crocodile. Sharps was originally going to appear as part of the original idea for the Sound Test before being scrapped from the final release of Sonic the Hedgehog.
Overview
During the early development of Sonic the Hedgehog, Sharps was originally meant to be the guitarist of the band. In the early ending sketches from the SEGA Mega Drive/Genesis Collected Works art book, Sharps is shown saving Sonic from falling and sending him back to Green Hill Zone after destroying Dr. Eggman's escape plane. In the same art book, Sharps is revealed to have had more appearances in the game.[3] Like the other band members, he was dropped from the final release due to time constraints.[4]
In other media
Sonic the Hedgehog Story Comic
Sharps, along with Mach and Vector, made a small appearance before the release of the game in Sonic the Hedgehog Story Comic Volume 1, a manga published in Japan.
Archie Comics
In the Sonic the Hedgehog comic series and its spin-offs published by Archie Comics, Sharps appears as the guitarist in Mina Mongoose's band, the Forget Me Knots, along with Max (the bass player) and Mach (the drummer), and has since been a recurring member of her band.
IDW Publishing
In the Sonic the Hedgehog comic series and its spin-offs published by IDW Publishing, Sharps is an inhabitant of Classic Sonic's world.
Trivia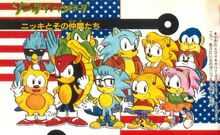 Sharps' original attire consists of red shoes accented with white straps, similar to Sonic's shoes.
In the April 1992 issue of

Shogaku Gonensei

, Sharps appeared alongside Vector, Mighty, Ray, and members of the Sonic the Hedgehog manga cast.[5] His design matches that seen in Naoto Ohshima's concept art of "Sonic's Friends", where he was labelled with the name "Max".[2]
On pages sixty-three and sixty-seven of Sonic the Hedgehog 30th Anniversary Special, Sharps makes two cameo appearances in two different designs, both walking down the sidewalk.
Gallery
References
↑ Keith Stuart (06 November 2014) (in English).

Sega Mega Drive/Genesis: Collected Works

. Read-Only Memory. p. 329. ISBN 978-0957576810. "Naoto Ohshima: The band was comprised of Sonic as lead singer, Vector the Crocodile on the keyboard, Mach the Rabbit on drums, Max the Monkey on bass and Sharps the Parakeet on guitar."
↑ Sonic the Hedgehog 1′s Original Intro & Ending Revealed!. The Sonic Stadium (5 November 2014). Retrieved on 1 May 2015.
↑ Heidi Kemps (30 September 2005). Sega's Yuji Naka Talks!. GameSpy. Retrieved on 1 May 2015.
↑ knnosr on Twitter. Twitter (14 October 2020). Archived from the original on 23 October 2020. Retrieved on 15 October 2020.
---
Playable characters
Sonic (Super Sonic*) | Tails (Super Tails*) | Knuckles* (Super Knuckles*)
Non-playable characters
Dr. Robotnik | Animals (Flicky, Pocky, Pecky, Cucky, Ricky, Picky, Rocky)

Zones

Green Hill Zone | Marble Zone | Spring Yard Zone | Labyrinth Zone | Star Light Zone | Scrap Brain Zone | Final Zone | Special Stages

Enemies

Ball Hog | Batbrain | Bomb | Burrobot | Buzz Bomber | Caterkiller | Chopper | Crabmeat | Jaws | Moto Bug | Newtron | Orbinaut (Uni Uni, Unidasu) | Roller | Spikes | Splats
Bosses
Egg Wrecker | Egg Scorcher | Egg Stinger | Egg Mobile | Egg Spiker | Egg Crusher
Moves/Techniques
Climb* | Crouch | Drop Dash* | Glide* | Insta-Shield* | Propeller Flying* | Spin Attack | Spin Dash* | Spin Jump | Swim*
Gimmicks and obstacles
Bomb | Bumper | Capsule | Chaos Emerald | Color Block | Conveyor Belt | Crusher | Dropping platform | Electric shocker | Elevator | Fan | Fireball | Floating stone | Flywheel | Giant spear | Goal | Goal Plate | Giant Ring | Iron ball | Jump Stand | Lamppost | Reverse | Saw | See-saw | Spikes | Spring | Switch | Up and Down
Items
Air Bubble | Ring | Video Monitor (Aqua Shield*, Chaos Emerald*, Eggman Mark*,

Elemental Shields

*, Extra Life, Flame Shield*,

Goggles

*, Invincible, Power Sneakers, S*, Shield, Spikes*, Super Ring, Thunder Shield*)
Music
Sonic the Hedgehog 1&2 Soundtrack
Other
Continue | Debug Mode | Egg Mobile | Life | Lock-on technology | Loop | Madonna | Secret Bonus | Sonic the Hedgehog (1991 U.S Gold) | Sonic the Hedgehog (promotional comic) | Sonic the Hedgehog Band (Max, Mach, Sharps, Vector) | Sonic the Hedgehog Story Comic | South Island | Time Attack* | Time Over | Totem pole | Tunnel | Water

*Appears in re-releases of the game only