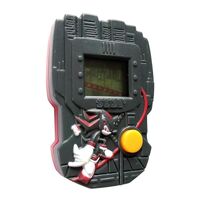 Shadow Grinding is an LCD game distributed by the McDonalds chain of fast food restaurants as a Happy Meal toy for a limited time in 2003.
Gameplay
In this game, the player takes control of Shadow. There is a single button on the game which allows the player to jump. The objective of the game was to grind down the rails avoiding gaps by pressing the jump button. No directional pad was needed as Shadow moved automatically. After clearing fifteen gaps the level and speed increase. Four levels is the maximum amount of levels. If the player falls into gaps ten times in a single level the game ends.
E3 2003
Shadow Grinder was one of four McDonald's LCD games available as a free giveaway in the Sega area of E3 2003 in Los Angeles California. In the SEGA area there was a large Sonic Happy Meal Box with holes in the top, allowing visitors to reach in and receive a free LCD game.
Community content is available under
CC-BY-SA
unless otherwise noted.