Sega Splash! Golf is a Japanese PC game announced in 2007 and released in 2008. It was not considered for localization. 
Sega Splash! Golf stars two anime-styled humans named Rush (male) and Miel (female) who set out to become professional golfers. Sonic the Hedgehog is given the "with" credit in this game as he is present throughout the game as a personal coach and caddie. Other optional caddies are available such as Tails, Ulala, the Puyos, NiGHTS and others from SEGA franchises.
Features
Fashioned as the typical mascot golf venture, Sega Splash! Golf offers appealing new features such as eight-player online multiplayer matches. There is also an Online lobby which allows up to fifty people to chat. You can have Sonic (or a different optional SEGA character) as your caddie. As you progress, so does your caddie's expertise; they'll begin to give you more detailed and precise advice for the best shot possible. Players also have the option to dress their character in a variety of different outfits. However, if your character is not fond of the clothes you dress them in, it will affect their performance on the golf course.
Courses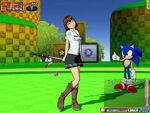 There are a number of courses themed after Sega franchises. The Sonic the Hedgehog course looks very similar to Green Hill Zone with checkered hills, bright green grass and floating Rings. There are also crates on the course taken from Sonic Adventure 2.

Gallery
Artwork
Screenshots
External links
Master System
Sonic Spinball (1994)

 ·

Dr. Robotnik's Mean Bean Machine (1994)
Sega Mega Drive / Genesis
Flicky (1991)

 ·

Sonic Eraser (1991)

 ·

Sonic the Hedgehog Spinball (1993)

 ·

Dr. Robotnik's Mean Bean Machine (1993)

 ·

Wacky Worlds Creativity Studio (1994)

 ·

Knuckles' Chaotix (1995, Sega 32X)

 ·

Sonic 3D Blast (1996)
Sega All-Stars
Sega Superstars (2004, PlayStation 2)

 ·

Sega Superstars Tennis (2008, multi-platform)

 ·

Sonic & Sega All-Stars Racing (2010, multi-platform)

 ·

Sonic & All-Stars Racing Transformed (2012, multi-platform)
Sonic Riders
Sonic Riders (2006, multi-platform)

 ·

Sonic Riders: Zero Gravity (2008, multi-platform)

 ·

Sonic Free Riders (2010, Xbox 360)
Sonic Storybook Series
Sonic and the Secret Rings (2007, Wii)

 ·

Sonic and the Black Knight (2009, Wii)
Mario & Sonic
Mario & Sonic at the Olympic Games (2007, multi-platform)

 ·

Mario & Sonic at the Olympic Winter Games (2009, multi-platform)

 ·

Mario & Sonic at the London 2012 Olympic Games (2011, multi-platform)

 ·

Mario & Sonic at the Sochi 2014 Olympic Winter Games (2013, Wii U)

 ·

Mario & Sonic at the Rio 2016 Olympic Games (2016, multi-platform)

 ·

Mario & Sonic at the Olympic Games Tokyo 2020 (2019, Nintendo Switch)
Super Smash Bros.
Super Smash Bros. Brawl (2008, Wii)

 ·

Super Smash Bros. for Nintendo 3DS and Wii U (2014, multi-platform)

 ·

Super Smash Bros. Ultimate (2018, Nintendo Switch)
Sonic Boom
Sonic Boom: Rise of Lyric (2014, Wii U)

 ·

Sonic Boom: Shattered Crystal (2014, Nintendo 3DS)

 ·

Sonic Dash 2: Sonic Boom (2015, Android)

 ·

Sonic Boom: Fire & Ice (2016, Nintendo 3DS)
Arcade & redemption machines
Flicky (1984)

 ·

Waku Waku Sonic Patrol Car (1991)

 ·

UFO SegaSonic (1992)

 ·

Sonic the Hedgehog (1993)

 ·

SegaSonic the Hedgehog (1993)

 ·

SegaSonic Popcorn Shop (1993)

 ·

SegaSonic Cosmo Fighter (1993)

 ·

Sonic the Hedgehog 2 (1993)

 ·

Sonic's Space Tours (1994/1999)

 ·

Sonic the Fighters (1996)

 ·

Sonic the Hedgehog (AWP) (1997)

 ·

Sonic & Tails Spinner (2002)

 ·

CR Sonic (2003)

 ·

Sonic Spinner (2007)

 ·

Sonic Live! (2008)

 ·

Sonic Sports Basketball (2010)

 ·

Sonic & Sega All-Stars Racing Arcade (2011)

 ·

Sonic Sports Air Hockey (2012)

 ·

Sonic Athletics (2013)

 ·

Sonic Ghost Shooting (2013)

 ·

Sonic Brain Ranking (2013)

 ·

Sonic Dash Extreme (2015)

 ·

Sonic Blast Ball (2016)

 ·

Mario & Sonic at the Rio 2016 Olympic Games Arcade Edition

(2016)

 ·

Mario & Sonic at the Olympic Games Tokyo 2020 - Arcade Edition (2020)

Miscellaneous

Sonic the Hedgehog's Gameworld (1994, Sega Pico)

 ·

Tails and the Music Maker (1994, Sega Pico)

 ·

Sonic's Schoolhouse (1996, PC)

 ·

Sonic R (1997, multi-platform)

 ·

Sonic Shuffle (2000, Dreamcast)

 ·

Shadow the Hedgehog (2005, multi-platform)

 ·

Sega Splash Golf (2008, PC)

 ·

Sonic the Hedgehog (Didj) (2008, LeapFrog Didj)

 ·

Team Sonic Racing (2018, multi-platform)