For other games with the same name, see Sega Smash Pack.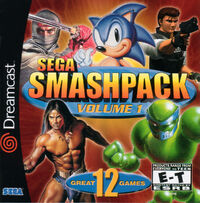 Sega Smash Pack was released on the Sega Dreamcast on 31 January 2001.
Description
The game lineup is slightly different from the PC version. Sega Swirl was added, which was originally on Sega Smash Pack 2, and Sonic the Hedgehog was added along with three other Genesis games that were new to the Smash Pack compilations. Sonic the Hedgehog Spinball is the only game from the PC version not included in this compilation.
Sega Smash Pack on Dreamcast includes the following games originally released on the Sega Mega Drive:
Altered Beast
Columns
Golden Axe
Phantasy Star II
Revenge of Shinobi
Sega Swirl
Shining Force
Streets of Rage 2
Vectorman
Virtua Cop 2
Wrestle War
Trivia
The game was panned for the poor sound emulation and erratic performance of the games.
The song that plays on the menus is accessible in MP3 format when inserted into a CD-ROM drive, presumably for listening purposes.
There is a text document within the game disc that is intended for a pirating group named Echelon. Apparently, it gives instructions on being able to play any Genesis ROM on the Dreamcast. The document was signed by Gary (presumably Gary Lake, the lead American programmer for this collection).
| | |
| --- | --- |
| Console | Sonic Compilation (1995, Sega Genesis) • Mega 6 Vol. 3 (1995, Sega Genesis) • Sonic 2 in 1 (1995, Sega Game Gear) • 6-Pak (1996, Sega Genesis) • Sonic Jam (1997, Sega Saturn) • Sega Smash Pack (2001, Dreamcast) • Sega Smash Pack (2002, Game Boy Advance) • Sonic Mega Collection (2002, Nintendo GameCube) • Sonic Adventure DX: Director's Cut (2003, multi-platform) • Sonic Mega Collection Plus (2004, multi-platform) • Sonic Gems Collection (2005, multi-platform) • Sega Genesis Collection (2006, multi-platform) • Sonic's Ultimate Genesis Collection (2009, multi-platform) • Sega Fun Pack (1999, PSP) • Sonic Classic Collection (2010, Nintendo DS) • Dreamcast Collection (2011, multi-platform) • Sega 3D Classics Collection (2015, Nintendo 3DS) • Sega Genesis Classics (2018, multi-platform) |
| PC | Sonic & Knuckles Collection (1997) • Sonic & Garfield Pack (1999) • Sega Smash Pack (1999) • Sega Puzzle Pack (1999) • Sega Smash Pack 2 (2000) • Arcade Collection (2000) • Sonic Action Pack (2000) • Sonic Action 4 Pack (2001) • Sonic Mega Collection Plus (2006) • Sonic PC Collection (2009) • Sega Mega Drive Classic Collection Vol. 1 (2010) • Sega Mega Drive Classic Collection Vol. 2 (2010) • Sega Mega Drive Classic Collection Vol. 3 (2010) • Sega Mega Drive Classic Collection Vol. 4 (2011) • Sonic Anniversary PC Pack (2011) • Dreamcast Collection (2011) • Sega Genesis Classic Collection Gold Edition (2011) • Sonic Hits Collection (2013) • Sega War Bundle (2013) • Sega Forever (2017) |