This article is about a subject in the real world.

Information in this article is about real-life people, companies, and objects, and does not relate to the in-universe Sonic series.
Sega Amusements, also known as Sega Amusements Europe Ltd., is an arcade developer and distributor located in Europe, that products arcade cabinets, amusement vehicles and toys. Sega Amusements also distributes arcade products to Africa and Russia, while separated distributor Sega Amusements USA Inc., manufactures for the North and South American arcade markets. Both distributors are part of Sega's divisions. They have also made a number of arcade cabinets related to the Sonic the Hedgehog franchise.
Sonic-Related Products
Sonic & Sega All-Stars Racing Arcade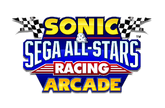 Sonic & Sega All-Stars Racing Arcade is an arcade edition of Sonic & Sega All-Stars Racing, ported by Sega Amusements, that exists in many arcades. It was seen at a Skokie, Illinois Chuck E. Cheese's restaurant. It was believed to be there temporarily as part of a location test, but is now available through the Sega Amusements website. One is also located in the UK in Bournemouth, inside an 'Amusements'. There also exists twin cabinets of the arcade edition of the game with option ticket redemption.
Sonic Sports Quad Air
Sonic Sports Quad Air is the air hockey table for four players and is part of the "Sonic Allstars" brand. It features chasing LED lighting, scoring and timer on play field. It can be played with four or less players at a time, and playing depending amount of players costs two, three, or four pucks at a time.[1]
Sonic Sports Air Hockey
Sonic Sports Air Hockey is the air table cabinet compact for two players. It is part of "Sonic Allstars" brand. As Sonic Sports Quad Air, it has chasing LED lighting around play field, while it features UV overhead lighting gantry.[2]
Sonic Sports Basketball
Sonic Sports Basketball is the basketball-themed amusement vehicle and is part of "Sonic Allstars" brand. It features ticket redemption and is linkable up for 15 players.[3]
Sonic Kiddie Ride
Sonic Kiddie Ride is amusement kiddie vehicle for younger kids. It features a model of the Speed Star kart from Sonic & Sega All-Stars Racing with two seats and Sonic posing behind them. Kiddie Ride also features background music from Sonic games.[4]
Sonic Dash Extreme
Sonic Dash Extreme is arcade cabinet version of the Sonic Dash mobile phone game. An arcade version of the game is available in selected places in the United Kingdom on May 2015[5] and it is slightly altered from the original game to feature randomized character select and larger D-pad.
Gallery
References
External links
Community content is available under
CC-BY-SA
unless otherwise noted.