Arcane: League of Legends - The Loop
Play Sound
SegaSonic Popcorn Shop (セガソニック ポップコーンショップ, SegaSonikku Poppukōn Shoppu?) is an arcade vending machine released in 1993, exclusively in Japan. Created by Sega AM1 and released by Sega on Sega's System C2 board, hardware similar to the one on the Sega Genesis, it is a combination of a popcorn machine and a mini-game. The vending machine dispenses popcorn in one of three flavors: salted, butter or curry.[2]
The small screen of the vending machine features a mini-game, starring Sonic and Tails, who assist in making popcorn while Dr. Eggman tries to ruin the event. While the mini-game is being played, actual popcorn is being microwaved in a nearby compartment. Like in many early Sonic-related arcade games, Takeshi Kusao and Masaharu Satō provided the voices of Sonic and Dr. Eggman.
Gameplay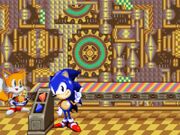 To play the mini-game on the vending machine, the player inserts a coin and chooses one of three popcorn flavors from the buttons—butter, salted or curry. The game includes two segments which the player can influence by moving the green crank on the vending machine.
For the first segment, Tails places a popcorn kettle on a treadmill which Sonic initiates, making it move right. Dr. Eggman then appears and reverses the treadmill, so Sonic grabs the kettle and runs down the treadmill while Eggman chases after him with a sledge-hammer to hit him with. The player can turn the green crank to make Sonic run faster while avoiding Eggman. If Sonic gets too close to Dr. Eggman, he jumps forward to dodge the sledge-hammer.
For the second segment, Sonic slides down the treadmill to a burning stove which he launches the popcorn kettle into. The player now has to turn the green crank to help Sonic stir the popcorn inside the stove.[3] The cup will eventually leap, allowing Eggman to snatch a single popcorn at a time and eat it. The real-life popcorn, however, is dispensed whether the crank is turned or not. The game ends when the popcorn is finished, upon where Tails walks off-screen to give the player a paper cup featuring Sonic and Tails, which is dispatched from the hatch of the vending machine.[1] Sonic then tells the user that the popcorn is hot as it is fresh from the oven, and that the user can come back at any time if he/she gets hungry.
If a technical problem occurs at any point, the machine will display an error screen featuring Eggman chasing Tails as the factory explodes and the message "PLEASE ASK FOR ASSISTANCE" flashes on the screen, along with Sonic telling the user to call for a shop assistant as he chases Eggman.
Characters
Trivia
Gallery
Screenshots
Resources
Video
References
Master System
Sonic Spinball (1994)

 ·

Dr. Robotnik's Mean Bean Machine (1994)
Sega Mega Drive / Genesis
Flicky (1991)

 ·

Sonic Eraser (1991)

 ·

Sonic the Hedgehog Spinball (1993)

 ·

Dr. Robotnik's Mean Bean Machine (1993)

 ·

Wacky Worlds Creativity Studio (1994)

 ·

Knuckles' Chaotix (1995, Sega 32X)

 ·

Sonic 3D Blast (1996)
Sega All-Stars
Sega Superstars (2004, PlayStation 2)

 ·

Sega Superstars Tennis (2008, multi-platform)

 ·

Sonic & Sega All-Stars Racing (2010, multi-platform)

 ·

Sonic & All-Stars Racing Transformed (2012, multi-platform)
Sonic Riders
Sonic Riders (2006, multi-platform)

 ·

Sonic Riders: Zero Gravity (2008, multi-platform)

 ·

Sonic Free Riders (2010, Xbox 360)
Sonic Storybook Series
Sonic and the Secret Rings (2007, Wii)

 ·

Sonic and the Black Knight (2009, Wii)
Mario & Sonic
Mario & Sonic at the Olympic Games (2007, multi-platform)

 ·

Mario & Sonic at the Olympic Winter Games (2009, multi-platform)

 ·

Mario & Sonic at the London 2012 Olympic Games (2011, multi-platform)

 ·

Mario & Sonic at the Sochi 2014 Olympic Winter Games (2013, Wii U)

 ·

Mario & Sonic at the Rio 2016 Olympic Games (2016, multi-platform)

 ·

Mario & Sonic at the Olympic Games Tokyo 2020 (2019, Nintendo Switch)
Super Smash Bros.
Super Smash Bros. Brawl (2008, Wii)

 ·

Super Smash Bros. for Nintendo 3DS and Wii U (2014, multi-platform)

 ·

Super Smash Bros. Ultimate (2018, Nintendo Switch)
Sonic Boom
Sonic Boom: Rise of Lyric (2014, Wii U)

 ·

Sonic Boom: Shattered Crystal (2014, Nintendo 3DS)

 ·

Sonic Dash 2: Sonic Boom (2015, Android)

 ·

Sonic Boom: Fire & Ice (2016, Nintendo 3DS)
Arcade & redemption machines
Flicky (1984)

 ·

Waku Waku Sonic Patrol Car (1991)

 ·

UFO SegaSonic (1992)

 ·

Sonic the Hedgehog (1993)

 ·

SegaSonic the Hedgehog (1993)

 ·

SegaSonic Popcorn Shop (1993)

 ·

SegaSonic Cosmo Fighter (1993)

 ·

Sonic the Hedgehog 2 (1993)

 ·

Sonic's Space Tours (1994/1999)

 ·

Sonic the Fighters (1996)

 ·

Sonic the Hedgehog (AWP) (1997)

 ·

Sonic & Tails Spinner (2002)

 ·

CR Sonic (2003)

 ·

Sonic Spinner (2007)

 ·

Sonic Live! (2008)

 ·

Sonic Sports Basketball (2010)

 ·

Sonic & Sega All-Stars Racing Arcade (2011)

 ·

Sonic Sports Air Hockey (2012)

 ·

Sonic Athletics (2013)

 ·

Sonic Ghost Shooting (2013)

 ·

Sonic Brain Ranking (2013)

 ·

Sonic Dash Extreme (2015)

 ·

Sonic Blast Ball (2016)

 ·

Mario & Sonic at the Rio 2016 Olympic Games Arcade Edition

(2016)

 ·

Mario & Sonic at the Olympic Games Tokyo 2020 - Arcade Edition (2020)

Miscellaneous

Sonic the Hedgehog's Gameworld (1994, Sega Pico)

 ·

Tails and the Music Maker (1994, Sega Pico)

 ·

Sonic's Schoolhouse (1996, PC)

 ·

Sonic R (1997, multi-platform)

 ·

Sonic Shuffle (2000, Dreamcast)

 ·

Shadow the Hedgehog (2005, multi-platform)

 ·

Sega Splash Golf (2008, PC)

 ·

Sonic the Hedgehog (Didj) (2008, LeapFrog Didj)

 ·

Team Sonic Racing (2018, multi-platform)