The Sea Chart is a gameplay mechanic in Sonic Rush Adventure. It depicts a significant portion of Blaze's world and serves as a route planner where the player is able to plot a route on the sea to travel along during the Sea Stages of the game and/or to visit an island to play its Act Stages.
Description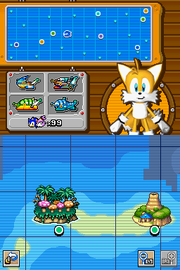 The Sea Chart's appearance varies slightly on whether the player access it via the "Set Sail" option or the "Sea Chart" on the menu. In both cases, the Top Screen displays a small map depitcing all islands (Act Stages) the player has visited; all main islands are represented by unique-colored dots in comparison to the smaller light-blue dots representing Hidden Islands. In addition, Miles "Tails" Prower is present to interact with the player.
The Touch Screen displays a close-up of the player's surrounding sea areas, displaying every island each with a unique icon and discovered Johnny's Race stages with an icon of Johnny's face (a red cross over it indicates that the player has cleared that particular race). On the Touch Screen of the Sea Chart, the dark blue sections indicate areas not explored by the player. Sometimes, explored sea sections exhibit unique colors, usually around certain islands related to those islands' climate (such as icy blue nearby Blizzard Peaks).
Overview
In gameplay, the Sea Chart is used to plan and draw sea routes for the selected vessel to travel along for the Sea Stage. The player can move the view of the Sea Map by using

or dragging it with the Nintendo DS stylus. The player can also zoom out/in on the map in three different scales by pressing L/R Button respectively or by touching the zoom buttons on the bottom-right corner of the touch screen. When accessing the Sea Chart via the docks and selecting "Set Sail", the selected dock's vessel is highlighted in blue.
To draw a route on the Sea Chart, the player must use the stylus to draw from a starting location, typically from main island Act Stages or Southern Island (marked with an orange dot and the tip of a ballpoint pen) to a certain point on the Sea Chart. The player is limited to the distance which they can travel (represented by an "ink" gauge on the top-left corner of the Touch Screen that depletes as the route is sketched). When drawing a route, there are also pink area details which indicate areas that the selected vessel is unable to travel across due to shallow water, rocks or icebergs. To reset the route, tap the yellow button with a blue cross. Once a route is finalized, tapping the yellow button with a red circle and confirming the route leads automatically to the Sea Stage.
If the player come across obstacles inhibiting their vessel from proceeding during the Sea Stage, they will be sent back to the Sea Chart to divert the route somewhere else.
During the game's story, the Sea Chart may indicate areas the player must travel to. These are marked with an orange flag with an exclamation mark that usually lead to a new playable island.
While on Southern Island, the player can access the Sea Chart via the menu (opened by pressing
). Here, the Sea Chart can only be used to visit islands previously explored by touching the green icon of the island. If the selected island is an Act Stage, the player can play through all of its Acts consecutively.
Trivia
The yellow buttons used to confirm or reset the sea route both resemble / buttons respectively on the PlayStation consoles.
If the player sails to Sky Babylon via Sea Chart, they will enter Hidden Island 2 instead.

In order for the player to enter Sky Babylon, they should visit the Sea Chart via the menu on Southern Island.
---
Main article | Script | Staff | Gallery
Playable characters
Sonic (Super Sonic) | Blaze (Burning Blaze)
Non-playable characters
Tails | Marine | Coconut Crew (Setter, Tabby, Colonel, Kylok, Daikun, Muzy) | Gardon | Norman | Captain Whisker | Mini & Mum | Johnny | Dr. Eggman | Dr. Eggman Nega
Stages
Whale Point | Plant Kingdom | Machine Labyrinth | Coral Cave | Haunted Ship | Blizzard Peaks | Sky Babylon | Pirates' Island | Big Swell | Deep Core | Hidden Islands (1, 2, 3, 4, 5, 6, 7, 8, 9, 10, 11, 12, 13, 14, 15, 16) | Johnny's Race
Enemies
Barrier Angler | Bomb Ghost | Crystal Head | Dive Bat | Eleki Angler | Kaizoku Bomb | Kaizoku Glider | Kaizoku Gun | Kaizoku Hogan | Kaizoku Hover Bomb | Kaizoku Skeleton | Kaizoku Snowball | Pirates' Island enemy | Plant Kingdom enemy | Ptera | Rapid Crab | Shisaku-gata Dump | Shisaku-gata Jet | Shisaku-gata Spanner | Skull Fire | Sky Babylon enemy | Sky Moon | Triceratank
Bosses
Ghost Rex | Ghost Pendulum | Ghost Kraken | Ghost Pirate | Ghost Whale | Ghost Condor | Captain Whisker and Johnny | Ghost Titan | Egg Wizard
Moves/Techniques
Axel Jump | Axel Tornado | Boost Mode | Burning Fire Boost | Burst Dash | Burst Hover | Deflect | Fire Boost | Grind Step | Hop Jump | Homing Attack | Humming Top | Jump Dash | Jump Step | Scroll Screen | Spin Dash | Spin Jump | Super Boost | Super Sonic Boost | Trick Action
Vessels
Wave Cyclone | Ocean Tornado | Aqua Blast | Deep Typhoon | Magma Hurricane | SS Tornado EX | SS Marine | SS Super-Marine
Gimmicks and obstacles
Bomb | Bungee Rope | Checkpoint Marker | Dash Panel | Dash Rail | Dash Ring | Fountain | Hang Glider | High-speed warp tube | Icicle | Iron ball | Jump Panel | Minecart | Mushroom | Rainbow Ring | Spring | Spring Pole | Vine | Winding Rope
Items
General
Chaos Emerald | Item Box (1UP, 5 Ring Bonus, Attract, Barrier, Boost Up, Confusion, High Speed, Invincible, Magnetic Barrier, Maximum Tension Bonus, Random Ring Bonus, Repair, Score Bonus, Slow, Tension Bonus, Tension Bonus (multiplayer)) | Sol Emerald | Switch | Ring | Treasure Chest
Materials
Aqua Material | Black Material | Blue Material | Bronze Material | Gold Material | Green Material | Iron Material | Red Material | Silver Material
English voice actors
Jason Griffith (Sonic) | Mike Pollock (Eggman, Eggman Nega) | Amy Palant (Tails) | Bella Hudson (Blaze) | Lonnie Hirsch (Captain Whisker) | Christopher Pellegrini (Johnny)
Japanese voice actors
Jun'ichi Kanemaru (Sonic) | Chikao Ōtsuka (Eggman, Eggman Nega) | Ryo Hirohashi (Tails) | Nao Takamori (Blaze) | Shinya Fukumatsu (Captain Whisker) | Kota Nemoto (Johnny)
Music
Songs
A New Venture
Albums
Sonic Rush Adventure Original Soundtrack
Other
Blaze's world | Corkscrew loop | Combo | Freeze | Health Gauge | Jeweled Scepter | Missions | Sea Chart | Shuttle loop | Sol Empire | Southern Island | Power of the Stars | Real-Time Interaction | Sonic Rush Adventure Flash | Tension Gauge | Time Attack
Community content is available under
CC-BY-SA
unless otherwise noted.