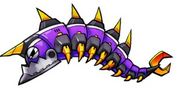 Sandworms are enemies in Sonic the Hedgehog 4: Episode II, its appearence is similar to a large centipete they attack by jumping out of the sand in the Oil Desert Zone. It has the same name as a previous robot and a similar apperance to another.
Gallery
Trivia
This is the 2nd badnik that appears in Sonic 4: Episode II to be a different badnik with the same name as a previous one. The first was Spikes.
They can't be attacked.