Line 24:
Line 24:
 

}}

 

}}

 

{{Quote left|A newly developed large Centipede type [[Badnik]] designed for use in desert areas. You never know when they will suddenly emerge from quicksand, and be mindful of its robust body that is resistant to attacks.|''[[Sonic The Hedgehog 4: Episode II]]'' Website}}

 

{{Quote left|A newly developed large Centipede type [[Badnik]] designed for use in desert areas. You never know when they will suddenly emerge from quicksand, and be mindful of its robust body that is resistant to attacks.|''[[Sonic The Hedgehog 4: Episode II]]'' Website}}

−

{{nihongo|'''Sandworm'''<ref name="StH4Info">{{Cite web|url=http://www.sonicthehedgehog4.com/us/html/ep2-badniks.html |title= Sonic The Hedgehog 4 |publisher= Sega |accessdate= |archiveurl=https://web.archive.org/web/20130524063554/http://www.sonicthehedgehog4.com/us/html/ep2-badniks.html |archivedate=24 May 2019 |quote= }}</ref>|ドワーム<ref name="StH4site">{{Cite web|url=http://sonic.sega.jp/SonicTheHedgehog4/episodeII/mobile/character/index.html |archiveurl=https://web.archive.org/web/20170817200921/http://sonic.sega.jp/SonicTheHedgehog4/episodeII/mobile/character/index.html |title=Sonic the Hedgehog 4 Episode II Official website |author=[[Sega]] |publisher=[[Sega]] |work=Characters: Metal Sonic |accessdate=30 July 2015 |archivedate=17 August 2017 |language=Japanese }}</ref>|Dowāmu|lit. "Doughworm"}} is a large [[Badnik]] created by [[Doctor Eggman|Dr. Eggman]]. Sandworms only appear in [[Oil Desert Zone]] in ''[[Sonic the Hedgehog 4: Episode II]]''.

+

{{nihongo|'''Sandworm'''<ref name="StH4Info">{{Cite web|url=http://www.sonicthehedgehog4.com/us/html/ep2-badniks.html |title= Sonic The Hedgehog 4 |= Sega |= |archiveurl=https://web.archive.org/web/20130524063554/http://www.sonicthehedgehog4.com/us/html/ep2-badniks.html |archivedate=24 May 2019 |quote= }}</ref>|ドワーム<ref name="StH4site">{{Cite web|url=http://sonic.sega.jp/SonicTheHedgehog4/episodeII/mobile/character/index.html |archiveurl=https://web.archive.org/web/20170817200921/http://sonic.sega.jp/SonicTheHedgehog4/episodeII/mobile/character/index.html |title=Sonic the Hedgehog 4 Episode II website |author=[[Sega]] |publisher=[[Sega]] |work=Characters: Metal Sonic |accessdate=30 July 2015 |archivedate=17 August 2017 |language=Japanese }}</ref>|Dowāmu|lit. "Doughworm"}} is a [[Badnik]] created by [[Doctor Eggman|Dr. Eggman]] [[Oil Desert Zone]].

 
 
−

==Description==

+

====

 
+

The Sandworms are colossal, Centipede-based [[Badnik]]. They possess massive and long segmented bodies with several sets of clawed black and yellow feet. They each also have what appears to be a yellow pincher on the tip of their tails, and they hav yellow and black spikes running down their backs each. Lastly, they have black eyes, a yellow and black horn on each of their foreheads, and a large metallic gray jaw with serrated teeth.

−

Its appearance is similar to a large centipede. It attacks by jumping out of the sand in the [[Oil Desert Zone]]. It has the same name as a [[Sandworm|previous robot]] and a similar color scheme to [[Caterkiller|another]]. Sandworms also have a more violent-looking appearance.

 
 
+
 
+

==Overview==

 
+

[[File:Dm2bfd1$wsi191wqm-121qsd.png|thumb|200px|left|Sandworms in ''[[Sonic the Hedgehog 4: Episode II]]''.]]

 
+

In ''[[Sonic the Hedgehog 4: Episode II]]'', the Sandworms only appear in [[Oil Desert Zone]]. In gameplay, they can only be found in the quicksand sections, where they will come diving out of the quicksand to attack the playable characters when they approach. In addition, they are invulnerable to any of the player's attacks, making them indestructible.

 
+
 
+

==Powers and abilities==

 
+

Being designed for desert areas, the Sandworms are able to burrow through sand and quicksand like it was water. In addition, they possess robust bodies that are resistant to attacks.<ref name="StH4Info"/>

 
 
 

==In other media==

 

==In other media==

Line 49:
Line 56:
 

<gallery>

 

<gallery>

 

Sandworm_Sonic_4.png

 

Sandworm_Sonic_4.png

−

</gallery>

 
−
 
−

===Screenshots===

 
−

<gallery>

 
−

Dm2bfd1$wsi191wqm-121qsd.png

 
 

</gallery>

 

</gallery>

 
 
---
Revision as of 19:18, 25 July 2019

A newly developed large Centipede type Badnik designed for use in desert areas. You never know when they will suddenly emerge from quicksand, and be mindful of its robust body that is resistant to attacks.


— Sonic The Hedgehog 4: Episode II Website
Sandworm[1] (ドワーム[2], Dowāmu?, lit. "Doughworm") is an enemy that appears in the Sonic the Hedgehog series. It is a mass-produced, Centipede-based Badnik model created by Dr. Eggman that roams Oil Desert Zone.
Appearance
The Sandworms are colossal, Centipede-based Badnik. They possess massive and long segmented bodies with several sets of clawed black and yellow feet. They each also have what appears to be a yellow pincher on the tip of their tails, and they hav yellow and black spikes running down their backs each. Lastly, they have black eyes, a yellow and black horn on each of their foreheads, and a large metallic gray jaw with serrated teeth.
Overview
In Sonic the Hedgehog 4: Episode II, the Sandworms only appear in Oil Desert Zone. In gameplay, they can only be found in the quicksand sections, where they will come diving out of the quicksand to attack the playable characters when they approach. In addition, they are invulnerable to any of the player's attacks, making them indestructible.
Powers and abilities
Being designed for desert areas, the Sandworms are able to burrow through sand and quicksand like it was water. In addition, they possess robust bodies that are resistant to attacks.[1]
In other media
Archie Comics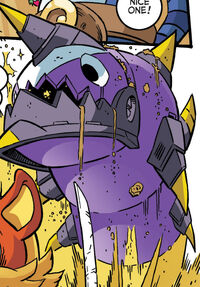 The Sandworm appears in the Sonic the Hedgehog comic series and its spin-offs published by Archie Comics. It is a Super Badnik built to act as a Badnik Horde Commander.
Trivia
Sandworm is the only Badnik that appears in Sonic the Hedgehog 4: Episode II to be an entirely different Badnik with the same name as a previous one.
Sandworm is the only Badnik in Sonic the Hedgehog 4: Episode II that is resistant to every type of attack. Therefore, it is impossible to tell if it contains an animal.
Gallery
Concept artwork
Artwork
See also
References
---
Playable characters
Sonic (Super Sonic) | Tails | Metal Sonic
Non-playable characters
Dr. Eggman | Animals (Flicky, Pocky, Pecky, Cucky, Picky)
Zones
Episode II
Sylvania Castle Zone | White Park Zone | Oil Desert Zone | Sky Fortress Zone | Death Egg mk.II Zone | Special Stages
Episode Metal
Episode Metal Act 1 | Episode Metal Act 2 | Episode Metal Act 3 | Episode Metal Act 4
Enemies
Asteron | Balkiry | Batbot | Bubbles | Burrobot | Buzzer | Chop Chop | Chopper | Clucker | Crawl | Flamer | Fullboar | Jaws | Mantis | Moto Bug | Newtron | Orbinaut (Uni Uni, Unidasu) | Sandworm | Scarabesque | Shellcracker | Slicer | Snowy | Spikes | Steelion | Turtloids | Zoomer
Bosses
Egg Serpentleaf | Metal Sonic | Egg Scrap Mech | Metal Carrier | Metal Sonic and Egg Mobile | Metal Sonic | Egg Heart
Moves/Techniques
Crouch | Homing Attack | Propeller Flying | Spin Attack | Spin Dash | Spin Jump | Swim | Tag Action (Copter Combo, Rolling Combo, Submarine Combo) | Tornado Boost
Gimmicks and obstacles
Booster | Bumper | Capsule | Conveyor Belt | Crusher | Fan | Flip Platform | Flipper | Platform-raising Wheel | Ring Shooter | Spikes | Spring | Star Post | Strange Relief | Switch | Goal Plate
Items
Air Bubble | Chaos Emerald | Giant Ring | Item Box (Super Ring, Shield, Power Sneakers, Invincible, Extra Life, Special Combination, Combination Dash) | Ring | Red Star Ring
Music
Sonic the Hedgehog 4: Episode II Original Soundtrack | Sonic the Hedgehog 4: Episode I & II Original Soundtrack
Other
Death Egg mk.II | Little Planet | Level Select | Lost Labyrinth treasure | Stardust Speedway | Shuttle loop | Tails' rocket | Time Attack | Tornado | Totem pole
Community content is available under
CC-BY-SA
unless otherwise noted.