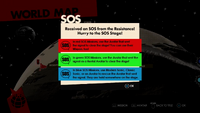 SOS Missions are a gameplay feature that appears in Sonic Forces. They are additional, optional objectives that the player can choose to complete. Completing SOS Missions will allow the player to unlock Avatar items as a part of their Challenge Mission rewards.
Overview
SOS Missions are optional tasks that the player-controlled characters in Sonic Forces can complete in so-called "SOS Stages". SOS Stages are regular stages in the game that have been chosen to be the sites of these Missions. In the context of the game's storyline, SOS Missions represent SOS signals from members of the Resistance that are in need of help.
SOS Missions come in three kinds, each one represented by one of the following colors:
Red: In these Missions, the player must clear a SOS Stage using a brand new Avatar different from the player's own (the player's own Avatar will not be available). The new Avatar will be the one that sent the SOS signal. Along with the new Avatar, the player is also given a different Wispon for the duration of the Mission.
Green: In these Missions, the player must clear a SOS Stage while using a Rental Avatar (an Avatar with their own independent Wispon that the player can swap out with their own during gameplay). The Rental Avatar will be the one that sent the SOS signal.
Blue: In these Missions, the player must use either Modern Sonic, Classic Sonic, Shadow or their Avatar to search the SOS Stage for a Capsule containing the Avatar that sent the SOS signal. Once the Capsule is found, free the trapped Avatar and clear the SOS Stage in order to complete the Mission. In addition, the Capsules vary in locations, meaning the player will not normally find it in the same place twice in a stage.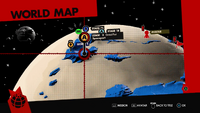 SOS Missions will start appearing on the World Map screen (also known as the stage select screen) after clearing Green Hill. A SOS Mission becomes available at random after completing a stage or exiting a menu. The color of the SOS icon next to the Stage Target for the SOS Stage indicate the Mission's type.
If the player loses a life, quits the game or clears the SOS Stage without rescuing the Avatar, the player will fail the Mission without the option to retry. Exiting to the Main Menu will also remove all SOS Missions on the World Map.
While playing an SOS Mission, the player can still collect Red Star Rings, Number Rings and Silver Moon Rings that have not already being collected and should the player complete the SOS Mission, all collectible items are saved but if the player fails the Mission in the aforementioned methods, those collectibles will be lost.
---
Main article | Script | Gallery | Staff | Beta elements
Playable characters
Sonic (Super Sonic) | Classic Sonic (Classic Super Sonic) | Avatar | Shadow (Episode Shadow)
Other characters
Resistance (Tails, Knuckles, Amy, Team Chaotix (Vector, Espio, Charmy), Silver, Team Dark (Shadow, Rouge, Omega)) | Dr. Eggman | Infinite | Orbot | Cubot | Metal Sonic | Chaos | Zavok | Animals (Cucky, Flicky, Pecky, Picky, Pocky, Ricky, Rocky)
Wisps
Blue Wisp | Green Wisp | Indigo Wisp | Ivory Wisp | Red Wisp | Violet Wisp | White Wisp | Yellow Wisp
World Map regions
Chemical Plant | City | Death Egg | Eggman Empire Fortress | Green Hill | Metropolis | Mystic Jungle
Stages

Regular

Lost Valley | Spaceport | Ghost Town | Prison Hall | VS. Zavok | Egg Gate | Arsenal Pyramid | Luminous Forest | VS. Infinite | Green Hill | VS. Eggman | Park Avenue | Casino Forest | Aqua Road | Sunset Heights | Capital City | VS. Infinite | Chemical Plant | Red Gate Bridge | Guardian Rock | Network Terminal | Death Egg | Metropolitan Highway | Null Space | Imperial Tower | Mortar Canyon | VS. Infinite | Iron Fortress | Final Judgement | VS. Death Egg Robot

Episode Shadow

Enemy Territory | Eggman's Facility | Virtual Reality
Secret
Fire Cannon 1 | Vanish Panel 1 | Bomb Block 1 | Plasma Cannon 1 | Laser Cannon 1 | Reverse Block 1
Extra
Flying Pod | Bomb Block 2 | Laser Cannon 2 | Reverse Block 2 | Vanish Panel 2 | Fire Cannon 2 | Plasma Cannon 2
Enemies
Aero-Chaser | Buzz Bomber | Chopper | Egg Pawn | Egg Tank | Egg Walker | Galaga Bee | Moto Bug | Missile Pod | Nebula | Sandworm | Sprinkler | Valkeen
Bosses
Death Egg Robot | Eggman | Egg Dragoon | Infinite | Metal Sonic | Zavok
Moves/techniques
Air Boost | Boost | Crouch | Double Boost | Double Jump | Drop Dash | Grind Step | Grinding | Homing Attack | Side Step/Cartwheel | Skydiving | Slide | Super Sonic Boost | Spin Dash | Spin Jump | Stomp | Triple Boost | V. Maximum Overdrive Attack | Wall Jump | Wire Attack
Gimmicks and obstacles
Balloon | Bumper | Conveyor Belt | Dash Panel | Dash Rail | Dash Ring | Fan | Flipper | Flywheel | Goal | Goal Plate | Grind Rail | High-speed warp tube | Hint Ring | Iron ball | Jump Panel | Laser field | List of pinball obstacles | Pulley | Rainbow Ring | Ring Shooter | Slot machine | Spikes | Spring | Spring Catapult | Spring Pole | Wide spring | Wire Target | Zip Line
Objects
General
Air Bubble | Blue Block | Blue Ring | Capsule | Container (Unbreakable Container, Wooden Container) | Costume | Item Box (Invincibility, Power Sneakers, Shield, Super Ring) | Medal | Meteorite | Number Ring | Red Star Ring | Ring | Silver Moon Ring | Star Post | Wisp Capsule
Wispons
Asteroid | Burst | Cube | Drill | Hover | Lightning | Void
OST/Vocal/Hi-Res Collection/The Vinyl Cutz
Fist Bump | Infinite | Fighting Onward | Nowhere to Run | Justice | Moonlight Battlefield | Virtual Enemies | Set in Motion | Fading World | The Light of Hope | Rhythm And Balance | Supporting Me
Other
Boost Gauge | Chaos Control | Challenge Mission | Daily Mission | Death Crab | Death Egg | Death Egg Robot | Death Egg Robot sentinel | Death Queen | Egg Dragoon | Egg Mobile | Eggman Army | Eggman Empire | Eggman Fleet | Experience | Health Gauge | Jackal Squad | Mega Mack | Miles Electric | Operation Big Wave | Phantom Ruby | Phantom Ruby prototype | Real-Time Interaction | Replica | Resistance HQ | Sandworm | Skills | Sonic Forces digital comic (Moment of Truth, Stress Test, Looming Shadow, Rise of Infinite) | Sonic Forces: Speed Battle | SOS Mission | Time Over | War to Take Back the Planet | Winding Tunnel | Wisp Gauge