The Royal Chariot[2] is a vehicle that appears in the Sonic the Hedgehog series. It is Blaze the Cat's racing car that is styled after her own appearance.
Description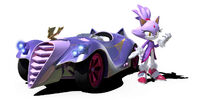 The default Royal Chariot is predominantly purple in color with four light blue headlights at the front, a medium sized windshield and what appears to be speakers shaped like cat ears behind the seat. The wheels have dark pink casings, similar to Blaze's shoes and coat hemline, each with a lilac center. It possesses a vertical, lilac front grille consisting of seven flaps with a faint orange glow inside and an ornament shaped like a divine bird of sorts with its wings deployed at the top. On the sides from the rear, it also has gold lining, similar to Blaze's gold eyes and necklace, that features flame motives, alluding to her pyrokinesis. At the back, it features six red lights, two exhaust pipes at the bottom and a lilac top with a gold emblem depicting a bird, similar to the ornament.
Like other cars in Team Sonic Racing, its appearance can be customized with different paint jobs, performance parts and decals. Its horn can also be changed.
Overview
In Team Sonic Racing, Blaze makes her car racing debut with the Royal Chariot as her vehicle as a member of Team Vector to join Dodon Pa's racing Grand Prix.  
Trivia
The name of the Royal Chariot references Blaze's role as princess of her dimension.
Gallery
Concept artwork
Screenshots
References