Fire Emblem Warriors: Three Hopes - The Loop
Play Sound
For the racetrack in Team Sonic Racing, see Roulette Road (Team Sonic Racing).
Roulette Road (ルーレットロード[1], Rūretto Rōdo?) is a racetrack that appears in Sonic & Sega All-Stars Racing, representing the Sonic the Hedgehog series. It is one of three tracks in the game that are based on Casino Park from Sonic Heroes, and is the third course of the Chao Cup.
It returns in Sonic & All-Stars Racing Transformed, as the third track of the Classic Cup. The music that plays is Casino Park's theme from Sonic Heroes.
Description
The green portion of the track is riddled with chips that fall upon racers, harming them, but their shadows are telltale, appearing before they land. This allows the player to either dodge out of the way (hardly ideal) or to release a drift in the form of a boost that can knock through the pieces without taking any damage. A third option is to fire a projectile weapon, which will safely eliminate the piece so that the player can continue driving or drifting without the need to alter their course.
When choosing where to go at the fork in the path that follows not long after the falling chips, it can be difficult to tell just which way to go. Most of the time, the player should steer clear of your opponents and take the opposite path that the bulk of them do, but if they are not handy for guidance, the left path is much easier, particularly with drifting and boosting. The split in the road can serve as a great chance to catch up to race leaders if a racer has fallen behind, just in time for the finish line.
In Sonic & All-Stars Racing Transformed, the falling chips are not included, but there are stacks of chips included in the curvy section of the track.
Other game appearances
Team Sonic Racing
In Team Sonic Racing, Roulette Road returns as one of the tracks located in Casino Park, along with Pinball Highway and Bingo Party. The track has not been changed much, except for some graphic modifications.
Music
For Casino Park-located tracks, such as Roulette Road, these are the following tracks selectable for the course:
"Casino Park"
"Bingo Highway"
"Be Cool, Be Wild, and Be Groovy"
Trivia
This is the only track to appear in all four Sonic racing games developed by Sumo Digital.
Gallery
Video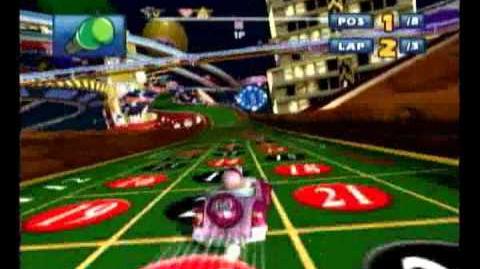 References
---
Main article | Staff | Glitches | Gallery
Playable
characters
Sonic characters
Sonic | Tails | Knuckles | Amy | Big | Dr. Eggman | Shadow | Metal Sonic
SEGA characters
AiAi | Akira Yuki | Alex Kidd | Amigo | B.D. Joe | Beat | Billy Hatcher | ChuBach | ChuBei | Chuih | ChuPea | Jacky Bryant | Ryo Hazuki | Ulala
Third party
Mii | Xbox Live Avatar
Tracks
Chao Cup
Whale Lagoon | Icicle Valley | Roulette Road | Sunshine Tour
Graffiti Cup
Shibuya Downtown | Outer Forest | Turbine Loop | Treetops
Egg Cup
Rampart Road | Dark Arsenal | Jump Parade | Pinball Highway
Horror Cup
Sewer Scrapes | Lost Palace | Sandy Drifts | Rokkaku Hill
Samba Cup
Rocky-Coaster | Highway Zero | Deadly Route | Ocean Ruin
Monkey Cup
Bingo Party | Lava Lair | Monkey Target | Thunder Deck
DLC
Egg Hangar
Moves/
Techniques
General
Drift | Hi-Speed Start | Trick
All-Star Moves
Emerald Power | Giant Froggy | Maximum Overdrive | Missile Madness | Piko Hammer | Super Shadow | Super Sonic | Tails Tornado | Tension Blast
Vehicles
Speed Star | Tornado Racer | Land Breaker | Pink Cabriolet | Green Hopper | Egg Monster | Dark Rider | Metal Booster | Blazing Banana | Racing Rooster | Sun Buggy | Astro Glider | De La Custom GGs | Crazy Taxi | Hotrod of Horror |

Naoyuki's Motorcycle

| Red Lightning | ChuChu Rocket | Get-a-Way Wagon | Sukopako Motorcycle | Bolt Bucket | Ava-car 720 | Super Zoomer
Items
Item Box (All-Star Item, Bowling Bomb, Confusing Star, Energy Shield, Giant Rocket, High Speed Shoes, K.O. Glove, Manual Rocket, Mega Horn, Mine, Pocket Rainbow) | License
Music
"A New Day" | "Back 2 Back" | "Believe In Myself" | "Can You Feel the Sunshine?" | "E.G.G.M.A.N." | "Metal Scratchin'" | "My Sweet Passion" | "Super Sonic Racing" | "Unknown from M.E." | "Throw It All Away" | "What U Need"
Other
Announcer | Boost Pad | Death Egg | Loop | Orca | Sonic Says | Totem pole
---
Main article | Staff | Glitches | Gallery
Playable
characters
Sonic characters
Sonic | Tails | Knuckles | Amy | Dr. Eggman | Shadow | Metal Sonic
Sega characters
AGES | AiAi | Alex Kidd | Amigo | B.D. Joe | Beat | Gilius Thunderhead | Gum | Jacky Bryant | Joe Musashi | MeeMee | NiGHTS | Pudding | Reala | Ryo Hazuki | Ulala | Vyse
Third-party characters
Xbox Live Avatar | Mii | Danica Patrick
Tracks
Dragon Cup
Ocean View | Samba Studios | Carrier Zone | Dragon Canyon
Rogue Cup
Temple Trouble | Galactic Parade | Seasonal Shrines | Rogue's Landing
Emerald Cup
Dream Valley | Chilly Castle | Graffiti City | Sanctuary Falls
Arcade Cup
Graveyard Gig | Adder's Lair | Burning Depths | Race of AGES
Classic Cup
Sunshine Tour | Shibuya Downtown | Roulette Road | Egg Hangar
Bonus
OutRun Bay
World Tour
Sunshine Coast | Frozen Valley | Scorching Skies | Twilight Engine | Moonlight Park | Superstar Showdown
Events
Battle Arena | Battle Race | Boost Challenge | Boost Race | Capture the Chao | Drift Challenge | Pursuit | Race | Ring Race | Sprint | Traffic Challenge | Versus
Vehicles
Ava-car 720 | Amigo's vehicle | Blazing Banana | Crazy Taxi | Danicar | Egg Monster | G.U.N. Auto Tread | Gum's vehicle | Land Breaker | Metal Booster | Pink Cabriolet | Spacebird 42 | Speed Star | Super Zoomer | Tails' vehicle
Moves/
Techniques
General
Drift | Start Line Boost | Stunt
All-Star Moves
Amy's All-Star Move | Gum's All-Star Move | Eggman's All-Star Move | Knuckles' All-Star Move | Metal Sonic's All-Star Move | Pudding's All-Star Move | Shadow's All-Star Move | Sonic's All-Star Move | Tails' All-Star Move | Ulala's All-Star Move
Gimmicks and obstacles
Aero-Chaser | Boost Pad | Egg Squid | Slot machine | Transformation Gate
Items
Ammo | Gate | Item Box (All-Star Item, Blowfish, Boost, Drone, Firework, Glove, Hot Rod, Ice Cannon, Super Glove, Swarm, Twister) | License | Mod | Sticker | Warp Gate
Music
Songs
We Are Burning Rangers
Albums
SEGA ALL-STARS Premium Sound Collection | Sonic & All-Stars Racing Transformed Original Soundtrack
Other
Bonus Chance | Custom game | Freeze | Loop | Orca | Sonic Universe #45